Singtel Stock Analysis: Is It Still Attractive To Invest In?
Did you know that more than 1 million Singaporeans are shareholders of Singtel (SGX:Z74)? This is a sizable number given that there's only approximately 3.5 million Singaporeans!
How did Singtel get so many Singaporean shareholders?
Brief History Of Singtel
Singtel was a statutory board, fully owned by the Government of Singapore, to provide telecommunication services.
In Oct 1993, Singtel became a listed company with 11% of its shares reserved for the public.
As the Singapore Government looked to share that nation's wealth and encourage ownership of shares, shares of Singtel were sold at a discount to Singaporeans. This sparked interest in the financial markets and that's how Singtel has more than 1 million shareholders who are Singaporeans.
That's a piece of interesting information. But has Singtel been able to innovate? Is there a compelling reason to invest in Singtel?
Business Model And Financials
With more new entrants to the telecommunications space, the rise of Internet piracy, and the changing behaviour of its consumers over the years, Singtel was threatened.


Source: Tradingview; Currency is quoted in S$
Singtel rose to the challenge by innovating and forming strong business partnerships. One example is the investment of US$450 million into GoJek (a popular ride hailing service in Southeast Asia) through Telkomsel (a subsidiary of Telkom Indonesia and Singtel).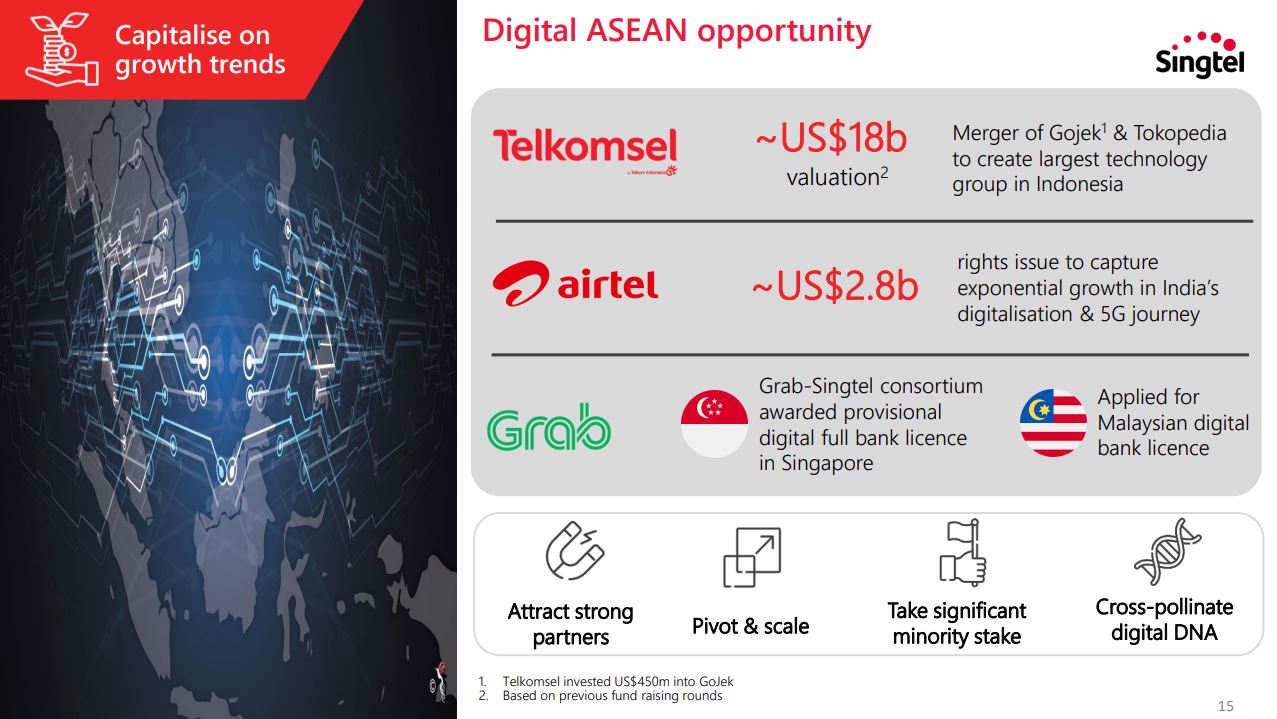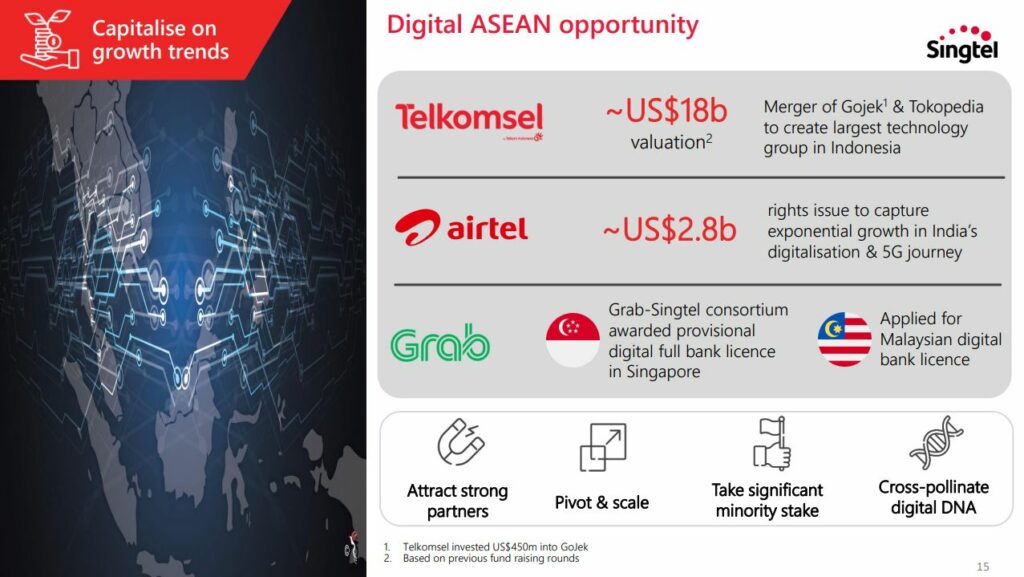 Source: Singtel
A consortium, consisting of Singtel and Grab, has been awarded a digital full bank licence by Singapore's central bank. This consortium is aiming high and working hard to be awarded a digital bank licence in Malaysia.
There're 2 types of digital bank licences in Singapore – 1) Digital full bank licence 2) Digital wholesale bank licence.
A digital full bank license allows Singtel and Grab to conduct digital banking businesses in Singapore, including accepting deposits.
On the other hand, a digital wholesale bank licence restricts its licence holder from accepting deposits and serving the retail customer segment.
Through the partnership with Grab, Singtel has formed an economic moat. And if you're curious, an entity wholly-owned by Sea Ltd is the only other company to be awarded a digital fill bank licence.
You can read about Part 1, Part 2 and Part 3 of Sea Ltd.
Furthermore, Singtel has ventured into data centres, cloud computing and the Internet-of-Things (IoT).
Through forming strategic partnerships and constant innovation, Singtel's hard work has finally paid off. Its net profit doubled to S$954 million in the first half year in FY22!
Source: Singtel
It's heartening to see a local company innovate and thrive! Here comes the million dollar question – is Singtel attractive to buy now?
To answer this question, let's have a look at the chart of Singtel (SGX:Z74).
Technical Analysis On Singtel (SGX: Z74)
The share price of Singtel has been ranging for more than a year now. But with stellar financial results, investors may be tempted to buy its shares, causing its share price to rise.
Looking at the chart of Singtel (SGX:Z74), you can see that there's a green arrow under the latest candlestick. This indicates that a new uptrend is possibly here.
Should you buy Singtel right away when the market opens? I don't think you should. Do you notice that the Trend Impulse Factor bar is light green in colour? I'll want it to turn dark green, suggesting that the bullish momentum has truly returned before taking a position trade on Singtel (SGX:Z74).
It pays to be patient in trading as money usually flows from the impatient to the patient.
Conclusion: Singtel Stock Analysis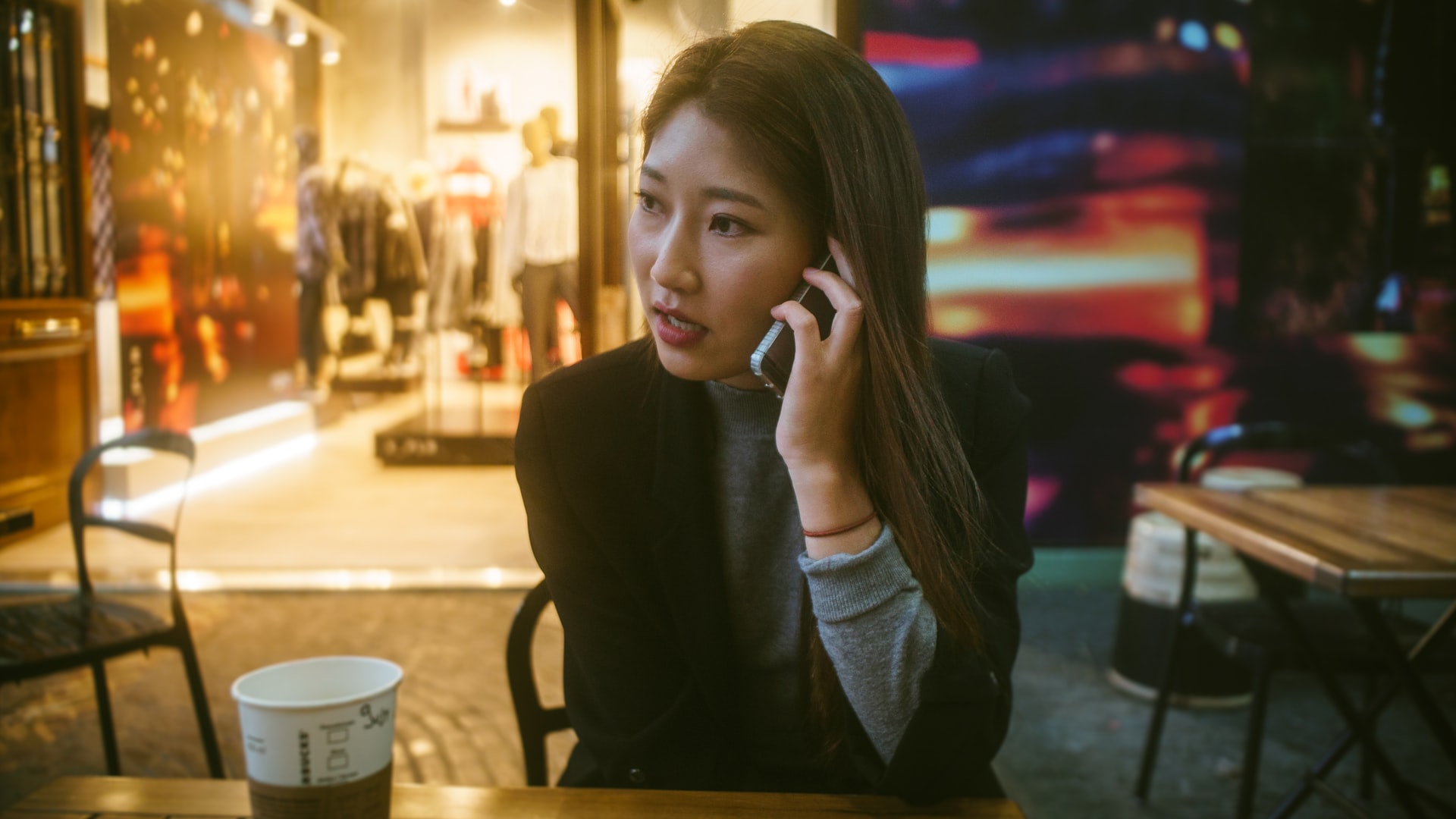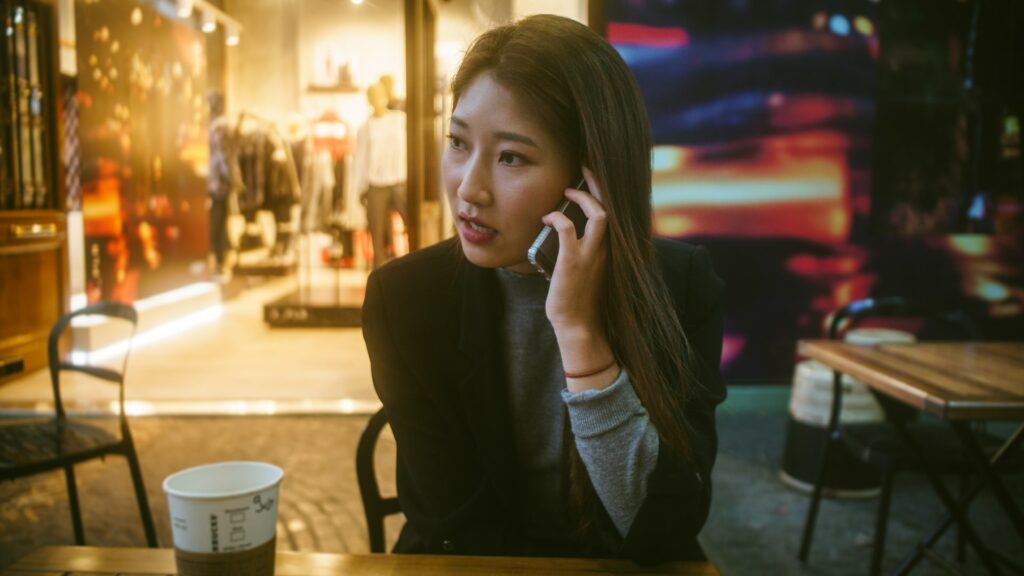 Changes to Singtel's business landscape has resulted in a beautiful story with strong results to tell. Singtel has demonstrated to be an agile and innovative company.
Its partnership with Grab to win a digital full bank licence is testament that Singtel is ready to compete at the very top and there're many more exciting moments for Singtel.
Singtel's chart is looking attractive and almost ripe for a position trade.
And I know that the stock market can be difficult to comprehend. Trading can also be highly risky especially without a proper system. This is why TradersGPS (TGPS) was created. The indicators will help you decipher if a stock is a cut above its peers. You won't have to feel in the dark and make wild guesses.
What are your thoughts? Share your thoughts with us below!
If you'd like to learn more about systematic trading to better time your trade entries, click the banner below: