Sea Limited Stock Analysis
As mentioned in a previous article, I am quite fond of SEA Limited as a loss-making technology company that I will look to add during this brutal sell-off of the stock. As of 16 Feb 2022, the stock is currently trading for a price of $149.6 which is >50+% off its all-time high price of $372.70.
Despite this, I remain bullish on the company's prospects as I believe that the company is not solely a one-time beneficiary of Covid-19. In this 1st of a 2-part series on SEA, I will provide a general overview of the company before taking a closer look at its Digital Entertainment section of the business.
Do note that this is just my own personal sharing on a growth counter that is likely to remain volatile in 2022. Do engage in your own due diligence when considering the purchase of Sea Limited. This is considered a "high-risk" stock, as can be seen from its more than 50% decline from its 52-week high of c.$372/share. Nonetheless, I believe its current price level does present an attractive price point for a long-term investor to "waddle in".
I will look to provide my analysis on SEA in this 3-part series (Part 2 / Part 3).
Overview Of Sea Limited Stock
Sea Limited (Commonly referred to as SEA) is a Singapore-based internet company that operates 3 core businesses: Gaming (Digital Entertainment), E-commerce, and E-financials (Digital payments and Financial Services).
The core platforms of these businesses are Garena, Shopee, and SeaMoney. The company mostly operates in the Greater Southeast Asia region but it has been expanding its operations into Latin America, Western Europe, and the United States.
The company intends to "better the lives of consumers and small businesses with technology". Additionally, Sea limited has a special relationship with Tencent Holdings (the mega tech Chinese company that owns WeChat and is the largest video game vendor in the World).
Among other things such as technical advice and a video games publishing agreement, Tencent also provided substantial initial capital to fund SEA in its formative years.  This partnership with Tencent has served SEA well over the years. Now, let us take a cursory look at each business unit.
Key Subsidiaries #1: Garena
Garena is Southeast Asia's premier games and digital entertainment company. Originally founded as a chat platform for gamers in 2009 (think the late 2000s, early 2010s Discord), the company branched out to publish third-party games while still introducing social features such as user chat, online forums, live streaming of online gaming, and Esports.
It is through this platform that SEA publishes popular third-party games such as League of Legends (LoL), Call of Duty mobile (CoD), Arena of Valor (AoV), and Speed Drifter. Garena has an exclusive license to publish these games in Southeast Asia, except Indonesia, thanks to the company's partnerships with Tencent, Riot Games, EA, Nexon, NetEase, NCsoft, and Zepeto.
Garena is also the publisher of the world's top battle royale game: Free Fire.
Below are some of the popular games published by Garena:
Key Subsidiaries #2: Shopee
Launched in 2015, Shopee is a mobile shopping marketplace platform that connects buyers and sellers. The platform is supported by integrated payments (Shopee Pay), logistics, fulfillment, and other value-added services.
Shopee is the largest e-commerce platform in Southeast Asia and Taiwan. Shopee was the 3rd most downloaded shopping app worldwide in 2020. It is also number 1 in Southeast Asia in downloads, users, and total time spent on the platform.
As a Singaporean, you would doubtlessly be familiar with this company given the plethora of iconic advertisements, featuring Jackie Chan and Cristiano Ronaldo, that ask you to download and use Shopee. Shopee is also one of the first e-commerce applications in the Southeast Asia region that incorporates social features: live streaming, mobile games, and the ability to follow other users.
I will look to deep-dive into the Shopee platform in the 2nd article on SEA.
Key Subsidiaries #3: SeaMoney
SeaMoney offers a variety of financial services such as e-wallet services, payment processing, credit-related digital financial offerings, and other financial products. ShopeePay, the integrated e-wallet service with the Shopee platform, falls under this umbrella. SeaMoney is a relatively nascent entity that was introduced in Q4 2019. Recently, in December 2020, SeaMoney obtained a digital full bank license in Singapore which allows the entity to offer traditional banking services, such as taking deposits and providing loans, to retail and business clients in Singapore.
Again, I will look to expand my analysis on the SeaMoney platform and explain why this loss-making arm remains a quintessential component of the SEA Group.
I believe readers are now familiar with the key entities of SEA Limited. Let me now expand on SEA's most profitable entity, Garena as well as a deeper dive into its uber-popular Free Fire mobile game that has constantly top the charts in terms of being the most downloaded app for both iPhone and Android.
Garena: Sea's Money-Making Gaming Segment
Garena offers its selection of games through two avenues: 1) PC or 2) Mobile applications. It operates through a "freemium" model in which users play the game for free while spending money on in-game virtual items and season passes.
These two items account for the bulk of Garena's revenues. Garena is the sole profitable business arm of SEA at the moment; its earnings are reinvested to maintain the gaming division and to subsidize the cash burn of the e-commerce and digital financial services segments.
For 3rd party games published by Garena such as League of Legends, a certain % of the gross billings recorded (≥20%) are paid to the game developer. So even if more in-game virtual items are sold on these 3rd party games, Garena would not earn as much as it could if the game were developed by itself.
Enter Free Fire: the crème de la crème of Garena's portfolio of games.
Free Fire
Free Fire is Garena's first self-developed mobile game and the company caught lightning in the bottle on its first attempt. Released in 2017, Free Fire is one of the world's most popular battle royale games; Total downloads hit 1 billion on Google Play in Q2 2021 and it was ranked third globally by average Monthly Average Users (MAUs) for mobile games on Google Play.
Free Fire constantly ranks highly on most downloaded mobile games and most MAUs for mobile games across both iOS and Google Play in the regions (mostly Southeast Asia and Latin America) where it is available. It was the most downloaded mobile game globally for 2020. The game is extremely popular in Southeast Asia, India, and Latin America. It is also growing fast in the USA, Russia, and the Middle East.
I tried my hand at the game and it is highly entertaining. The concept of the game is simple: 50 players (you and other gamers) are thrown onto an island and your only objective is to be the last one standing. On the island, you can use whatever weapons or vehicles you like to kill off your opponents.  Think of it as The Hunger Games. Anything goes.
The gameplay is thrilling and quick-paced (an average game last between 15-20 mins).  The controls are highly intuitive which allows even the most novice gamer to pick it up quickly. The graphics are stunning and most important of all, the game is highly fun and addictive. One could easily spend a couple of hours playing the game.
To keep retaining current players and to attract new players, Garena is always innovating new game features and new attractions to keep the game fresh and engaging.
Examples of such initiatives include:
Making the game more social and engaging by giving players the option to create their unique maps which they can invite friends to join them in playing within these custom maps,
Collaborating with celebrities to endorse the game by creating an in-game playable character of the celebrity (Cristiano Ronaldo is a notable example),
Special in-game crossover with Netflix's Money Heist in September 2020,
Partnering with the movie Venom to bring Venom-themed playable content: in-game items and collectibles.
Periodically introducing creative content (new maps, game modes, and weapons) to keep the game fresh.
The above-mentioned initiatives generate plenty of revenue for Garena as players would look to upgrade their characters with new in-game items to either give them an edge in the game (weapons) or simply to make the appearance of their avatars more attractive.
More avatars can be unlocked by purchase as well. New collectibles are also bought and showcased to display the player's status (especially if the collectible is no longer available for purchase). The above can be bought using Diamonds (in-game currency) which can be purchased using in-life money.
This heavily contributes to Garena's revenue growth and especially their earnings as Free Fire is Garena's self-developed game which means that everything Garena earns from the sales of in-game items and season passes of Free Fire belongs entirely to the company. Free Fire is a highly lucrative mobile game; it constantly ranks highly on the highest-grossing mobile game in Southeast Asia, Latin America and India list especially for the past 2 years.
A future potential development that I am pretty excited about is the evolution of NFTs for games like Free Fire. While Free Fire is free to play, we have seen that millions of gamers are willing to pay up to own cosmetics. NFTs will fit in naturally for a game like Free Fire, solving the need of unique ownership over rare cosmetics in these games.
I will definitely be on the lookout for such a feature to be introduced in the coming future, a trend which I believe is inevitable, and one that could provide another alternative source of income for Garena.
While I remain particularly bullish on SEA's gaming arm, I will still like to bring to the readers' attention a number of key metrics that I personally believe is useful to track to "be convinced" that its growth trajectory has not deviated.
Three Key Metrics To Watch Out For
QAU: Quarterly Active Users
This metric informs us how many users played a Garena game in the last 3 months. This metric has seen explosive growth in the past 2 years largely in part due to the lockdowns imposed by the pandemic but also thanks to the secular growth in the gaming industry as more and more people are turning to games as a form of entertainment.
We will likely see a stabilization in the number of QAU's or even a slight decrease as lockdowns are eased worldwide. A dramatic decrease in QAUs, however, would be negative for the company as it would mean that people are losing interest in the company's games.
QPUs: Quarterly Paying Users
This metric informs us how many users are spending money on a Garena game in the last 3 months. The conversion of more QAUs to QPUs informs us of the company's ability to better monetize its existing player base.
Ideally, we would like to see a continued increase in the number of QPUs or stabilization in the number for similar reasons as above. Likewise, a dramatic decrease would be a worrying sign as it would imply that the company is unable to monetize its huge active player base.
App Downloads
One can monitor the download data of free fire through the use of App Annie, Apptopia, or Sensortower. Ideally, we would like to see Fire Free retain its high ranking on lists of most downloaded mobile games. A long disappearance from such lists could imply that the game is losing its momentum in attracting new players.
Risks To Consider Investing In Sea Limited
Longevity Of Free Fire
No doubt that Free Fire is a wildly successful and highly lucrative mobile game but the billion-dollar question lingers: How long can it stay popular? This question is especially pertinent given that it is Garena's sole successful self-developed game.
Forrest Li, its CEO, stated in 2021 that the game should have 3-5 more years before it hits the peak of its popularity. In the meantime, Garena would do everything it can to milk the most out of its crown jewel. Garena is also cognizant of the fact that it has to churn out newer games that would one day replace Free Fire or supplement Free Fire.
To that end, the company acquired Phoenix Labs (a highly rated North America game developer studio) to aid its development efforts. However, it is never easy developing popular games, especially one as successful as Free Fire.
A Slowdown In Growth
As countries worldwide lift lockdowns and people go back outdoors, a slowdown can be seen in work-from-home activities such as streaming and gaming. This can be seen in the slowdown in growth in QAUs from June 2021 to September 2021.
This slowdown in the growth of users and revenue contribution played a significant role in the stock's recent selloff. This is especially detrimental as SEA depends substantially on the earnings generated by Garena to sustain its money-losing divisions of e-commerce and digital financial services, for now.
That said, I am still a long-term believer in Garena as the company has been incredibly successful for the past decade and it looks to do the same for the current decade as long as management retains its laser focus in execution.
Also, the growing gaming industry provides a nice tailwind for the future of the business. As such, Garena fits in nicely for a company that looks to dominate the digitalized aspects of our life.
Last but not least, the development of gaming NFTs is still in its nascent stages and we could well witness a massive explosion of NFTs on popular games such as Free Fire in the coming decade. In my opinion, for gaming NFTs to have "longevity", the gaming experience itself has to be good. Games that have sub-par user experience and just looking to monetize their games through NFTs are unlikely to last long, in my humble opinion.
Quick Look At The Charts
Well, let's see how the stock has been performing: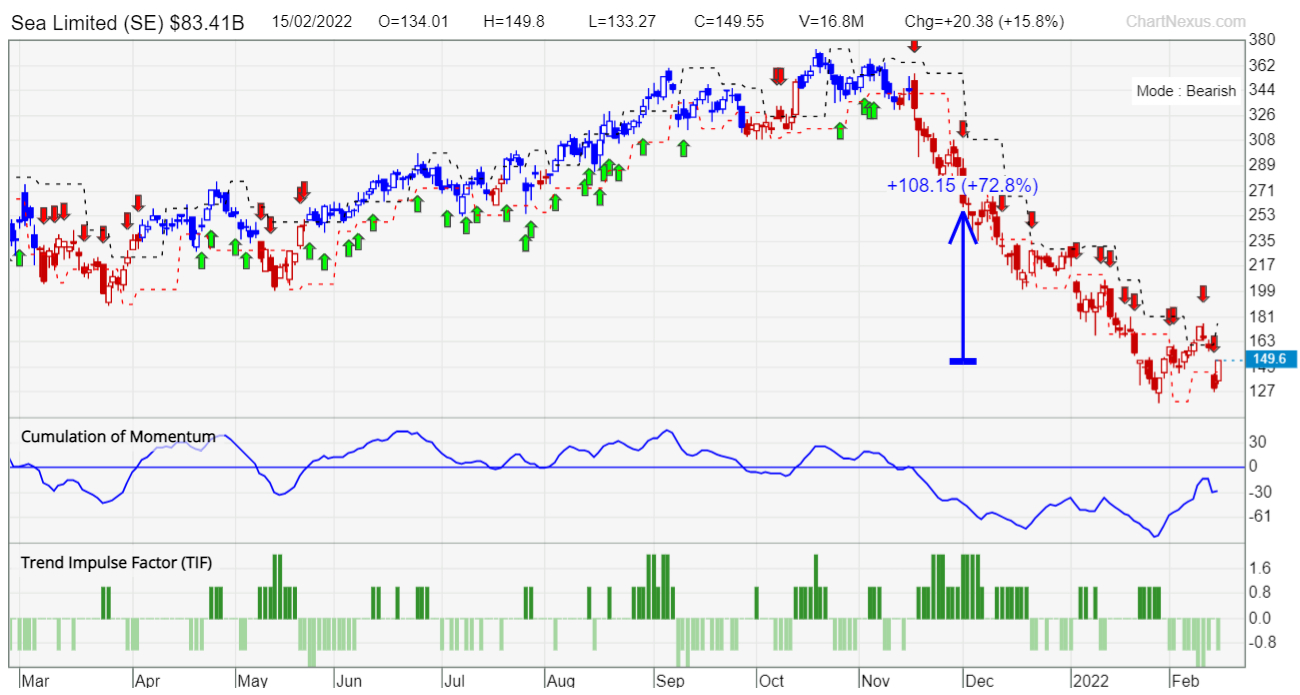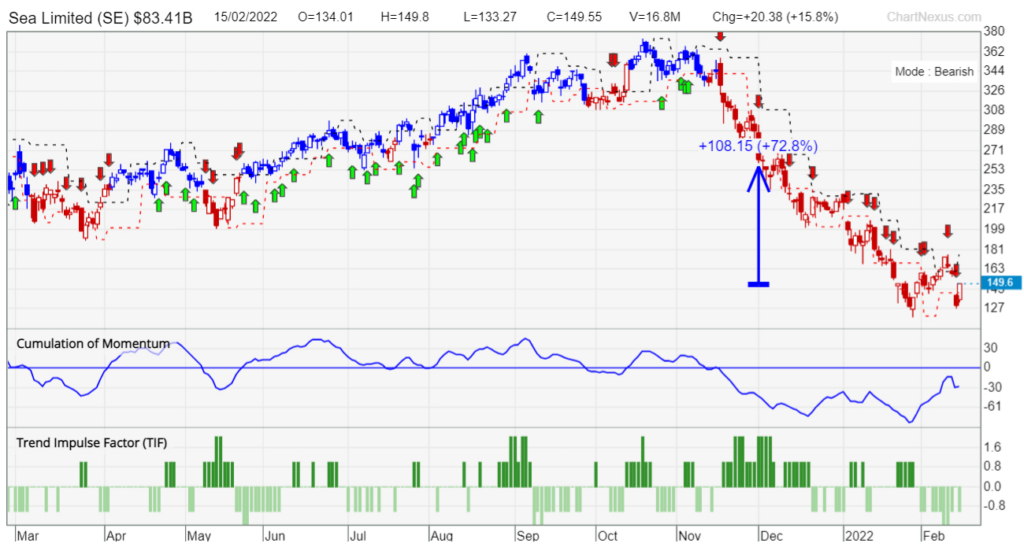 Traders who had been nimble enough to short this counter when the signal appeared around $260 would have profited. At the current price of $149.6, that would be an approximate 72% gain on this trade.
Thus, do note the difference between trading and investing. While you may want to invest on a stock based on its business and potential, it is a different ball-game when it comes to trading.
Conclusion: Is Sea Limited A 10-Bagger Company?
With that, I have come to the end of the 1st part of a 3-part series on SEA Ltd. In our second article, I will touch on SEA's Shopee platform as well as SeaMoney. I will also do some basic "back-of the envelope" calculations in terms of its valuation.
I will like to highlight once again that SEA remains a "high risk" stock despite its exciting growth prospect (which hopefully I have narrated to you well enough). Do proceed with caution.
If you enjoyed reading this article and various other investment + personal finance articles, do visit New Academy of Finance. Royston has more than 10 years of buy and sell side experience as a financial analyst. He constantly posts interesting, valuable and actionable articles.
If you'd like to get a FREE e-course and learn how to better time your trade entries, click the banner below: