These days, it's hard to get me to attend an in-person meeting. COVID-19 has resulted in new habits formed, and there's no turning back.
Do you prefer to attend meetings in-person when it can be conducted remotely unless you're looking to share abstract ideas or complex processes?
And there's no prize for guessing the product we frequently use to host virtual meetings. Yes, I'm talking about Zoom Video Communications, or Zoom for short.
Since late 2020, Zoom's shares have fallen out of favor with investors. Are there reasons? Let's discover.
Brief History of Zoom

Source: zoom.us
Zoom was founded in 2011 by its current CEO, Eric Yuan.
Eric had prior industry experience. Taking feedback from the market seriously, Eric realized that much could be improved in the web communication space, so much so that he started Zoom.
Zoom started out as a mobile-friendly video communication system and that has remained in its DNA.
Constant research and development has brought multiple blockbuster products such as its chat, events, and break out room functions. These, coupled with acquisitions led to massive success enjoyed by the company.
Since the pandemic, Zoom has become integral to our lives, hosting meetings, webinars, discussions, and more.
Furthermore, Zoom, has now become a verb.
With so many users, is Zoom doing well financially? How does it operate?
Business Model and Financials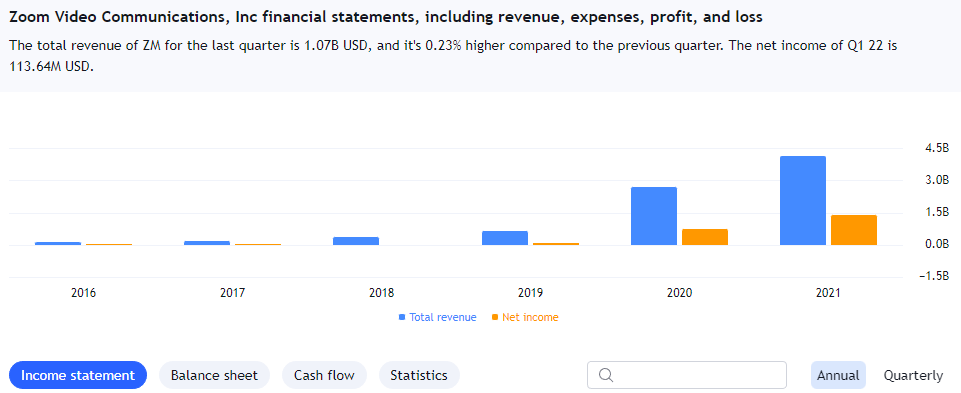 Source: tradingview.com
From the graph above, you can see that Zoom's total revenue and net income have been increasing since 2016.
Its total revenue has been increasing at a breakneck speed of almost 2x year-on-year, from $60.8m in 2016 to $4.1b in 2021!
Similarly, its net income has been growing furiously from -$14.3m in 2016 to $1.3b in 2021!
Being in the B2B and B2C space, Zoom has different plans tailored for each segment.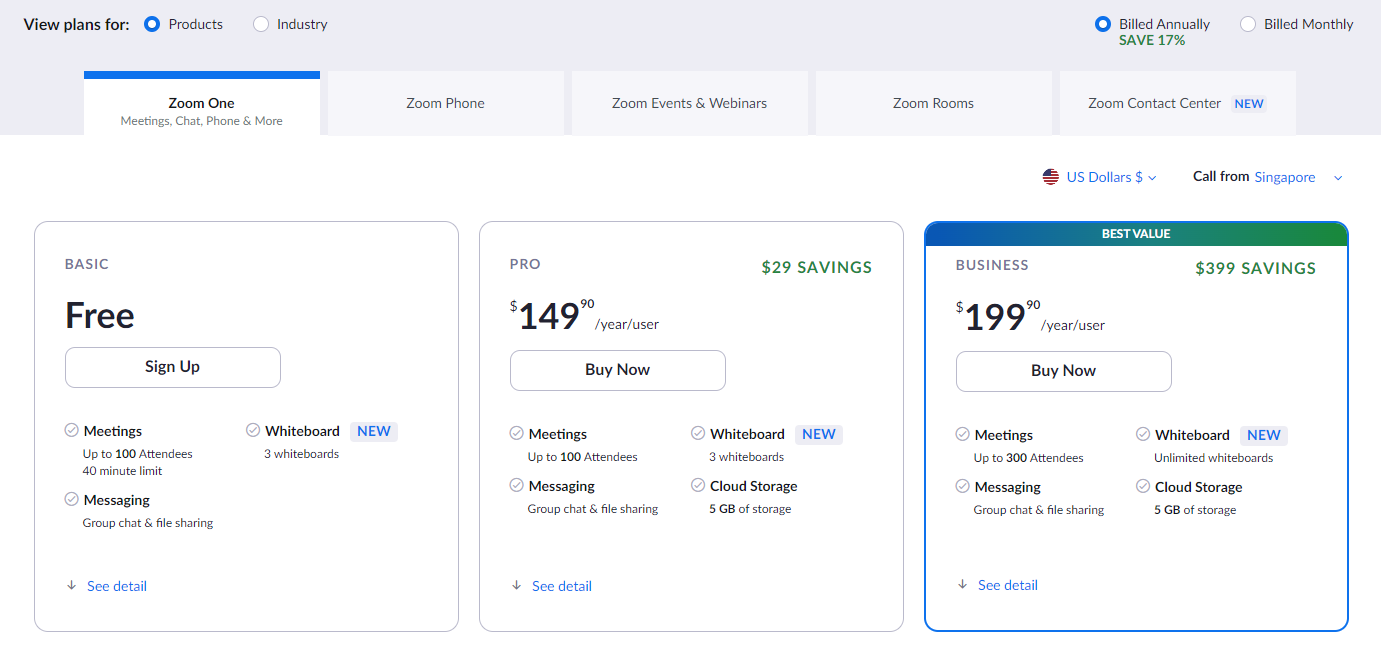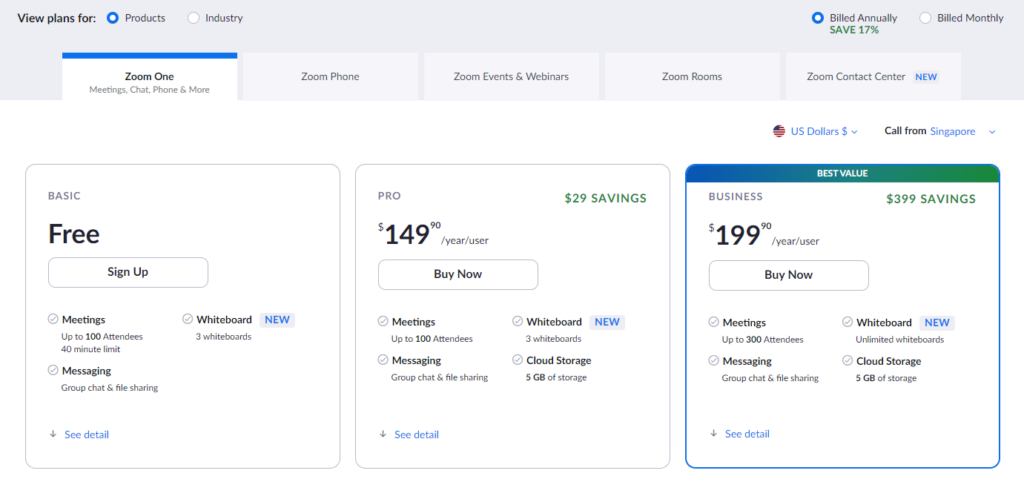 Source: zoom.us/pricing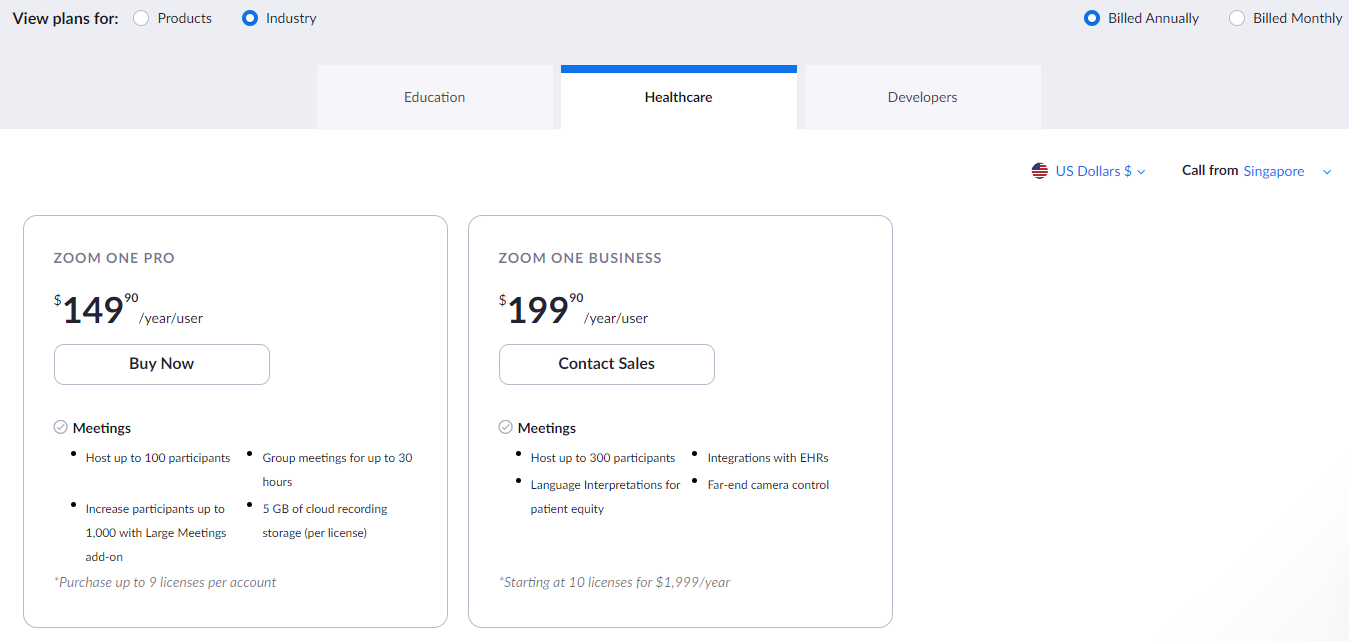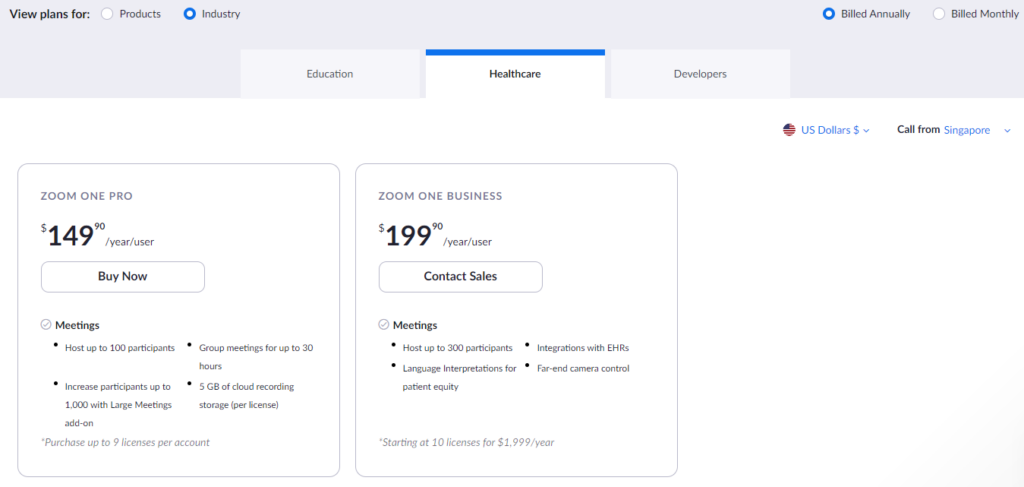 Source: zoom.us/pricing/healthcare
It's clear from the screenshots above that Zoom runs a freemium membership model.
Zoom is also always on the hunt for deals to grow its business. It has recently acquired Solvvy, a conversational AI firm, to expand and improve on its product offerings.
All these tell us that Zoom aims to remain an integral part of our lives.
With this said, investors aren't giving it any love. Does this mean that you buy or short-sell its stock?
Shall we have a look at Zoom's price chart before arriving at a conclusion?
Technical Analysis on Zoom Video Communications Inc (NASDAQ: ZM)
Zoom's shares has been suffering a beating since late 2020. From Jan to Oct 2020, its shares had zoomed up by nearly 800%!
From the technical point of view, it's highly unlikely that you'll see its share price turn bullish anytime soon.
With the red arrow showing on Zoom's latest candlestick, is this the time to short-sell its shares then?
The red arrow suggests weakness in the price of Zoom's shares but it isn't ripe for a short-sale at this moment. This is because its Trend Impulse Factor bar hasn't turned dark green.
When its Trend Impulse Factor bar turns dark green with the red arrow present, the odds of Zoom's share price dropping further is much higher. You'll be more likely to make money by short-selling its shares then!
Therefore, there's no hurry to short-sell the shares of Zoom just yet..
Conclusion: Is Zoom Stock A Buy Sell Or Hold?
Zoom is dominating the video communications space and has solid financials.
It's unfortunate that its price chart doesn't reflect its solid business model and growth. Investors in the technology sector are primarily spooked by the increasing interest rates environment, essentially ending the era of cheap money.
Are you facing a dilemma? Should you choose to follow what Zoom's fundamentals suggest or should you pay attention to its price chart?
I'd advise you to follow the price movement of Zoom.
Instead of rushing to short-sell the shares of Zoom, patience is needed as the indicators aren't in unison yet.
The red arrow and Trend Impulse Factor indicator have been tested and proven. They form the TradersGPS (TGPS) system to help you decipher if a stock is a cut above its peers. You won't have to feel in the dark and make wild guesses
Did You Know?
The ones who make the MOST money from the stock market actually spend the LEAST time.
Yet, most people tend to spend hours reading news or analyzing charts, only to be caught in a never-ending spiral of disappointment from the stock market.
The truth is, profiting from the market is all about trading smart, not hard. And this is the very secret of all top retail traders and investors.
They all have a system they follow.
A system that helps them identify winning stocks fast and filter away dangerous risky ones, a system that tells them exactly when to buy and sell and eventually exit the stock with profits.
It's like having a personal guide telling you exactly what to do from start to finish. One that is not only reliable in aiding your investment journey, but also saves you time, energy and stress.
So if you wish to start building an additional stream of income through the stock market the SMART way, not the HARD way…
Come and join me in my upcoming LIVE demonstration webclass where I will demonstrate LIVE how ANYONE, even with no experience can learn and adopt a really simple system and apply almost immediately to start profiting in the markets.
Click HERE to register your seat before we hit full capacity!
If you'd also like to get a FREE e-course and learn how to better time your trade entries, click the banner below: