Sea Limited Analysis: Shopee
In Part 1 of my Beginner's Guide to Sea Limited, I gave a brief description of the company as well as a deeper dive into its cash cow, that is Garena. Since then, news broke out that India (one of the potential growth markets for Garena) has banned Free Fire due to national security concerns. As a result of the news outbreak, SEA sold off a staggering 18+% on 14th February 2022.
Talk about heartbreak on Valentine's Day for its holders!
In this 2nd article of the 3-part series on SEA, I will provide 1) my quick take on the Free Fire issue in India and 2) deeper insight into Shopee (the 2nd critical pillar in the Group's operation)
In the 3rd article, I will touch on the following:
Operations of SeaMoney (Paypal of South East Asia?),
A napkin valuation of the company,
Key reasons why I am still bullish about the company being a potential 10 bagger despite the recent price volatility, and lastly,
My portfolio strategy when it comes to investing into a growth stock like SEA.
This 3-part beginner's guide to Sea Limited will hopefully give you a better understanding of the company's operation and future growth potential. Nonetheless, I will like to highlight that this hyper-growth counter is one that will witness significant price volatility, both up and down, in the coming year. Do assess if such volatility fits into your risk profile.
Without further ado, let's start off with a brief commentary on my thoughts pertaining to the Free Fire ban in India.
Free Fire Ban in India
On 14th February 2022, it was announced that Free Fire is one of the games being banned by India due to national security concerns. This resulted in an 18% selloff in SEA's stock. How does Free Fire compromise India's national security concern? Well, the answer lies in Tencent's stake in SEA as well as the less than harmonious relationship between India and China at the moment.
India and China have had a rocky relationship in recent times due to border skirmishes, China flooding the Indian markets with cheap exports as well as the popularity of Chinese mobile applications in the Indian market.
The rise of Tiktok and its resulting collection of user data has alarmed the Indian government who fear that the Chinese companies might obtain confidential state information through this data collection of its population. As a result, India rolled out blanket bans for any applications that have any remote Chinese connections.
Unfortunately, this includes Free Fire as although SEA is a company based in Singapore, it has significant ties to Tencent as outlined in the previous article. This includes Tencent owning a significant chunk of shares that gives them preferential voting rights over the affairs of SEA. Tencent has realized this issue and divested a portion of its holdings earlier this year.
However, to reassure the Indian government, more shares would probably have to be divested and Tencent has committed to holding the shares for at least 6 months partly to stabilize the free fall in SEA's shares of late.
Another reason for the ban of Free Fire is the desire of Indian Prime Minister Modi to protect the gaming studios of India. This can be seen in his Budget 2022 speech.
The curious thing is that according to SensorTower, India only accounts for a small proportion of Free Fire's bookings (<10%). Given the sharp selloff, I think investors are pricing in a possible ban on Shopee India as well. This would be worrying if the ban is permanent as India represents a massive growth market for SEA as Garena, Shopee, and SeaMoney have just started penetrating the market.
However, although Free Fire is banned, Free Fire Max (Higher quality graphics version of the game) is still available on the Google Play store. In fact, according to App Annie, downloads of Free Fire Max rocketed to the number 1 downloaded app in India in the games category and the number 3 downloaded app in India overall. This shows that Indian consumers still love playing the game.
Something to take comfort from would be that PUBG was banned in India for 6 months in 2020. However, it was relaunched under a new title as Battlegrounds Mobile India and it is now the number 1 ranking mobile game in India. It is no longer banned.
I believe that SEA's management can navigate past this temporary setback and have the game back online in India in due time. Nonetheless, I will still be paying close attention to the matter going forward as India remains an important growth market for SEA given its massive young population.
Let me now provide a deeper dive into Sea Limited's marketplace platform, more commonly known as Shopee.
Shopee, "The Crown Jewel of SEA"
Business Overview Of Shopee
Shopee, commonly referred to as the Amazon of Southeast Asia, is the market leader of eCommerce platforms in the region. This is measured in monthly active users (MAUs), downloads, total visits to the platform (mobile and website), and average time spent on the app per user (30-60 minutes per day).
Shopee is currently operating in the Greater Southeast Asia region and Latin America but recently it has been expanding into other territories such as Western Europe and India.
Shopee is a marketplace platform that connects buyers and sellers. It is supported by an integrated payments system (Shopee Pay), Logistics, Fulfillment, and other value-added services.
The platform was initially dominated with "long-tail" high margin products from the following categories: Fashion, Healthy and Beauty, Baby products and toys, and home goods. These products are "long-tail" as they are frequently used and usually sold in small quantities which help to promote higher-order frequencies from consumers as well as to generate a diverse seller base.
Recently, Shopee has expanded its offerings to include other categories such as electronics, furniture, and even groceries!
Sellers (especially individuals and SMBs) set up online shops and list their products for sale on the platform. Shopee provides sellers with tools, features, and services to help sellers analyze their business, build engagement with their customers, and optimize their product offerings to grow their business.
Shopee even went the extra mile to work with national governments such as Malaysia and Thailand to help digitalize rural sellers and boost their sales on the platform. Shopee also provides sellers, through "Shopee University", with training on how to develop and operate a highly functioning online store.
Thry also introduced a new feature "Shopee Mall" where big established brands and retailers list their products on their online stores. Some of these brands include Timberland, Samsung, P&G, Microsoft, etc.
Buyers are incentivized to visit the platform regularly through gaming and social features embedded in the app such as "Shopee Coins", "Shopee Live", and "Shopee Games".
Shopee Coins
Shopee Coins can be earned by participating in the Daily Check-In activity and you get to earn additional coins for consecutive daily check-ins. These coins can then be used to redeem discount vouchers from participating partners.
This simple mechanic is highly addictive as it rewards users for just simply opening the app daily and helps explain the "stickiness" of the app. The more users collect these Shopee Coins, the more they will be "enticed" to spend on the app and thus generate greater commissions for the platform.
Shopee Live
Shopee Live is a social feature in which sellers host a live streaming session to sell their products in an auction-like process. Prospective buyers can tune into these streams and bid on the items they are interested in purchasing (sellers usually offer items at a cheap rate to clear stock or they look to auction off desirable items which attract potential customers).
Sellers can also take this opportunity to interact with their viewers (there is a built-in chat on the stream) and build a rapport with their customers to establish a community that could potentially return as repeat customers. From my experience, it is quite exhilarating to participate in a live auction and win the object you are bidding on. This is certainly an entertaining feature that retains engagement from buyers!
The future of selling might well be a combination of both entertainment + product value. While Shopee Live is not unique to just the Shopee platform, it is likely a "must-have" feature for all marketplaces looking to grab market share.
Again, the more sales being concluded on Shopee Live, the more Shopee earns more from the commission associated with the sale, known as transaction-based fees.
Shopee Games
Shopee Games are playable games on the app where a user plays a game for rewards such as discounts or free goods. These games are usually simple and fun so that anyone can pick them up on the go. Getting users to have fun while earning discount vouchers and free goods is certainly a good way to keep users engaged and returning to the platform.
Strong User Retention
All the above-mentioned features are introduced to induce a user to stay on the platform and/or to open the app regularly. Once a user is on the platform, they are then tempted to purchase items. I am certainly guilty of that partly because it is so convenient. Since I am already on the app, might as well satisfy my buying craves, right?
Another reason why buyers are tempted to purchase items is due to the number of regular deals and promotions on Shopee. Shopee regularly hosts sales such as the now-famous 12:12 Birthday Sale. These monthly sales, corresponding to the month's number, ex: 8:8 sale falls on the 8th of August, are inspired by Alibaba's single-day sale on 11 November (11:11 sale). During these sales periods, items are heavily discounted in general and there would also be an hourly flash sale where desirable items go on sale for a particular hour. These deals and promotions make buying on Shopee very consumer-friendly for the wallets of buyers which causes buyers to make repeated purchases in a month.
An average customer orders more than 4x a month. I may not order that many times in a month, but these days before I purchase something I require, my first thought would be to check if the item is on Shopee because it is usually cheaper to purchase on Shopee vs. competing platforms such as Lazada.
Last but not least, Shopee is very user-friendly and it is highly personified and localized to the user and the region from where the user is using Shopee. This results in popular local products being promoted on your homepage as well as items that are deemed to be interesting to you based on your purchase/search history.
Shopee is also helped by the fact that it was heavily designed around a mobile application as this approach aims to attract the increasingly smart-phone dependent Southeast Asian population. These features separate Shopee from its competitors such as Tokopedia, Lazada, and Amazon.
All of these are reasons why Shopee has been growing extremely well even before the pandemic. The pandemic has only accelerated this growth. Gross merchandise value (GMV) and Gross orders have ballooned since the company's inception.
GMV grew from $3.5 billion in March 2019 to an astonishing $16.8 billion on Sep 21. Gross orders grew from 203.5 million in March 2019 to 1700 million on Sep 21!
Revenue And Profitability
Shopee makes the bulk of its revenue through transaction-based fees (Known as take rate, Shopee takes a cut from every order processed on the platform) and advertising (Sellers pay for Shopee to advertise their goods). As Shopee's GMV and gross orders grow, so does the revenue it generates. Despite the impeccable revenue growth Shopee has seen since its inception, it is still currently loss-making as management is currently funneling revenue back into growing the business by offering discounts and incentives to onboard more buyers and sellers to grow GMV and gross orders, and investing in logistics and warehouses to fulfill deliveries.
However, management has highlighted that Shopee can easily be profitable as seen in the 30+% margins in Taiwan and low positive to breakeven margins in other Southeast Asian countries such as Indonesia which is its biggest market. Management has slowly increased take rate over the years to ~7+% today with no obvious damage to gross orders and GMV.
Additionally, advertising is a relatively new way for Shopee to generate revenue at close to ~100% margins. For now, the main goal is to grab market share and grow the pie of GMV and gross orders so it is okay to remain unprofitable for the moment to achieve these goals. Once it becomes the dominant marketplace platform in the region, you can be sure that it will start removing all the discounts that it is currently "splashing out" as well as increase its take rate. (A prime example would be Grab. Once it becomes the dominant taxi-booking platform, all the discounts that users once enjoy become a thing of the past).
While I remain particularly bullish on SEA's eCommerce arm, I will still like to bring to the readers' attention several key metrics to track to ensure the business is growing successfully.
Three Key Metrics To Watch Out For
GMV: Gross Merchandise Value
This metric informs us of the total value of merchandise sold over a given period (last 3 months) through the Shopee marketplace. This metric has seen wild growth in the past 2 years largely due to the pandemic lockdowns but also due to the secular growth in the e-commerce industry as more people are looking to purchase items online.
As Shopee's revenues from its take rate depend on GMV, this is a critical metric and we will like to see a stabilization of GMV or a slight decrease as lockdowns are lifted. Management has so far indicated that GMV should still increase for its next earnings. A dramatic decrease in GMV would be cause for concern as it means that people are no longer transacting as much on the platform.
Gross Orders
This metric informs us of the number of orders placed on the platform in the last 3 months. Ideally, we would like to see a continued increase in the number of gross orders or stabilization in the number for similar reasons as above. Likewise, a dramatic decrease would be a worrying sign as it would imply that fewer transactions are made on the platform.
Loss Per Order
This metric informs us of the amount that Shopee is currently losing per order transacted on its platform. As mentioned above, Shopee is currently loss-making in a bid to grow the business aggressively. Ideally, we would like to see stabilization of this figure or a decrease in the upcoming quarters.
A sharp increase in the figure would not be ideal as it means the company is unable to grow its business without incurring heavier losses per order.
Risks To Consider About Shopee
Heavy Competition
Shopee faces many competitors in the e-commerce landscape. Some of its competitors are Lazada, Amazon, Tokopedia and Grab, and Coupang. Although SEA is a clear market leader, it cannot rest on its laurels and has to continue to execute and innovate as it has done so since its inception. Failing to do so, it might fall behind its competitors as Lazada had when it lost its competitive position to Shopee. Also, some of these competitors such as Lazada (a subsidiary of Alibaba) and Amazon have more resources than SEA.
A Slowdown In Growth
As lockdowns worldwide are lifted and people go back outdoors, a slowdown can be seen in stay-home activities such as e-commerce. This might result in a slowdown in the growth of GMV and gross orders which would be detrimental to Shopee.
However, as long as management continues to execute as they have done since 2015, Shopee would continue to grow well in the current decade. Also, the secular growth of the ecommerce industry will provide a nice tailwind for the future of Shopee.
Last but not least, the development of a logistics arm to fulfill Shopee's deliveries could provide an alternative source of revenue for the company in the future. Also, I am bullish on the revenue to be made from advertising as it could generate massive revenue. For reference, Amazon made $31.2 billion from advertising in 2021!
Overreach In Expansion Efforts
Shopee has expanded into India, Western Europe, and other countries in Latin America recently. Part of me worries that Shopee might have spread itself too thin in its expansion efforts. No doubt it is the market leader in Southeast Asia these days but it has to remain sharp and focused to retain its leadership position.
Trying to enter into so many other territories at the same time might overstretch the company in terms of both financial and manpower resources especially if these new entries run into issues. However, I will place my faith in the management team for now as they have not given me a reason to doubt them thus far. But this is an area to be mindful about.
If management starts raising capital from shareholders to fund their expansion plans due to insufficient cash flow from its operation, that might be a future red flag, in my view.
Quick Look At The Charts
We've already seen the chart 2 weeks back using the position daily strategy in the previous article. This time, let's see how it looks like if we are deploying a weekly swing strategy: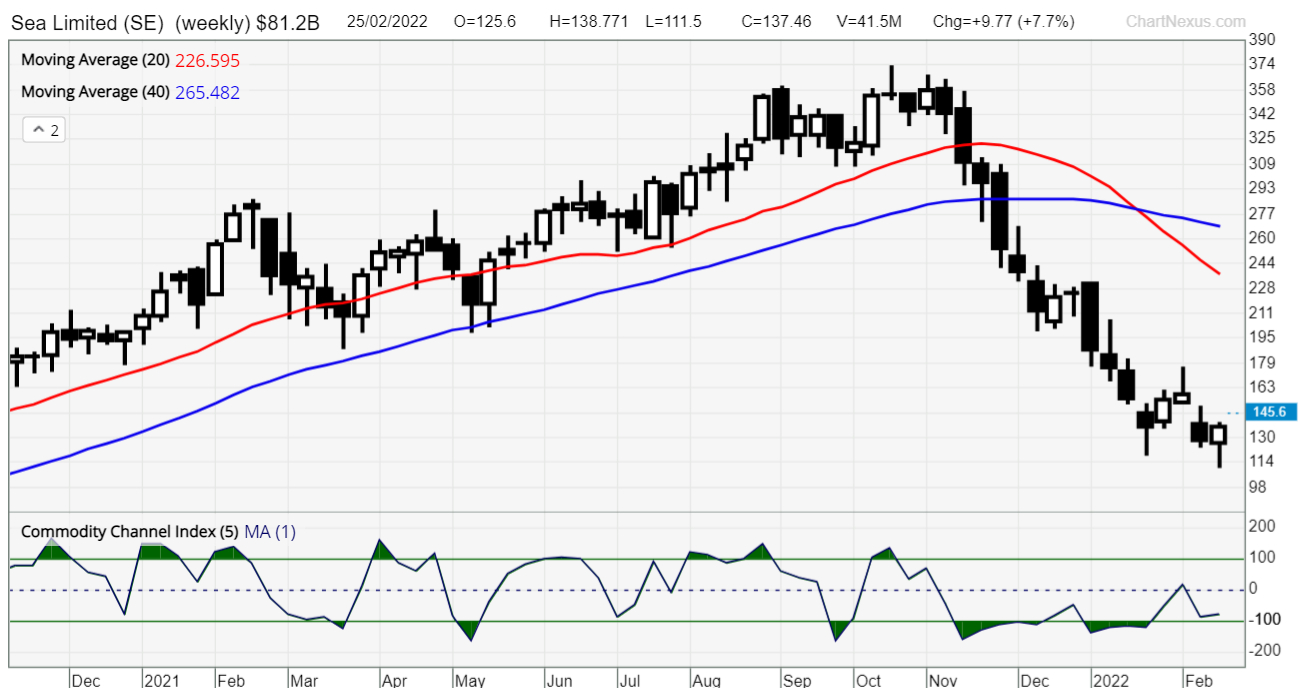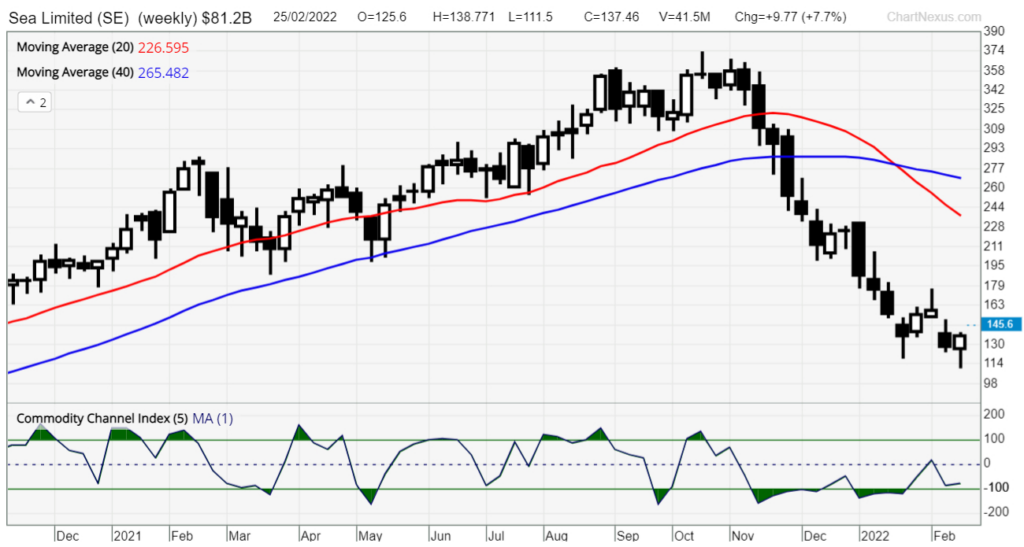 While SE would have been a candidate for a swing buy strategy last year, the moving averages have crossed over and are now pointing downwards. Instead of a swing buy strategy, one looking to trade this counter could await the opportunity to do a swing short. In which case, there hasn't been any set-up identified to date – if it does appear, one could then await the trigger to execute such an opportunistic trade.
Check out the Part 3 in this 3-part series on SEA Ltd.
If you enjoyed reading this article and various other investment + personal finance articles, do visit New Academy of Finance. Royston has more than 10 years of buy and sell side experience as a financial analyst. He constantly posts interesting, valuable and actionable articles.
If you'd like to learn more about systematic trading to better time your trade entries, click the banner below: