Is The Energy Sector Still Going Strong?
Do you feel the pinch when you refill petrol for your vehicle?
Perhaps, you're feeling the pinch that's indirectly caused by rising oil prices. Your utility bills have gotten more expensive, exacerbated from your work-from-home arrangement.
We're feeling the effects from the war in Ukraine and runaway inflation.
Is there a solution to alleviate this situation that we're facing?
Let's check out the energy sector and discover if the energy sector is still going strong for a great investment opportunity.
Top Component Stocks in the Energy Sector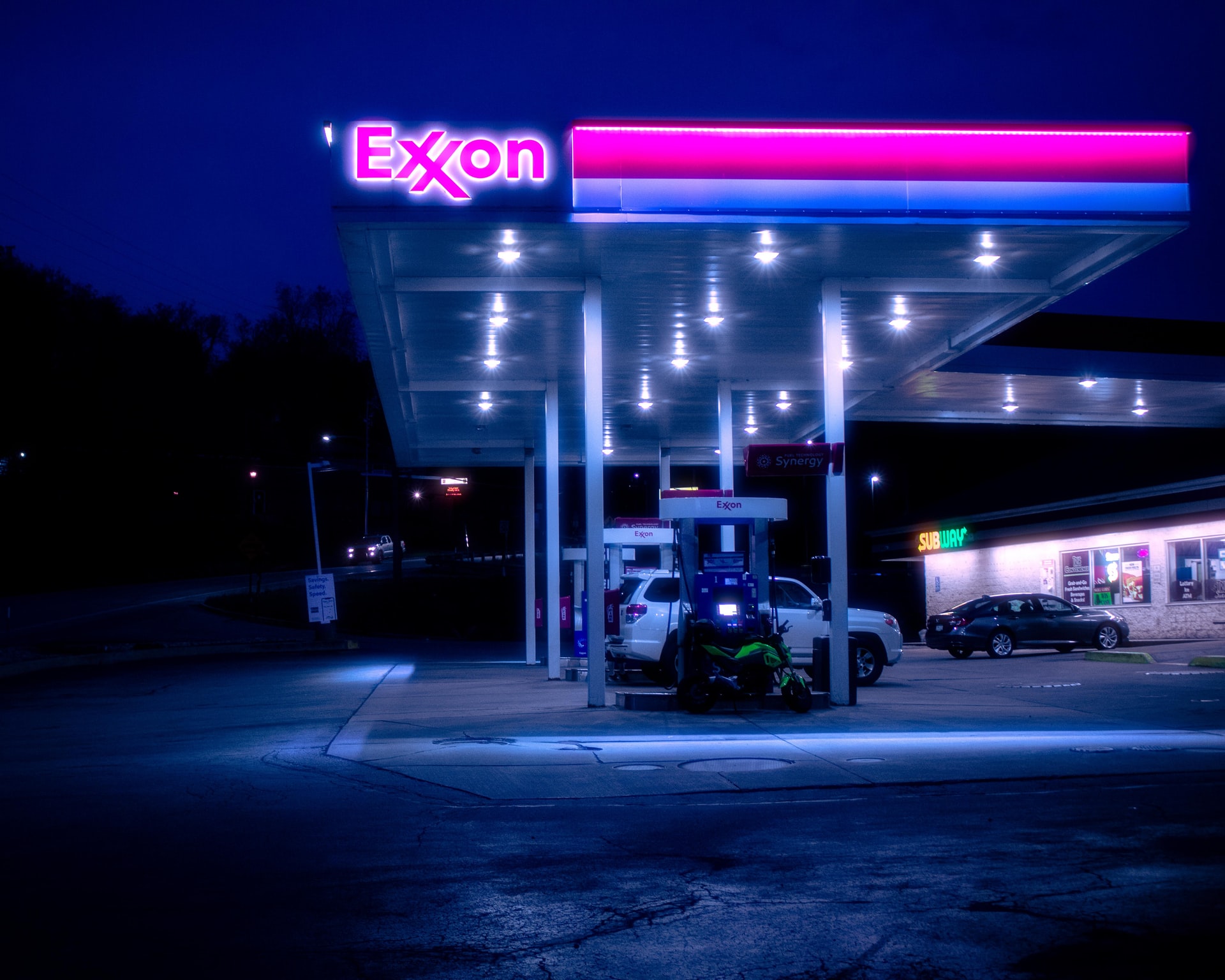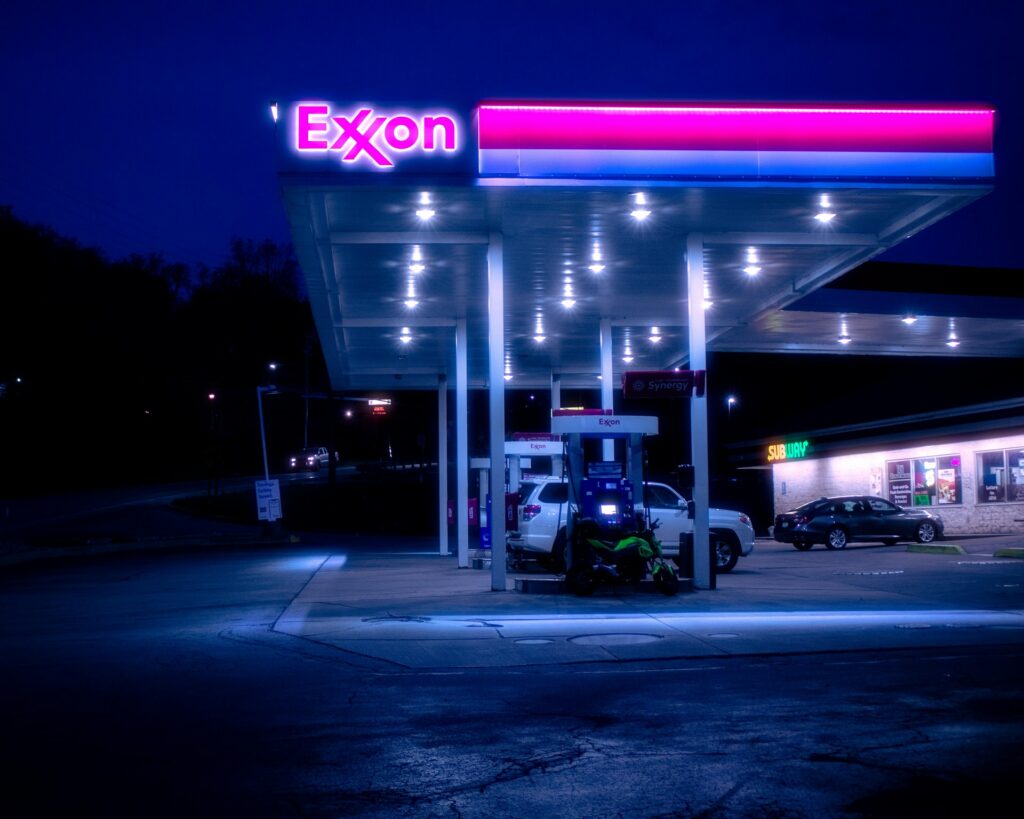 Given that there're many stocks that belong in the energy sector, which should you be paying attention to?
May I suggest that you look at the energy sector as a whole? That's to look at its ETF named XLE, and it's listed on the NYSE.
Are the component stocks in the energy sector blue chip companies? Let's find out.
Here's a table displaying the top 10 stocks that are in the energy sector (NYSE:XLE).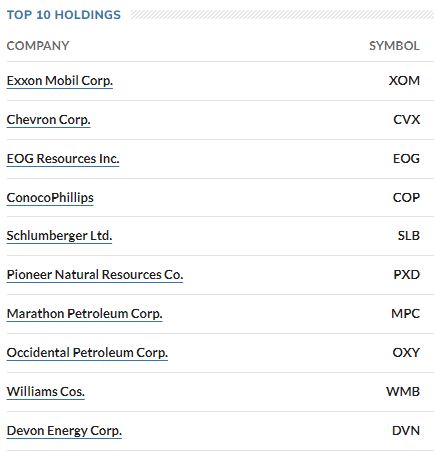 Source: Marketwatch.com
These companies are behemoths! Exxon Mobil has a market capitalization of $367b; Chevron, $330b; EOG Resources, $74b; ConocoPhillips, $135b. You get my point.
Oh wait, isn't the source of energy shifting away to renewable? Let's have a look.
Oil, Gas, and Renewable Energy
One cannot help to think that our reliance on oil and gas is on the decline as the media talks up about renewable energy. I think that we are still a long way away from relying on renewable energy.
Here's why I think this way:
Infrastructure Challenges
Consistent renewable energy production is challenging as the collection of solar and wind energy heavily rely on the weather. When the wind is too strong or weak, no electricity is produced. When the sky is cloudy, only little electricity is produced.
Wind turbines and solar panels take up massive space. This poses a challenge for many countries as governments around the world seek to have the most productive activities to be conducted for maximum economic growth.
Population Growth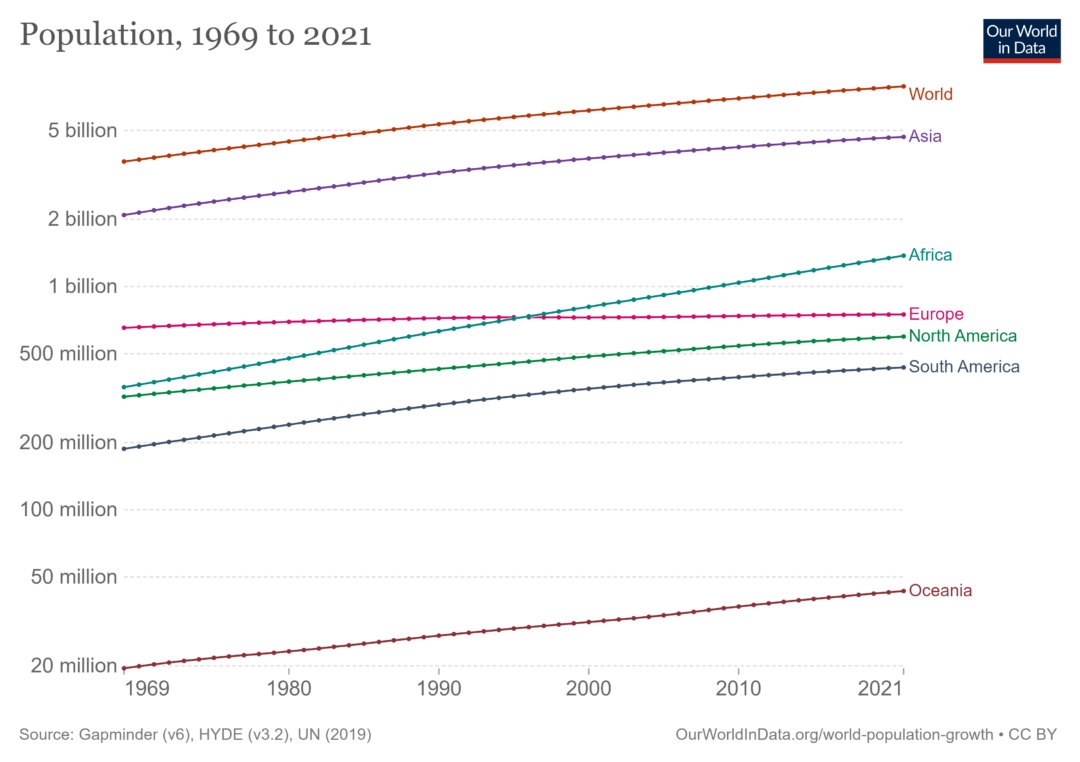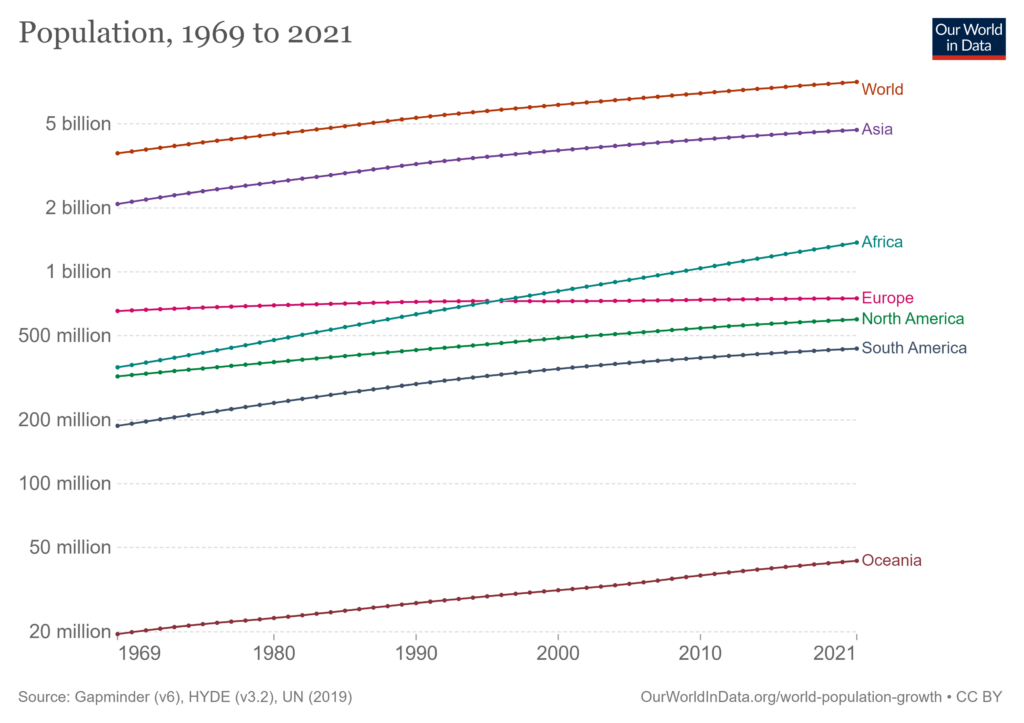 As the world's population continues to soar, the appetite for energy will continue to grow in step.
The global smartphone penetration rate is around 78%. This means that there are roughly 6.4b smartphones users in the world, and the world's population is 7.8b,
In the future, it's highly likely for the penetration rate of smartphones to increase as the world's population grows. This alone gives rise to an increased demand for electricity, which is dependent on oil and gas until the demand and supply of renewable energy reaches an inflexion point.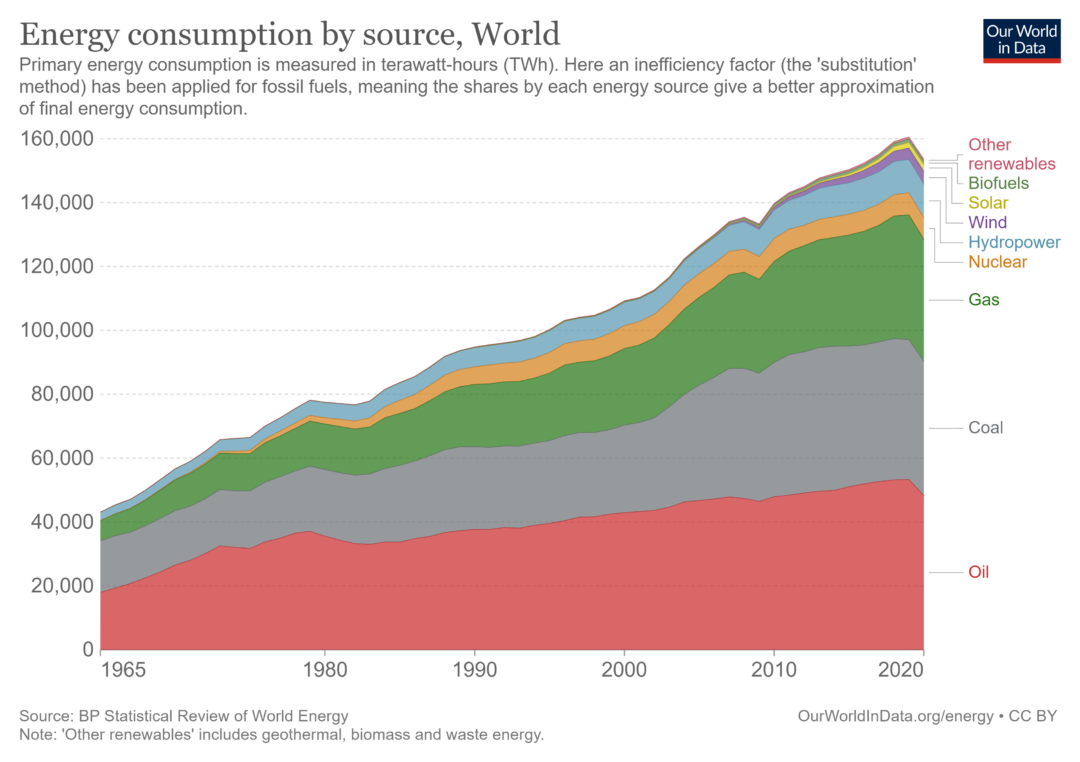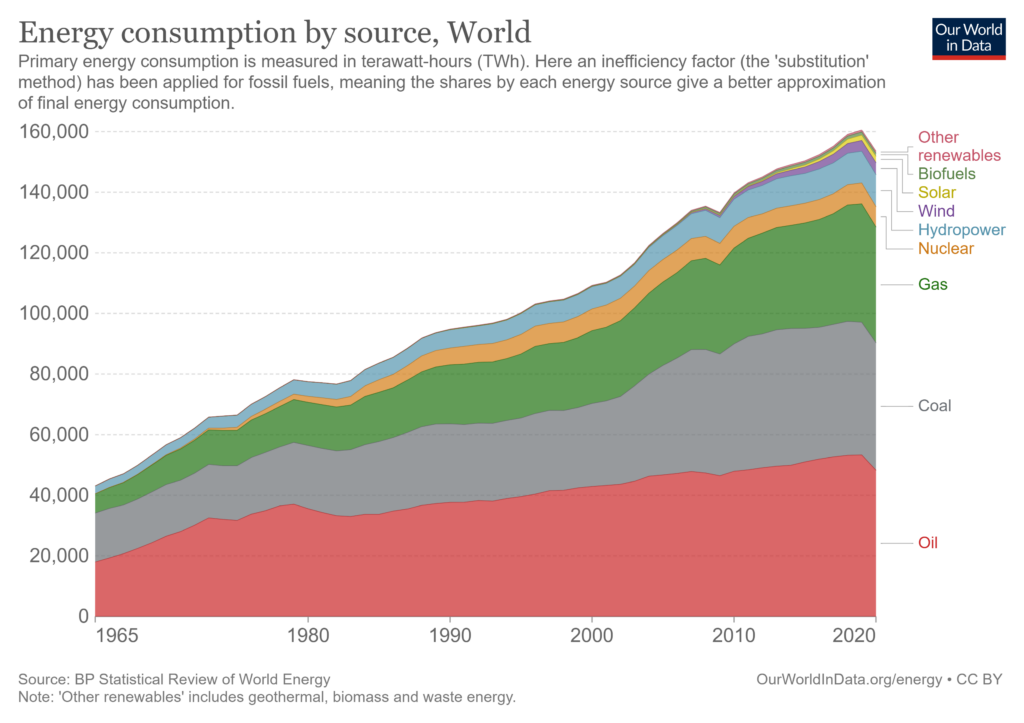 From the graph above, you can see that we are heavily reliant on oil and gas to power our needs. Therefore, it's likely that we won't be seeing a decline in our appetite for oil and gas any time soon.
With all these said, what does the chart of the energy sector (NYSE:XLE) look like? After all, price is king.
Technical Analysis on the Energy Sector (NYSE:XLE)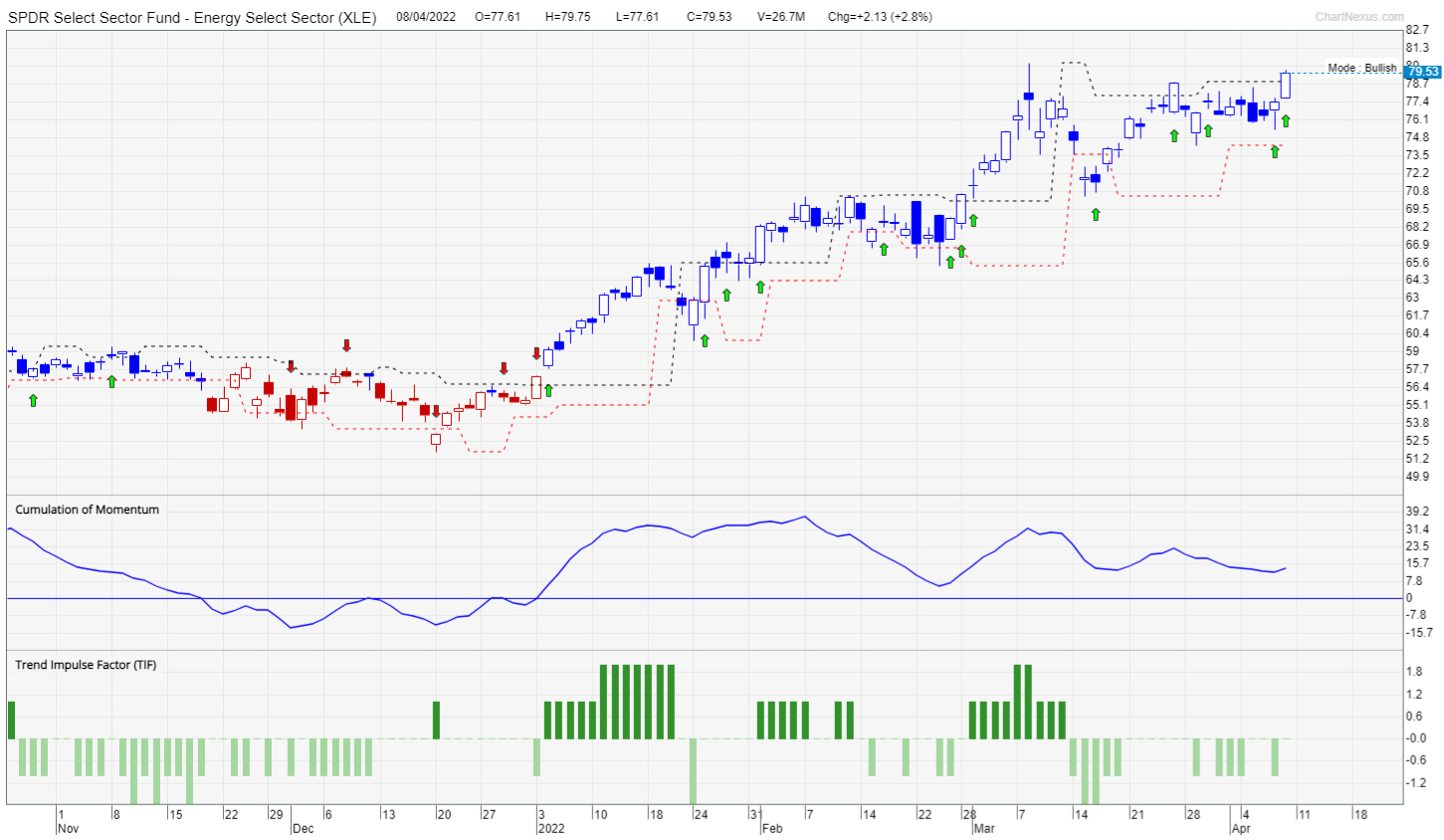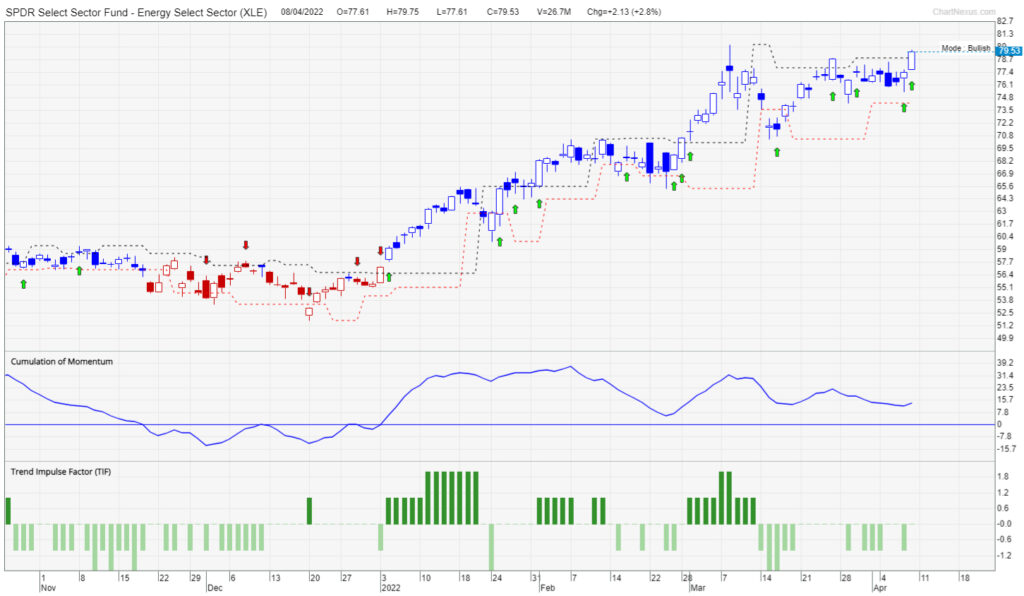 This ETF has been enjoying a stellar year! The bulls are back after hibernating through 2020 and parts of 2021.
Is it too late then, to initiate a position trade on the energy sector (NYSE:XLE)?
No, it isn't too late.
There're 2 green arrows below the latest and previous candlesticks. This tells you that a new uptrend is possibly here.
Does this mean that you rush to buy the energy sector (NYSE:XLE) once the stock market opens?
I don't think you should. This is because the Trend Impulse Factor bar has yet to turn dark green. A dark green bar will strengthen the view that the bullish momentum has truly returned.
Be patient and wait as patience rewards.
Conclusion: Is The Energy Sector A Good Investment?
Though there're concerns that renewable energy will erode the dependence on the energy sector which is reliant on oil and gas, this is a problem to think about years down the road.
As shared, there're several big challenges which need to be overcome before renewable energy will break the dominance of oil and gas.
Lastly, the chart of the energy sector (NYSE:XLE) looks attractive and is almost ripe for a position trade.
I know that the stock market can be difficult to comprehend. Trading can also be highly risky especially without a proper system. This is why TradersGPS (TGPS) was created. The indicators will help you decipher if a stock is a cut above its peers. You won't have to feel in the dark and make wild guesses.
What are your thoughts? Share your thoughts with us below!
Did You Know?
The ones who make the MOST money from the stock market actually spent the LEAST time.
Yet, most people tend to spend hours reading news or analyzing charts, only to be caught in a never-ending spiral of disappointment from the stock market.
The truth is, profiting from the market is all about trading smart, not hard. And this is the very secret of all top retail traders and investors.
They all have a system they follow.
A system that helps them identify winning stocks fast and filter away dangerous risky ones, a system that tells them exactly when to buy and sell and eventually exit the stock with profits.
It's like having a personal guide telling you exactly what to do from start to finish. One that is not only reliable in aiding your investment journey, but also saves you time, energy and stress.
So if you wish to start building an additional stream of income through the stock market the SMART way, not the HARD way…
Come and join me in my upcoming LIVE demonstration webclass where I will demonstrate LIVE how ANYONE, even with no experience can learn and adopt a really simple system and apply almost immediately to start profiting in the markets.
Click HERE to register your seat before we hit full capacity!
If you'd like to get a FREE e-course and learn how to better time your trade entries, click the banner below: