This article is for education purposes only, and not to be taken as advice to buy/sell. Please do your own due diligence before committing to any trade/investment.
Welcome to our 17th part of our series on Systematic Trading!
In this part, you'll discover two position trading opportunities in the US stock market.
Before you scroll further, you'll want to check out our stock pick in February on Air Products and Chemicals and Rivian Automotive.
Are you ready to check out Lyft and Petco Health and Wellness to discover if they are ready for a position trade?
Lyft (NASDAQ: LYFT)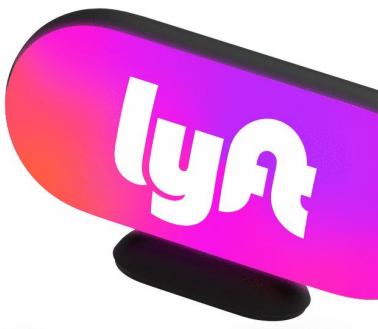 Source: s27.q4cdn.com/263799617/files/doc_financials/2022/q4/lyft-q4-2022-earnings-supplemental-datafV.pdf
1. About the Company 
Lyft is a technology company which provides ride-hailing services.
Like Grab, Lyft has a car rental program.
In addition, Lyft has a wide network of bikes and scooters for short-term use.
Knowing that autonomous driving is about to disrupt its business, Lyft has started offering access to autonomous vehicles.
Does its future look bright for traders and investors?
Let's find out!
2. Position Trading (Daily)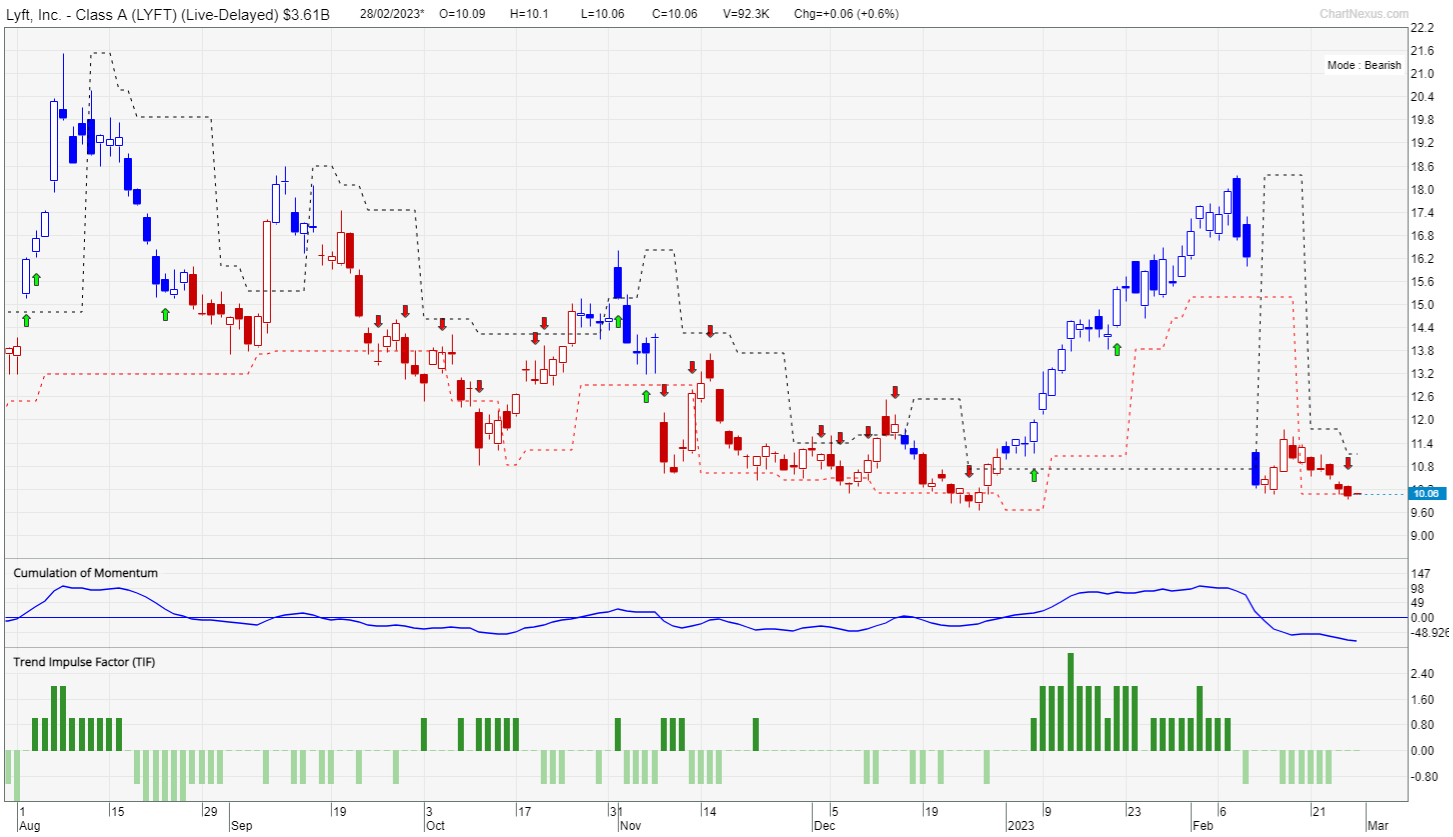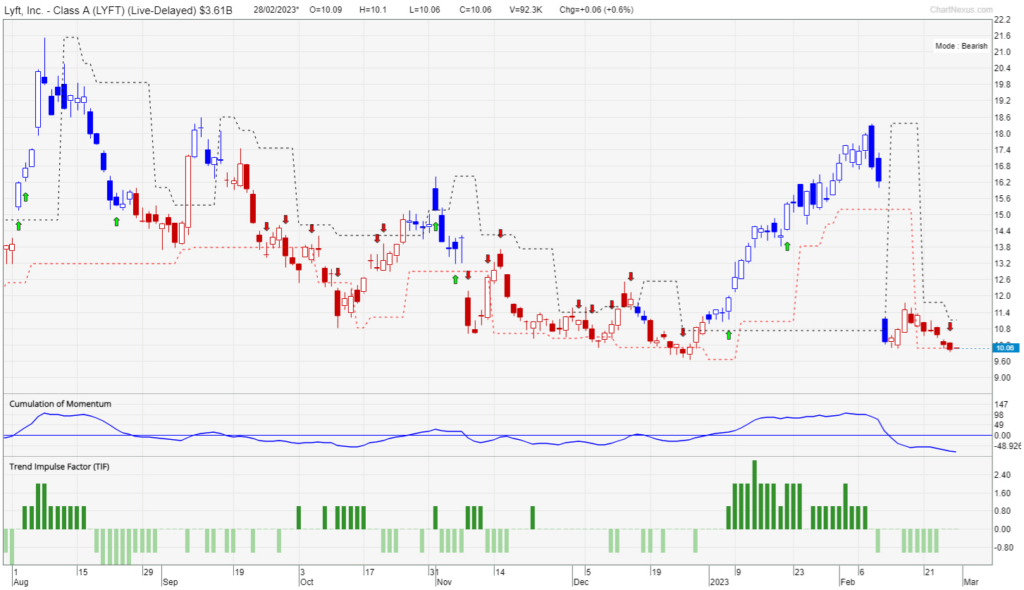 Looking at the chart of LYFT, I can tell if it's time to sell its shares short for a position trade.
There's no need for any technical drawings on the chart.
This is because the indicators on the chart – the red arrow and Trend Impulse Factor indicators are sufficient.
These indicators form the TradersGPS (TGPS) which enables traders to have an advantage over the rest.
Here, there's a red arrow on the latest candle of LYFT.
This suggests renewed bearishness. Its share price could continue to fall.
But is this drop going to be sustained for a position trade?
This is when you'll want to refer to the color of its Trend Impulse Factor bar.
It's light green in color, signaling that this bearish move is unlikely to last long.
Therefore, you won't want to take a short position trade on LYFT as the drop is likely to be too short to be worthwhile.
What about the other stock of the month – Petco Health and Wellness?
Petco Health and Wellness (NASDAQ: WOOF)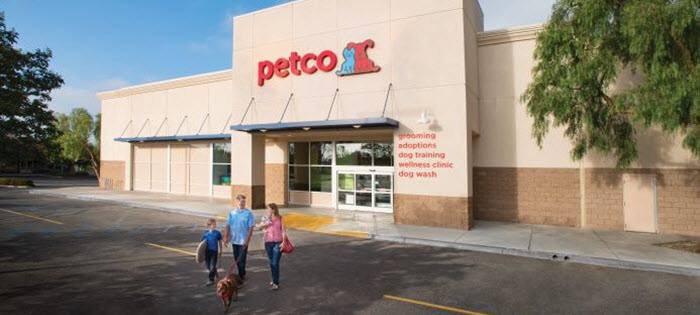 Source: corporate.petco.com
1. About the Company 
From its name, you would've guessed that the company is in the health and wellness industry for pets.
And you're right!
More than being just a vet, Petco Health and Wellness sells pet food, pet insurance, and other pet related services.
As the cost and stress of raising a child around the world rises, it's little wonder that people are turning to pets as companions.
Does this mean that the shares of Petco Health and Wellness are doing well?
Let's find out!
2. Position Trading (Daily)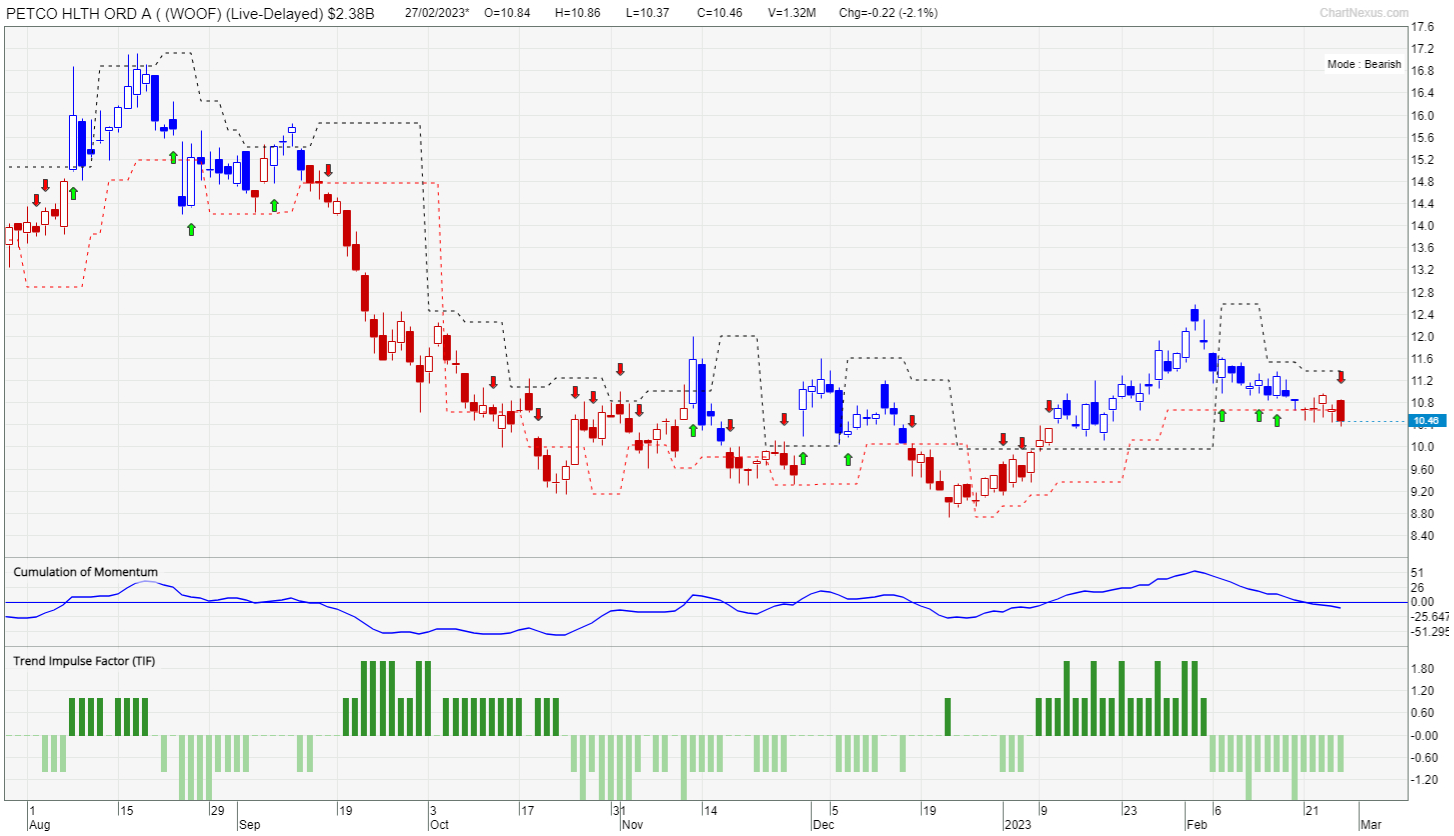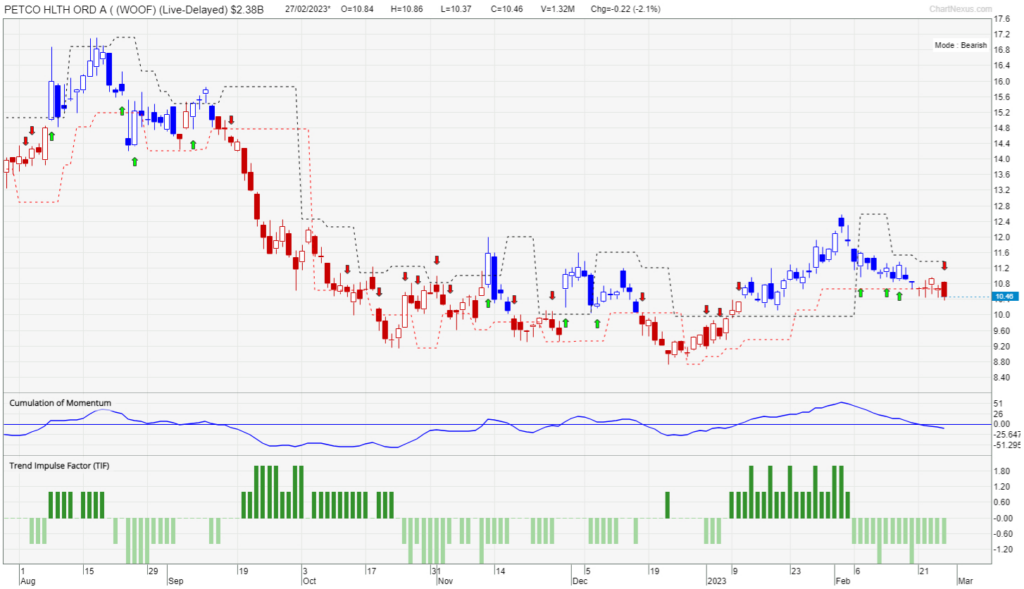 Is the time ripe to short WOOF?
Looking at its chart above, it's clear that WOOF is in a downtrend.
This is clear from the red arrow that's above its latest candle.
The red arrow suggests that this is the beginning of a new downtrend.
Next, you'll want to look at the color of its Trend Impulse Factor bar.
Similar to LYFT, the bar of WOOF's Trend Impulse Factor indicator is in light green which signifies that the bearish momentum is likely to end in a flash.
Hence, WOOF is not ripe for a short position trade yet.
Conclusion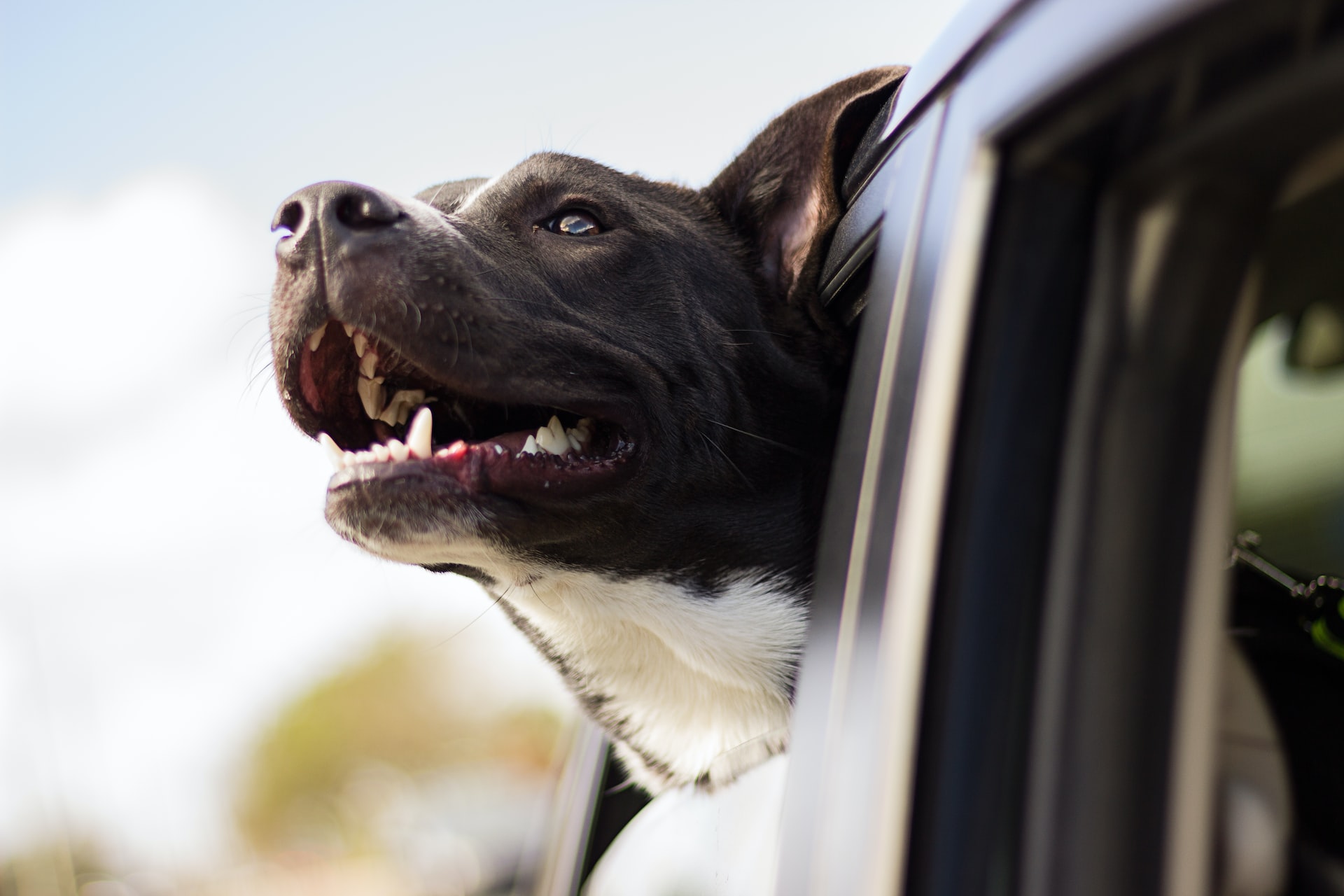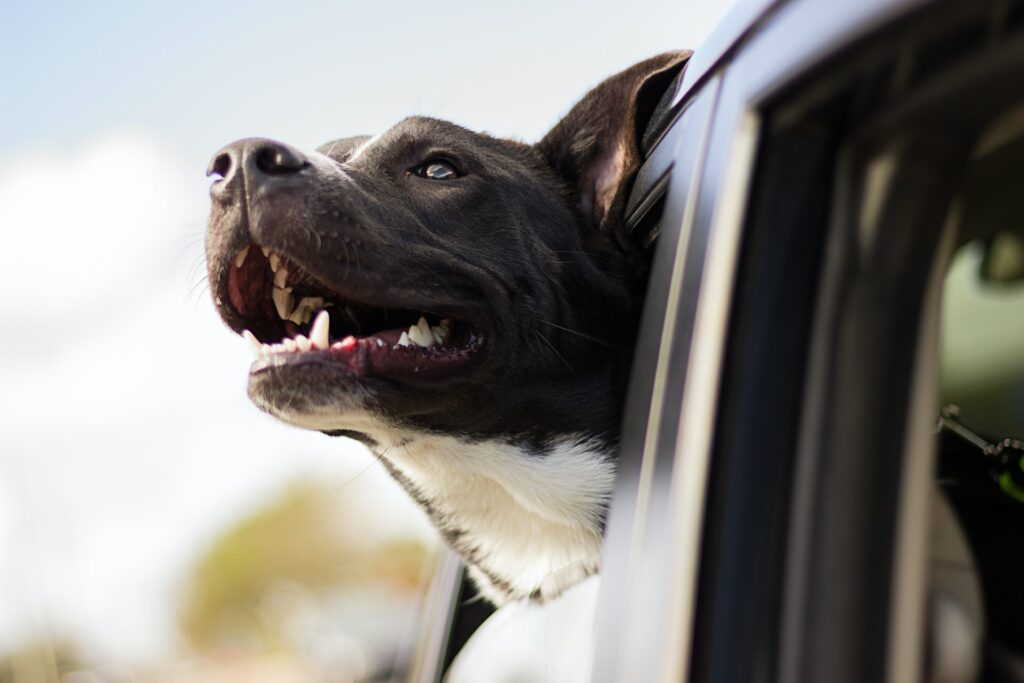 Source: unsplash.com
Though both stocks aren't ready for a short, there's a chance they could be ripe sometime in March, especially if the stock market tumbles.
It's always better to be overly prepared than to be caught unprepared, missing out on potential money-making opportunities as a result.
There's a very important concept I'd like to bring to your attention – the use of a stop loss.
Because the stock market doesn't behave according to our instructions and hopes, it's advisable to place a stop loss level to protect your trading capital, should an unexpected event occur.
Trading stocks without a proper system can be highly risky. This is why TGPS was created. The indicators will help you determine if a stock is ready for action to be taken. You won't have to feel in the dark and make wild guesses.
What are your thoughts?
Share your thoughts with us below!
1 Simple Strategy To Reap Explosive Profits This Year (2023):
2022 by far has been one of the toughest years to trade in the past 5 years.
Lots of Singaporeans who dabble in trading or investments have suffered badly this year.
From inflation, interest rates, Ukraine war, financial tensions between US & China, and most recently, the dramatic crypto meltdown…
We've seen nothing short of constant volatility and a persistently declining stock market this year.
Many people I know have incurred 5 to even 6 figures losses and others are holding on to 20-80% unrealized losses.
It's unfortunate to see that the goals of becoming financially independent to provide better lives for their family have turned into losses for many.
Yet, as a matter of fact, all these losses could have been easily prevented and turned into profits instead if these people had the right knowledge.
Having the right knowledge, and having a tested and proven methodology for trading strong stocks
– This is exactly what helped me and over 5000+ of my students to end the year with decent gains in our portfolio despite the odds stacked against our favor.
Within our SMT community, we use a really simple yet powerful 3-step system that allows us to identify and capitalize on strong stocks.
This is why even amidst the poor performing market this year, we are still able to extract extensive profits from the market – by identifying 'hidden gem' opportunities.
And if we are able to reap decent gains in such a bad market this year, think about how immense the profit potential would be like in 2023…
Especially when the market is poised to trend stronger upwards in 2023 and the number of opportunities would be greater than ever.
With that said, it is extremely important to know what to do and how to best take advantage of the markets in 2023 while maintaining a really low risk.
I will be sharing about the ONE strategy you'll ever need to know to reap maximum profits in the market in my upcoming LIVE training (100% free).
This training will be nothing like you've seen before.
I will hold nothing back to reveal my exact game plan and strategy to skyrocket your portfolio in 2023.
Register now here before seats are capped out.
I will show you the full process from identifying winning stocks all the way to executing the trade, and how it can be done in just 15 minutes.
I will also be opening up questions to the floor where you can ask me to analyze ANY stock of your choice,
The biggest gains are not made during an ongoing bull market, but from the preparation before the bull market even happens.
There is no better time than now to be introduced into the world of profitable stock trading.
After all, what excuse do you have to not pick up the skill to capitalize on this impending huge opportunity at this very moment?
I'll see you real soon!
Click HERE to register your seat before we hit full capacity!