How Did Microsoft Keep Its Profit Margin Expansion Amid Inflation?
We are paying higher prices for almost everything as inflation takes flight. This is bad news for both consumers as well as producers who are not able to pass on rising input costs.
For example, the producer price index, which measures the costs domestic producers pay for goods and services, climbed 9.7% on a 12-month basis in Jan 2022. Compared this to the consumer price index, which measures the price consumer pays for goods and services, which rose by 7.5% in the same month. This means that producers were forced to absorb rising costs themselves, which meant lower margins and profitability.
In an inflationary environment, which is a major point of concern for many consumers today, it might also be equally problematic for producers. Some companies will do well while others will suffer.
Companies with businesses that have strong pricing power will be able to pass rising costs to customers by raising prices while those operating in a highly competitive environment will find themselves having to absorb the higher raw material costs to stay competitive. This will translate into a lower profit margin for these companies.
Companies With Strong Pricing Power And Profit Margin Expansion
Companies with strong pricing power will tend to do well operationally, inflation or no inflation. These companies tend to be characterized by improving profit margins.
These companies have been identified using 2 metrics: 1) Gross margin expansion and 2) High ROIC.
All 6 companies have continued to expand their gross margins in 2021. The 6 companies are as follows:
Among these 6 stocks, Microsoft is the most well-known of them all and this tech behemoth has a few traits which I love to see in a company.
Microsoft (MFST): The Blue-Chip Tech Company With Profit Margin Expansion
#1 Right Business That Is Growing
First, the company is in the right business which is growing. Its business can be divided into 3 key segments: 1) Productivity and Business Processes, 2) Intelligent cloud and 3) Personal Computing.

#2 Productivity And Business Processes
Despite its Microsoft Office suite of products being in existence for more than a decade, it continues to grow. With a subscription model that locks its clients into paying a recurring fee, this segment should continue to generate strong recurring growth for Microsoft.
Take for example, back in Aug 2021, Microsoft announced that it will be raising the price of its Commercial Office 365 products in March 2022 (which is now). Such products tend to be pretty sticky, which affords Microsoft the ability to raise its price with minimal cost increment, thus boosting its margin.
#3 Intelligent Cloud
This is where Microsoft provides server products and Azure cloud services to its client. Cloud computing is undoubtedly one of the strongest growth themes of this decade and Microsoft, being a market leader alongside Amazon AWS, is primed to benefit from the growth of cloud computing demand in the foreseeable future.
#4 Personal Computing
Seen as a legacy business, this is where the weakest growth is among the 3 key segments. Nonetheless, the company is pivoting towards higher margin business and that has helped the company to generate strong segmental results in its latest 2QFY22, with revenue jumping by +15% and gross profit by +20%
#5 Strong Pricing Power
Second, the company has strong pricing power. I have already quoted a previous example where Microsoft is looking to raise its Commercial Office 365 product prices in March 2022 which will likely result in better profitability.
For companies operating in a competitive environment, price increase could translate into reduced demand for their products/services. This is unlikely to be the case for Microsoft's suite of Windows and Office products which are extremely "sticky" and clients are likely going to "pay up" for that price increment vs. switching to an unfamiliar product which could result in lower productivity.
Microsoft's strong pricing power is crucial in today's context where volume demand might potentially dip as a result of a slowing economic environment or even possibly recession. That could help Microsoft to generate revenue growth despite a dip in unit demand.
#6 Less Impacted By Rising Input Costs
Third, the company is less impacted by rising input costs. This is because their products and services mostly rely on existing infrastructure, intellectual properties, or platforms.
To increase the sale of its products/services, there isn't a necessity to incur higher costs from that incremental unit demand. This is particularly evident in its Service segment. From FY16 to FY21, the COGS associated with its "service and other" segment declined from 63% (as a % of revenue) to only 35%.
While its service segment grows, Microsoft is not hindered by the higher cost associated with its service provision. This is unlike the case for companies heavily dependent on manpower, with manpower costing a huge component of the company's operating expenses. This is particularly problematic in an inflationary environment where manpower costs trends higher.
#7 Expanding Competitive Edge
Fourth, besides the reasons highlighted above as to the possible explanation of Microsoft's fantastic record of maintaining its profit margin, the other key component that has driven Microsoft's increasing margin is their constant effort to innovate and further expand their competitive edge vs. peers.
The company has been increasing its R&D expenditure to develop better products/services to stay ahead of the curve. The odds are hence stacked for this blue-chip tech company to get even bigger in time to come.
Result: A fantastic and sustainable growing business with expanding profit margins
Is There Any Opportunity To Purchase Microsoft Amid The Current Market Volatility?
Like most tech companies, there has been a sell-off in the companies' share price over the past 2-3 months and Microsoft has not been spared.
The difference is that blue-chip tech companies such as Microsoft and Apple which are highly profitable entities and continue to demonstrate their ability to grow both top and bottom-line, which is a testament to their resilience, has seen a "milder" decline in their prices vs. non-profitable high-growth tech names.
Microsoft has a historical normalized P/E ratio of approx. 30x. With the company expected to generate $9.44/share in EPS for its FY2022 results, the company is trading at a forward P/E ratio of c. 29.7x which seems to be "fairly" valued based on its historical P/E range.
A good long-term entry point for a blue-chip tech name like Microsoft, in my view, would be around the $245-$250/share level which is at the lower band of its P/E multiple trading range (25x P/E)
Conclusion: Is Microsoft A Buy Or Sell Right Now?
Companies that can consistently expand their profit margin are uncommon. Some companies demonstrate margin growth as a result of operating leverage through higher unit sales. A handful of these gems combine that operating leverage prowess alongside the ability to increase its product/service prices without a detrimental effect to its demand.
These are the companies that you should be on the lookout for in an inflationary environment.
I believe that Microsoft is one blue-chip tech company that has been extremely consistent in not just growing its top and bottom-line, but achieving that with consistent profit margin expansion, a feat that is not easily achieved.
I believe the recent market volatility provides a long-term opportunity for value investors to buy into a fantastic company like Microsoft at a discount.
1 strategy to consider would be to sell a short-term cash-secured put option on Microsoft and be paid to wait for the counter to dip before you take a long-term position in the stock.
Buying into Microsoft is unlike buying into an unprofitable hyper-growth stock. This is a highly profitable tech company and that growing profitability is likely to serve as a strong price buffer.
From A Trading Perspective: MFST
For short-term traders who are looking to eye an entry into Microsoft, now is NOT YET the ideal time as momentum has yet to return to this counter, as illustrated by the TradersGPS system.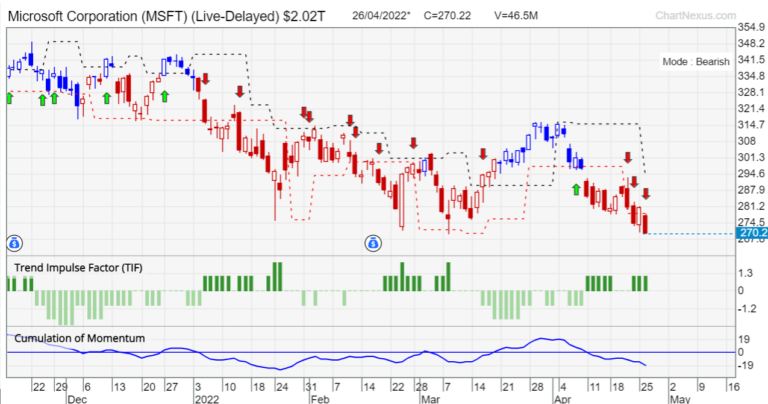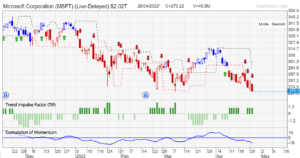 Clearly, MSFT is on a downtrend. Despite a slight pullback from the downtrend in late March, MSFT was not spared from the recent market volatility and the downtrend quickly resumed.
Many people would say that now is a good time to enter given that it has broken its previous resistance, but they couldn't be more wrong.
If you look at the chart from the start of 2022 to mid-March, many people bought the dip in January thinking it's a good low entry, only to get caught in the falling knife as it continued to dip all the way till March.
Conversely, those who use the TradersGPS system would've seen that despite dips happening in January, the system is showing red candlesticks, which is an indicator to NOT buy.
Thanks to the system guiding our decision, many of us who wanted to enter was able to avoid catching the falling knife (~ 15% dip).
Likewise in this current situation, we see that there is no sign of a blue candlestick with green arrows yet, signifying the downtrend is still ongoing.
To those looking to enter for a trade, we should use the system and wait for a trend reversal signalled by blue candlesticks with green arrows before making our move.
Having such a system sure is helpful in times like this. If you're interested in learning more about how you can use our proprietary TradersGPS system to easily determine profitable entry & exit points, click here to find out more!
If you enjoyed reading this article and various other investment + personal finance articles, do visit New Academy of Finance. Royston has more than 10 years of buy and sell side experience as a financial analyst. He constantly posts interesting, valuable and actionable articles.
Did You Know?
The ones who make the MOST money from the stock market actually spent the LEAST time.
Yet, most people tend to spend hours reading news or analyzing charts, only to be caught in a never-ending spiral of disappointment from the stock market.
The truth is, profiting from the market is all about trading smart, not hard. And this is the very secret of all top retail traders and investors.
They all have a system they follow.
A system that helps them identify winning stocks fast and filter away dangerous risky ones, a system that tells them exactly when to buy and sell and eventually exit the stock with profits.
It's like having a personal guide telling you exactly what to do from start to finish. One that is not only reliable in aiding your investment journey, but also saves you time, energy and stress.
So if you wish to start building an additional stream of income through the stock market the SMART way, not the HARD way…
Come and join me in my upcoming LIVE demonstration webclass where I will demonstrate LIVE how ANYONE, even with no experience can learn and adopt a really simple system and apply almost immediately to start profiting in the markets.
Click HERE to register your seat before we hit full capacity!
If you'd like to learn more about systematic trading to better time your trade entries, click the banner below: