One Rare Gem in the Healthcare Sector You Should Watch
Healthcare. It was the hot sector in the past couple of years.
Multiple healthcare companies were in the race to develop vaccines for COVID-19 and win patents. Towards the end of last year, the hype on stocks in the healthcare sector has fizzled for a while now.
Yet, the healthcare sector remains valuable as medical care and services are still relevant especially as the world's population ages. Hence, stocks in the healthcare sector shouldn't be written off so soon.
In fact, there's one stock in this sector that you'll want to watch closely for a position trade – McKesson Corporation (NYSE: MCK).
Brief History of McKesson Corporation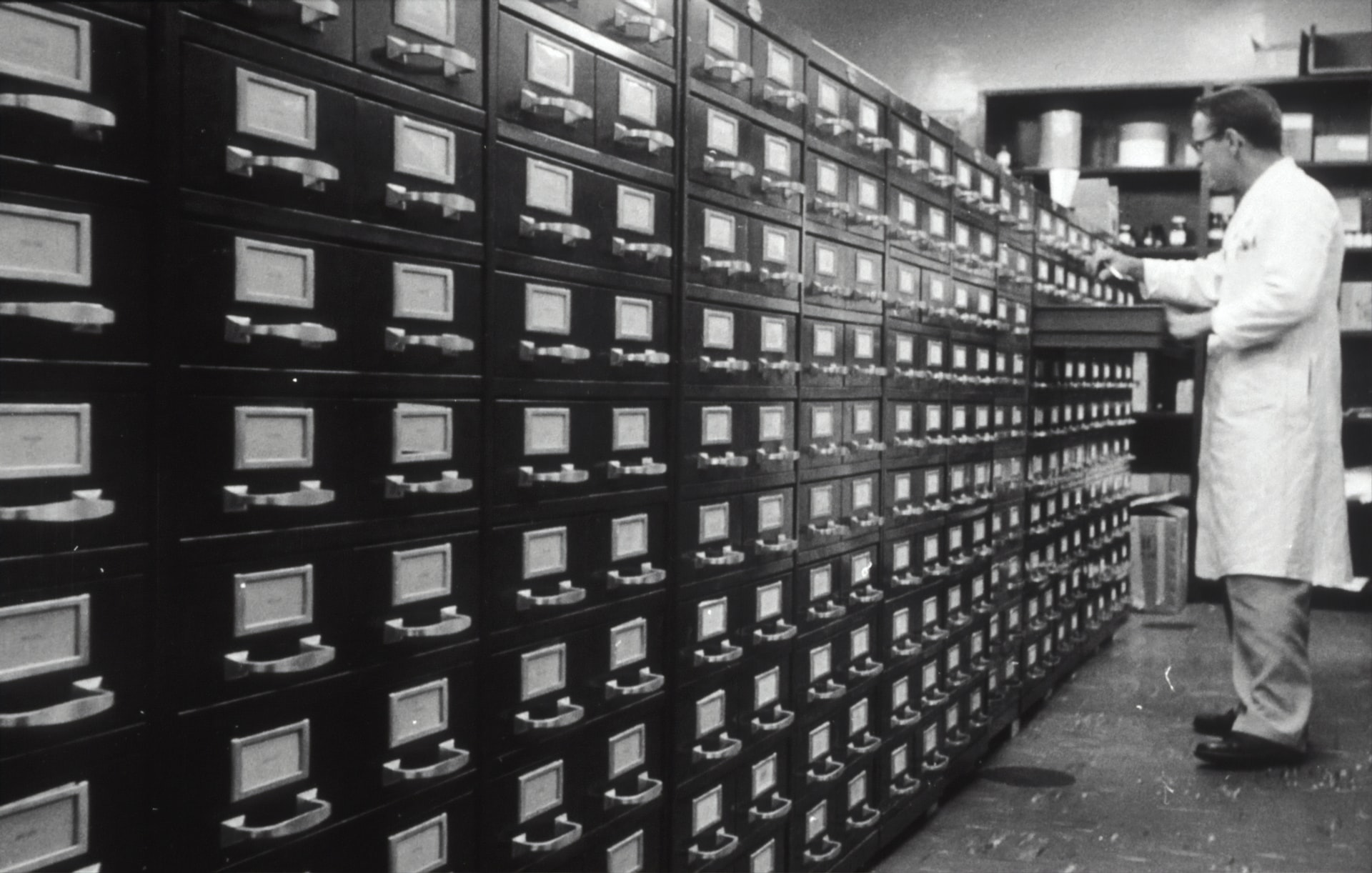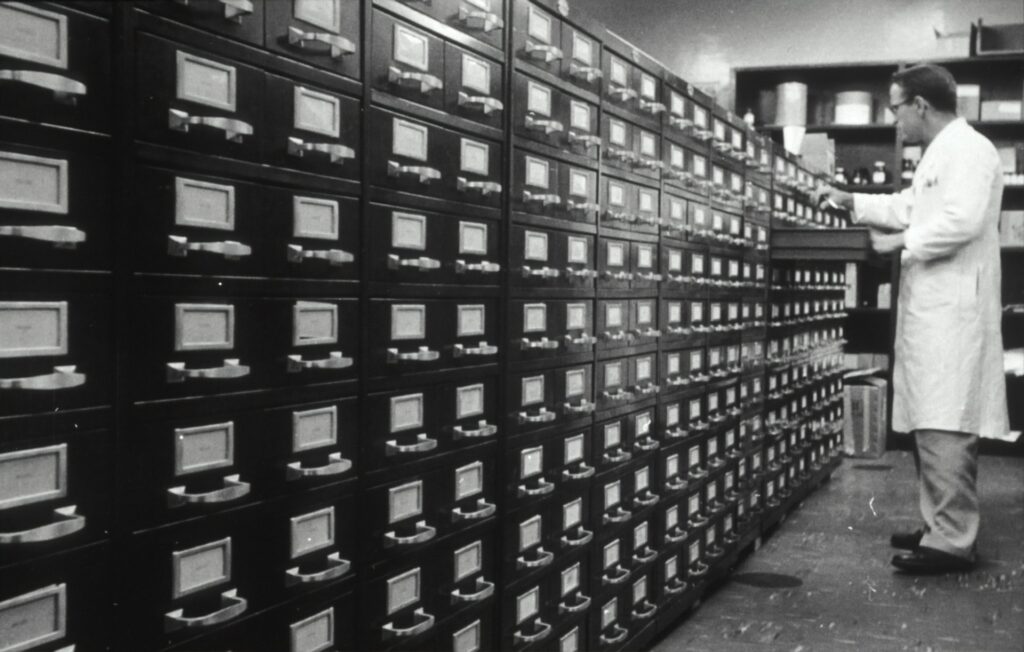 Founded in 1833, the company was named Olcott & McKesson. It started as a drug import and wholesale business before transforming into the largest distributor of wholesale drugs, beverages, and chemicals in the US.
Led by ambition, McKesson Corporation expanded through acquisitions and investments. This catapulted McKesson Corporation to become a global leader in healthcare.
Through the years, McKesson Corporation continued innovating by venturing into cancer care, utilizing technology to improve its medical and distribution services.
These innovative moves prepared McKesson well to serve as the US government's centralized distributor of COVID-19 vaccines and supply kits.
Do you like what you're discovering about McKesson Corporation so far?
Business Model and Financials
In the section above, you've discovered that McKesson Corporation has been preparing itself well for the future through innovation. Here comes the next important question – is McKesson Corporation financially healthy?


Source: Tradingview
From the bar chart above, you can tell that its revenue has been growing every year, from $190.8b in 2015 to $263.9b in 2021.
Though its net income has been a little inconsistent, its net income of $1.1b is the third largest in recent years!
As the COVID-19 situation in the US wanes, will this impact McKesson Corporation greatly?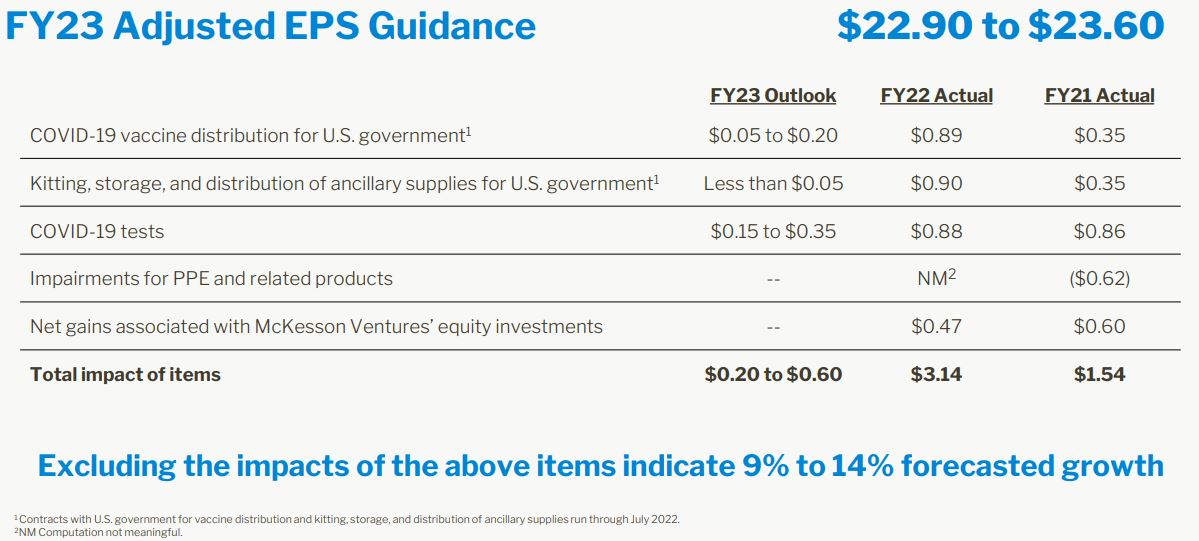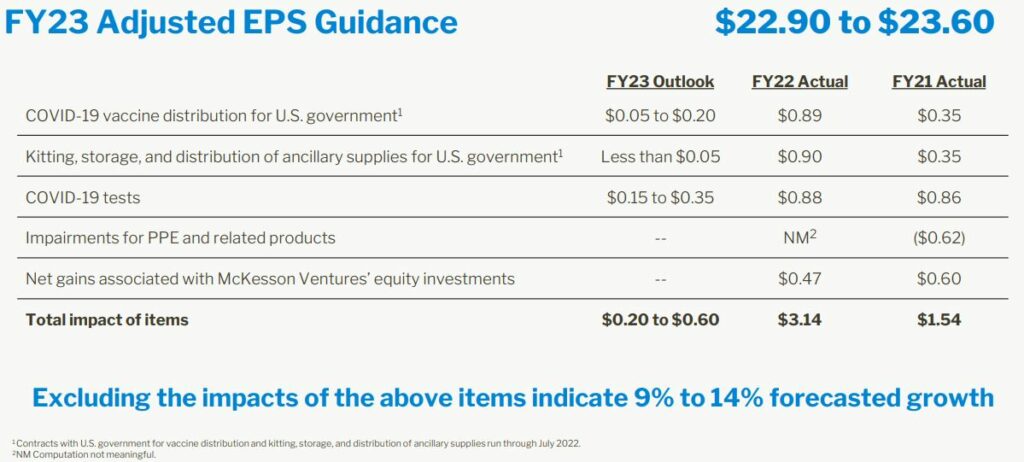 Source: investor.mckesson.com
At one glance, McKesson Corporation's revenue and net income from being the US government's centralized distributor of COVID-19 vaccines and supply kits will drop. However, McKesson Corporation has built a strong business which isn't heavily reliant on this project alone.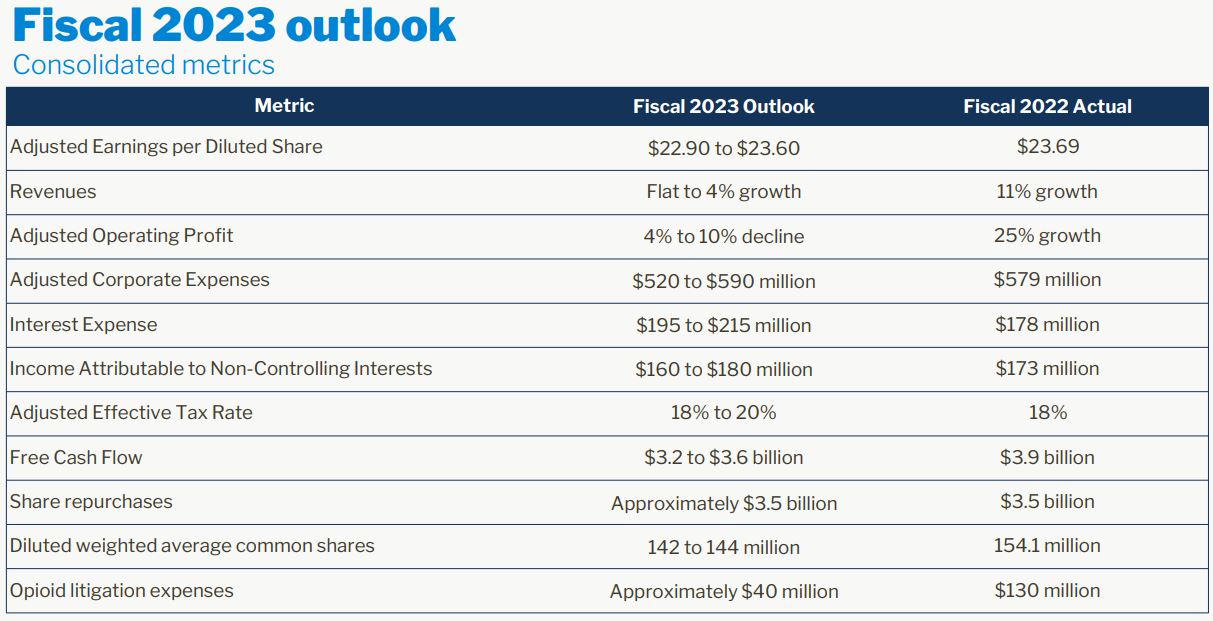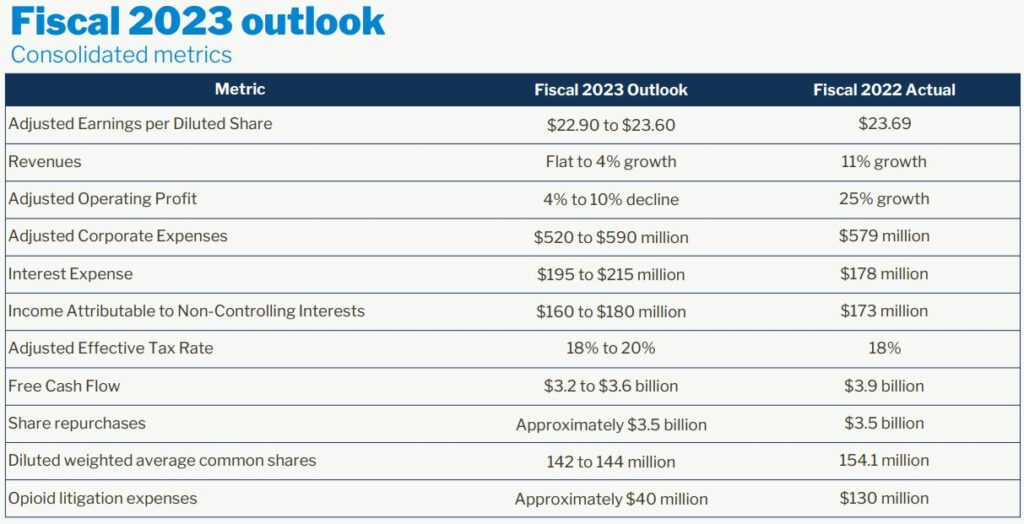 Source: investor.mckesson.com
Though the outlook of McKesson Corporation doesn't look that good in the fiscal year of 2023, I believe that McKesson Corporation will continue to innovate and bring value to its shareholders.
To be fair, it takes time for innovation to bear fruit too.
Having understood the fundamentals of McKesson Corporation, shall we have a look at its chart to determine if it's a good time to buy shares of McKesson Corporation for a position trade?
Technical Analysis on McKesson Corporation (NYSE: MCK)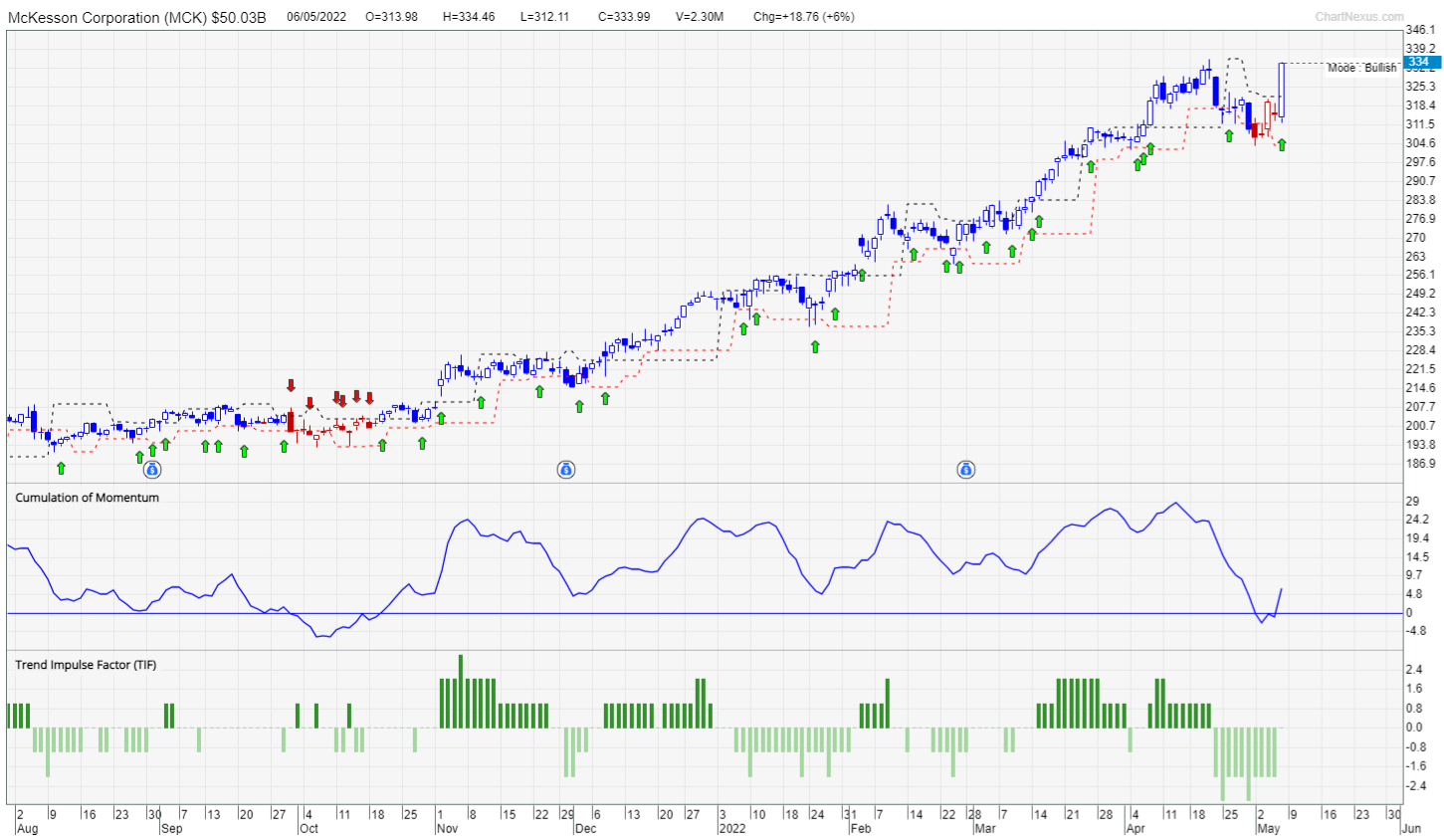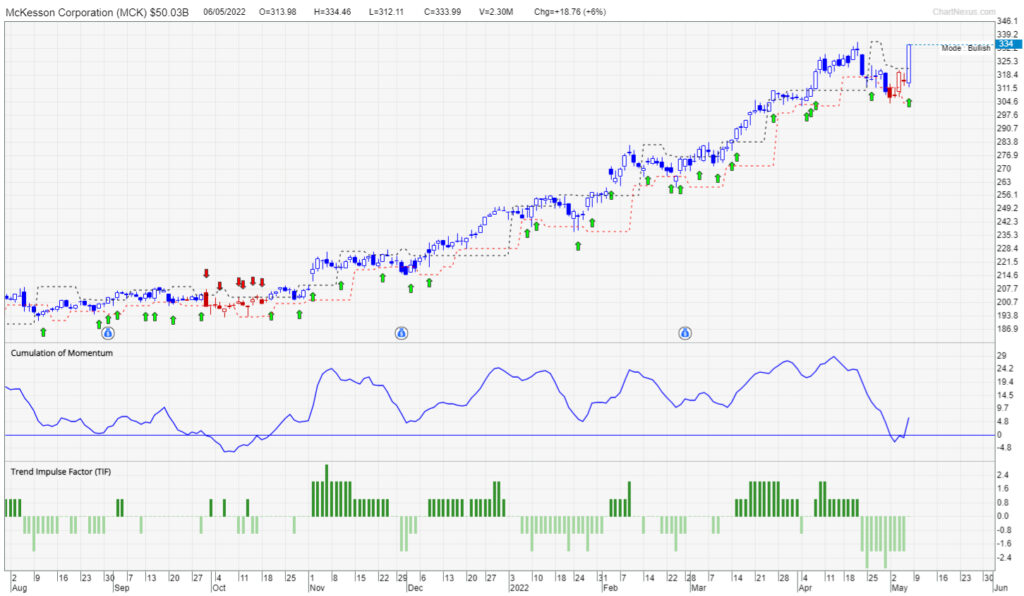 The performance of its share price is remarkable. The share price of McKesson Corporation has been rising steadily since Sep 21. In fact, its share price has shot up by 71% from Sep 21 till May 22!
It was also in Sep 21 that a green arrow was displayed together with the Trend Impulse Factor bar turning dark green. That signaled a confirmation that bullish momentum has returned, a clear sign that it's a good time to buy MCK for a position trade.
Fast forward to today. There's a green arrow under today's candlestick.
However, the Trend Impulse Factor bar hasn't turned dark green.
As shown in Sep 21, it pays to wait for both indicators to increase your chance of success in position trading McKesson Corporation (NYSE: MCK).
Conclusion: Is Mckesson Stock A Buy?
The healthcare industry could be poised to grow further to meet the demands of the world's ageing population. McKesson Corporation looks well positioned to seize opportunities as innovation is in its blood.
However, there could be headwinds in the near future as suggested by McKesson Corporation's forecast for the fiscal year 2023.
In addition, the chart of McKesson Corporation doesn't look ready for a position trade yet. This is because the Trend Impulse Factor hasn't turned dark green alongside with the appearance of the arrow.
These indicators are part of the TrandersGPS (TGPS) to help you decipher if a stock is a cut above its peers. You won't have to feel in the dark and make wild guesses.
What are your thoughts? Share your thoughts with us below!
Did You Know?
The ones who make the MOST money from the stock market actually spent the LEAST time.
Yet, most people tend to spend hours reading news or analyzing charts, only to be caught in a never-ending spiral of disappointment from the stock market.
The truth is, profiting from the market is all about trading smart, not hard. And this is the very secret of all top retail traders and investors.
They all have a system they follow.
A system that helps them identify winning stocks fast and filter away dangerous risky ones, a system that tells them exactly when to buy and sell and eventually exit the stock with profits.
It's like having a personal guide telling you exactly what to do from start to finish. One that is not only reliable in aiding your investment journey, but also saves you time, energy and stress.
So if you wish to start building an additional stream of income through the stock market the SMART way, not the HARD way…
Come and join me in my upcoming LIVE demonstration webclass where I will demonstrate LIVE how ANYONE, even with no experience can learn and adopt a really simple system and apply almost immediately to start profiting in the markets.
Click HERE to register your seat before we hit full capacity!
If you'd like to learn more about systematic trading to better time your trade entries, click the banner below: