Match Group Stock Analysis: Buy Or Sell?
Did you swipe left?
In the recent years, the phrases "swipe left" and "swipe right" have taken a new meaning.
These now popularized phrases was out of the world's most famous dating site – Tinder.
In Tinder, "swipe left" means you're interested in the other party. You literally swipe left to express interest.
And no, I haven't used Tinder or any other dating apps.
With countries relaxing their COVID-19 measures, many are going back to work. Elon Musk has recently called all his staff to return to the office or face termination.
With people mingling at their workplaces and out of their workplaces, are dating apps facing pressure?
Let's find out from the largest dating app company in the world – Match Group.
Brief History of Match Group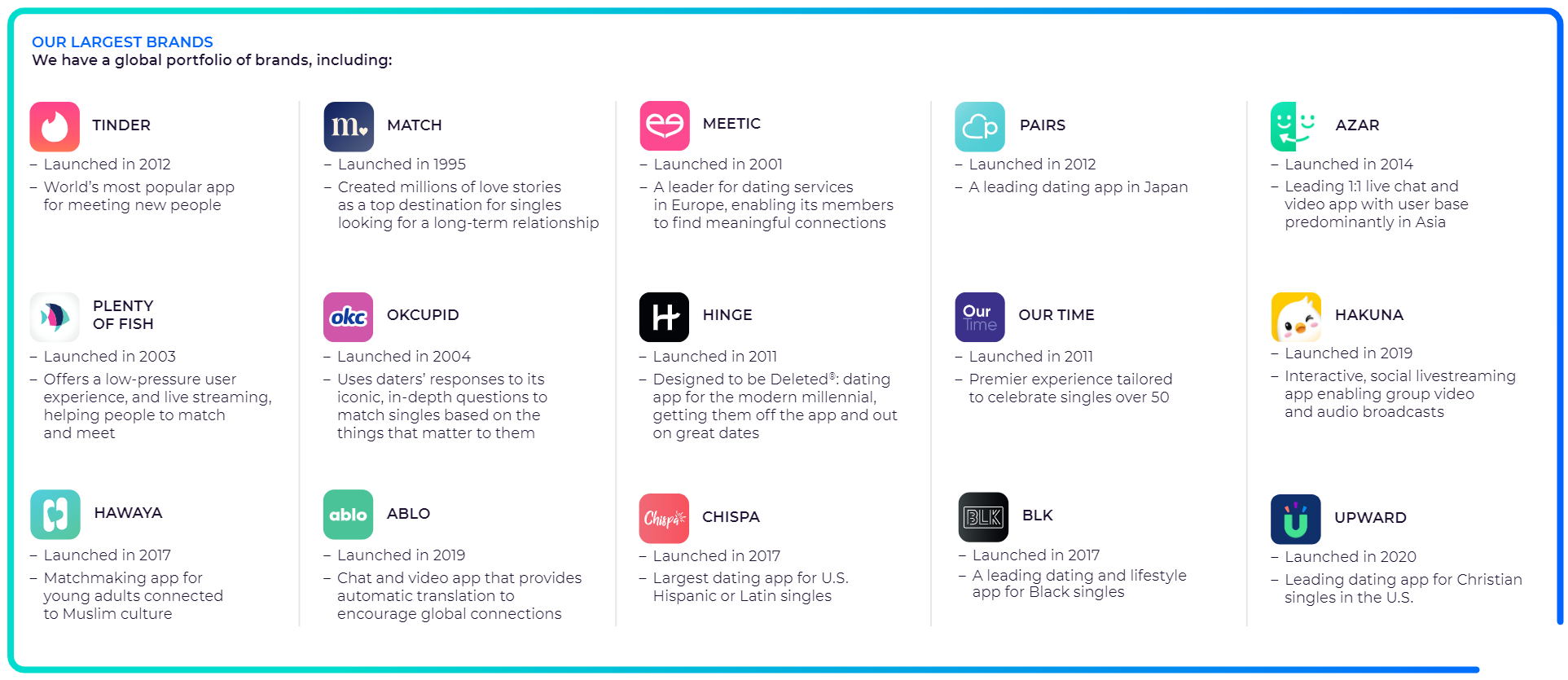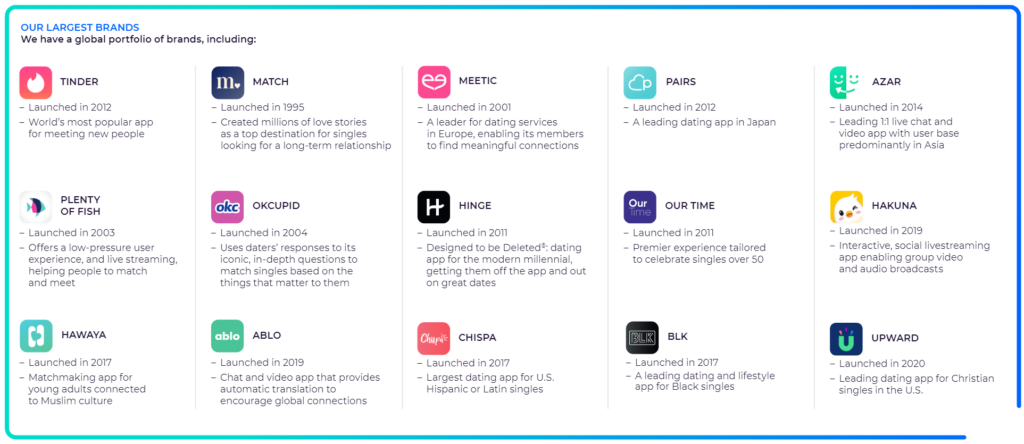 Source: https://mtch.com/impact
Match Group started off as Match.com and was founded in 1986 to provide dating services.
As the internet grew in popularity, Match.com launched its website in 1995. Four years later, Match.com got acquired by IAC.
Fast forward ten years to 2009, Match Group was born.
More acquisitions took place to speed up its artificial technology to perfection. While acquisitions were taking place, Tinder was silently worked on in the background.
Tinder was finally born in 2012 and quickly rose to be the highest-grossing dating app in the world.
The incredible success which Match Group enjoyed earned them a spot in the S&P 500 list just in Sep 2021. What an achievement!
To say that Match Group has been innovative is an understatement. Their management has been on top of things and successfully built and acquired dating apps that people love.
Has all these paid off financially? Let's find out.
Business Model and Financials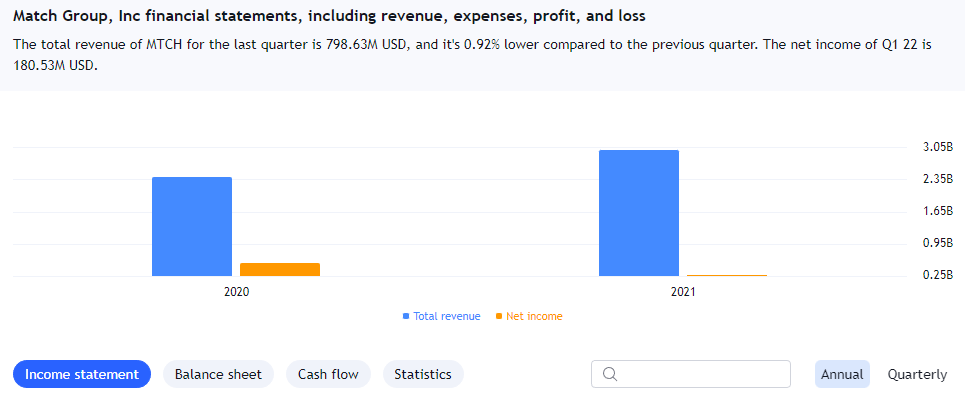 Source: Tradingview
Match Group's revenue has jumped by 24.6% in 2021 while its net income has dropped significantly by more than 47%!
Is this a cause for concern?
Let's have a look at the number of users the company has.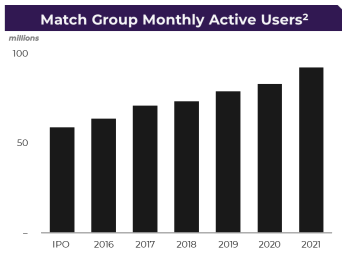 Source: https://ir.mtch.com/overview/default.aspx
Match Group has enjoyed a steady growth in the number of monthly active users over the years. Yet, its net income has dropped by 47%.
Therefore, there's a cause for concern.
Match Group may need to find the new balance between its paid and free features that it offers on all of its apps.
The group may also need to find novel ways to increase its net income as dating apps scene becomes more competitive.
Overall, Match Group's fundamentals appear to be shaky.
Does its price chart also look shaky? Let's jump in to find out!
Technical Analysis on Match Group (NASDAQ: MTCH)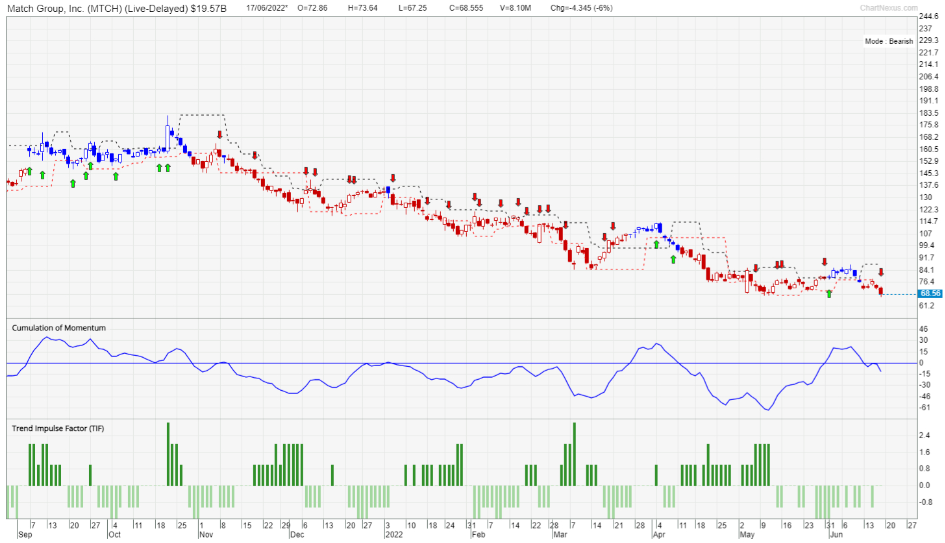 The price action of Match Group's shares matches its fundamentals.
You can see that the price of its shares is on a downtrend and this has been happening since late 2021.
As the US stock market indices (S&P 500, Dow Jones, and Nasdaq) continue to head lower, the share price of Match Group isn't spared. Weakness can be seen creeping in as there's a red arrow above its latest candlestick. This signifies a bearish call.
After looking for the red arrow, its time to turn your eyes to the Trend Impulse Factor indicator. You'll want to see a dark green bar.
The bar of the Trend Impulse Factor indicator hasn't turned dark green, suggesting that the time to sell shares of Match Group short isn't here yet.
What should you do then?
To protect your trading capital and prevent yourself from emotional and financial pain, I encourage you to wait.
Both the red arrow and Trend Impulse Factor bar were in agreement for Bunge Limited and it collapsed by 6.5% in a short week! Patience pays.
Conclusion: Is Match Group A Buy?
Match Group has experienced steady growth in the number of users. Its revenue growth has been outstanding too.
However, its net income is holding it back, rendering it to be weak fundamentally. Will this change?
The chart of Match Group tells us clearly that it is in a strong downtrend. As money is easier made by following trends, you'll want to identify short-selling opportunities.
A word of caution: the time to short-sell the shares of Match Group isn't here yet. Both indicators must coincide with each other; a red arrow must appear and the Trend Impulse Factor bar must be dark green in color.
After all, the red arrow and Trend Impulse Factor indicators have been tested and proven. They form the TradersGPS (TGPS) system to help you decipher if a stock is ready to be traded. You won't have to feel in the dark and make wild guesses.
Did You Know?
The ones who make the MOST money from the stock market actually spend the LEAST time.
Yet, most people tend to spend hours reading news or analyzing charts, only to be caught in a never-ending spiral of disappointment from the stock market.
The truth is, profiting from the market is all about trading smart, not hard. And this is the very secret of all top retail traders and investors.
They all have a system they follow.
A system that helps them identify winning stocks fast and filter away dangerous risky ones, a system that tells them exactly when to buy and sell and eventually exit the stock with profits.
It's like having a personal guide telling you exactly what to do from start to finish. One that is not only reliable in aiding your investment journey, but also saves you time, energy and stress.
So if you wish to start building an additional stream of income through the stock market the SMART way, not the HARD way…
Come and join me in my upcoming LIVE demonstration webclass where I will demonstrate LIVE how ANYONE, even with no experience can learn and adopt a really simple system and apply almost immediately to start profiting in the markets.
Click HERE to register your seat before we hit full capacity!
If you'd like to learn more about systematic trading to better time your trade entries, click the banner below: