This article is for education purposes only, and not to be taken as advice to buy/sell. Please do your own due diligence before committing to any trade/investment.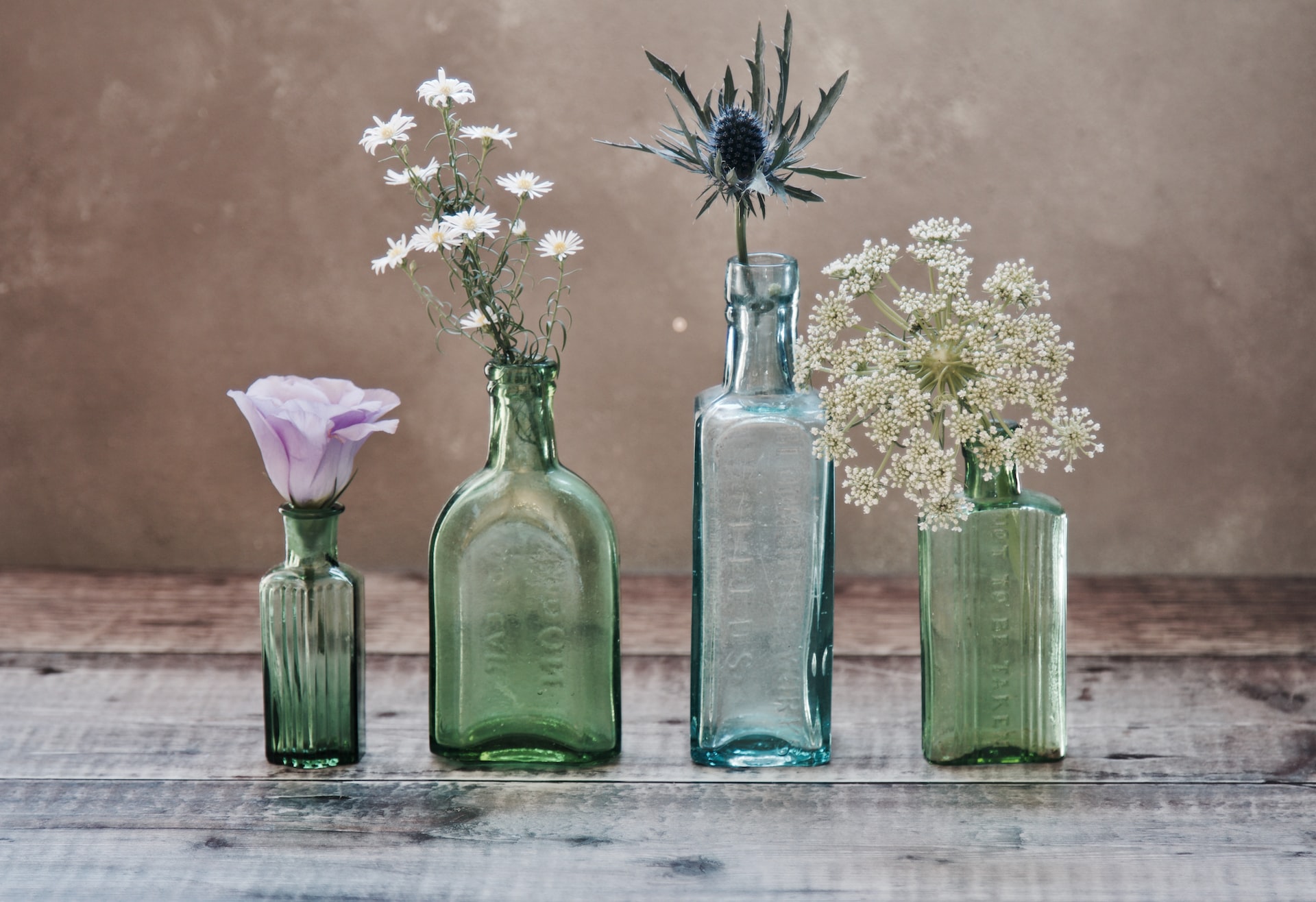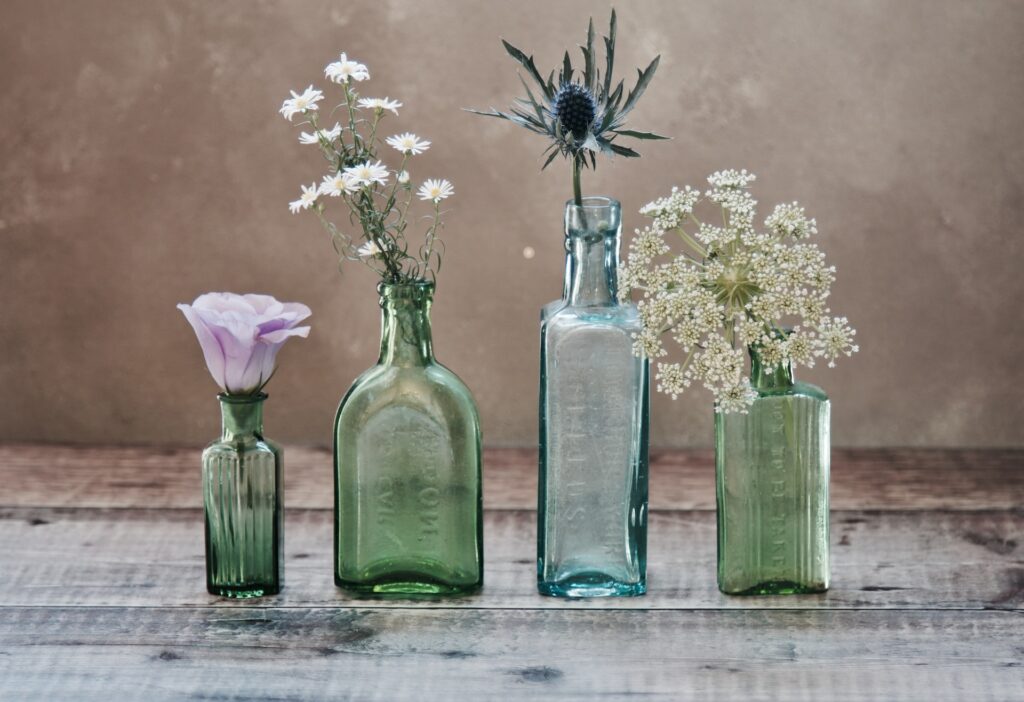 Source: unsplash.com
Have your shopping items from the 9.9 sale arrived? It's highly likely that the product of this company came with the item that you had purchased.
If you've been to the supermarket, you'll see the product of this company everywhere.
As a packaging company, it produces steel and aluminum cans for canned food products, paper-based packaging and plastic film for products, and more!
What is this company that we are about to analyze? Let's find out!
Brief History of Crown Holdings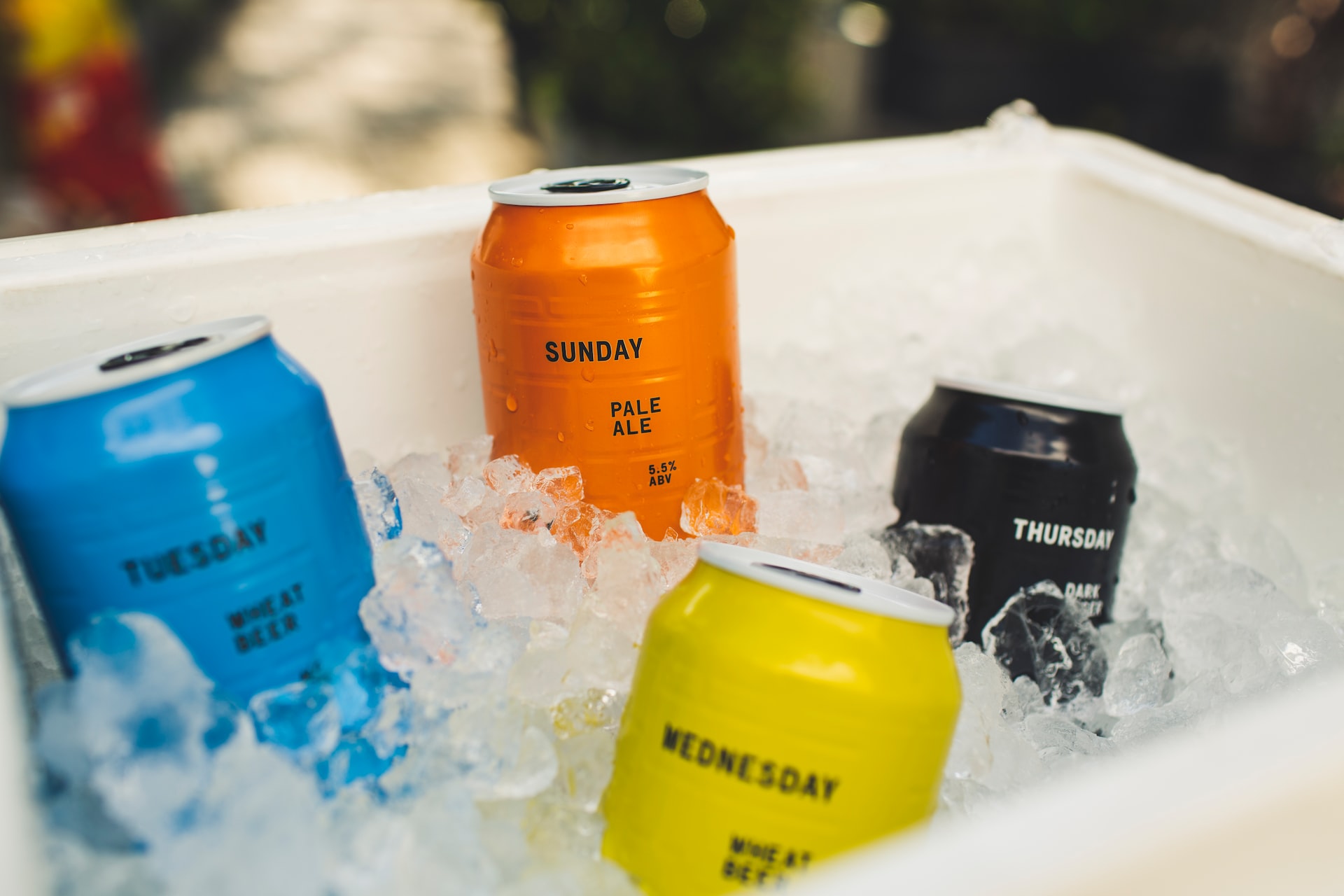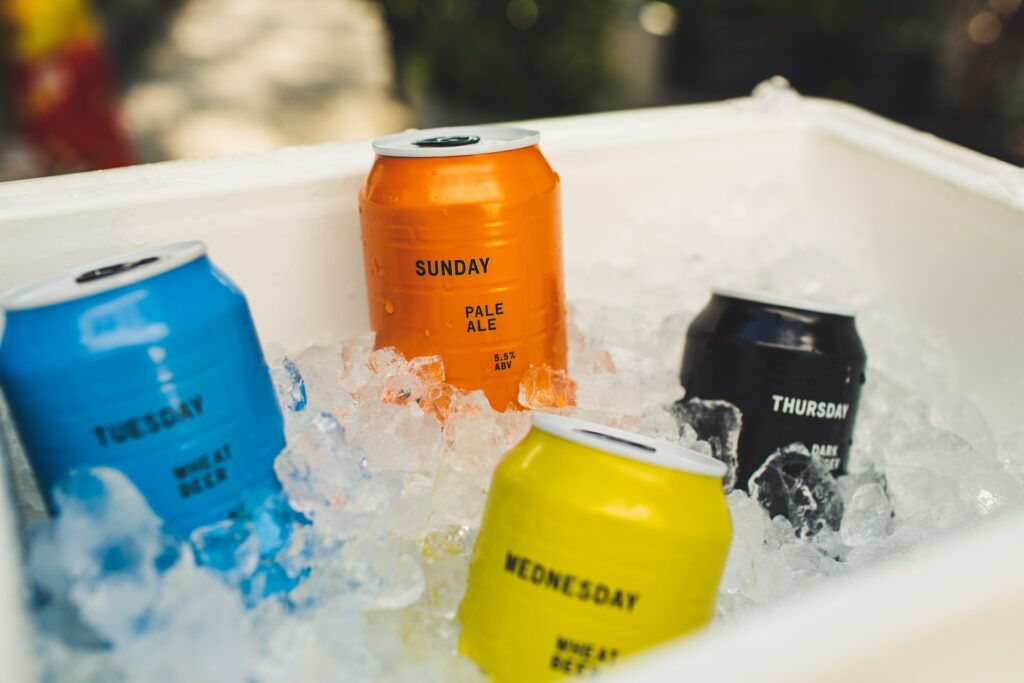 Source: unsplash.com
Crown Holdings was started in 1892 as a bottling company. Right off the start, its founder filed for a patent and the company was off to a good start.
Automation was introduced, resulting in increased productivity and business success. Out sprang many more factories across Europe, South America, and Asia.
Did the company rest on its laurels?
No.
The company continued to research and innovate. Better and more efficient methods were discovered and invented to strengthen the company.
Along the way, Crown Holdings acquired other companies to help it penetrate new markets.
And there's no fairytale.
Crown Holdings had faced several massive challenges, emerging stronger each time!
Today, Crown Holdings conducts research and sells aerosol cans, bottles, cans, cappings, paper and plastic products for protecting items.
Is Crown Holdings financially credible for you to consider a position trade?
Let's find out!
Business Model and Financials


Let's go on an adventure and have a look at the financials of Crown Holdings.
From the chart above, you can tell that the revenue of Crown Holdings is very consistent.
Its revenue held firm from 2015 to 2017 before increasing 28% to $11.16b. Its revenue held tight in 2019 before dropping in 2020 due to the pandemic.
As the world eased their pandemic measures, business boomed in 2021, growing by 22% to $11.46b in 2022.
However, revenue is only 1 side of the story in reading the financial health of any company. You'll need to pay attention to its net income too.
Crown Holding's net income has been hovering between $320m and $579m from 2015 to 2020. 2021 was an anomaly where it suffered a net income of -$459m.
This certainly raises an alarm because a packaging company is likely to be resistant to recessions, therefore the net income of Crown Holdings is expected to be more predictable.
The company has also set its sights on sustainability. This has resulted in reduced energy and raw material required, bringing costs down.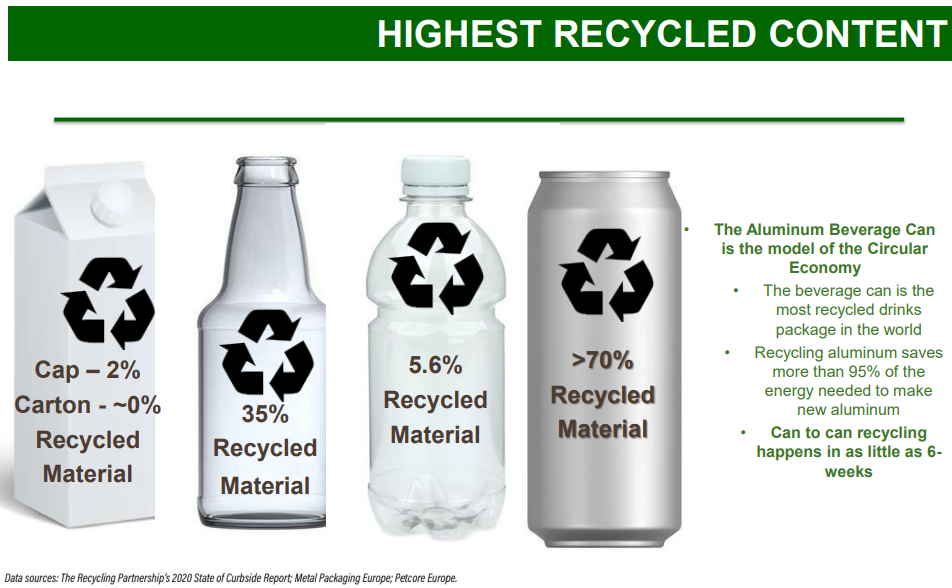 Source: https://crowncork.gcs-web.com/static-files/538e8118-7333-4554-b842-f8c919264236
Now, you are ready to have a look at the chart of Crown Holdings to find an optimal entry for a position trade.
Technical Analysis on Crown Holdings (NYSE: CCK)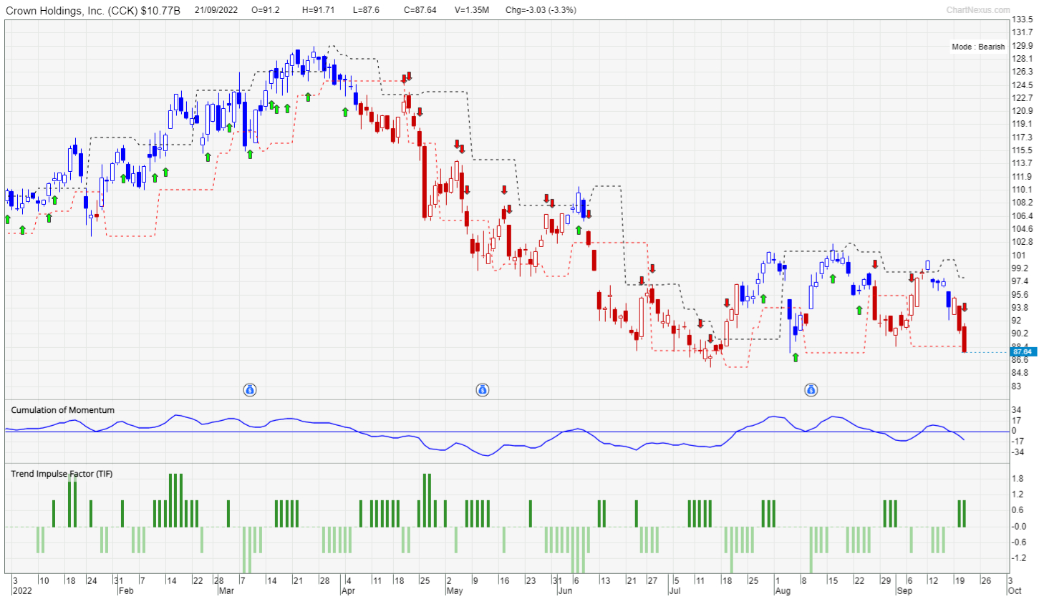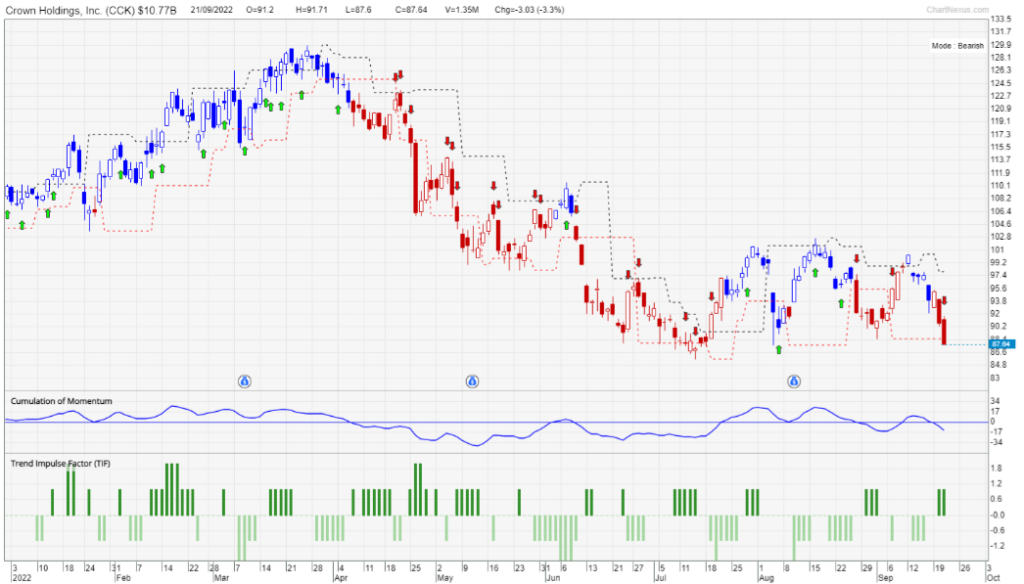 Here's the chart of Crown Holdings.
Can you tell that the share price of Crown Holdings is in a downtrend?
This can be inferred from the color of the candlesticks and the overwhelming number of red arrows compared to green arrows.
Knowing this, you'll want to look out for shorting opportunities. And so, the million dollar question – is it time to short the shares of Crown Holdings?
Wonder no more as you are able to rely on the 2 indicators on the chart – the red arrow and Trend Impulse Factor indicators.
There's a red arrow above the latest candle of Crown Holdings. This indicates bearishness.
Next, have a look at the color of the Trend Impulse Factor bar. Is it dark green in color?
It is! This suggests that there's momentum in this bearish move. Hence, the share price of Crown Holdings is highly likely to continue to slide for some time.
As the overall US stock market continues to slide too, there's a high chance that shorting the shares of Crown Holdings will be profitable.
Conclusion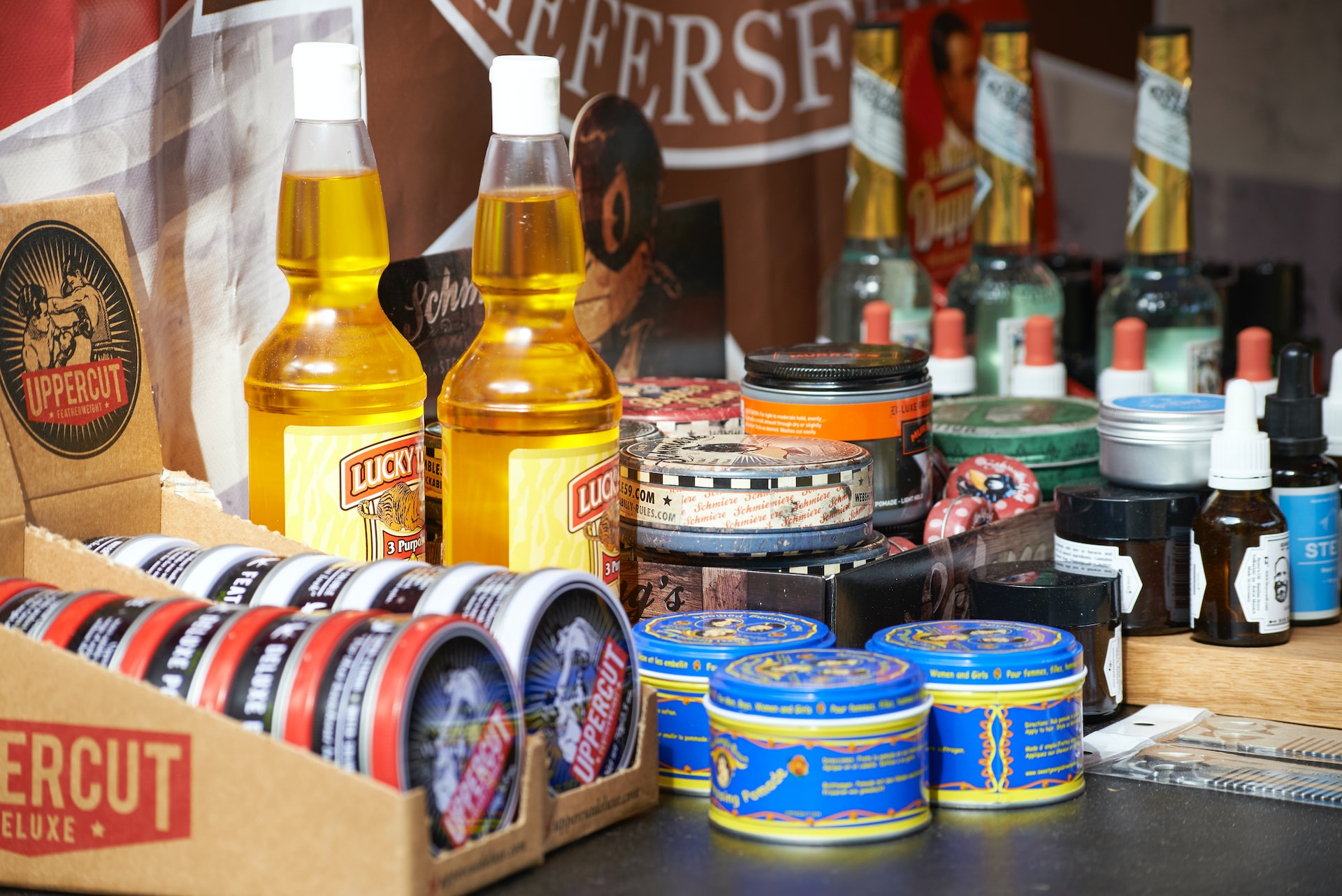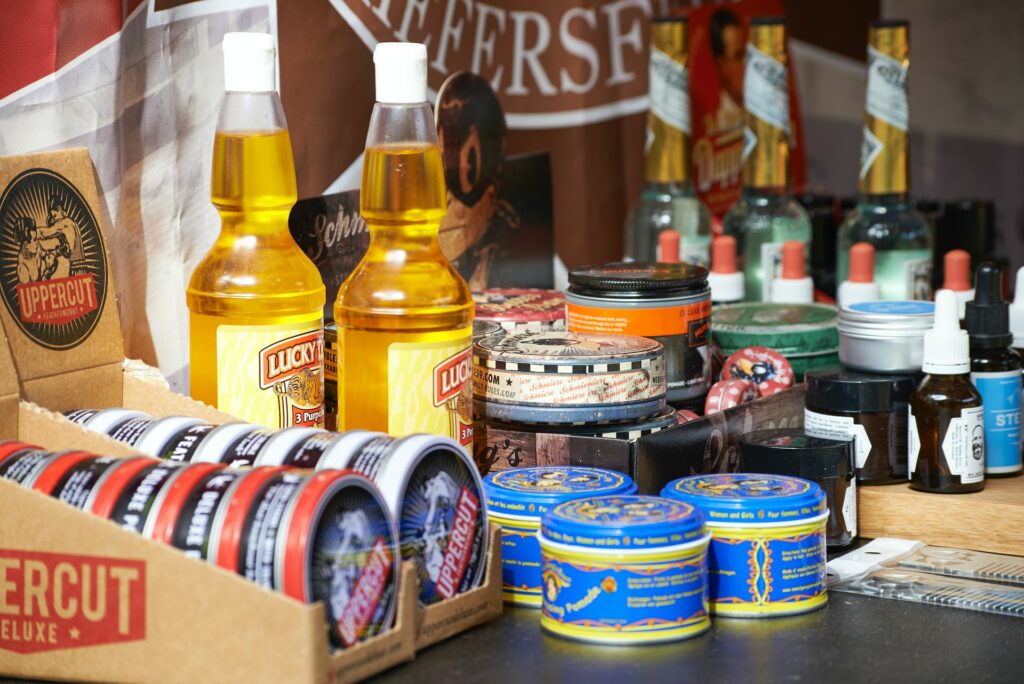 Source: unsplash.com
Crown Holdings is a well-established business with lots of stories to tell. It has lived through highly profitable and stormy years.
To survive this long, it takes more than strategy. The management has to be strong, firm, and decisive, in addition to other positive traits.
Because the indicators flashing a bearish signal, I believe that Crown Holdings' share price will be dropping, making it suitable for a short position trade.
Both the red arrow and Trend Impulse Factor indicator have been tested and proven. They form the TradersGPS (TGPS) system to help you decipher if a stock is a cut above its peers. You won't have to feel in the dark and make wild guesses.
However, I believe that Crown Holdings is here to stay. It's unlikely to go under in this financial storm.
Are You Ready For The Post-Bottom Rally?
The period between late July and early August had been nothing short of amazing for the stock market.
The ability to capitalize on such opportunities has helped over 5000+ of my students consistently reap superb profits time and time again.
Here are just a few stocks I picked out during the stock rally: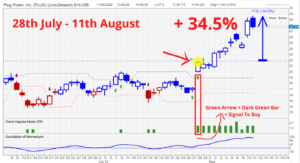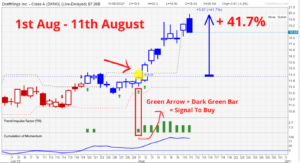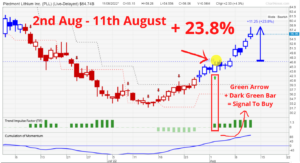 if you knew how to pick out the right stocks, you would have too similarly yielded 20-30% gains like I did in just 2 short weeks during the rally.
If you didn't, there could only be 2 reasons.
1) You were busy hesitating wondering if it was really the 'right time', letting your fear prevent you from doing anything to capitalize on the opportunity.
2) You knew that there was a massive opportunity, but just didn't know how to choose the right stocks to get into.
Whichever reason it is, it all boils down to 1 thing.
➡ You lack a tested and proven system that can help you CONSISTENTLY find winning stocks regardless of bull or bear.
Just look at what having a tested and proven system can do for you.
These are just a few stocks that you could have easily profited from if you used our proprietary TradersGPS system.
With a tested and proven system, finding profitable stocks like these instantly becomes so much easier.
The market is still looking good and there are still tonnes of such opportunities available.
So if you're tired of constantly missing out profits like this and want a real, proper method to consistently finding winning stocks regardless of bull or bear…
Especially when the market sentiment is improving each day and the possibility of a post-bottom rally coming sooner than we think…
Click HERE and join me in my upcoming LIVE training…
And I will show you the full process from identifying winning stocks all the way to executing the trade, and how it can be done in just 15 minutes.
I will also be opening up questions to the floor where you can ask me to analyze ANY stock of your choice,
and I will show you how the TradersGPS system can help you determine if it's a good buy, WHEN to buy, and WHEN to sell for profits.
Click HERE to register your seat before we hit full capacity!
If you'd also like to get a FREE e-course and learn how to better time your trade entries, click the banner below: