Bunge Ltd Stock Analysis: Agricultural Stock To Sell Short
When was the last time you could eat like a cow and not feel full?
In this environment of rising food prices, I'm thankful that my metabolism rate has slowed.
Though prices of food have been on the rise, this isn't reflective in the share price of this company that's in the agriculture industry. This company is Bunge Limited.
Does this mean that you should short the shares of Bunge Limited?
Let's find out!
Brief History Of Bunge Limited
Source: unsplash.com
Bunge Limited is a storied company, started in 1818 as an import and export company.
3 generations and nearly 70 years later, it had expanded into a grain trading company.
Putting their customers in the center of everything they do, they created tremendous value for their customers and steadily improved their processes. Coupled with sound acquisitions, innovation and strong management, Bunge Limited has expanded far and wide to countries such as China, India, and Vietnam.
Today, Bunge Limited boasts a presence in many more countries, including Brazil, France, Saudi Arabia, Turkey, and more! Bunge Limited has morphed to produce and/or distribute agriculture products, refined and specialty oils, sugar, bioenergy, and food ingredients.
It has a global R&D team which suggests that Bunge Limited is not slowing down.
Has the effort paid off financially? Let's have a peek.
Business Model and Financials


Source: Tradingview
Bunge Limited's revenue has been stable from 2015 to 2018. Its revenue suffered by 10% in 2019. Its revenue in 2020 was also disappointing as it was the same as 2019's.
However, revenue rose sharply by 42% in 2021 for a record breaking year.
Over the years, Bunge Limited's net income has been erratic. Even so, its net income in 2021 is nothing short of fantastic as it rose by nearly 100% from 2020!
Being dependent on the weather and many macroeconomic factors, Bunge has prudently reminded the public that the war in Ukraine, regulations and policies, the resurgence of COVID-19, and more are risks that the company expects. Its management will continue to adapt to the changing situation and invest in opportunities for growth as it has done so for the past 2 centuries.
Wonder what the full year outlook for Bunge Limited is?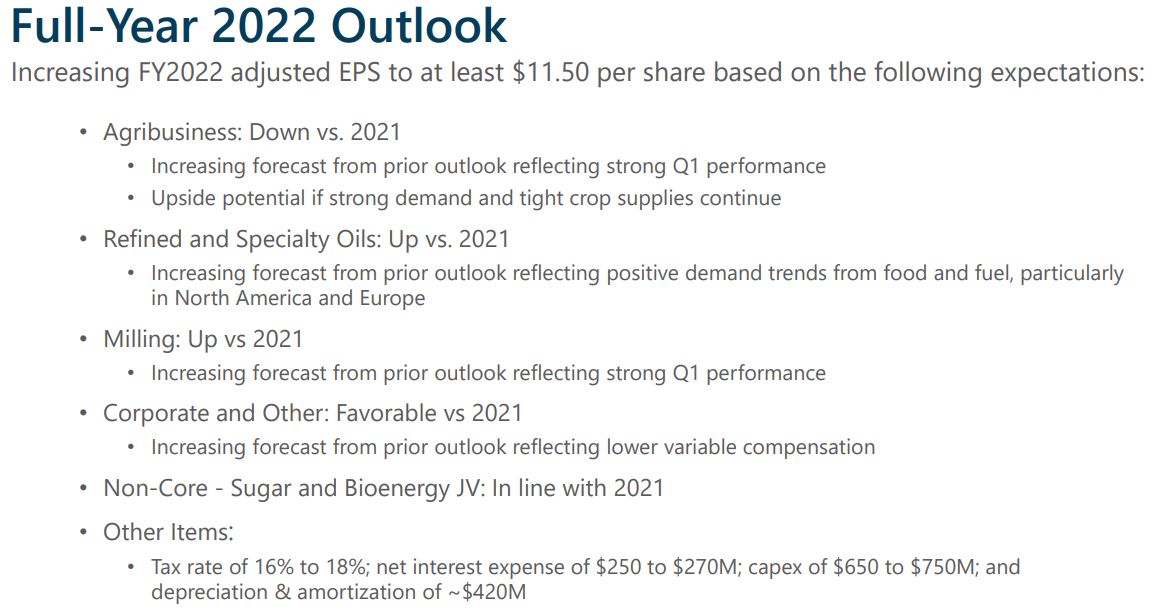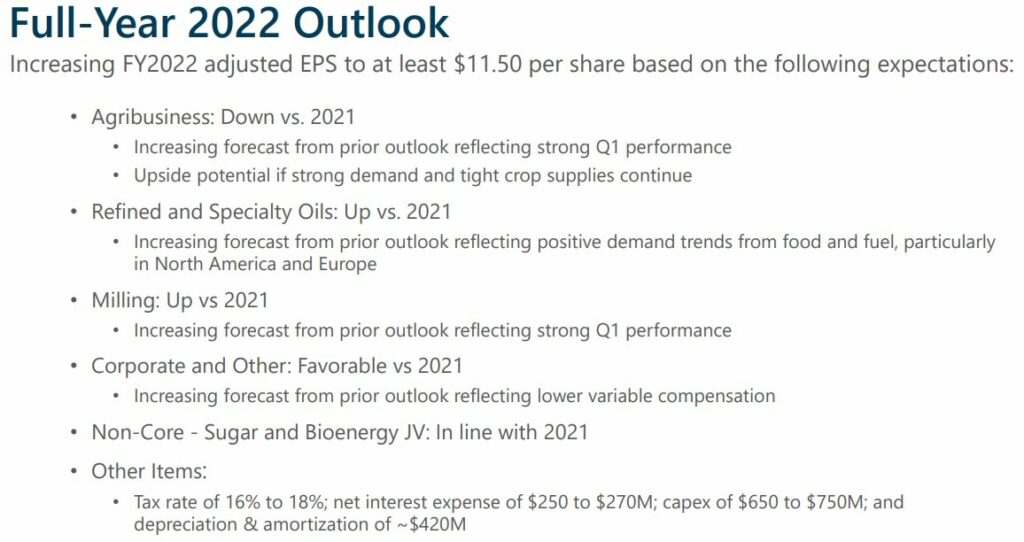 Overall, the future looks rosy for Bunge Limited.
Does its price chart agree to its fundamentals and business model?
Technical Analysis On Bunge Limited (NYSE: BG)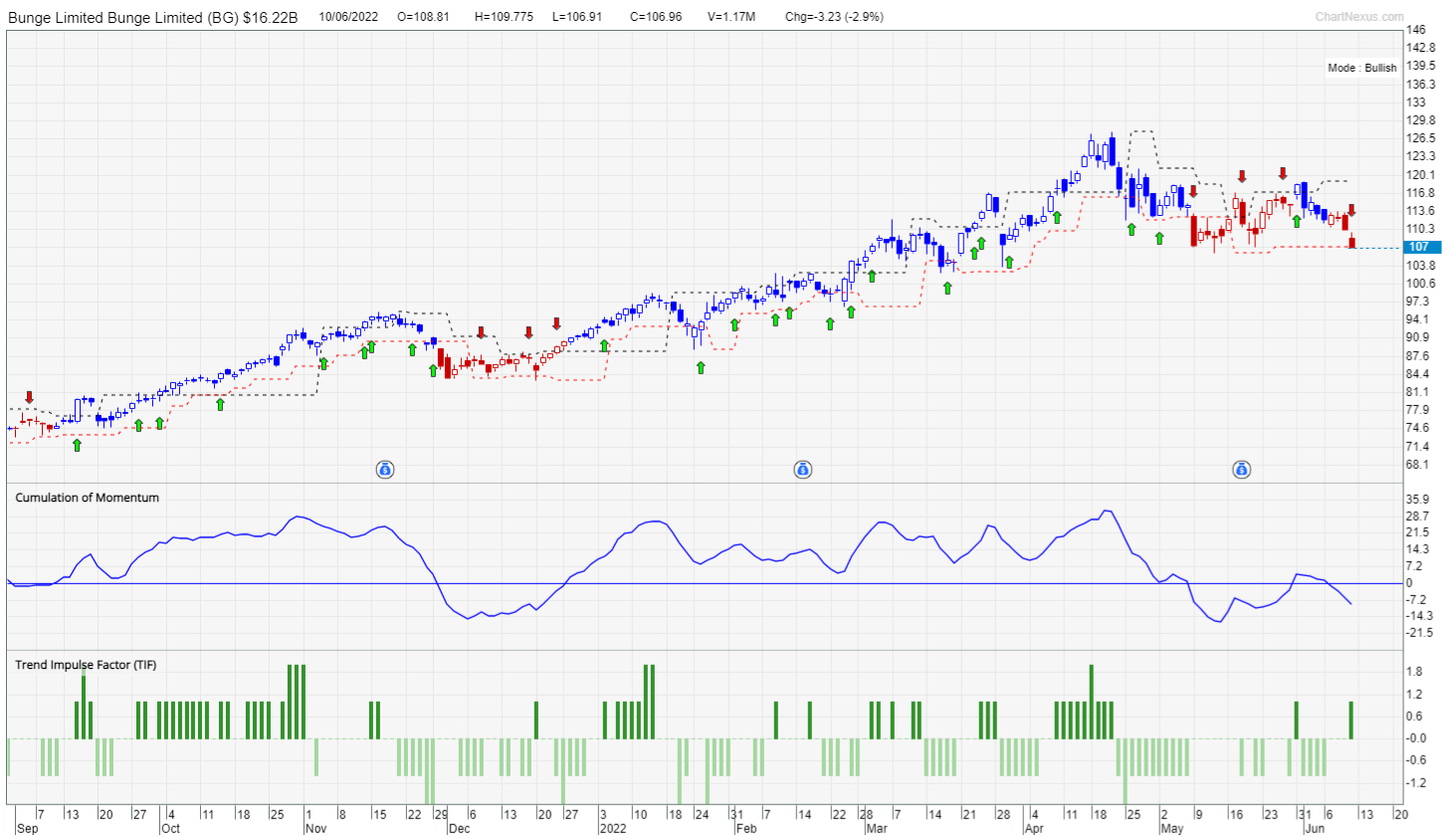 Though the share price of Bunge Limited was on a mighty uptrend, it looks like it's losing momentum at this juncture.
As the US stock market indices (S&P 500, Dow Jones, and Nasdaq) head lower, the share price of Bunge Limited may not be spared. Weakness can be seen creeping in as there's a red arrow above its latest candlestick. This signifies a bearish call.
Looking at the bottom most indicator, Trend Impulse Factor, you can see that its bar is in dark green. This tells you that the bears are strong and this bearish momentum is likely to stay for some time.
Bunge Limited is a special case where its fundamental and technical analyses don't match; its fundamentals are strong while its chart is showing otherwise.
Which should you give more attention to?
In this case, I will give more attention to Bunge Limited's price action on its chart as that's the sentiment of the market – bearish.
Because the red arrow is shown and the bar of its Trend Impulse Factor is dark green in color, the time to short the shares of Bunge Limited is ripe.
Conclusion: Should You Short Sell Agricultural Stock Bunge Limited?
Source: unsplash.com
Commodity prices have been on the tear, causing me to think twice of ordering an add-on or extra dish at the economic rice stall..
Though higher prices of agricultural products are beneficial for Bunge Limited, the market is pretty pessimistic of its outlook.
With the technical indicators all pointing to major weakness in the share price of Bunge Limited, you may want to give it a go and sell short the shares of Bunge Limited.
After all, the red arrow and Trend Impulse Factor indicators have been tested and proven. They form the TradersGPS (TGPS) system to help you decipher if a stock is ready to be traded. You won't have to feel in the dark and make wild guesses.
Did You Know?
The ones who make the MOST money from the stock market actually spend the LEAST time.
Yet, most people tend to spend hours reading news or analyzing charts, only to be caught in a never-ending spiral of disappointment from the stock market.
The truth is, profiting from the market is all about trading smart, not hard. And this is the very secret of all top retail traders and investors.
They all have a system they follow.
A system that helps them identify winning stocks fast and filter away dangerous risky ones, a system that tells them exactly when to buy and sell and eventually exit the stock with profits.
It's like having a personal guide telling you exactly what to do from start to finish. One that is not only reliable in aiding your investment journey, but also saves you time, energy and stress.
So if you wish to start building an additional stream of income through the stock market the SMART way, not the HARD way…
Come and join me in my upcoming LIVE demonstration webclass where I will demonstrate LIVE how ANYONE, even with no experience can learn and adopt a really simple system and apply almost immediately to start profiting in the markets.
Click HERE to register your seat before we hit full capacity!
If you'd also like to get a FREE e-course and learn how to better time your trade entries, click the banner below: