The US stock market's performance is worrying. It has fallen by about 18% without showing any signs of recovery.
Despite the headwinds, trading opportunities exist. And we are going to explore one potential trade opportunity here.
The company we will be exploring belongs in the financial sector and invests the assets of its clients using various instruments.
This company is a huge player in this industry, managing $9t in 2021! Let's analyze BlackRock right away.
Brief History of BlackRock Inc


Source: https://ir.blackrock.com/home/default.aspx
BlackRock was founded by 8 people in 1988, 34 years ago.
The founders had the vision of managing clients' assets and putting their needs and interests first.
As an asset management firm, that didn't shy BlackRock away from adopting technology. It had come up with a technology to manage risk better. Because of its motto of putting its clients' needs and interests first, BlackRock decided to sell its technology.
Shortly after, BlackRock became a technology provider too.
BlackRock has also entered the artificial intelligence (AI) space by opening its first AI Lab to improve outcomes and bring progress for its clients and itself.
As the financial world took a hit in the subprime mortgage crisis, many of its competitors liquidated parts of their business. Guess who the acquirer was?
Over the years, BlackRock held fast on its vision and motto by creating low-cost and tax-efficient products.
The combination of innovation, putting their clients first, and strong management has led to its current massive size.
Business Model and Financials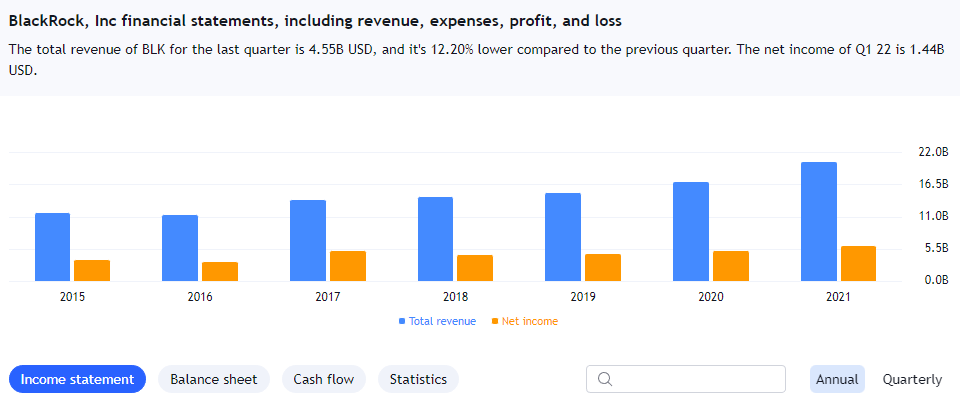 Source: Tradingview.com
From the graph above, BlackRock's revenue has been growing from strength to strength. The only exception was in 2016 where its revenue had contracted by $300m.
Generally, its net income has been growing too!
These two data sets tell us that BlackRock has been performing well over the past years.
As BlackRock is an investment manager, you'll want to know the assets under its management (AUM).
BlackRock's AUM grew by 6% from $9t to $9.57t in 2022.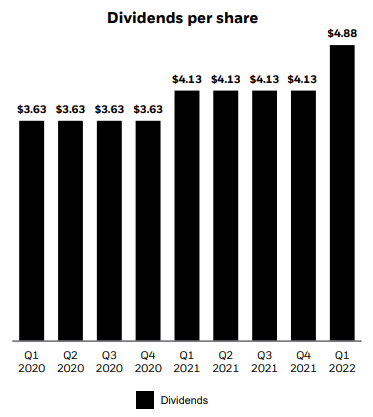 Source: https://s24.q4cdn.com/856567660/files/doc_financials/2022/Q1/BLK-1Q22-Earnings-Supplement.pdf
In addition, BlackRock has distributed a larger amount as dividend for Q1 2022 – $4.88 as compared to $4.13 in Q1 2022, an 18.1% increase! An increase in dividends distribution is usually a positive sign, more so for BlackRock as its mission is to put its clients first.
Knowing that BlackRock is financially strong, is its price chart as strong?
Technical Analysis on BlackRock (NYSE: BLK)
The share price of BlackRock looks battered. Its share price has come tumbling down since the start of 2022, sharing the same fate as the S&P 500.
Moreover, there's a red arrow above its latest candlestick, suggesting weakness in its price.
However, the bar of its Trend Impulse Factor isn't dark green yet. This means that the bearish momentum isn't strong enough yet.
Since the ideal time to short-sell shares of BlackRock is when both the red arrow and the bar of the Trend Impulse Factor turns dark green, shares of BlackRock isn't ripe for a short-sale.
When both indicators display weakness in the price of BlackRock's shares, you can be more assured that the bears are here to stay and a position trade would be more likely to make you money.
Given that the price movement of BlackRock follows the movement of the S&P 500, if the S&P 500 continues to slide, the share price of BlackRock is likely to slide too. So, there's no pressing hurry to short its shares now.
Conclusion: Is Blackrock Stock A Buy?
BlackRock has a solid business model and strong financials. Yet, its share price has been falling since the start of 2022.
Investors and traders aren't that optimistic of BlackRock's performance in the stock market. This brings a dilemma. Should you focus on BlackRock's fundamentals or technicals?
Prices don't lie. Hence, I'd advise you to follow the price movement of BlackRock.
And you won't want to rush into short-selling the shares of BlackRock as the indicators are not in unison yet.
The red arrow and Trend Impulse Factor indicator have been tested and proven. They form the TradersGPS (TGPS) system to help you decipher if a stock is a cut above its peers. You won't have to feel in the dark and make wild guesses.
Did You Know?
The ones who make the MOST money from the stock market actually spend the LEAST time.
Yet, most people tend to spend hours reading news or analyzing charts, only to be caught in a never-ending spiral of disappointment from the stock market.
The truth is, profiting from the market is all about trading smart, not hard. And this is the very secret of all top retail traders and investors.
They all have a system they follow.
A system that helps them identify winning stocks fast and filter away dangerous risky ones, a system that tells them exactly when to buy and sell and eventually exit the stock with profits.
It's like having a personal guide telling you exactly what to do from start to finish. One that is not only reliable in aiding your investment journey, but also saves you time, energy and stress.
So if you wish to start building an additional stream of income through the stock market the SMART way, not the HARD way…
Come and join me in my upcoming LIVE demonstration webclass where I will demonstrate LIVE how ANYONE, even with no experience can learn and adopt a really simple system and apply almost immediately to start profiting in the markets.
Click HERE to register your seat before we hit full capacity!
If you'd also like to get a FREE e-course and learn how to better time your trade entries, click the banner below: