3+1 Stock Picks From ARK Invest's 15 Big Ideas Theme For 2021
The team at ARK Invest, led by now renowned growth investor, Cathie Wood, recently published 15 Big Ideas themes for 2021. The team seeks to gain a deeper understanding of the convergence, market potential, and long-term impact of disruptive innovation by researching a global universe that spans sectors, industries, and markets. The report offers some of the most provocative research conclusions for 2021.
While ARK Invest "Big Ideas" for 2021 brought our attention to 15 mega themes that could see structural growth over the coming decade, it did not specifically identify any particular stocks that ARK Invest currently holds which fit those Big Ideas 2021 themes.
In this report, we look to provide 15 stocks that fit Cathie Wood ARK Invest Big Ideas for 2021 and stocks that are currently invested in one or more ARK Invest's suite of ETFs.
ARK Invest Big Idea 2021 Theme #1/15: Deep Learning
The ARK Invest team believes deep learning could be the most important software breakthrough of our time.
"Until recently, humans programmed all software. Deep learning, a form of artificial intelligence (AI), uses data to write software. By "automating" the creation of software, deep learning could turbocharge every industry".
This industry will add $30 trn to the global equity market cap during the next 15-20 years.
Deep Learning Stock: Palantir Technologies
ARK Invest holds a small position in Palantir Technologies, roughly about 0.13% across the ARK Invest portfolio.
The initial focus for Palantir was on building sophisticated analytics systems for governments. Much of the work was under wraps because of the sensitive nature of the programs.
Palantir has since expanded its business into commercial areas, in industries like healthcare, energy, transportation, and manufacturing.
PLTR stock also looks like a play on the Covid-19 pandemic. According to a report in the Wall Street Journal, the company is working with the federal government to build a system for the rollout of vaccines.
Machine learning technology could prove useful in handling the complex issues of supply chains.
The company recently released its 4Q20 results which disappointed the market in terms of its 2021 revenue outlook, resulting in a substantial correction in its share price.
Might this be an opportunity to accumulate this Deep Learning stock for its long-term growth potential?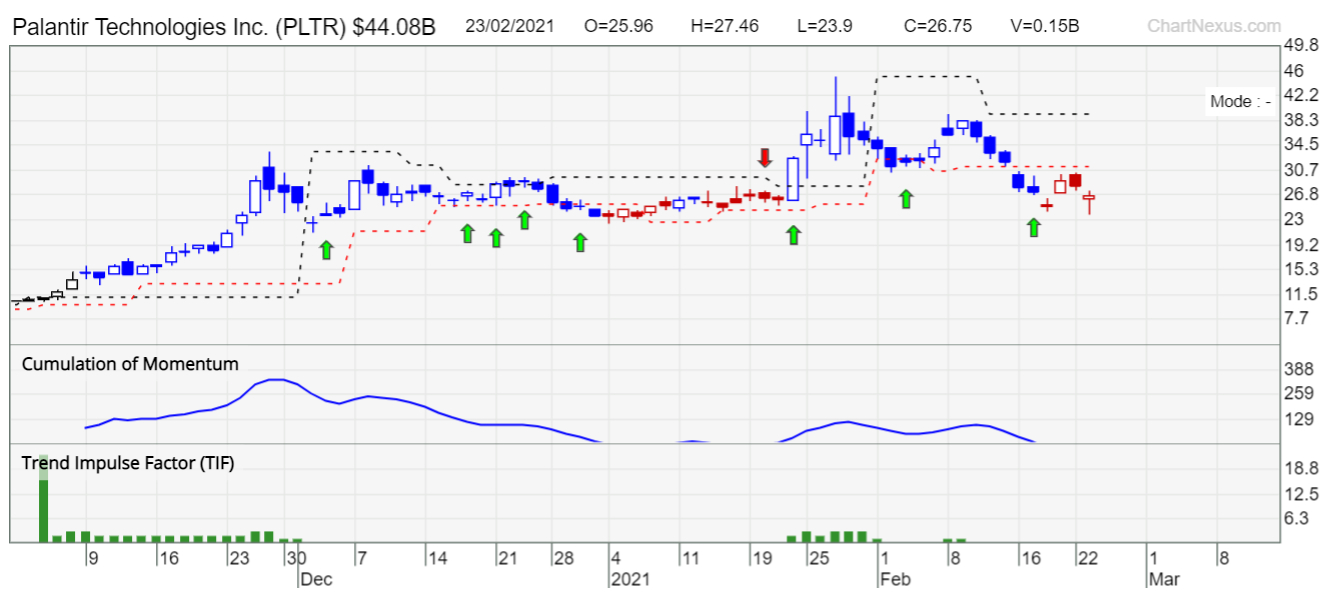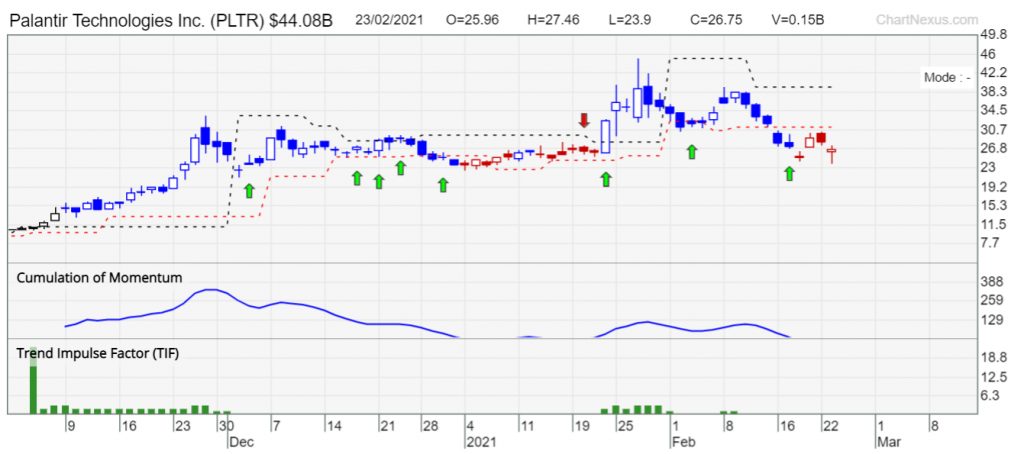 The TradersGPS daily chart of Palantir shows that there is currently a "reset" taking place. While some traders might have considered going into the stock on the dips this month, the entries are invalidated due to the weakness of the trend. Any prior positions should also have been exited by this point.
ARK Invest Big Idea 2021 Theme #4/15: Digital Wallets
The digital wallet segment represents a $4.6trn opportunity with the team believing that Venmo (Paypal), Cash App (Square), and venture-funded startups are likely to upend traditional banking by activating the mobile phones in users' pockets and handbags.
According to ARK Invest research, digital wallets are valued between $250 and $1,900 per user today but could scale to $20,000 per user, representing a $4.6trn opportunity in the US by 2025.
A primary driver of the explosive growth in digital wallets is lower customer acquisition costs.
According to ARK Invest research, compared to the roughly $1,000 that a traditional financial institution might pay to acquire a new checking account customer, digital wallets invest only $20 thanks to viral peer-to-peer payment ecosystems, savvy marketing strategies, and dramatically lower cost structures.
Today, Venmo and Cash App are valued at a discount to private fintech firms on a per-user basis.
Digital Wallet Stocks: Paypal and Square
Square and Paypal are among the largest holdings of ARK Invest, with Square being the 4th largest holding across its portfolio, accounting for 3.74% stake and Paypal at no. 15, accounting for 1.91%
ARK Invest has highlighted that there is huge potential in Venmo, owned by Paypal and Cash App, owned by Square as digital wallets used by an increasing number of users both in the US as well as internationally.
In Asia, you have got WeChat Pay, owned by Tencent (ARK invest Top 12th holding with 1.93% stake) as well as Alipay, owned by Alibaba as potential alternatives for Digital Wallet plays.
Paypal looks to be an interesting stock candidate. According to its CEO, Paypal aspires to be one of the 8-10 apps a person uses every day and hopes to achieve this by leveraging the company's large customer base, merchant relationships, partnerships across banks, networks, and technology platforms, and global scale to create a connected ecosystem that addresses a more comprehensive set of use cases in a person's financial and broader commerce journey.
Components in its future connected ecosystem include a broad suite of financial services (e.g. high yield savings accounts, brokerage services, crypto services), recurring payment services (e.g. Bill Pay, subscription management), a richer rewards hub, shopping (including contextual commerce recommendations, Honey integration), and one-click transactional payment functionality in these settings.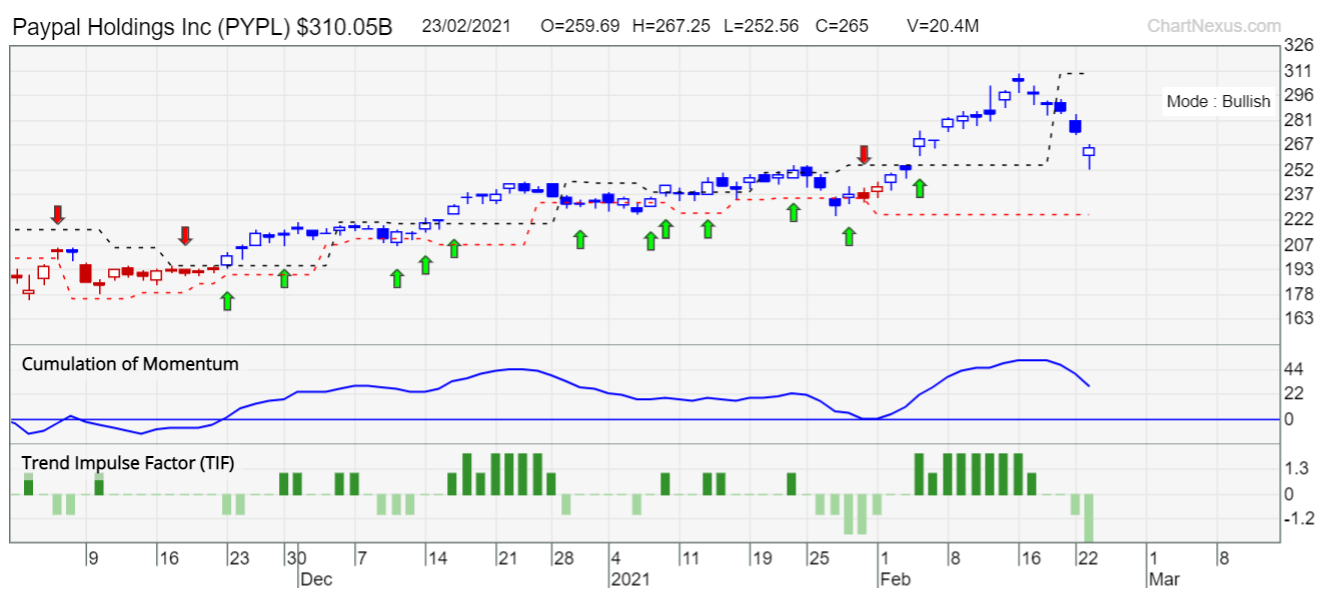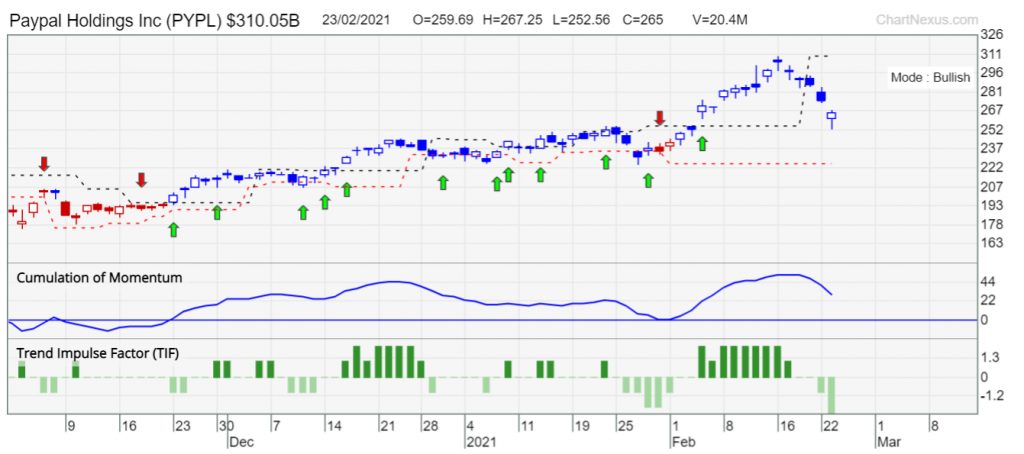 This is the daily chart of Paypal from TradersGPS. Unlike the situation with Palantir, traders who are holding Paypal should not exit their positions.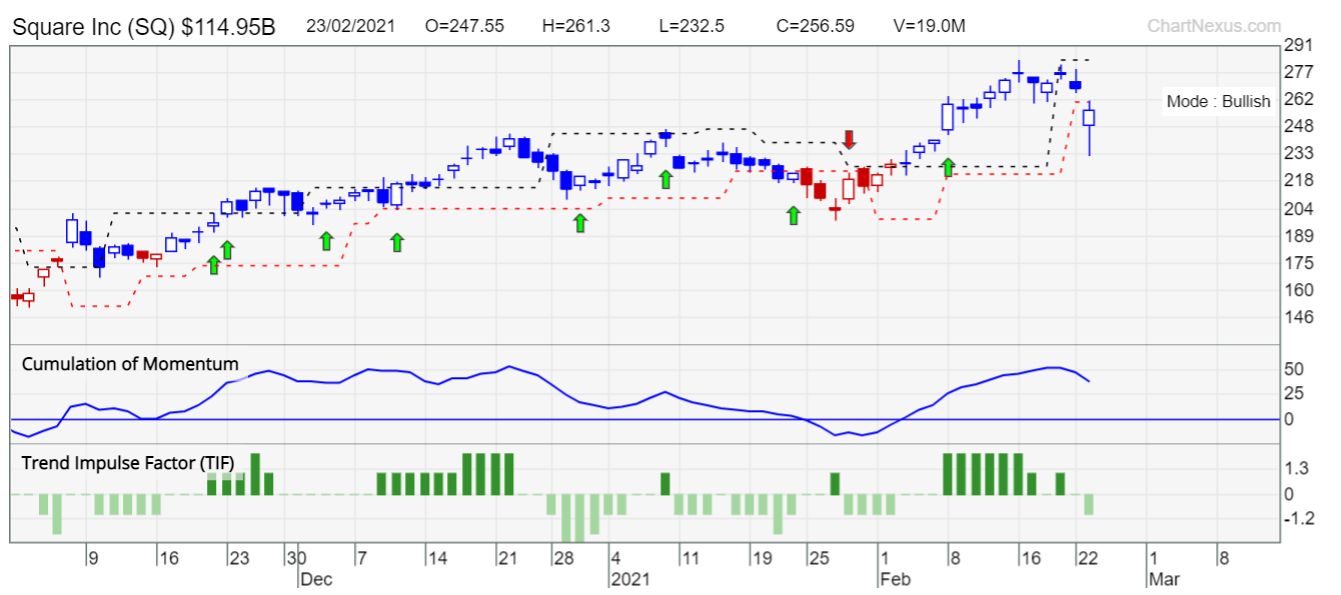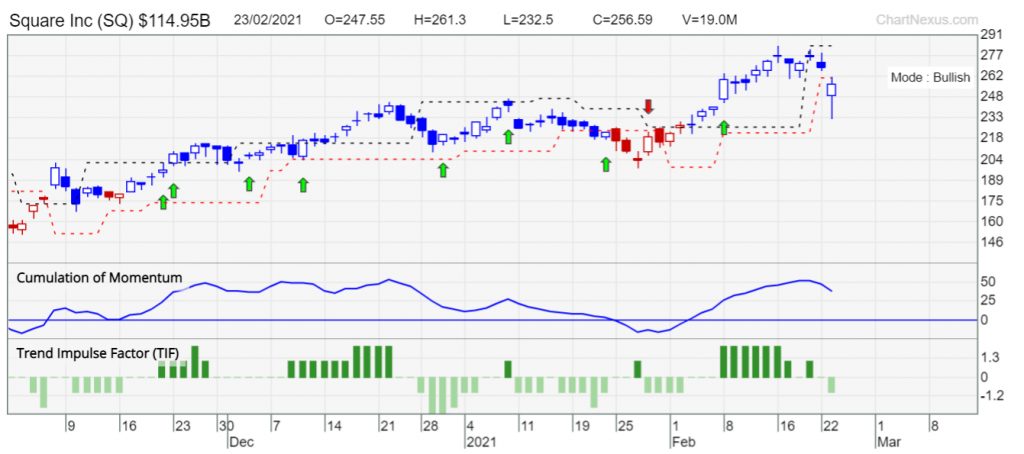 The daily TradersGPS chart for Square looks a little similar to Paypal. Traders who entered the stock this month should still hold on to their positions as well.
ARK Invest Big Idea 2021 Theme #6/15: Bitcoin Preparing For Institutions
ARK believes bitcoin's rapid growth has positioned it for an allocation in investment portfolios.
"We believe bitcoin offers one of the most compelling risk-reward profiles among assets. As our analysis suggests, it could scale from roughly USD500 billion to USD1-5 trillion in network capitalization during the next five to 10 years."
According to ARK's simulated portfolio allocations, institutional allocations between 2.5% and 6.5% could impact bitcoin's price by $200,000 to $500,000.
Bitcoin Preparing For Institution Stocks: Tesla, Paypal, Square
Tesla remains ARK Invest biggest holdings, with Tesla accounting for 6.02% of its portfolio
When Tesla allocated $1.5bn or 9% of its cash balance to bitcoin and said that it would start accepting the cryptocurrency as payment for its vehicles, it is greeted by enthusiasm by one of the electric car marker's most prominent backers: Cathie Wood.
Square is another company that could benefit from its bitcoin ownership. By letting users invest and pay with bitcoin via its app, the company would be able to take significant market share in geographies with fragmented payments and banking infrastructure.
Again, Paypal is another company that has significant exposure to Bitcoin through its holdings. I do prefer Paypal more than Square at this current juncture due to the former's network effect which I deem as stronger.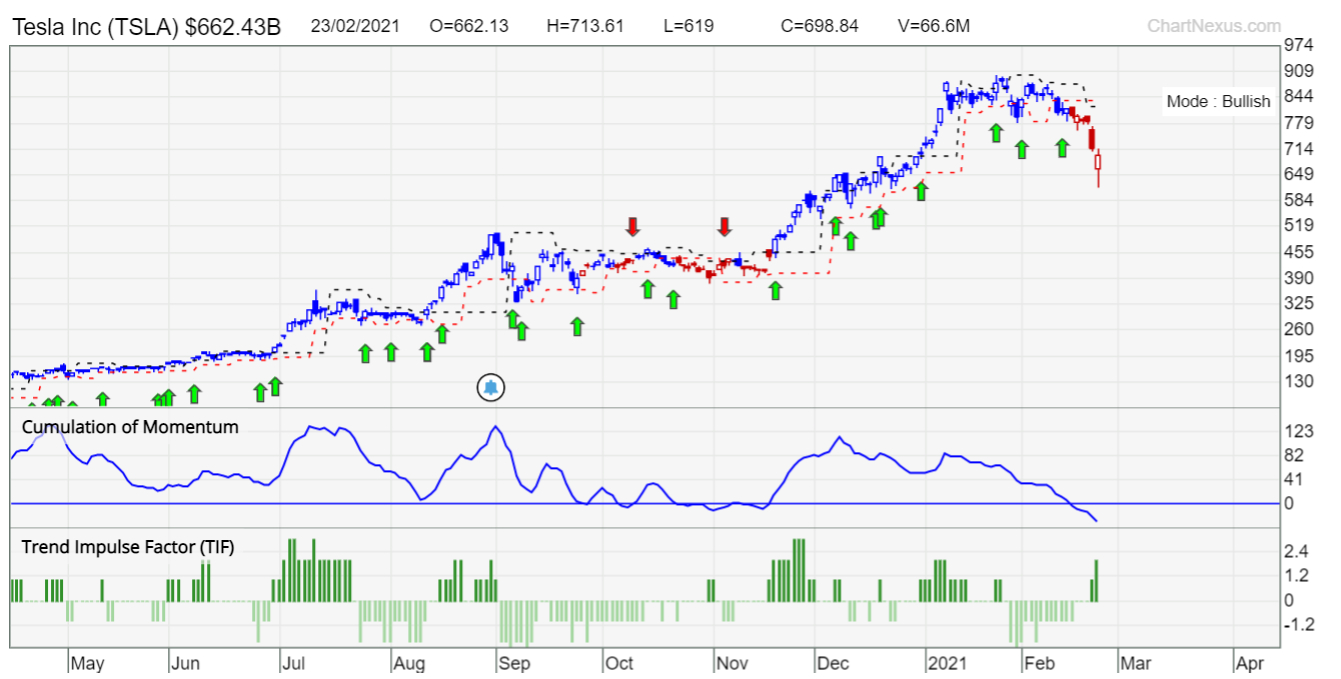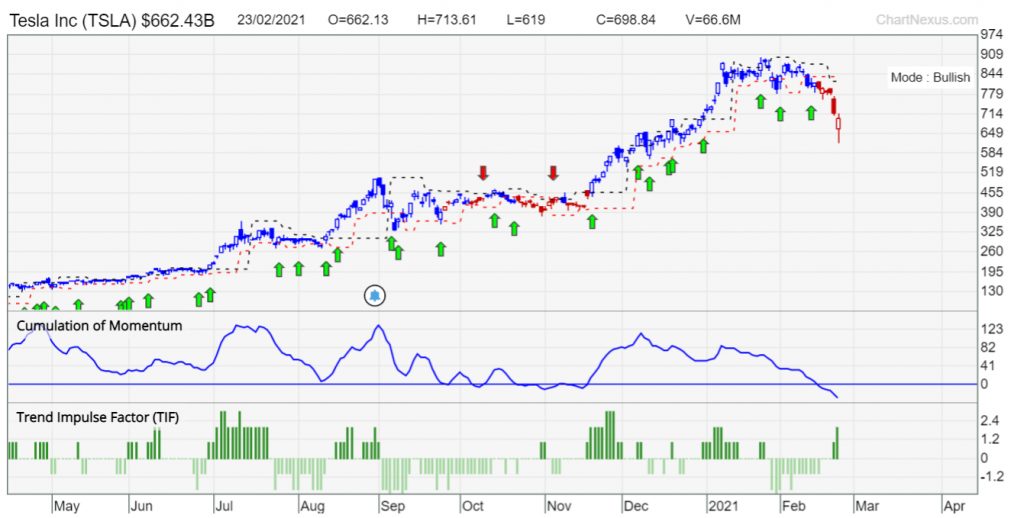 The daily chart of Tesla on TradersGPS has an exit signal prior to the bigger dip that came. Traders would note that the price has closed below the low of the previous day's red candle, thus exiting their positions to protect their profits or cut their losses.
Conclusion: 3+1 Stock Picks From ARK Invest's 15 Big Ideas
These are the stocks that are leveraged to Ark Invest's 15 Big Idea themes of 2021 that could continue to see strong structural growth over the coming 5-10 years.
ARK Invest's goal is to invest in innovation. This means that many of these stocks highlighted cannot be evaluated solely from a historical financial standpoint. They will never be considered as great stocks to buy if you are evaluating them solely from a fundamental angle ie: earnings, cash flow, etc.
There are of course risks when it comes to investing in innovation.
Some of the risk factors include:
Rapid Pace of change
Uncertainty and unknowns
Regulatory hurdles
Political or legal pressure and
Competitive landscape
I believe that the stocks mentioned in this article are great candidates for your portfolio.
I have a handful of them which I deemed as my "forever stocks". A blue-chip stock that I like is Paypal, a company that is exposed to a handful of these big idea themes: Digital Wallets, Bitcoins, Deep Learning, etc.
Once again, this article is not meant to induce a recommendation of any kind but more of the big picture guidance for further investigation. Please do your due diligence when it comes to investing in these "high growth" stocks that are naturally susceptible to substantial price volatility.
I hope that this article has been useful in pointing you in the right direction in terms of identifying the key stocks that Ark Invest is currently vested to partake in these 15 big ideas theme.
If you enjoyed reading this article and various other investment + personal finance articles, do visit New Academy of Finance. Royston has more than 10 years of buy and sell side experience as a financial analyst. He constantly posts interesting, valuable and actionable articles.
If you'd like to learn more about systematic trading to better time your trade entries, click the banner below: