This article is for education purposes only, and not to be taken as advice to buy/sell. Please do your own due diligence before committing to any trade/investment.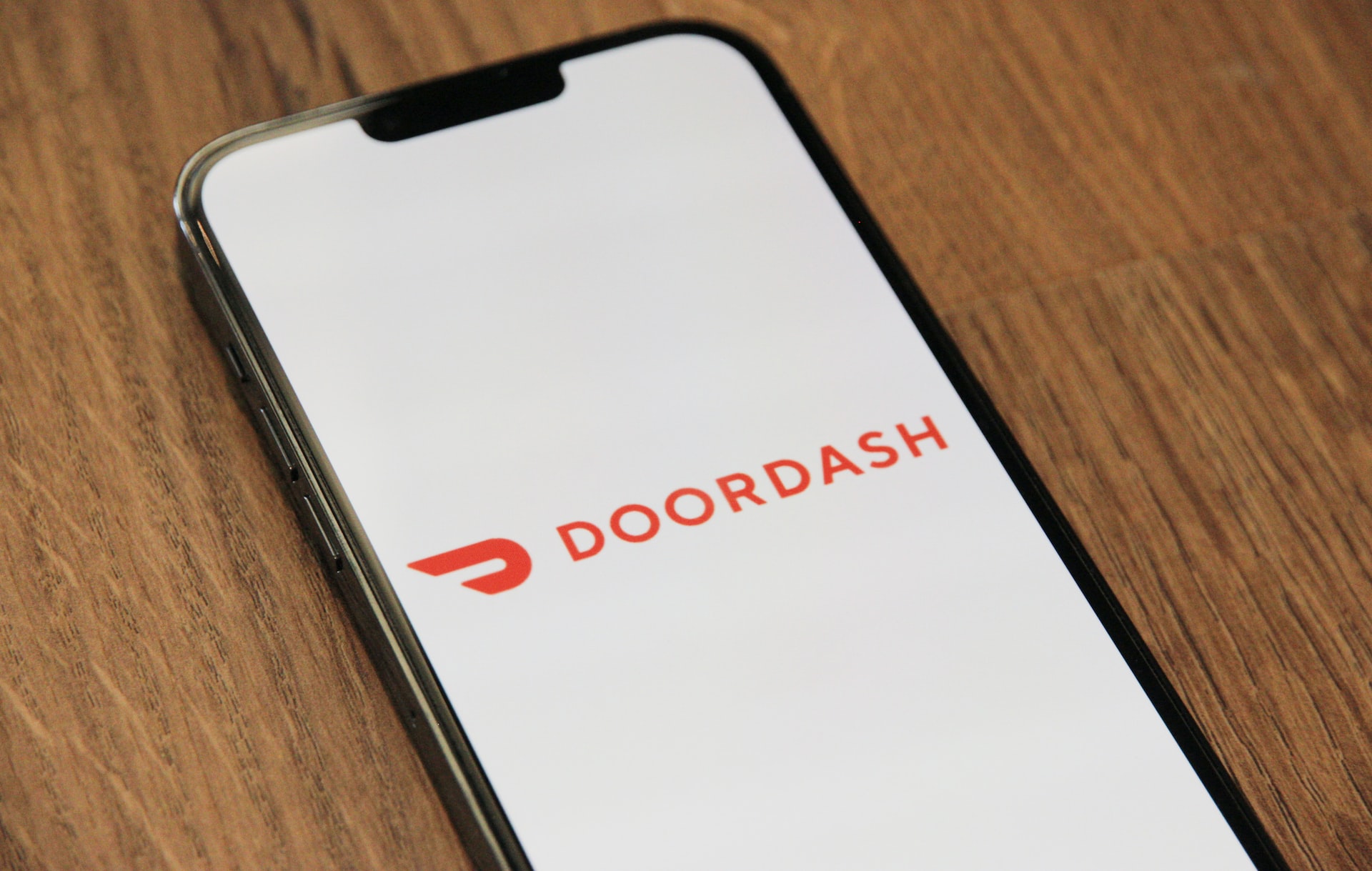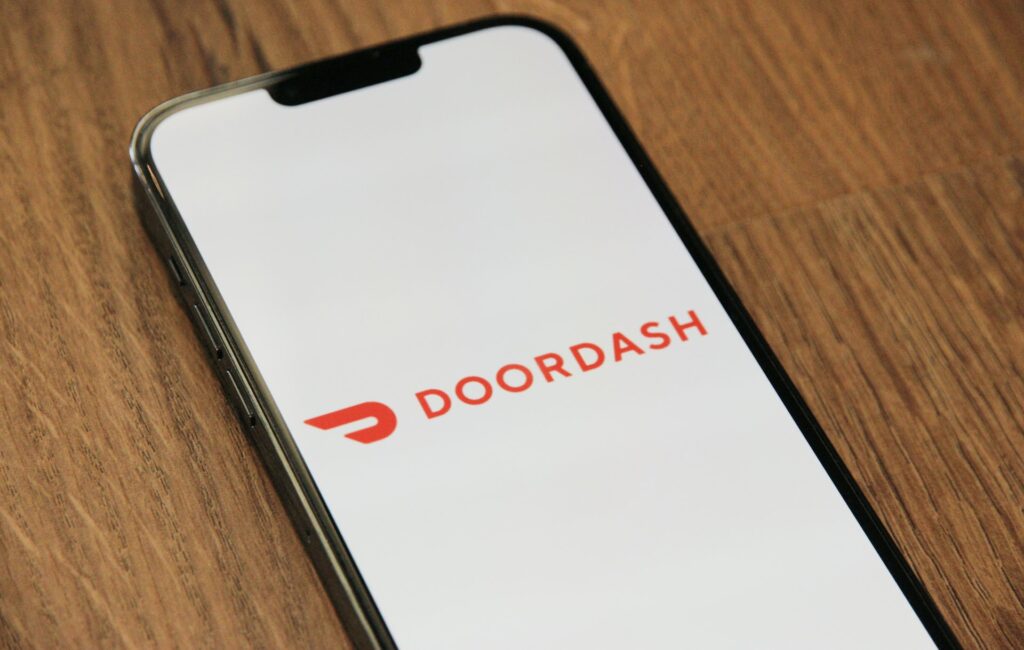 Source: unsplash.com
Welcome to our 12th part of our series on Systematic Trading!
In this part, you'll discover two stocks that are listed in the US. Furthermore, these stocks are exciting as they look like they present opportunities. 
Before you scroll further, you'll want to check out our stock pick in August on M&T Bank and Paramount Global.
Are you ready to check out 10x Genomics and DoorDash?
10x Genomics (NASDAQ: TXG)

Source: 10xgenomics.com
1. About the Company 
Founded in 2012, 10x Genomics managed to achieve a huge feat by getting listed on the NASDAQ in September 2019. That's barely 7 years into the business!
How did 10x Genomics achieve this feat?
For a start, 10x Genomics has more than 100 different types of products, services, and kits. This enables the company to meet most of the needs, if not all, of genetic research and analysis from the first to the last step.
In the process of conducting its in-house research and development, 10x Genomics owns more than 1,300 patents (issued or filed), more than 3,500 publications, and has won The Scientist Top 10 Innovations award in 2015, 2017, 2018, 2019, 2020, and 2021.
Does the above sound exciting?
Shall we thus turn our attention to its chart and check if there's a position trading opportunity?
2. Position Trading (Daily)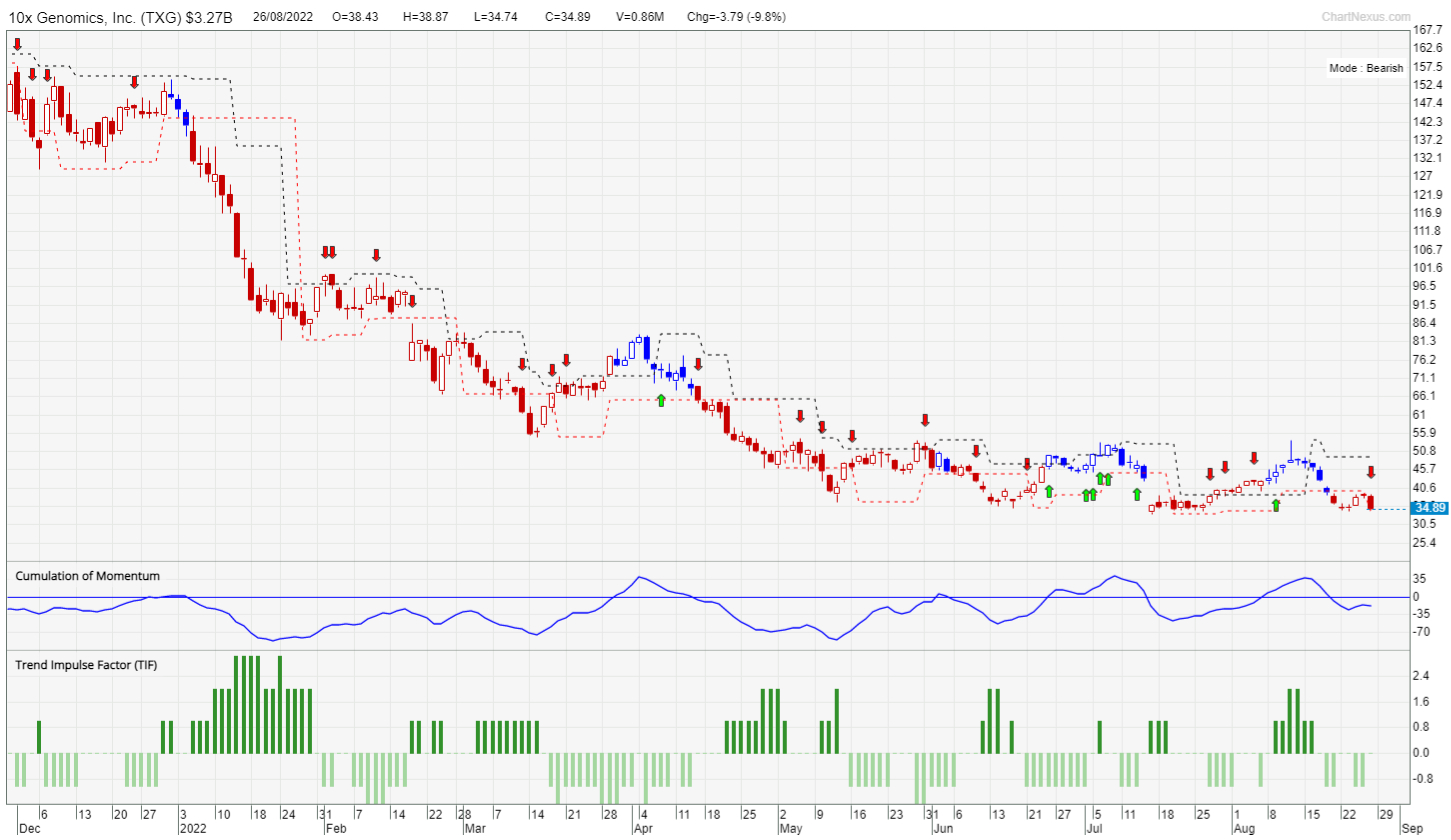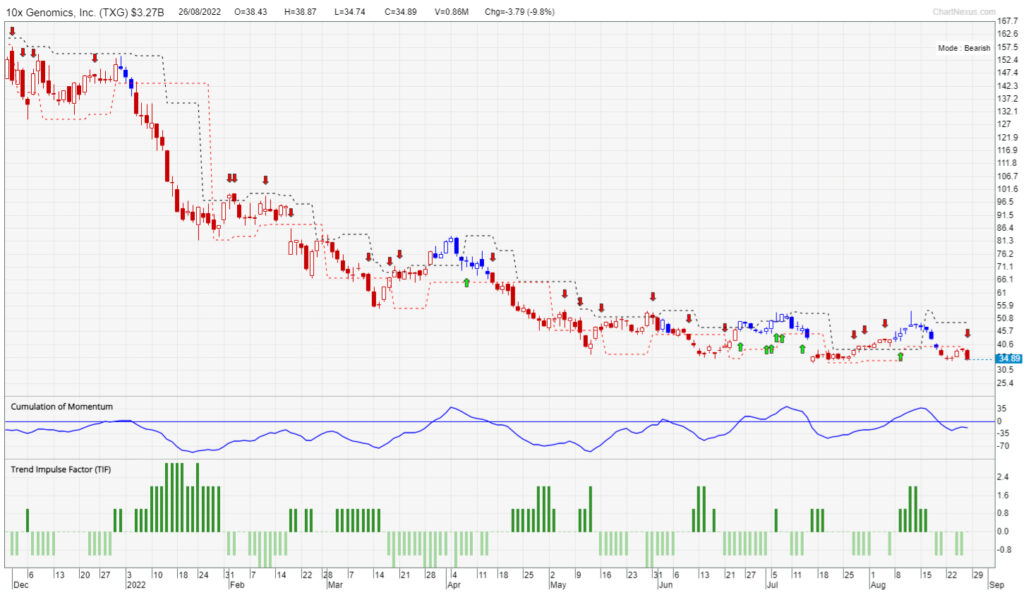 The share price of 10x Genomics has been brutally battered. From its all-time high of $208.99 in late June 2021, its share price has plummeted by more than 82%.
At its latest candle (from the chart above), you can also see that there's a red arrow above it. That red arrow signals bearishness in 10x Genomics. This gives you a bearish bias for 10x Genomics.
However, is it time to take a short position trade on 10x Genomics?
Let's look at the Trend Impulse Factor indicator for confirmation.
The bar of the Trend Impulse Factor isn't in dark green, signifying that while bearishness is present, there's not much momentum for this downward movement in price to continue in the short to mid term. Hence, it isn't time to short shares of 10x Genomics just yet.
DoorDash (NYSE: DASH)

Source: doordash.com
1. About the Company 
DoorDash is a technology company that helps merchants sell more delicious meals and deliver food on their behalf. It also provides payment solutions so that merchants can focus on what they do best – cook up a yummy storm!
Yes, it's the equivalent of Grab Food if you're living in Southeast Asia like I am.
DoorDash is huge in the US, Canada, and Australia, having a presence in major cities such as New York City, Los Angeles, Vancouver, Washington DC, Sydney, and Melbourne.
How has COVID-19 being endemic affected DoorDash?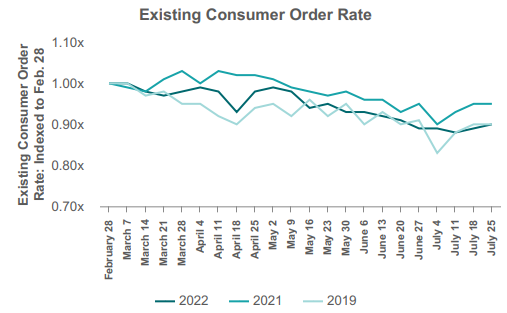 Source: s22.q4cdn.com/280253921/files/doc_financials/2022/q2/DASH-Q2-2022-Shareholder-Letter_FINAL.pdf
Orders rose sharply during the early phases of the pandemic in 2021, before gradually decreasing. The number of orders in 2022 has been steadily decreasing so far too.
Is this a red flag for DoorDash?
I think so.
This begs the next question – is there a short position trade opportunity?
We will have to look at the chart of DoorDash to arrive at a conclusion.
2. Position Trading (Daily)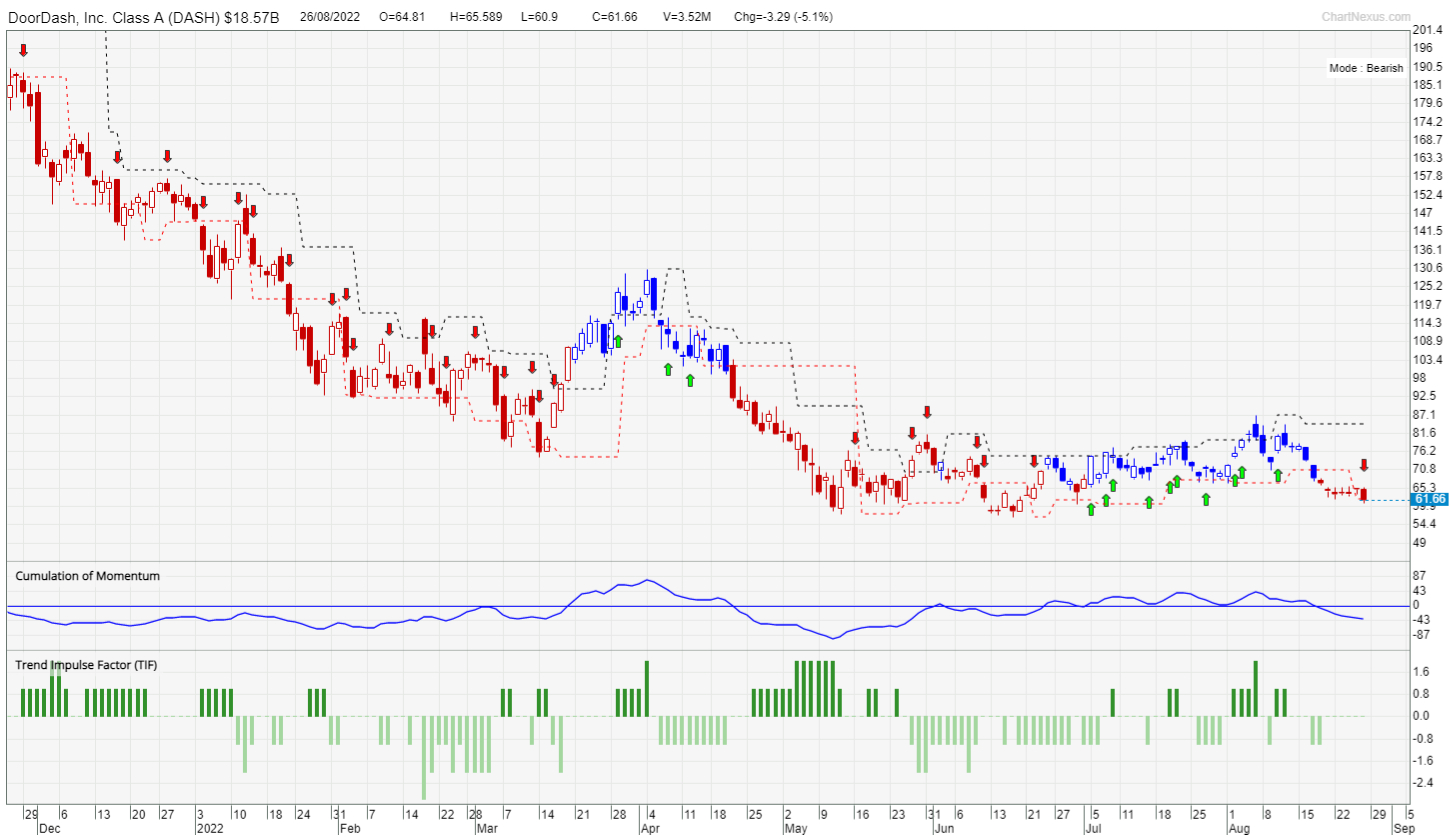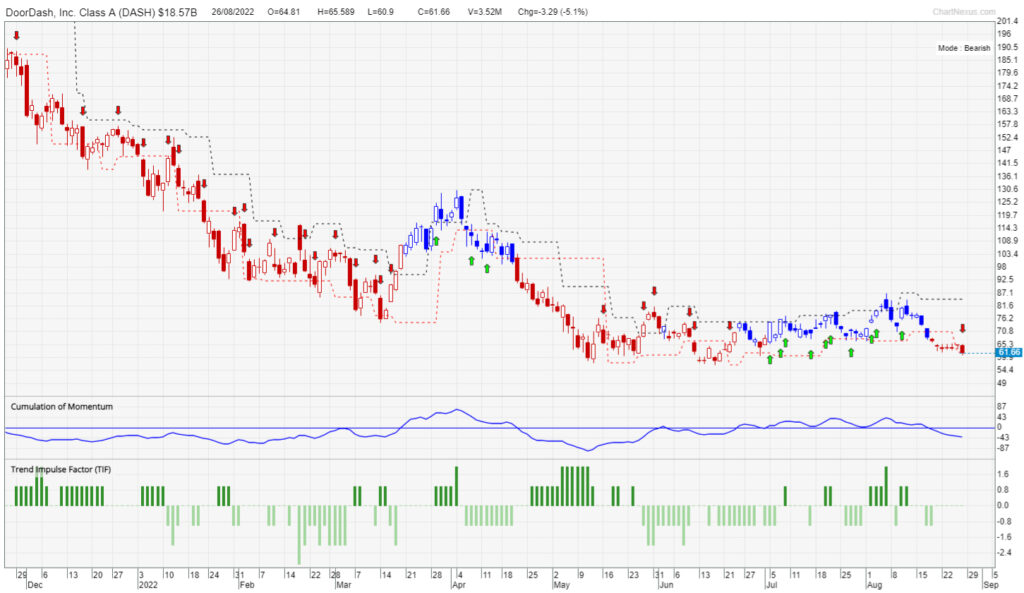 Similar to the chart of 10x Genomics, the price chart of DoorDash doesn't look good.
After hitting a high of $257.25 in mid Nov 2021, the share price of DoorDash has been on a slide since. It has lost more than 75% in value within a year.
It's not hard to see why the market participants are bearish on the outlook for DoorDash.
On the latest candle of DoorDash, you can spot a red arrow above it, suggesting weakness in its share price.
While this is true, it's good for the Trend Impulse Factor indicator to confirm that this weakness will probably last.
A glance at the Trend Impulse Factor tells you that this bearish move of DoorDash is not likely to continue in the short or mid term. This is because the color of its bar isn't dark green.
Similar to 10x Genomics, you'll want to stay out of this stock too. You'll want to be patient and wait for the appearance of the red arrow and the dark green bar of the Trend Impulse Factor indicator to come on at the same time.
Conclusion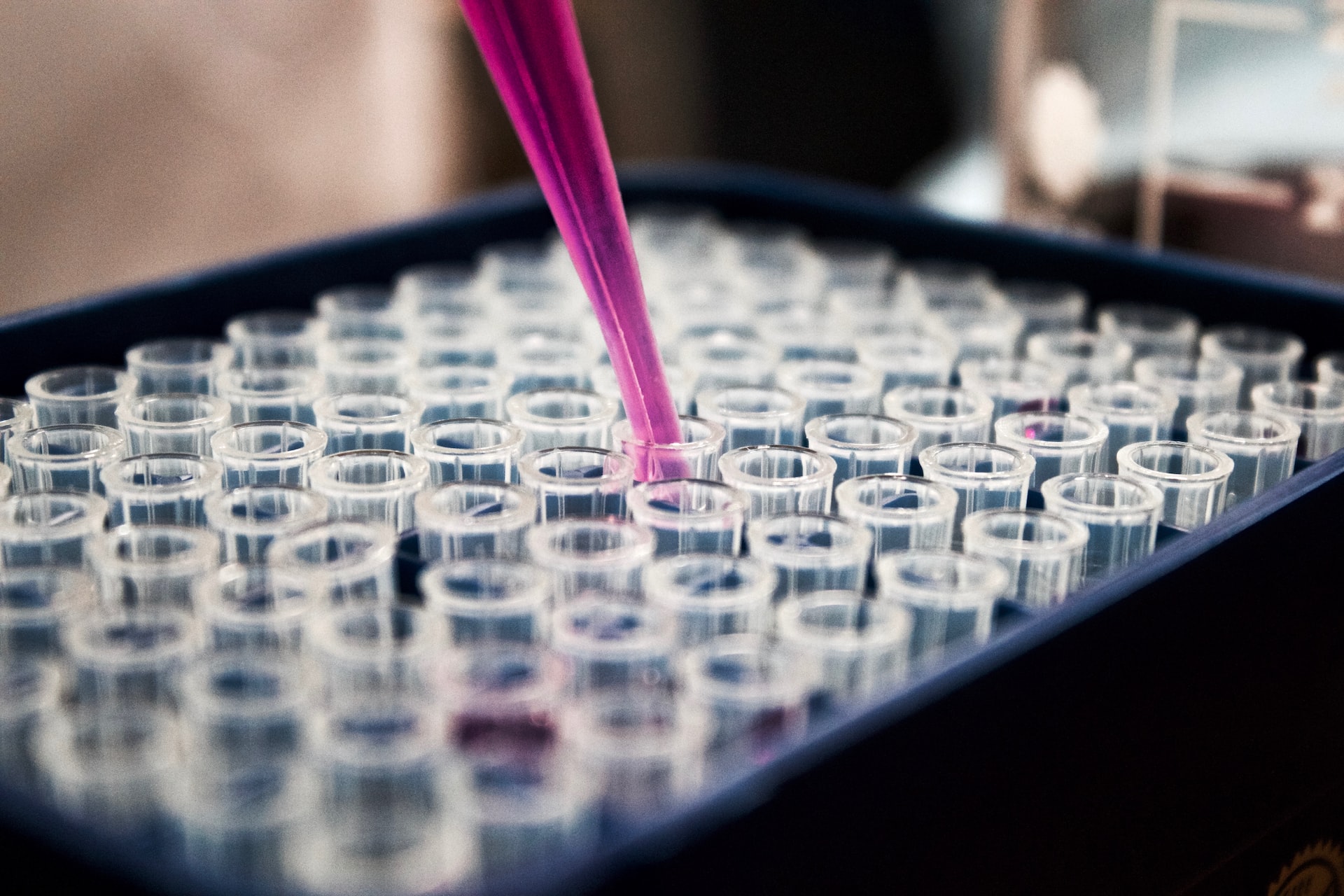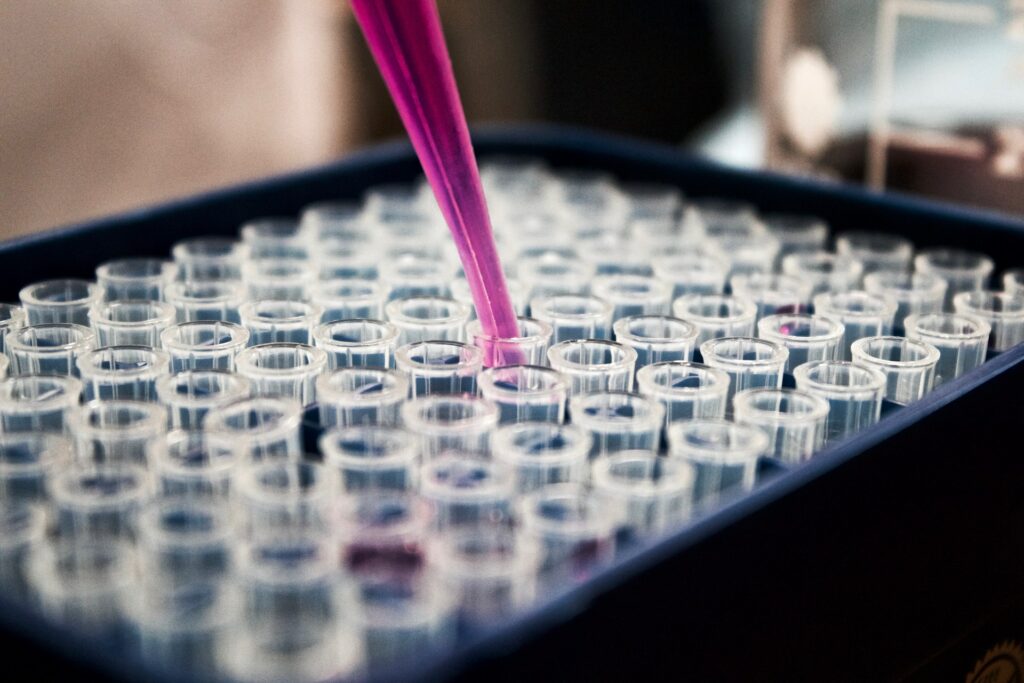 Source: unsplash.com
While I don't know why there's a cloud of pessimism surrounding 10x Genomics, it's safe to make a clever guess that the pessimism in DoorDash is due to rising interest rates and a drop in demand.
Both 10x Genomics and DoorDash aren't ripe for a short position trade yet. Yet, the opportunity to sell both stocks short could soon appear when their prices continue to drop in the coming days.
And when you have both the appearance of the red arrow and the dark green bar of the Trend Impulse Factor indicator flashing simultaneously, you know that the odds are with you.
Because the stock market doesn't behave according to our instructions and hopes, it's advisable to place a stop loss level to protect your trading capital when the time to short both stocks is ripe, should an unexpected event occur.
Trading stocks without a proper system can be highly risky. This is why TradersGPS (TGPS) was created. The indicators will help you determine if a stock is ready for action to be taken. You won't have to feel in the dark and make wild guesses.
What are your thoughts?
Share your thoughts with us below!
Are You Ready For The Post-Bottom Rally?
The period between late July and early August had been nothing short of amazing for the stock market.
The ability to capitalize on such opportunities has helped over 5000+ of my students consistently reap superb profits time and time again.
Here are just a few stocks I picked out during the stock rally: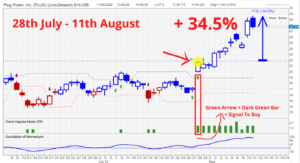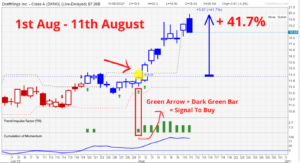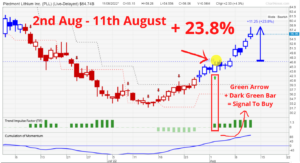 if you knew how to pick out the right stocks, you would have too similarly yielded 20-30% gains like I did in just 2 short weeks during the rally.
If you didn't, there could only be 2 reasons.
1) You were busy hesitating wondering if it was really the 'right time', letting your fear prevent you from doing anything to capitalize on the opportunity.
2) You knew that there was a massive opportunity, but just didn't know how to choose the right stocks to get into.
Whichever reason it is, it all boils down to 1 thing.
➡ You lack a tested and proven system that can help you CONSISTENTLY find winning stocks regardless of bull or bear.
Just look at what having a tested and proven system can do for you.
These are just a few stocks that you could have easily profited from if you used our proprietary TradersGPS system.
With a tested and proven system, finding profitable stocks like these instantly becomes so much easier.
The market is still looking good and there are still tonnes of such opportunities available.
So if you're tired of constantly missing out profits like this and want a real, proper method to consistently finding winning stocks regardless of bull or bear…
Especially when the market sentiment is improving each day and the possibility of a post-bottom rally coming sooner than we think…
Click HERE and join me in my upcoming LIVE training…
And I will show you the full process from identifying winning stocks all the way to executing the trade, and how it can be done in just 15 minutes.
I will also be opening up questions to the floor where you can ask me to analyze ANY stock of your choice,
and I will show you how the TradersGPS system can help you determine if it's a good buy, WHEN to buy, and WHEN to sell for profits.
Click HERE to register your seat before we hit full capacity!
If you'd also like to get a FREE e-course and learn how to better time your trade entries, click the banner below: