Is It Good To Invest In Metaverse Companies?
Ever since Facebook rebranded its name to Meta in October 2021, the "metaverse" has become a buzzword that everyone is talking about.
So, what exactly is the metaverse?
To put it simply, a metaverse is supposed to be a more physical version of the internet. Instead of sending emails to your clients or slack messages to your colleagues, you will instead log into a virtual world called the metaverse and a virtual representation of you (your avatar) will be able to have that conversation in a virtual office.
Metaverse represents the next generation of the internet. This concept could change the way people live their lives, from how they work, to their shopping experiences as well as spending their leisure time in an immersive experience.
And it is already happening, as can be seen from video games which are often seen as the starting point and most viable path towards the metaverse.
According to Activate research, 60% of gamers participated in non-gaming activities such as social activity (socializing with new people) and economic activity (purchasing skins, emotes, and in-game personalization content)
As the metaverse evolves beyond games, the time might come for all of us to "live and work" in the metaverse – a vision where the world is powered by creators and built upon decentralization, where power lies in the hands of the people and not government agencies.
That is all very exciting. But how exactly can the man-in-the-street partake in the rapid development of the metaverse, all without being a creator?
In this article, I will explore the 7 layers of the Metaverse, as described by Jon Radoff (CEO of Beamable) in this article and highlight which are some of the most exciting metaverse companies stock in each layer of the metaverse value chain.
Seven Layers Of The Metaverse Value Chain
According to Jon, there are seven layers of the metaverse as shown in the diagram below.
Layer 1: Experience
Most of us are most familiar with Layer 1 which is experiencing metaverse, mostly through games such as Fortnite, Minecraft as well as through social experiences and live music (virtual concerts)
Such games will evolve to incorporate more events that are informed by live entertainment such as the music concerts and immersive theatre that have already emerged in games such as Fortnite. Take the Travis Scott concert in Fortnite as an example. 27.7m unique users attended the concert throughout the weekend. How can an event organizer accomplish such a feat through a physical concert, accommodating close to 28m "concert-goers" all at the same time?
Such a virtual concert can also allow one to always enjoy the "best seat in the house" which is impossible for a physical concert with limited spaces.
Some of the most exciting companies to partake in this space are undoubtedly the gaming companies involved in virtual reality experiences.
Examples will be the likes of Tencent and Microsoft which are the market leaders in the arena of internet gaming platforms and dominate across the board in augmented reality, virtual environments, and gaming.
Games developers such as Take-Two Interactive's IP Grand Theft Auto, Red Dead Redemption, and NBA2K are already on the road toward a "metaverse". These games have a high social engagement and brand crossovers that will move it deeper into the Metaverse.
Another example is Activision Blizzard which was in the news recently, with Microsoft looking to acquire this gaming leader for a whopping $68.7bn. ATVI's flagship game, World of Warcraft, has many elements of a metaverse in it such as users' self-expression in skins, amour, and mounts, etc have long been part and parcel of the game. It also has a robust economy that is more advanced than most games.
Layer 2: Discovery
This is about the push and pulls that introduce people to new metaverse experiences. They can be both inbound such as community-driven content as well as outbound such as display marketing.
An inbound discovery such as community-driven content can be far more cost-effective vs. the typical marketing strategies. When people care about the content or the events in which they are participating, they will have "share" and spread the word.
Take for example NFTs. While this is an "asset class" that is still relatively unknown, two major advantages of NFTs are they can be supplied to decentralized exchanges with relative ease and they help support direct creator-community engagement.
Another useful form of discovery is real-time presence. Imagine you can log in to your Xbox or Playstation and see what games your friends or currently playing, or watching a multi-player game among your group of friends. Such real-time presence increases the discovery appeal.
App stores such as Apple store and google app store are also an example of inbound discovery.
Outbound discoveries could be through display advertising. Unity Ads, for example, allows game publishers to transform their games into effective revenue drivers by utilizing ad integration. It also allows advertisers to run ad campaigns that can be seen by millions every day on apps and games.
Some of the most interesting companies to capitalize on this Discovery layer include the likes of Unity through their Unity Ad model, Meta as well as this company called Applovin Corp, which is a US$26bn company you probably would not have heard of.
Applovin is a mobile tech company that enables developers of all sizes to market, monetize, analyze and publish their apps through its platforms. The company generates revenue through businesses using its software as well as consumers making in-app purchases.
Layer 3: Creator Economy
This is everything that helps creators make and monetize things for the metaverse.
Metaverse experiences are becoming increasingly immersive, social, and real-time. Powering this digital economy is the exponential rise in the number of creators, made possible by the various tools available that are not restricted by coding bottlenecks.
Take, for example, today you can launch an e-commerce website in Shopify in minutes without the knowledge of a single line of code. 3D graphic experiences can be crafted within games engines such as Unity without lower-level rendering APIs.
The most popular platform right now for the creator economy, is undoubtedly Roblox, the gaming platform that your kid knows better than you.
This platform offers all the tools required for content creation in a low-code/no-code format and handles publication, language translation, billing, collections, safety and security of the environment, and more.
It is hard to find a platform that makes the creative process easier for developers than Roblox. Roblox, with almost 50m daily users engaging its platform to build their own interactive and immersive worlds, is undoubtedly at the "forefront" of what the metaverse is setting out to achieve.
Layer 4: Spatial Computing
This refers to the software that brings objects into 3D and includes 3D engines, gesture recognition, spatial mapping, etc.
This is a technology that is sort of like an umbrella term for several technologies that are allowing humans to move beyond 2D and into 3D spaces where the environment around us is the user interface. It uses GPS, Lidar, video, and other geolocation technologies to create a digital map of a room, building, or city.
For example, Epic Games (Tencent owned a 40% stake) which develops the Unreal Engine, acquired Quixel, a company that produces ultra-realistic, large-scale scans of real-world environments. It then licenses the images to movie studios, game developers and ad agencies to be used as part of the content.
Unity, a company we have highlighted several times in this article and one of the leaders when it comes to platform selection for games creation, has spoken openly about leveraging its technology to capitalize on some of the opportunities in real-world rendering.
Its cutting-edge technology gives Unity a huge advantage over competitors because of how instrumental it is in creating the metaverse's infrastructure and building hyper-realistic digital environments.
Layer 5: Decentralization
Decentralization is everything that is moving the ecosystem to a permissionless, distributed, and more democratized structure.
Unlike the Ready Player One movie where the organization OASIS controls the metaverse, the ideal structure of the metaverse is one where it is decentralized, an area where blockchain technology is being known for.
Blockchain technology has captured the trust of consumers in a way that large, well-known brands probably could have but fear of disruption, loss of revenue, and competition has chosen not to.
There are many ways that blockchain could contribute to the Metaverse and many of them are being explored in gaming. With the advent of NFTs and blockchain optimized for the sort of microtransactions required by games and metaverse experiences, we will see a wave of innovation around decentralized markets and applications for game assets in the future.
Microsoft's decentralized identity solution gives individuals control of their digital entities using Blockchain-based technology to protect privacy. Similarly, IBM has its decentralized identity platform.
There are also many cryptocurrencies out there that are part of the blockchain technology and a part of the decentralization efforts to reduce our reliance on fiat currency and government manipulation such as excessive money printing.
Popular examples are the likes of your Ethereum, Solana, and polygon.
Layer 6: Human Interface
Human interface refers to the hardware that helps us access the metaverse. 
As devices get smarter and smarter, they are turning human beings into a cyborg. These devices allow us to interact with or access the Metaverse. This includes VR headsets, smart glasses, augmented reality tools, and more.
One of the most popular human interface devices currently is the Oculus VR hardware by Meta. It is not just a gaming product but one can use this VR device for a large array of non-gaming experiences that were designed for Oculus.
For example, users can explore extreme terrain in national Geographic Explore VR or join virtual fitness classes using the Oculus product. As Meta's hardware continues to improve and becomes less cumbersome, one could expect a flywheel of greater developer and user adoption of VR.
Another company that is likely flying under the radar is Vuzix, a US$400m market cap company and a leading supplier of smart glasses and augmented reality technology. Its AR glasses look like everyday specs and users can put on these glasses and not only see Pokemons in the street but in future holograms of their friends standing in front of them and talking to them.
Layer 7: Infrastructure
Infrastructure is the semiconductors, material science, cloud computing, and telecommunication networks that make it possible to construct any of the higher layers.
The major problem metaverse adoption is currently facing is finding equilibrium between improving the performance of computing power while decreasing the cost. The computing power required to support a persistent, shared environment with unlimited users in real-time, is orders of magnitude greater than what we are capable of today.
Right now, servers are capable of handling hundreds, maybe thousands of concurrent users but that number will have to increase multi-folds if one is to enjoy a seamless experience on the metaverse.
Central to these issues are semiconductor chips which are included in thousands of consumers products. They are the most "levered metaverse play", and are the "digital oil" of the new data economy.
Some of the most popular semi-plays levered to the Metaverse theme include the likes of your Nvidia (gaming chips) and Marvel (supports 5G networks).
TSMC, the world's largest semi-fabricator, is likely the first company to mass-produce 3nm chips that will be adopted in Apple's latest iPhone designs when they are made available in 2H22.
Conclusion: Which Companies Are Big In Metaverse?
The metaverse concept is an exciting theme for the decade and there are many metaverse companies stocks to consider as the era of the metaverse dawns, potentially powering transformational implications for the world as we know it.
Among the list of metaverse companies stock highlighted in this article, the "purer" play ones are the likes of video-game software developer Unity Software and gaming platform Roblox, both companies displaying a good fit between the metaverse angle and their existing technologies/value propositions.
With or without metaverse, semiconductors have become an increasingly important part of our daily lives and a critical element that is quintessential to propel the proliferation of major tech themes such as EV, IoT, AI, etc. With the metaverse coming into the picture, the importance of semiconductor players is even more evident and they are likely the "most levered metaverse play", with their role as the "digital oil" of the world.
Do note that this article is for educational purposes and not meant as a recommendation to BUY any of the counters highlighted in this article. Please do your due diligence when considering the purchase of these metaverse companies' stocks.
What About Trading Metaverse Stocks?
Now that we've talked about the investment opportunities in metaverse stocks, let's look at the trading opportunities we have here.
This is the price chart of Roblox (RBLX), one of the leading companies in the metaverse industry.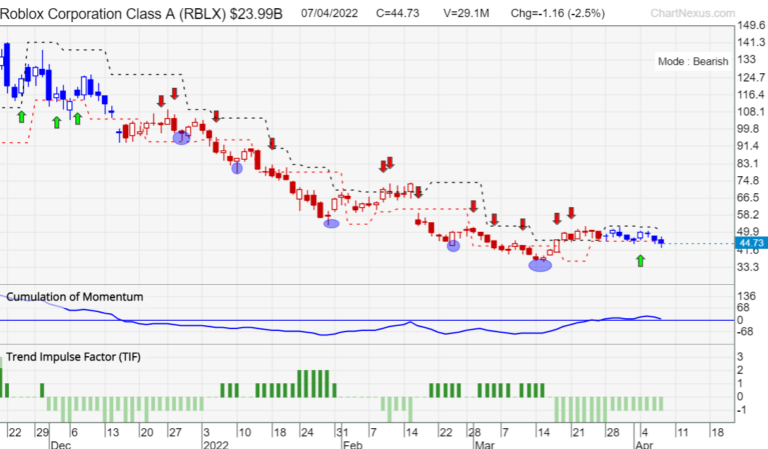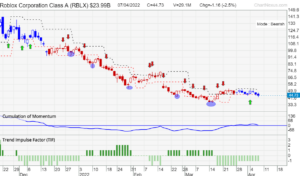 Despite so much hype around the metaverse industry, it's unfortunately not immune to the market pullback that happened in recent months.
This is a good reminder that when it comes to trading, we should not let our sentiments or gut feeling about a certain industry/company affect our buying decision.
For example, many who are bullish on the metaverse industry would've bought the dips in January when it started to retrace thinking it was good entry points, only to get caught in the falling knife as it continued to dip all the way till March.
Conversely, those who use the TradersGPS system would've seen that despite dips happening in January, the system is showing red arrows, which is an indicator to NOT buy.
Thanks to the system guiding our decision, many of us who wanted to enter were able to avoid catching the falling knife (> 50% dip).
After more than 3 months of no-buy sign from the TradersGPS system, the candlestick finally turned blue with a green arrow at the start of April, which is a sign that we can start entering for a potential position trade.
Having such a system sure is helpful in times like this. If you're interested in learning more about how you can use our proprietary TradersGPS system to easily determine profitable entry & exit points, click here to find out more!
If you enjoyed reading this article and various other investment + personal finance articles, do visit New Academy of Finance. Royston has more than 10 years of buy and sell side experience as a financial analyst. He constantly posts interesting, valuable and actionable articles.
If you'd like to learn more about systematic trading to better time your trade entries, click the banner below: