Well, now that's a stock market move we haven't seen in a few years.
The last time the S&P500 and DJ managed to hit the circuit breaker was back in 2016, if I recall, where I managed to do a sweet little lag trade on the Russell2000 futures.
But that's a story for another time.
Right now what I'm interested in, is where we can put our money to take advantage of the current market.
I love volatile drops like this, they pave the way for great trading and investment opportunities.
We don't have to act immediately by the way, that would be just trying to catch a falling knife with your bare hands!
Let me show you a simple method which I'm using to time my participation in this awesome market condition, watch out for it below.
Time to get excited folks. 😉
First let's just take a look at the overall situation right now.
We know there's the COVID-19 virus on the cards.
Then we have the crude oil price war.
And of course, the overall concern that price has gone up for so many years without a proper breather because the CBs(Central Banks. Hello, what were you thinking?) kept printing money.
So tying in with the first of the macro factor which we identified above, there is one stock which caught our eye back in February, Zoom.
If you're in our SMT community, you would know that this is also the software we use for our online webinars =)
It's a pretty good platform isn't it?
For those of you who don't know about Zoom, it's actually a video conferencing platform.
So with COVID-19 virus going around, avoiding human interaction is the best solution for containment.
At this moment, we don't know if COVID-19 is a temporary situation or how far it will affect us.
But right now, at least it forces businesses to explore remote working arrangements in closer detail.
A huge proportion of the work force can actually get their work done without being physically at the office.
Over the past few years, numerous articles have highlighted that staff significantly improved their productivity when allowed to work from home.
So as things stand, the platforms which facilitate employees remote working arrangement are critical.
And who knows, some might actually stick to this practice and make it the norm beyond this crisis period.
As a business, you reduce costs because you need a smaller physical office and productivity increases.
So why not right?
This is where Zoom comes in as a major player in the video conferencing arena.
I'm not going to advertise their range of services, but I do want to highlight that they are a very powerful tool which gained a lot of traction last year at their IPO.
In the new world of remote working arrangements, I believe them to be a key player.
We use Zoom for our own video conferencing needs as well.
Here's a quick look at the chart, it's a short history since Zoom only IPO'ed in mid April 2019.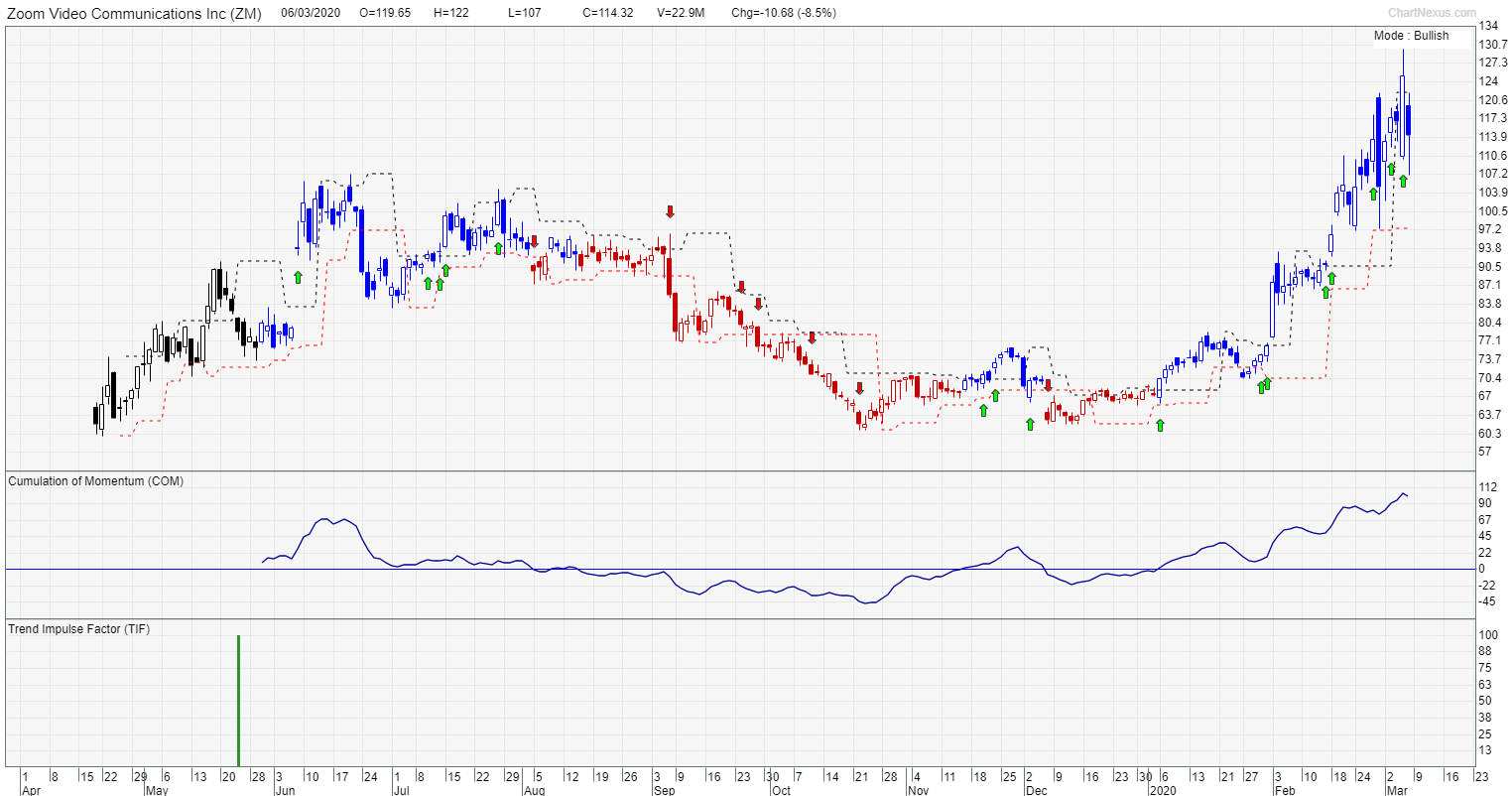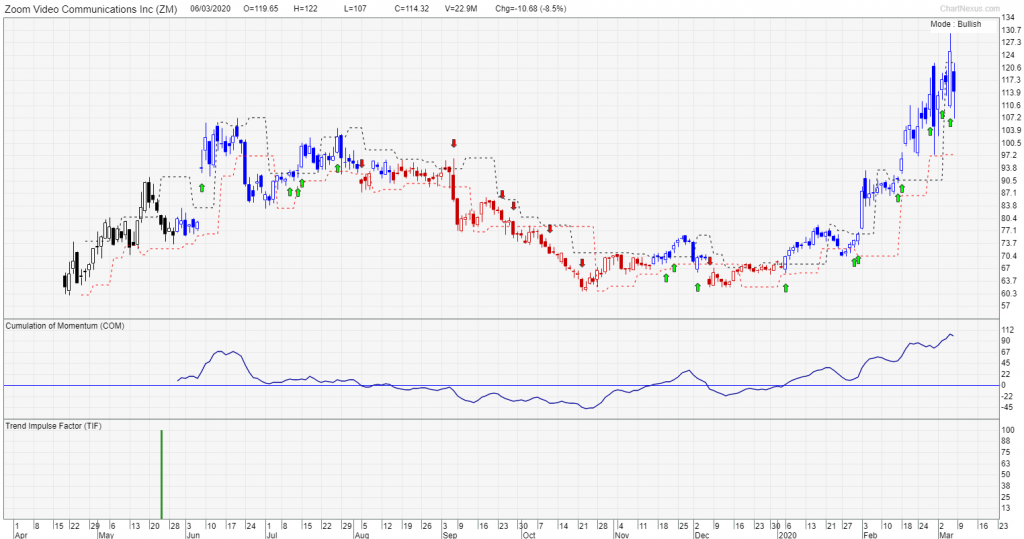 Pretty amazing that price is still holding near the highs even after the US Indices dropped so much yesterday.
Now let us zoom in on Zoom's recent trend to see the signals generated.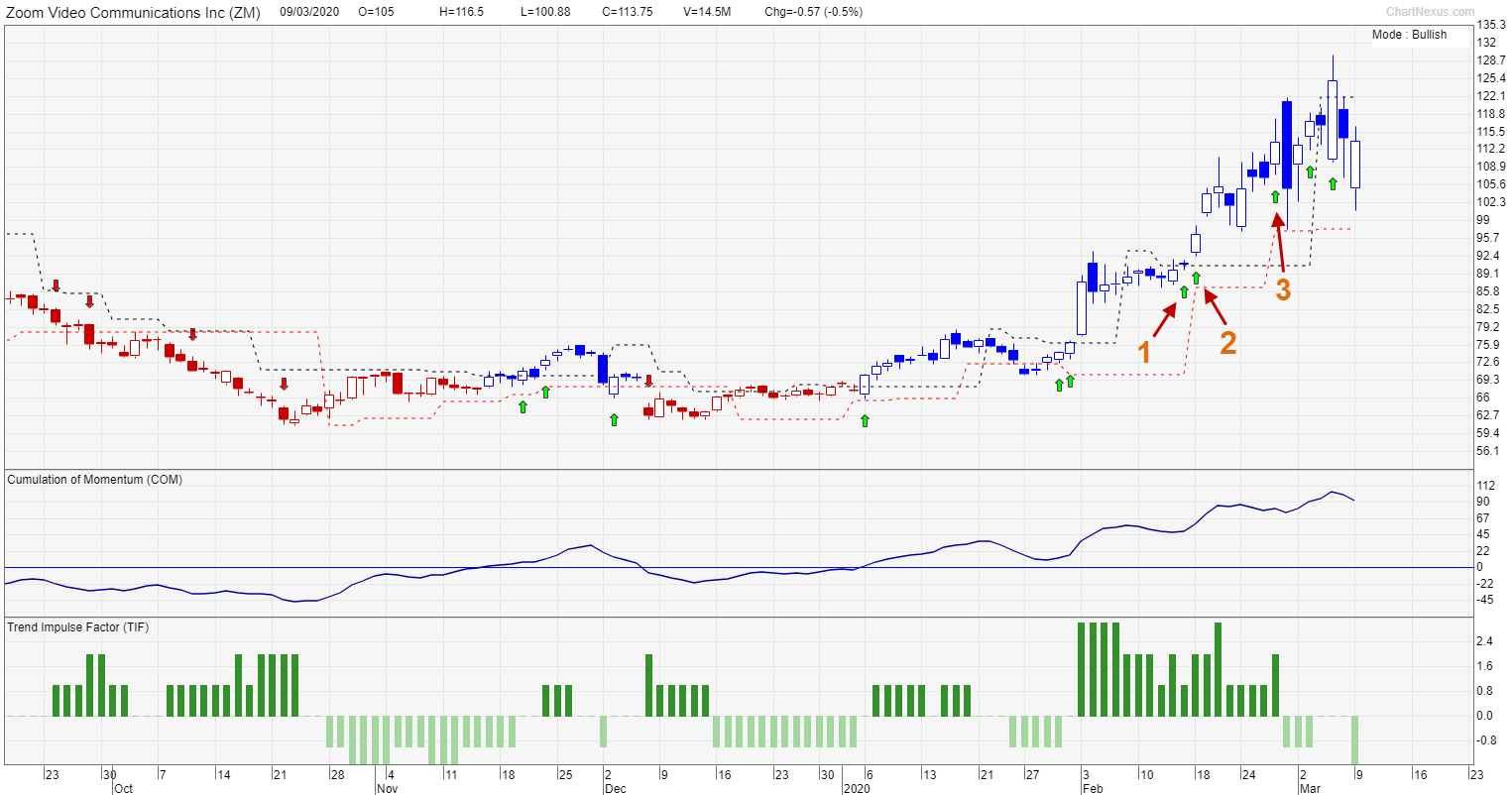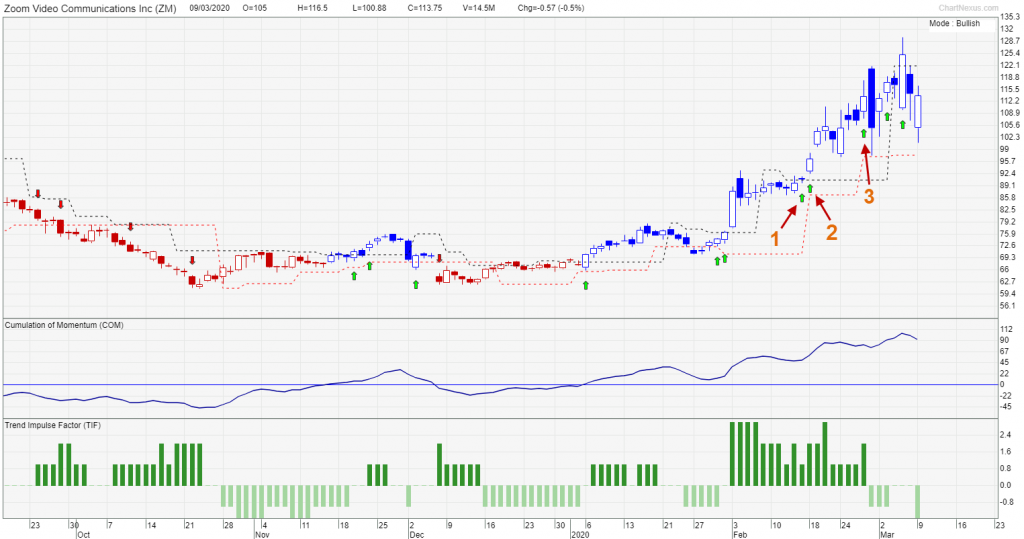 Which brings me back to what I promised earlier, to show you how I intend to time my market participation.
The TradersGPS triggered 3 valid since Collin first highlighted this stock in February.
So I wouldn't want to chase the subsequent signals right now.
I'm waiting for Zoom price to consolidate or take a break.
Perhaps let the candles turn red first, then turn back blue again before I take long signals.
If this is a genuine recession type of move, then the market could take some time to find a bottom.
Therefore, I'm in no rush to jump into the market.
Most markets drops will find their bottoms within a year.
However, back in 2008, the market took 1.5 years to find a bottom.
I'm not expecting a recession of that magnitude here, but it does indicate that we have time to pick our spots.
If you'd like to find out more about the system I'm using, just click the banner below.