Most Cash-Rich Companies For Building Defensive Portfolio
Today we are excited to have a guest post about 2 net cash companies for a defensive portfolio!
Our writer hails from a professional analyst background with an investment style quite different from our own.
Here is a fundamental view of 2 interesting counters for investments!
In particular, pay attention to his portfolio approach as well, and see how these counters fit into his defensive portfolio design.
(I will slip in the charts just for you guys to take a look, do note the disclaimer below about investing in low volume counters. Therefore, these would not have passed our initial scans for trading candidates, but you can see where we are and what the TradersGPS thinks of the counters. Overall very good.)
2 Net Cash Companies For A Defensive Portfolio
We can hardly find any optimism flipping the business pages of local and international media. Global headline growth for 2016, forecast by World Trade Organisation, has been adjusted sharply lower to 1.7%, from 2.8% just six months ago.
Singapore export-driven economy shrank 4.1% in the third quarter, with full year growth projection at under 1.5% over the last. Reflecting the slower growth, investors pare stakes off the Straits Times Index.
Going with the flow, or rather investing in index constituent stocks, is unlikely to yield superior return. How then can we beat the benchmark Straits Times Index?
In the current economic context, it is the job of management to promote the company they work for. It is exactly what get them paid- buoy the share price, keep investors excited by the growth prospects. But when we contend that there is no combustible growth in the year ahead- to speak the least- we may be better off insulating our portfolio with defensive counters.
We have shortlisted two household names with excess cash on balance sheets, and have provided investors with stable and sustainable dividends over the years. Auric Pacific and Old Chang Kee are more likely to be around than the booms and busts of high-volume stocks.
#1 Auric Pacific Group: You Are My Sunshine, My Only Sunshine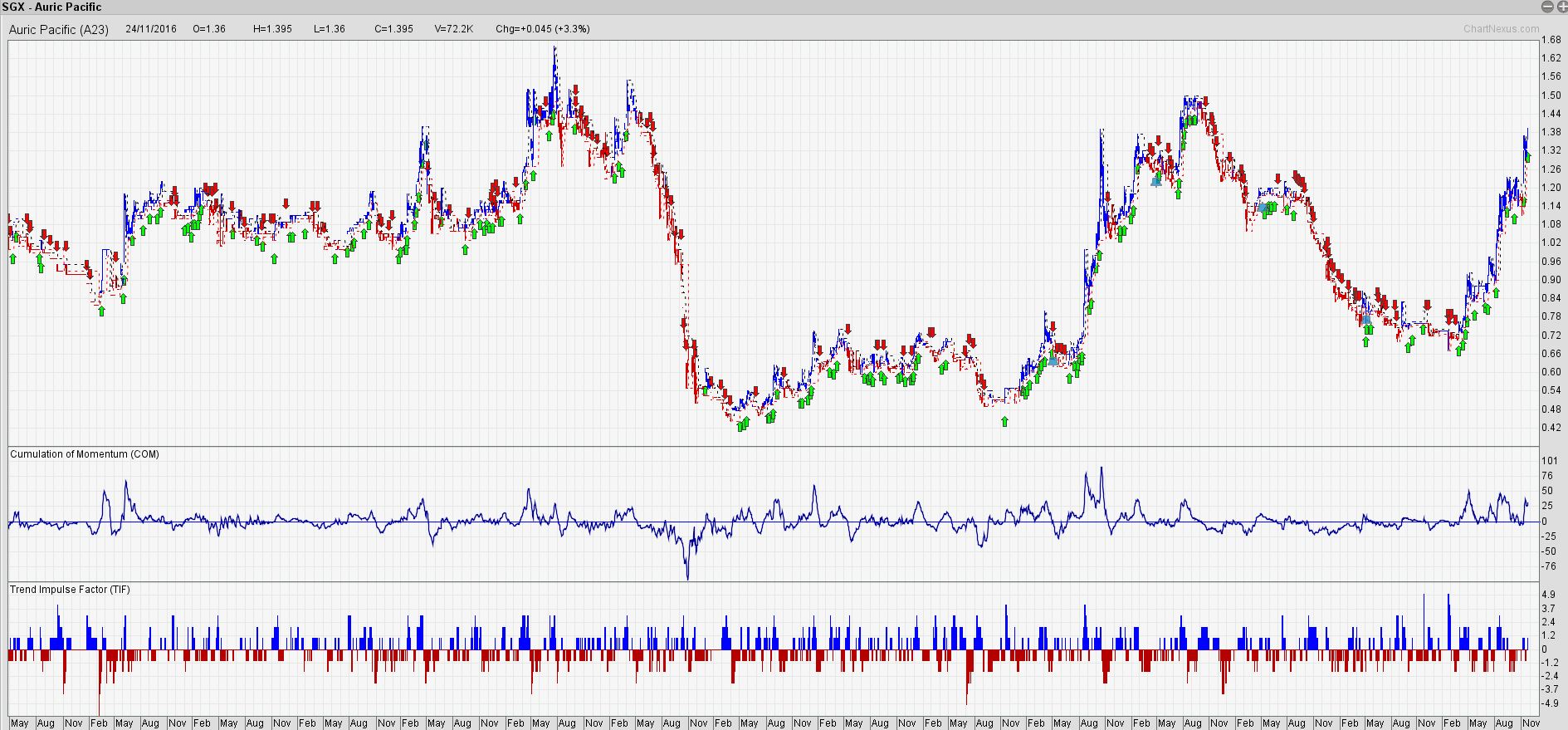 A lean and focused Food and Beverage (F&B) company, Auric Pacific derives most of its profits from its bread and butter business, literally Sunshine bread, SCS and Buttercup. It runs Food Junction Singapore and distributes highly recognizable brands such as Kraft, Kellogg, Sara Lee and Pringles.
The net cash on balance at $69 million represents almost half of its market capitalization.
Management, helmed by Dr Andy Adhiwana- a medical doctor by training MBA from National University of Singapore- is affiliated with Indonesian tycoon Stephen Riady. As a mark of conviction, he has been buying the company shares and looks set to continue his purchase. Although dividend at S$0.02 is yielding a mere 1.7%, there is significant upside if there is more to be doled out in the near-future.
Restructuring its non-performing businesses (Food Junction restaurant and Delifrance) has seen the company taking a series of bitter pills in the past two years. These efforts are non-cash in nature. Now that the business rationalization is almost complete, the sun certainly does not look like setting for this turnaround company.
#2 Old Chang Kee: A Stable Dividend Puff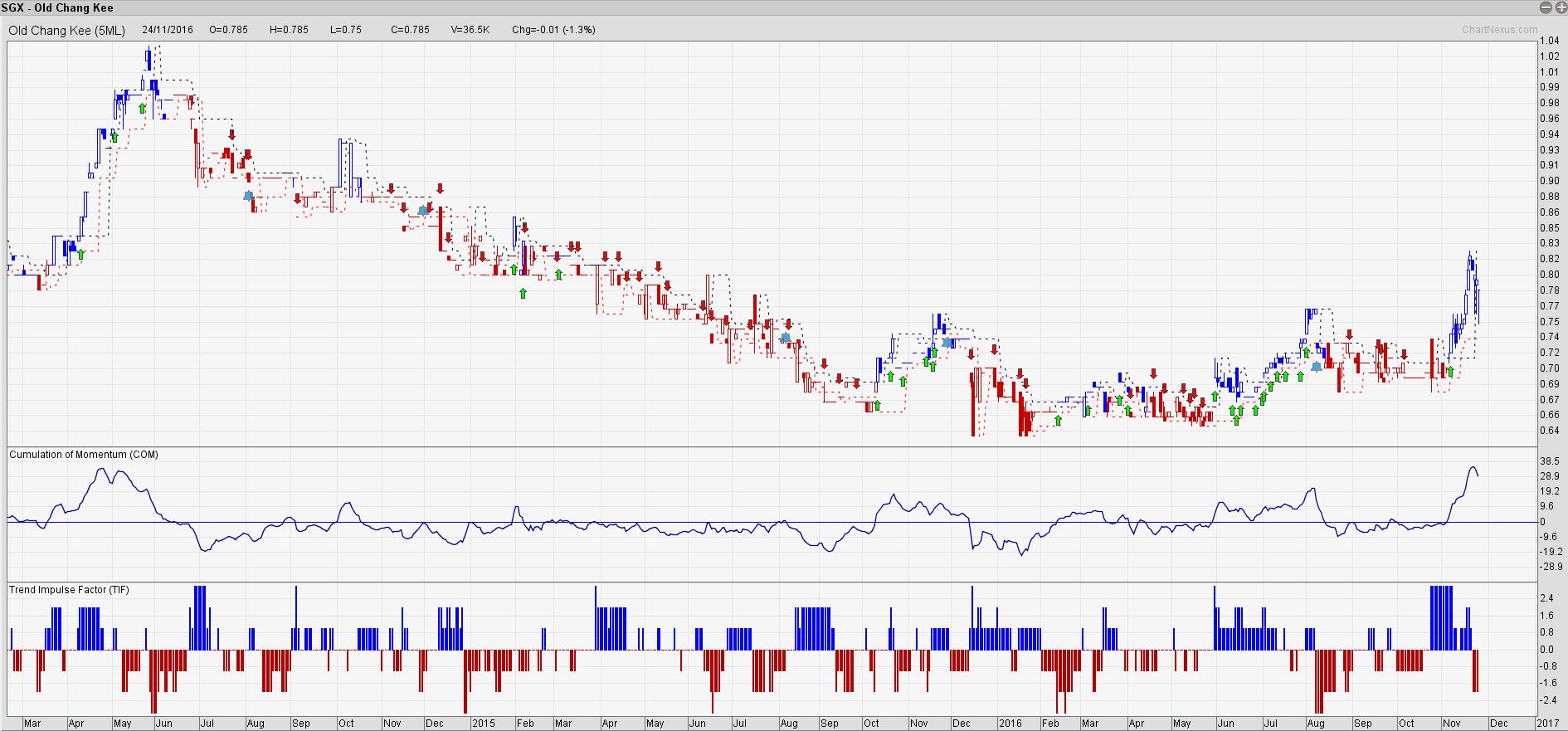 From a marketing perspective, this household brand needs little introduction. Its trademark puff series is present in almost all hub shopping malls in Singapore. Locals and foreigners are willing to pay significant premiums on a regular basis for Old Chang Kee puffs.
The inelasticity of demand thence stimulated a price increase of 60% for its curry puffs from $1 in 2010 to the current level. However, little is known about Curry Times, Bun Times and Mushroom Café which are gaining traction in the F&B scene. However, overseas ventures to Malaysia and Australia have been lackluster.
Management is more receptive than Auric Pacific in rewarding shareholders for their loyalty, as special dividend is announced at a pace of once every three years.
While we may have missed the latest special dividend in August, the next normal dividend is expected to keep pace with the past at S$0.015 per share. A glimmer of special dividend hope is that the company has no other avenue to invest, potentially accelerating the special dividend payment to shareholders.
The local delight heavy-weight sits on a cash coffer of S$15.8 million, equating approximately 20% of market capitalization. Dividend for this CPFIS-approved counter at 4.3% betters the CPF interest of 2.5%, though the latter is effectively risk-free.
Compared with its peers such as Neo Group and Breadtalk, valuation is at 19x P/E is meaningfully cheaper than the average of 27x P/E. Price to Earnings (P/E) is the price multiple an investor pays for one dollar of a company's annual earnings. Therefore, Old Chang Kee offers a value buy at this juncture, with strong dividend that could inspire an uptick in valuation.
Conclusion: Cash-Rich Defensive Stocks To Buy
We write in the interest of readers who work hard for financial freedom. It is a concept that goes beyond One-good-trade or Buy-and-forget. When the technical signals or economic fundamentals have changed, we advise our readers to stick true to principles than to let emotions interfere with rationality.
In order to keep emotions neutral, we advocate a portfolio management approach based on risk-appetites. If you are more risk-averse, allocate higher percentage of your investable portfolio to defensive plays. While Auric Pacific and Old Chang Kee are considered bellwether defensive counters, there are inherent risks to investing in not-so-liquid counters. Comment below if you have any questions. Meanwhile, enjoy trading!