How To Invest Using CPF
Today, we are going to share with you how to invest your CPF Investment Scheme (CPFIS) in a no-brainer way.
The best part?
You need not be financially savvy to do this. A beginner can do it!
And I'll reveal the exact step-by-step process, which you can follow easily.
What Is CPF Investment Scheme (CPFIS)?
It is to provide options to CPF members (apply to Permanent Residents (PR) and Singapore Citizens only) to invest their investible savings in their CPF Ordinary Account (OA) and Special Account (SA) in various instruments such as investment-linked insurance products, unit trusts, fixed deposits, bonds, and shares in Singapore.
The average CPF interest rate is 2.5% to 4% for the Ordinary Account. Check the latest CPF interest rate here. Below is the latest CPF rate (1st Jan to 31st Mar 2021).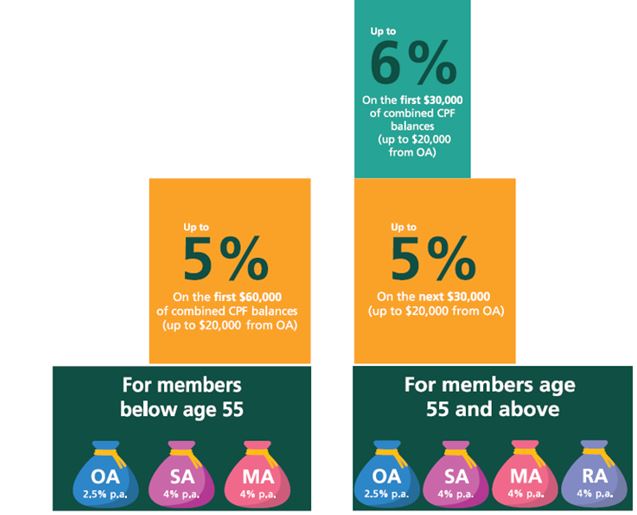 Who Can Invest In Their CPF Investment Account?
These are the conditions for those with CPF account to start investing;
– 18 years old or older,
– are not an undischarged bankrupt
– have more than $20,000 in your CPF Ordinary Account; and/or
– have more than $40,000 in your CPF Special Account.
How Much Can You Invest Using CPF?
– After setting aside $20,000 in Ordinary Account (OA), you can invest up to 35% in stocks and up to 10% in gold. AND/OR
– After setting aside $40,000 in Special Account (SA), you can invest up to 35% in stocks and up to 10% in gold.
What Instruments Can You Use For Your CPFIS?
Here's the link to the list of instruments you can invest in. We will be using Exchange Traded Funds (ETF) as our recommended investment tool. The other investment tools like insurance products, unit trusts, fixed deposits, and bonds, are either too risky or you have to pay a high commission, or their ROI is not worth it.
You can use your CPF money to buy Singapore shares too!
Find out your CPF Account Statement
Go to https://www.cpf.gov.sg/, and sign in with your Singpass ID and password.

Enter the 6-digit One-Time Password (OTP) sent to your mobile number that's registered with CPF.

Click "My Statement".

Scroll down to "Section C". This is the part where CPF computes the latest amount you can invest using CPF Investment Scheme.
How To Start To Invest Your CPF?
Below are the steps to go about starting your CPF investment. You can also watch our video from SMT-TV series here.
First, you need to open a CPF Investment Scheme (CPFIS) account with one of the Singapore banks below, I have listed the bank rates with links for your reference too.
Bank Charges For Trading of CPF Approved Stocks
| DBS | UOB | OCBC |
| --- | --- | --- |
| S$2.50 per 1,000 shares/loan stocks/units or part thereof subject to a maximum of $25 per transaction. | S$2 per 1000 shares / units or part thereof, subject to a maximum of $20 per transaction. | S$2.50 per 1000 shares/units or part thereof, subject to a maximum of S$25.00 per transaction. |
| S$2 per counter / holding per quarter. | S$2 per counter / holding per quarter | S$2 per counter / holding per quarter |
When you invest on your own, you pay the broker their commission at a much lesser range from SGD2 to SGD25 per transaction depending on the platform you are using. And there will be quarterly bank charges of $2 per counter for holding to the stock(s)/counter(s).
If you have difficulties in setting up the CPF investment with the 3 local banks, it will be best to visit their head branch. Below are their addresses;
– DBS Head Branch Address: 12 Marina Boulevard, Marina Bay Financial Centre Tower 3, Level 3, Singapore 018982. (Tel: 1800 221 1111)
– OCBC Head Branch Address: 65 Chulia St #01-00 OCBC Centre, Singapore 049513 (Tel: +65 6363 3333)
– UOB Head Branch Address: 80 Raffles Place UOB Plaza 1, Singapore 048624 (Tel: 1800 222 2121)
Note on Circuit Breaker phase 3 measures: Do contact the banks to check their opening days and hours before going over.
Things to bring along: NRIC or passport.
Why You Should Invest Using Your CPFIS
Since your CPF savings can only be used after 55 years of age, we recommend that you grow them before you reach 55.
We also recommend NOT TO USE investment-linked insurance products to invest your CPF savings into. Even when the sales charges will decrease and eventually goes to zero on 1st October 2019.
Because the percentage of commission payable to these companies and agents can go from 10% to 50% in the first year. So in theory, you are only using 50% to 90% of your intended investment! Making it an instant loss when you purchase them. That is why they always say you need a certain number of years to see that the policy is breakeven.
Straits times shared that 40% of those who used CPF investment made losses, only 15% made profits larger than 2.5%. Read more here. The 3 main reasons for the low ROI is due to;
High Fees in Financial Products (the main culprit, which I shared above.)

Switching Financial Portfolio Too Often.

Not Being Updated or Lack of Concerns on their investments.
Read more on "Don't buy Endowment Policy Plan".
Here are the reasons…
Reason #1: Using Your CPF Savings To Buy Home
Most Singaporeans will use their CPF savings to purchase a new home. So it makes sense, once you have more than $20,000 in your normal CPF account, you should start investing early so you can put a comfortable downpayment for your new home.
Fact: You will need to return the CPF monies you used to purchase the home when you sell it, plus the interest!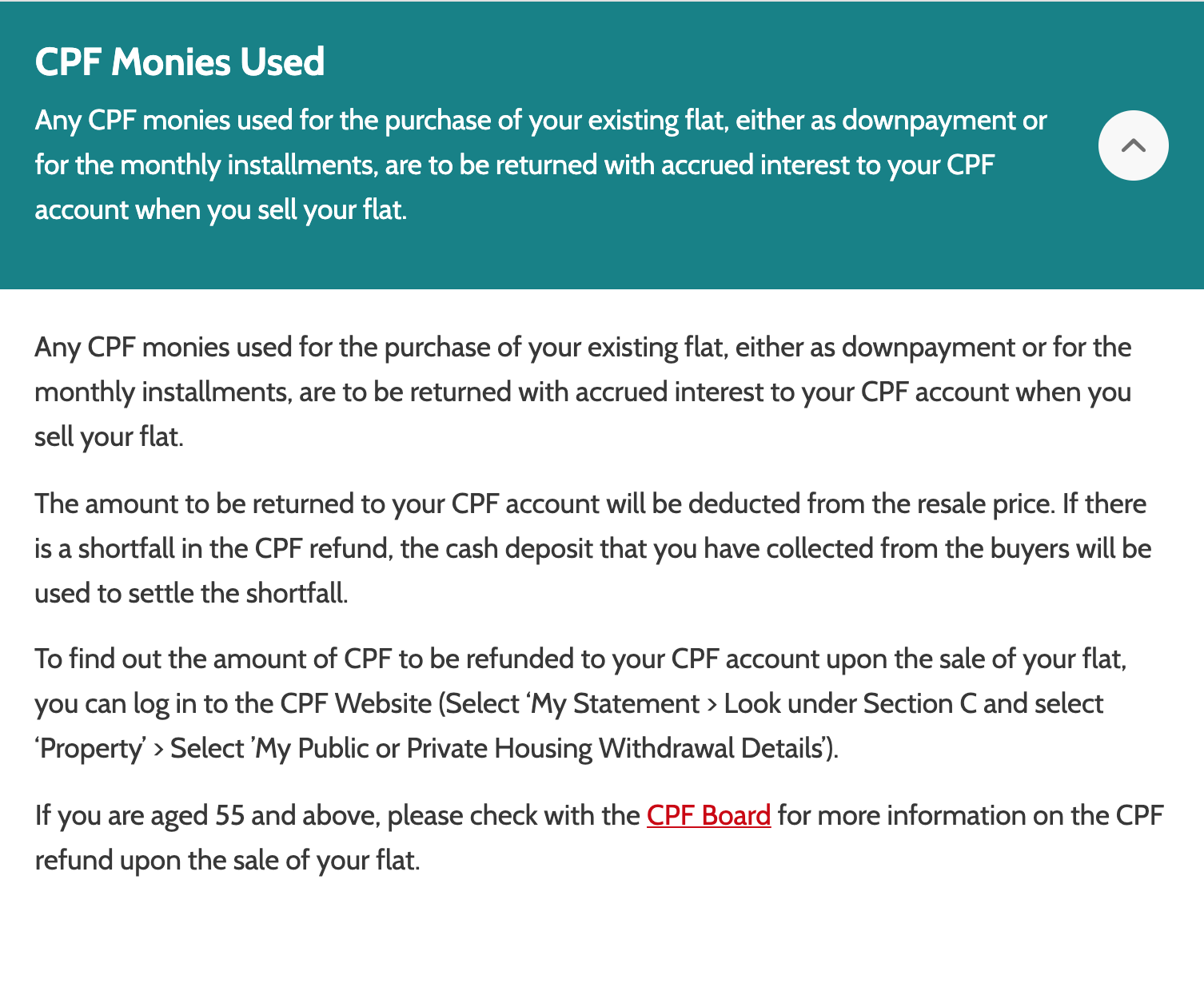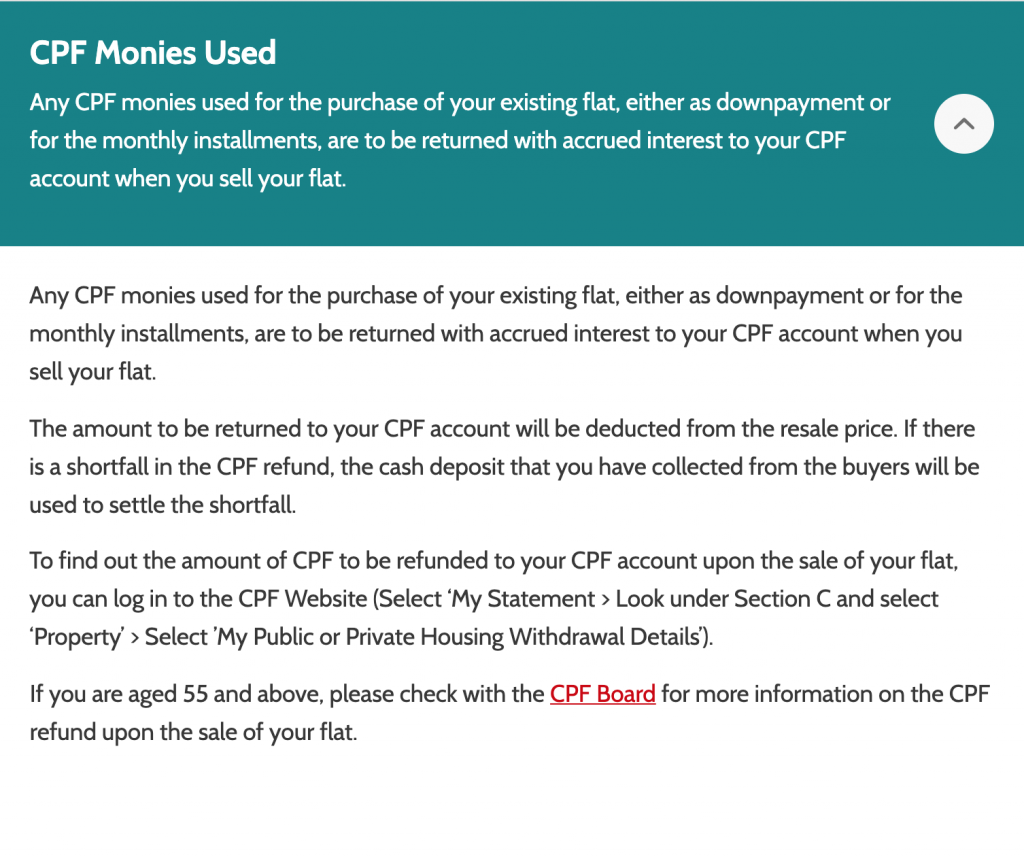 Source from HDB.gov.sg

Reason #2: Use CPF For Retirement In The Future
I know this is a lousy idea, but there's not much one can do until you are 55 years of age. So might as well grow as much as possible and as early as possible. So once you reach 55, you will have a monthly comfortable amount to draw out.
How To Grow Your CPF Investment Account?
Instead of gaining the yearly CPF interest at 3.5% to 5% in Singapore, why not use it to invest in assets that have a higher percentage of CPF investment returns that's better than what the CPF interest is offering?
Here's how….
We have found out that the past 30 years our STI index (https://sg.finance.yahoo.com/quote/%5ESTI/) are in a general uptrend since 1987, and has a consistent yearly growth with a dividend payout of about 9.5%.
I would recommend using the ETF (Exchange Traded Fund) to invest in the STI index. You can do it monthly or yearly. This is a dollar-cost averaging strategy, and it requires to be long term. That means 10 years or more to see the compounding effect.
Note: The dividend payout has to be reinvested back into the STI ETF. And your CPF monies can also be used to invest in Singapore stocks too. 
What Is Dollar-Cost Averaging (DCA)?
It is an investment strategy that buys a certain investment in a regular schedule (weekly, monthly, or yearly) with a fixed amount of money, regardless of the price of the investment. DCA is usually used in stock investing. The investor will buy more stock when the stock price is low, and buy less stock when the price is high.
Since most of us will want to focus on our job or business, this is a great passive way to grow our CPF savings. Below is the list of Singapore companies in the STI Index as of 17th Jan 2021, taken from sginvestors.io.
So in theory, if you were to invest $5,000 from your CPF investment scheme every year to invest in the STI index (at 9.5%) using ETF for 30 years, you would end up with $825,539 at the end of 30 years. See the example below.

Taken from https://www.moneysmart.gov.au.
You can see that the total deposit that you would have invested is $150,000, yet your total interest earned is $669,539.
Can I Use My CPF Investment Scheme (CPFIS) Money To Trade Or Buy Shares?
Yes, you could!
Our "The Systematic Trader" can help you to pinpoint which company to trade in and when to get out. We do conduct previews almost weekly, do email cyrus[at]collinseow.com to find out more.
There are hundreds of CPF approved stocks to trade on. Here's the list of CPF approved shares, and from the list, you can use it to trade using our The Systematic Trader system.
Note: You can only trade Singapore company when using your CPF investment.
Conclusion: How To Use CPF To Buy Shares
So here you go, the "CPF Investment: Passive Income Guide for All Singaporeans".
This strategy requires consistency in investing and time (10 years or more) to see results. It works great for your retirement plan, for your child's future education. For those who just want to set it and focus on their business/work.
If you enjoy this post, do share it with your social media friends, or mention it on your website/blog.
If you have any questions regarding your CPF investment, do use the comment below and our team will do our best to answer you.