As you all know, big players making secret moves in any market could be spotted via the technicals. And recently, there has some been a hint of their activity in the charts.
Technical picture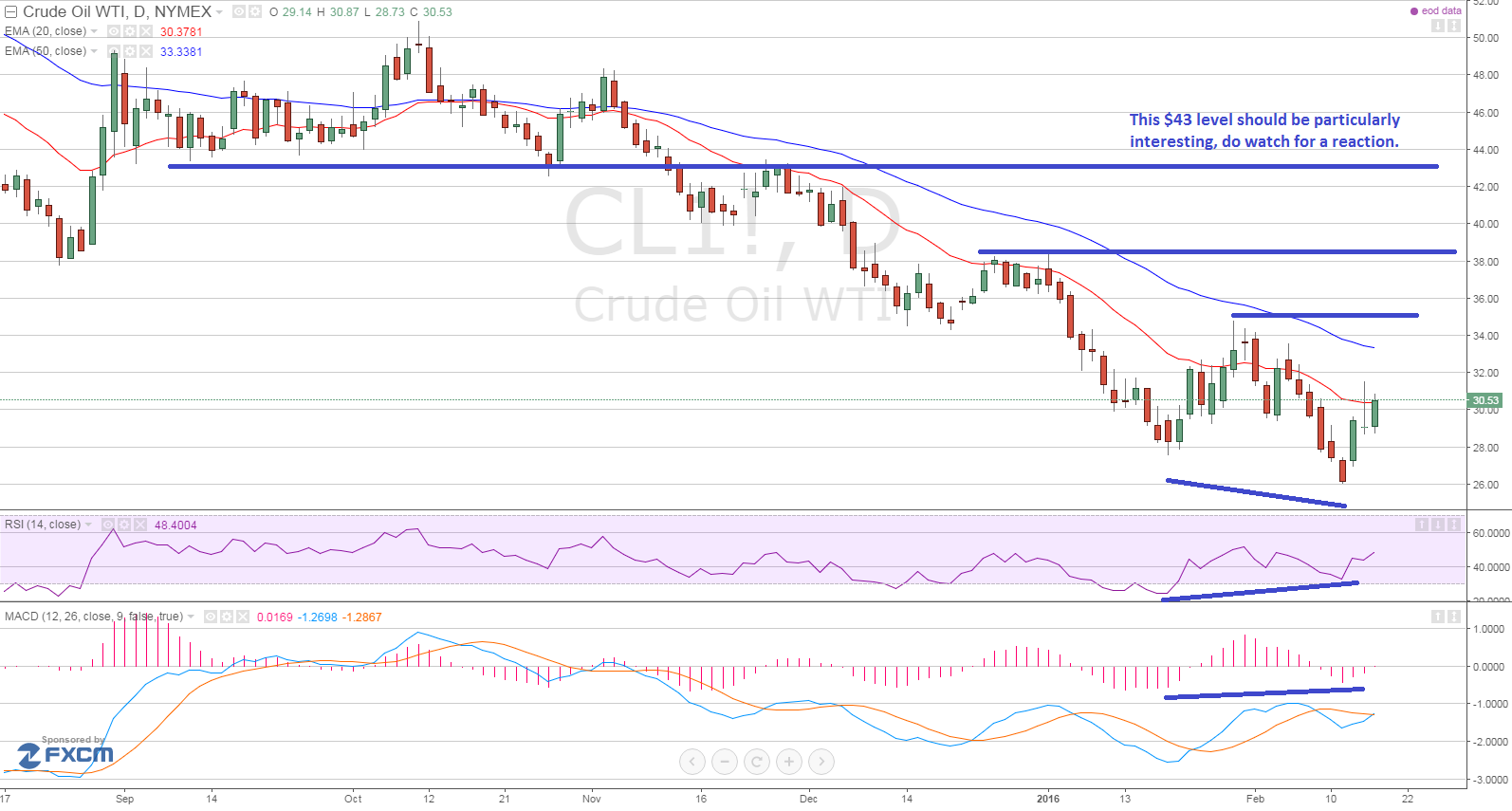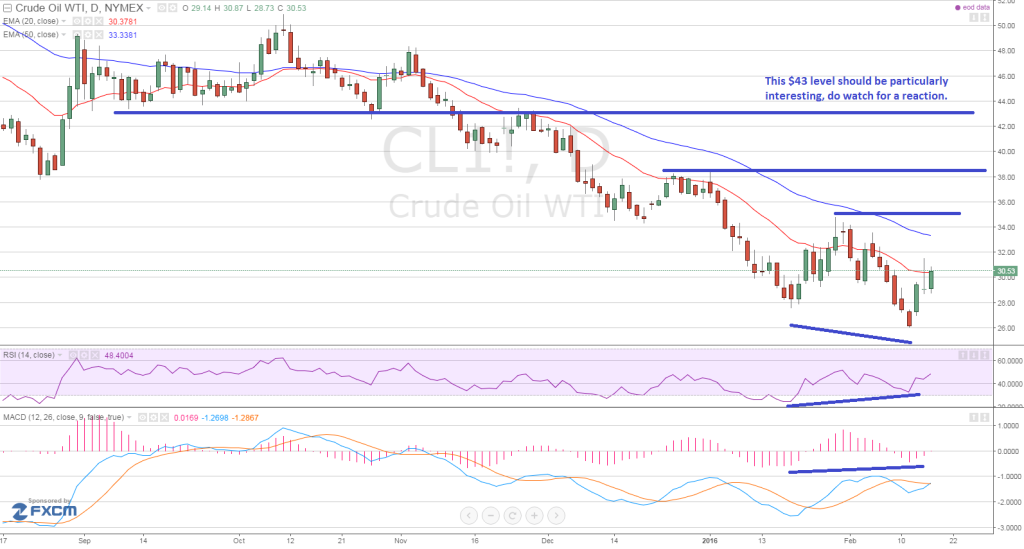 We're starting to see some divergences on the MACD and RSI, this implies a slowing of momentum in the downtrend( Could it be big buyers are coming into the market more aggressively now than in the last swing?). It doesn't mean we will definitely reverse and head higher, but odds are shifting towards that scenario playing out. Marked out a few levels of interest. If we trade above that $35 level, we should see 39 and eventually $43. The $43 level should pose as a strong level of resistance, observing price's reaction to level should affect your trade plans and management.
If you believe price usually moves before news, then typically technicals would contribute a heavier basis for your trading. However in this particular case, if you want to get long on oil, I believe the basis should first come from the fundamentals. If you look at it technically, it's pretty clear that the trend is down, with only the indication of momentum slowing down. Price itself has yet to do anything to support the reversal right now. So from a purely technical view, we are a little early to get long.
Let's take a look at the fundamentals.
In my previous article, I highlighted some of the production costs of oil for some of the larger producers. The cheapest being from the middle east, around $20/barrel. but most places need oil to be around $30-40 to breakeven. In the latest news, we see Saudi Arabia and Russia having the intention of freezing oil outputs, on the condition that other major producers join in the output freeze as well.
Iran seems to have been persuaded by OPEC and supports the decision.
This is a punishing time for the oil producing countries, seeing their profit margins squeezed to nearly nothing. Some possibly even negative. But logically speaking, we should see the oil output freeze eventually.
Bullish scenario.
For the moment, all this talk of the oil output freeze has floated oil's prices to sustainable levels for most producers. This might discourage other major oil producing nations to join in the oil output freeze for the moment for as long as oil prices stay afloat.
Bullish scenario.
However, If prices dip, these producers would likely join the oil freeze and oil prices would rise.
Again, bullish scenario.
Of course, these are on the (fairly safe) assumption that an oil output freeze with work and float oil prices.
Consider also that we have a huge oversupply of oil already in the market, these will eventually get used up as time passes. So again we can eventually expect oil prices to rise.
Once again, bullish scenario.
So the fundamental picture paints a more bullish outlook for oil prices. But how long it will take to materialize is another thing. You can use Technicals to time your trade entries in line with your broad trade context derived from the fundamentals. But now you need to keep an eye out for fundamental happenings which could influence or mess up your fundamental scenario views. If your views get changed by new happenings, then don't force a bullish trade with technicals unless your new fundamental views are still bullish.
Good trading to you all!