This article is for education purposes only, and not to be taken as advice to buy/sell. Please do your own due diligence before committing to any trade/investment.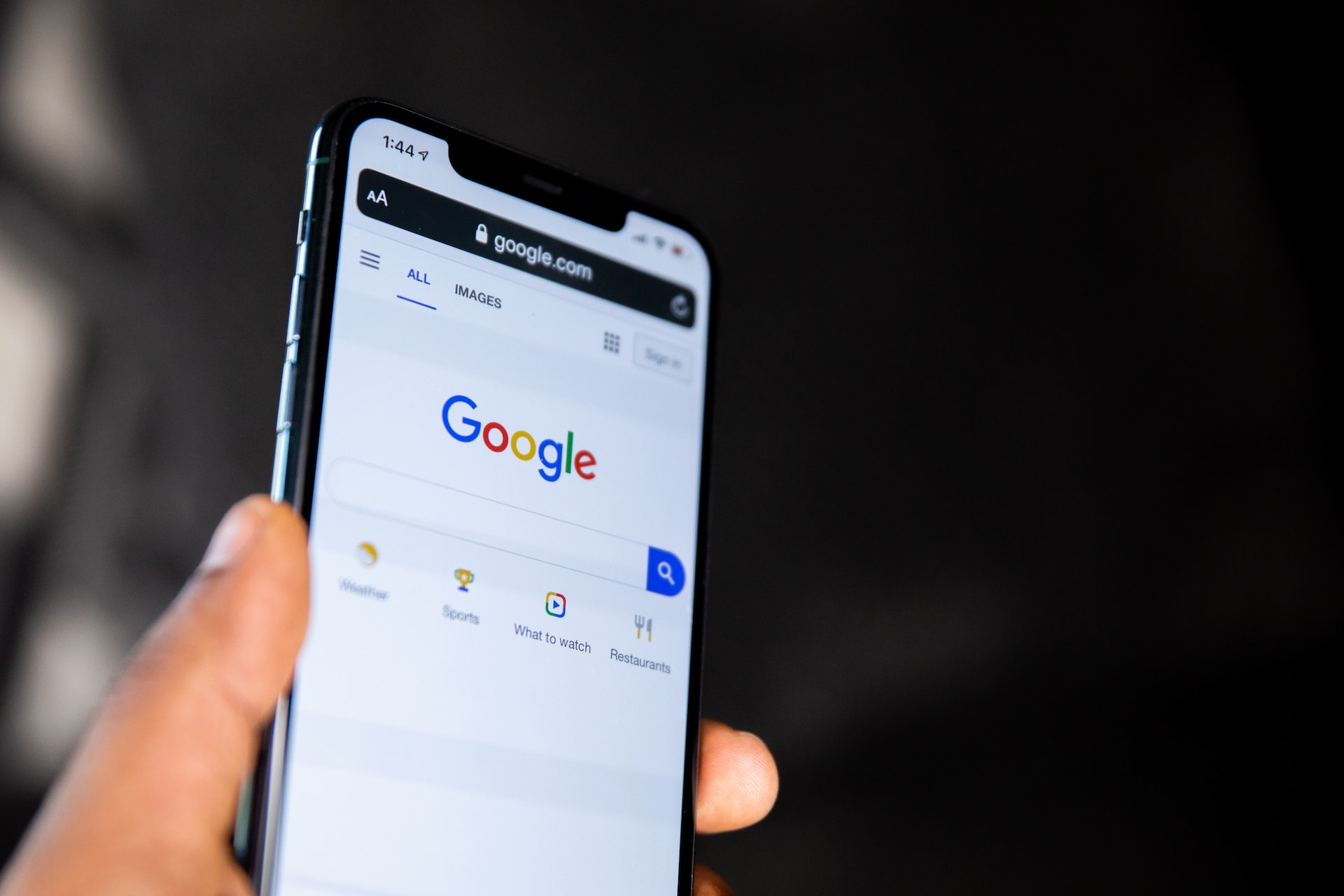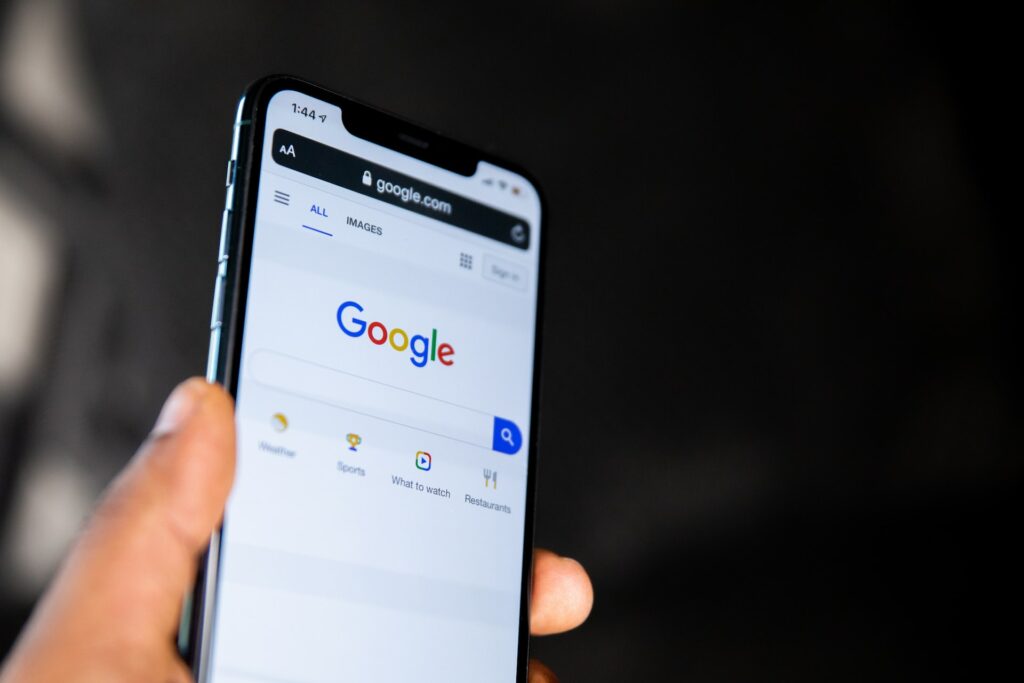 Source: unsplash.com
Welcome to our 14th part of our series on Systematic Trading!
In this part, you'll discover two stocks that are listed in the US. Furthermore, these stocks are exciting as they look like they present opportunities. 
Before you scroll further, you'll want to check out our stock pick in October on Caesars Entertainment and Netflix. 
Are you ready to check out Alphabet and Euronav?
Alphabet (NASDAQ: GOOGL)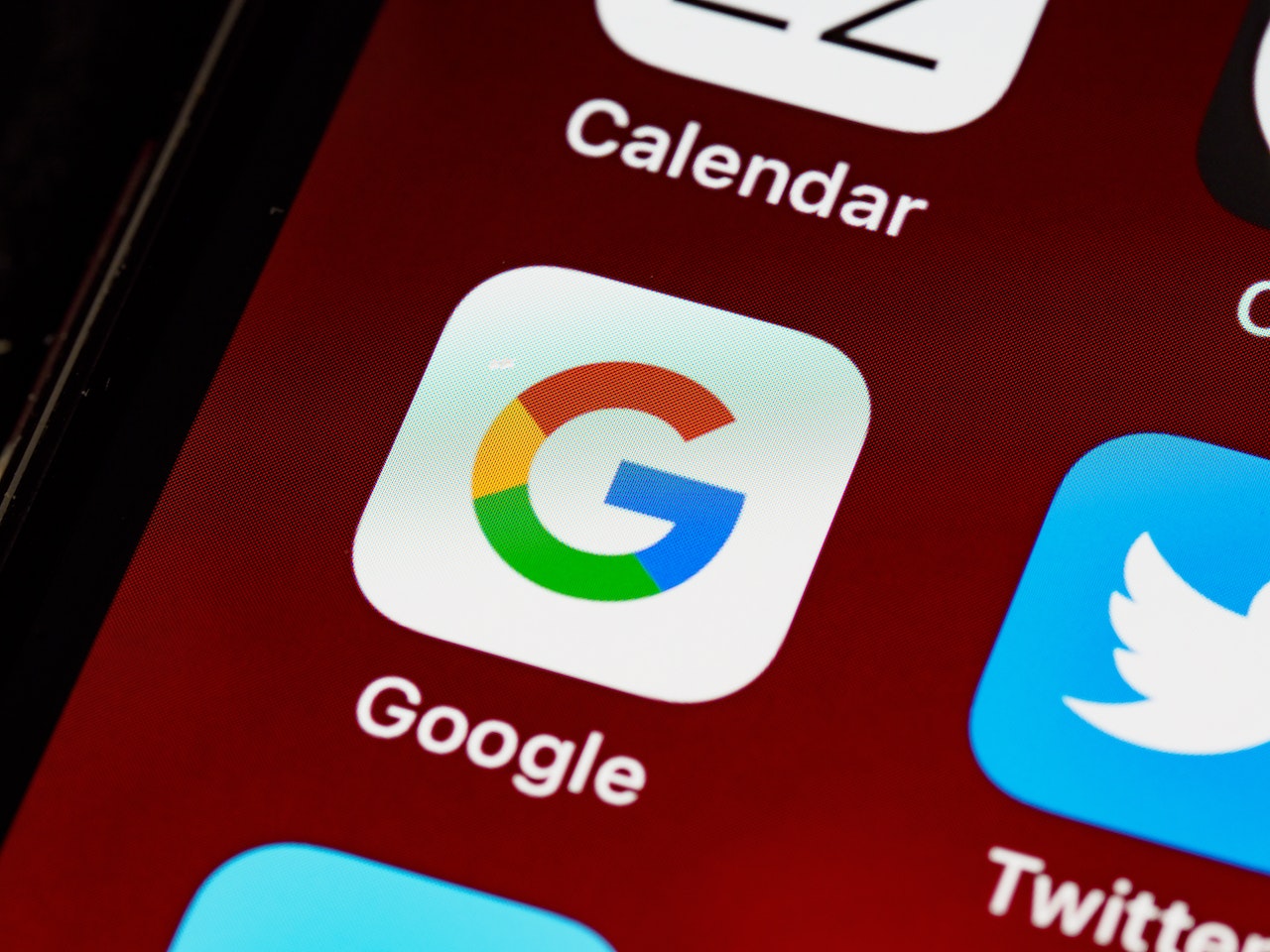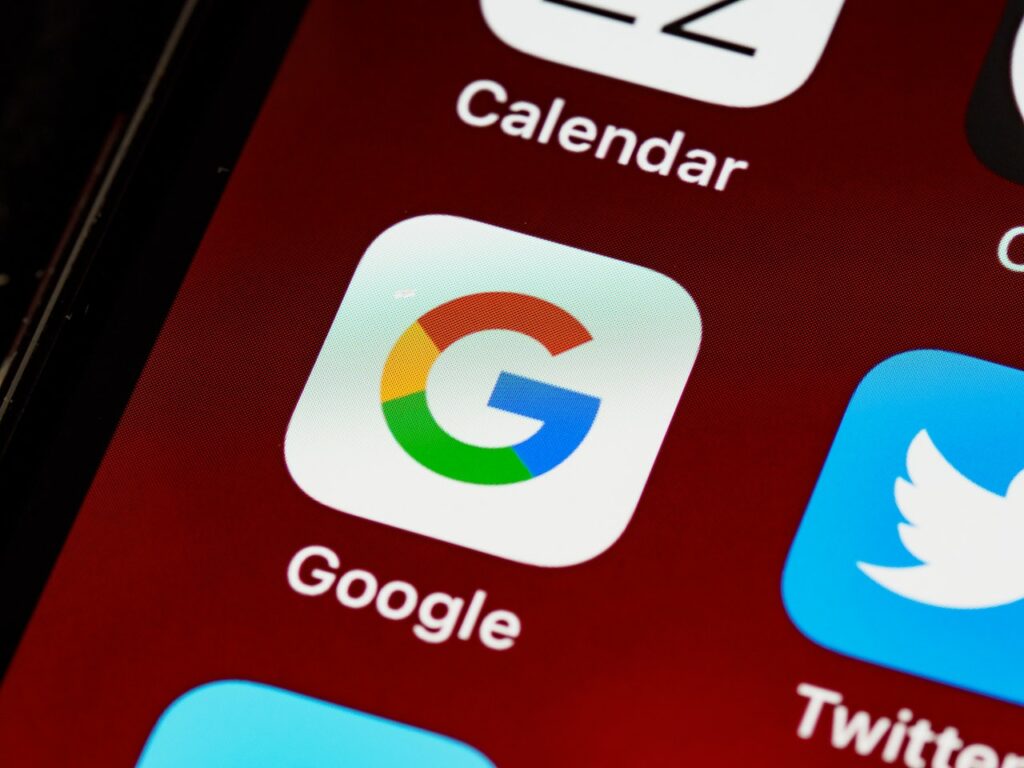 Source: pexels.com
1. About the Company 
Google search.
That's the first product by Alphabet in 1996.
Google search was engineered and built to be different. It was built to be simple and clean for users.
Users from all around the world were attracted, and after a few years, the verb "to google" became a standard word.
Alphabet didn't stop at this product.
New products such as Google Mail, Google Drive, Google Maps, and Android emerged from continuous innovation.
Smart acquisitions also led the way for Alphabet, particularly YouTube.
Alphabet is quietly working on innovative projects that will be launched in due time.
In addition, Alphabet has been growing its investment arms, continually adding fuel to this gigantic machine.
The above sounds magnificent. But there's one other thing that you and I need to consider before investing our hard-earned money into the shares of Alphabet – its price chart.
So, shall we switch our attention to its price chart?
2. Position Trading (Daily)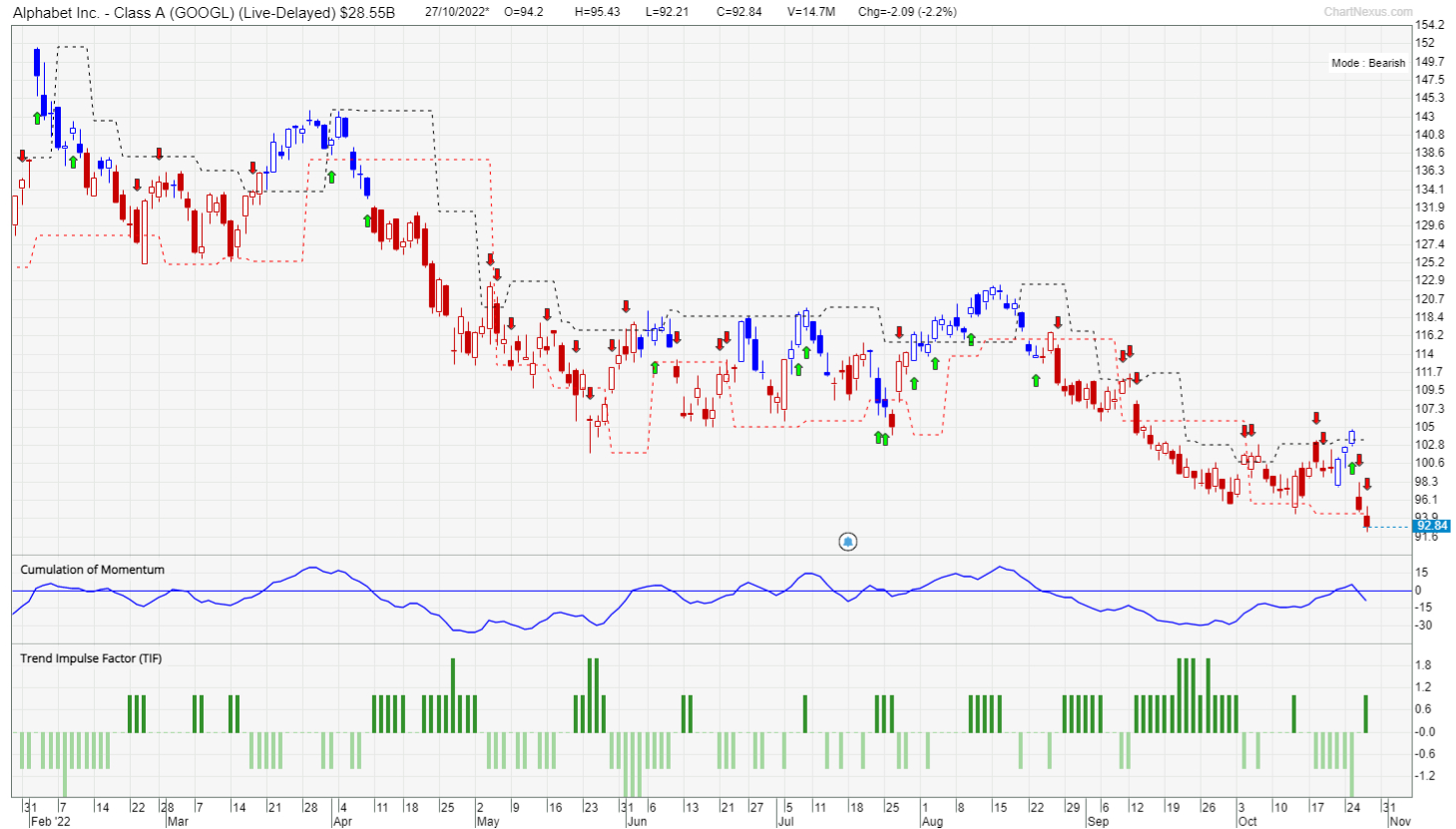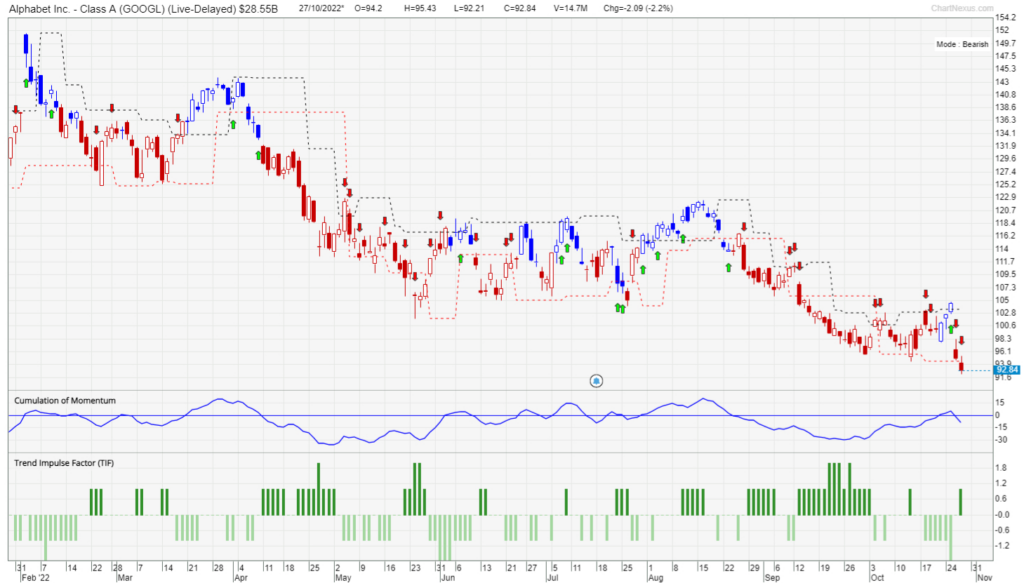 A quick glance of the price chart of Alphabet tells me that it's no go to buy its shares.
This is because its share price is in a downtrend. This downtrend doesn't seem to be halting any time soon too!
Is there a shorting opportunity then?
Let's have a look at the appearance of the red arrow and the Trend Impulse Factor indicator.
There's a red arrow above the latest candle of Alphabet. This tells us that the sentiment of the shares of Alphabet is bearish and a downtrend is resuming.
Moving to the Trend Impulse Factor indicator, you'll want its bar to be in dark green as this confirms the bearish momentum.
Yes, the bar of Alphabet's Trend Impulse Factor is dark green in color, suggesting that this bearish momentum is likely to continue for the time being.
Hence, the timing for a short position trade on the shares of Alphabet is ripe!
Shall we look at the other stock that I have my eyes on?
Euronav (NYSE: EURN)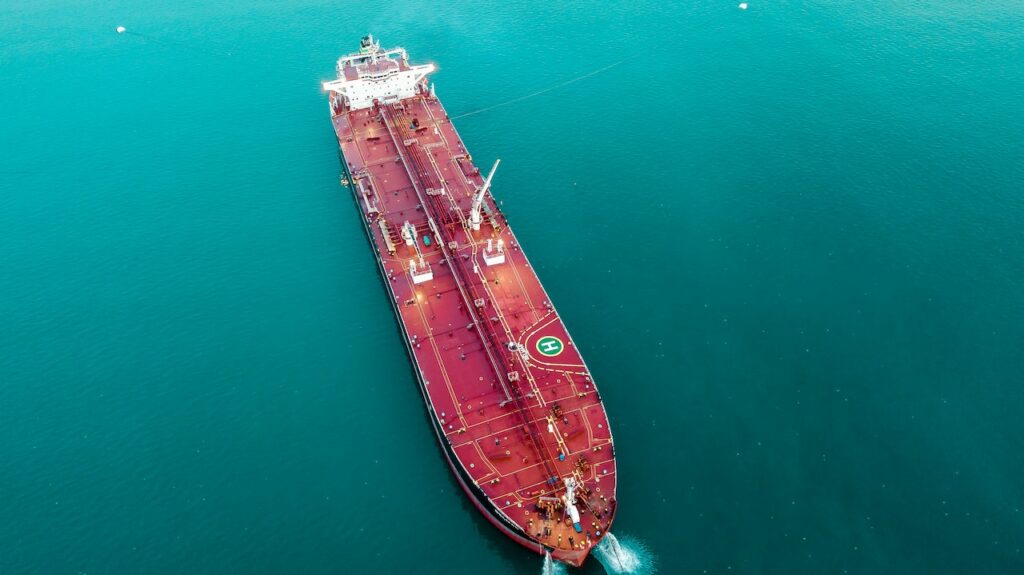 Source: pexels.com
1. About the Company 
Euronav started in 1989 as a subsidiary company.
After a significant acquisition, Euronav got listed in 2004. Things got better. Much better.
Euronav went on a merger and acquisition and joint venture hunt, winning multiple mega contracts.
With this new found success, Euronav expanded and soon became the world's largest independent quoted crude tanker platform.
Today, Euronav continues to provide safe and reliable transportation of crude oil worldwide.
Does the price chart of Euronav support the positive write up of the company?
2. Position Trading (Daily)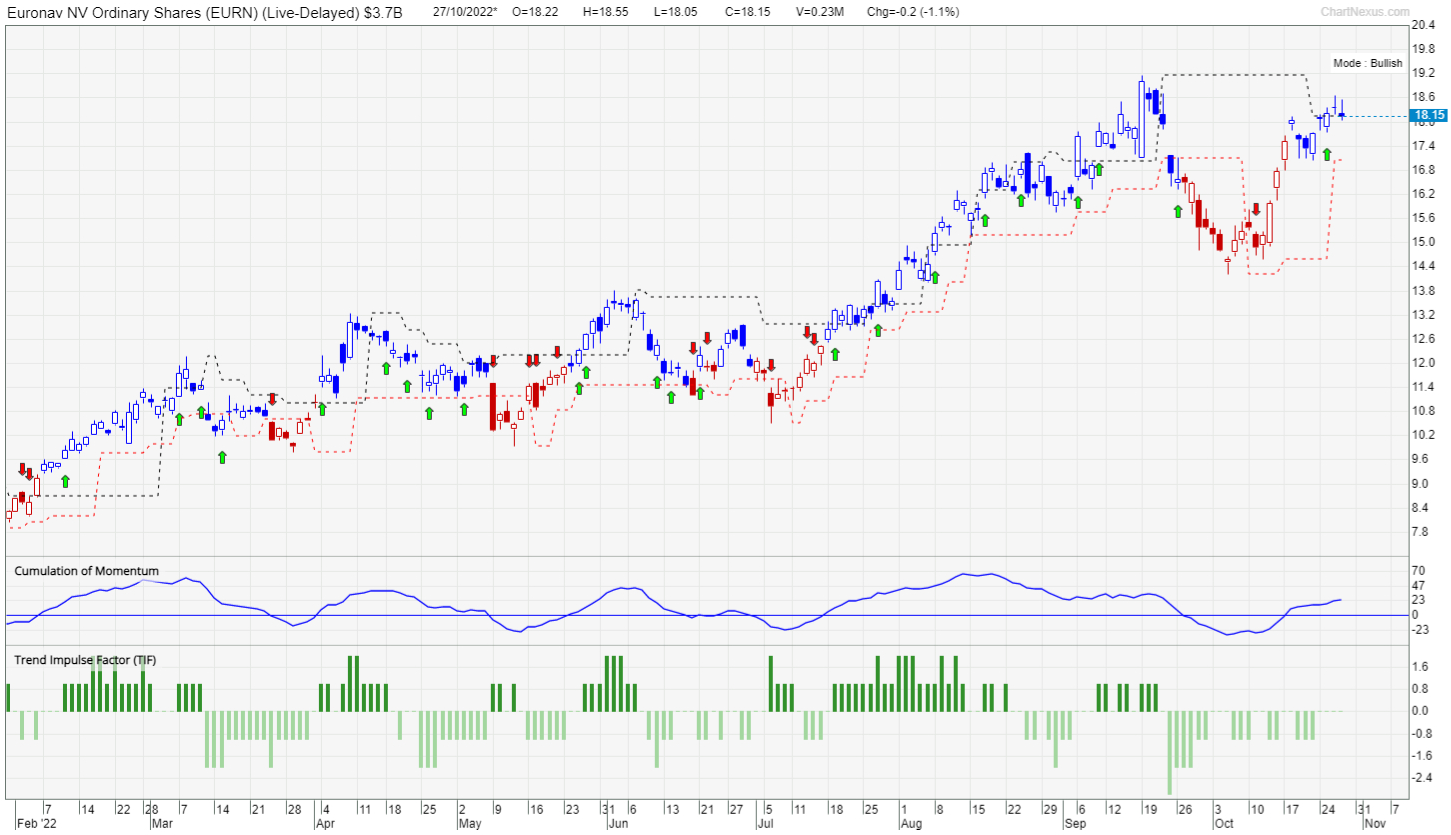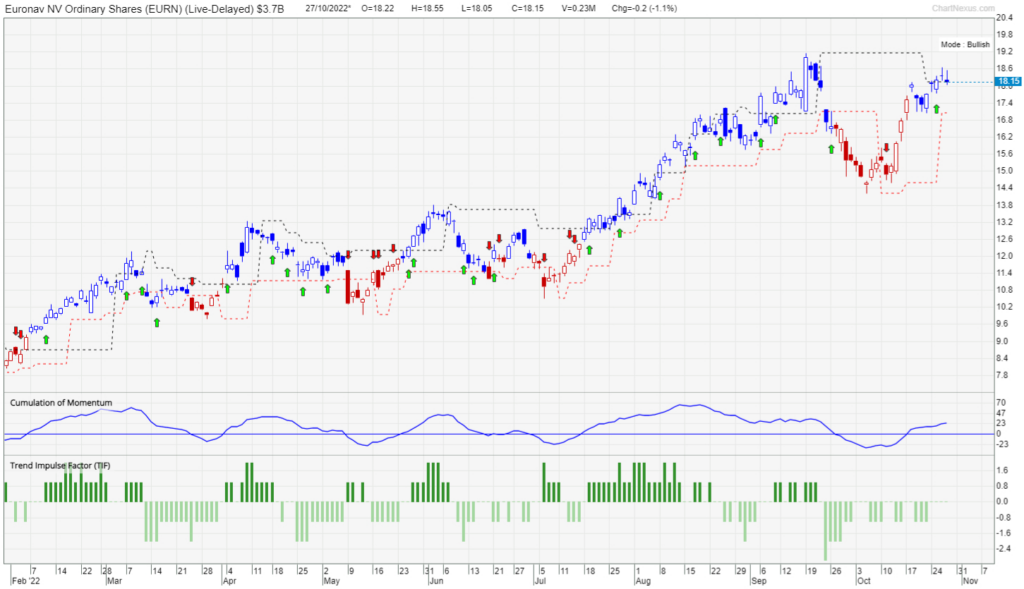 The price chart of Euronav is in a solid uptrend!
This is rare, given that most stocks are tumbling down together with the S&P 500 index.
Have you struck gold in uncovering this stock?
Let's spend some time analyzing.
The very first thing you want to look for in an uptrend is a green arrow to appear under the latest candle of the chart.
Here, the green arrow appeared a couple of days back; not today. This suggests that the timing isn't right yet.
Next, you'll want to look at the color of the bar of its Trend Impulse Factor indicator.
What you want to see is a dark green bar of its Trend Impulse Factor indicator.
Since the current bar of its Trend Impulse Factor indicator isn't dark green in color, that's another signal that this stock isn't ripe for a position trade yet.
Conclusion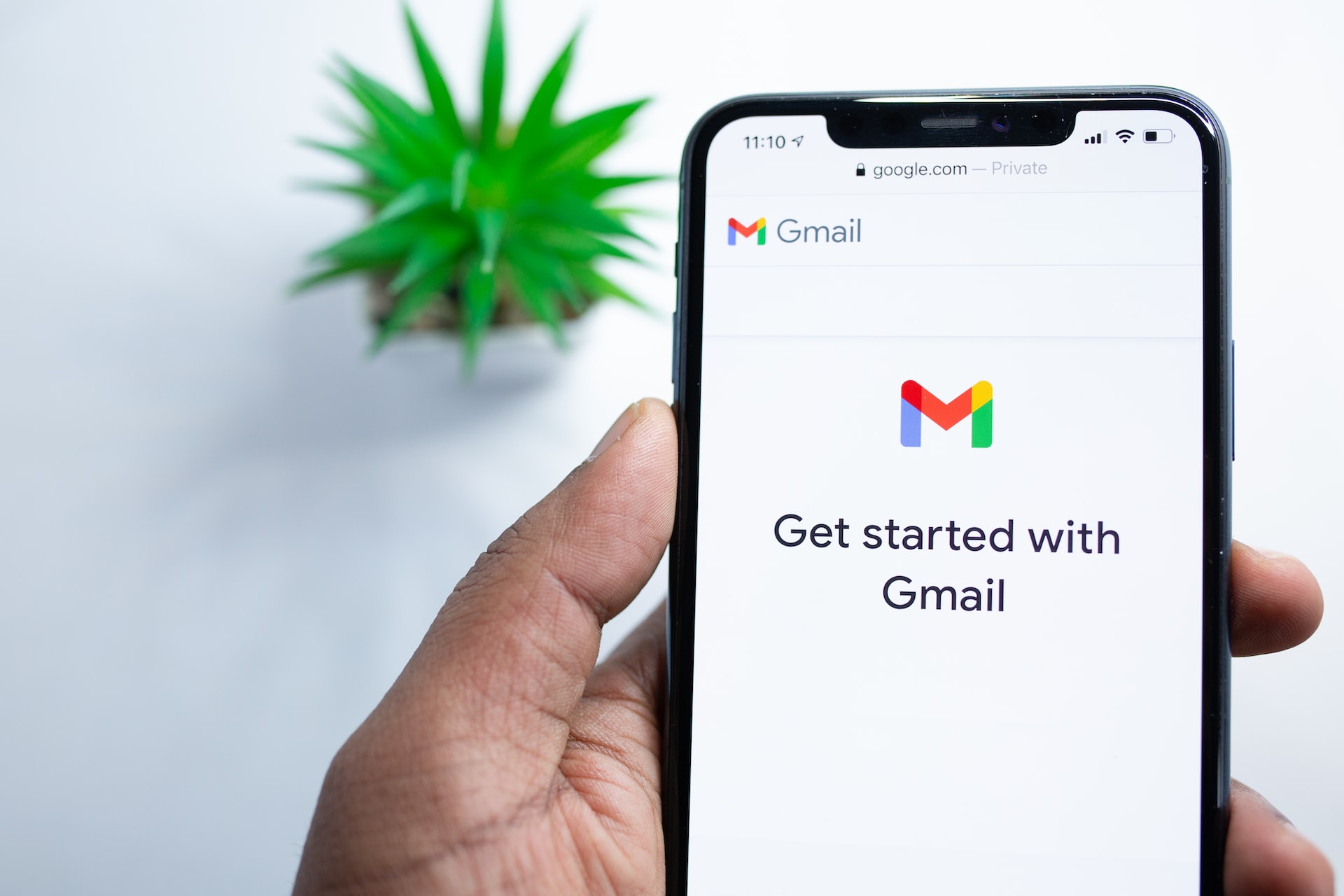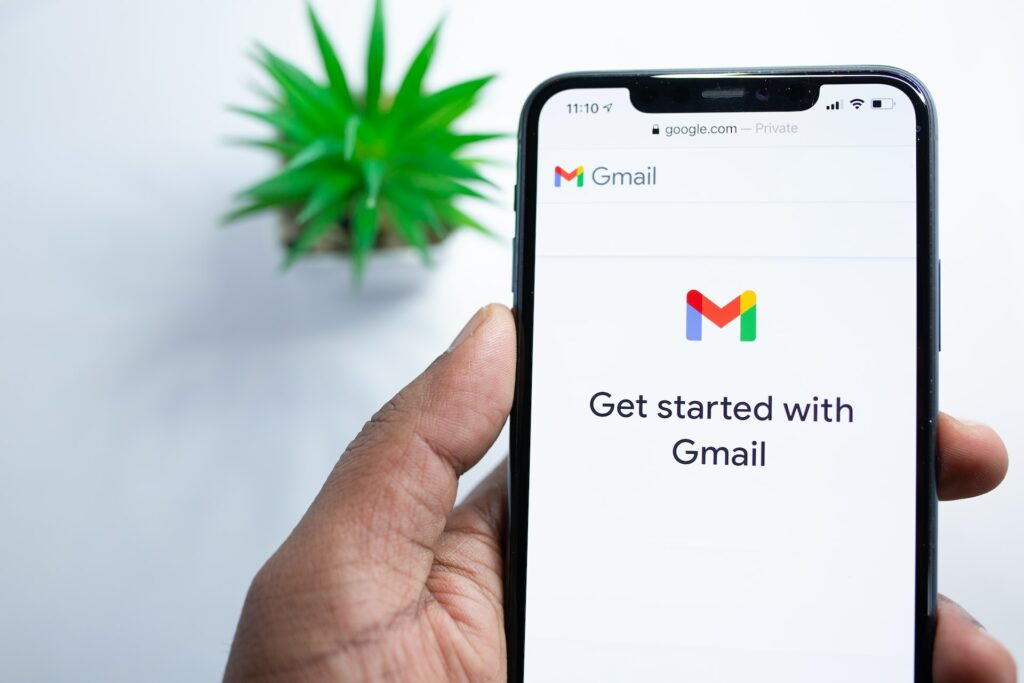 Source: unsplash.com
Companies can enjoy success after success, and have a fantastic story to tell.
The most critical piece of information lies in the price chart of the companies. In this case, Alphabet and Euronav.
As the share price of Alphabet continues to slide, it's ready for a short position trade.
On the other hand, the share price of Euronav is in a fantastic uptrend. However, it's not ripe for a position trade because the indicators aren't showing yet.
Because the stock market doesn't behave according to our instructions and hopes, it's advisable to place a stop loss level to protect your trading capital, should an unexpected event occur.
Trading stocks without a proper system can be highly risky. This is why TradersGPS (TGPS) was created. The indicators will help you determine if a stock is ready for action to be taken. You won't have to feel in the dark and make wild guesses.
What are your thoughts?
Share your thoughts with us below!
What should you do in Q4 2022 to grow your portfolio?
Stocks have been really choppy the past few weeks.
But as usual, it's not the 1st time we have seen such volatility and it pays to constantly remind ourselves to focus on the charts and react accordingly.
The WORST thing you can ever do in a volatile market is to trade aggressively.
Before you know it, reversals will come and go at the most unexpected times to wipe you out.
This is why during such volatile times, you MUST know how to use the right strategies.
In fact, I can tell you as a trader of over 20+ years, profiting in a volatile market is not difficult.
The key here is to NOT fight the volatility head-on.
Lots of people like to challenge the volatility head-on, trying to make predictions or day trade and think they can exit with profits before a reversal happens.
That to me is fighting a losing battle.
Rather, 1 important concept you should understand is this – A volatile market does not mean ALL stocks are volatile.
As you are reading this right now, there are many stocks out there with strong persistent trends that we can capitalize on.
The only part that can be challenging is finding these 'hidden gems'.
But once you know how to find them, you will literally possess a weapon that can help you find winning stocks with high win-rate while carrying very little risk.
As we see the market continuing to be volatile in the coming weeks…
It's extremely important to know where and how to find real opportunities and what proven strategies to use that are meant for such situations.
I will be sharing certain strategies that work exceptionally well in such volatile situations to identify and sieve out winning 'hidden gems' stocks to capitalize in my upcoming LIVE training (100% free).
Click HERE and join me in my upcoming LIVE training…
And I will show you the full process from identifying winning stocks all the way to executing the trade, and how it can be done in just 15 minutes.
I will also be opening up questions to the floor where you can ask me to analyze ANY stock of your choice,
and I will show you how the TradersGPS system can help you determine if it's a good buy, WHEN to buy, and WHEN to sell for profits.
Click HERE to register your seat before we hit full capacity!