Slack And Dominos In Focus, Covid-19 Beneficiaries?
The markets have dropped massively in a short amount of time.
This leads many investors to expect the recovery to be as aggressive.
These few days have seen a little bit of a bounce.
Is this a chance to continue shorting or is this the start of the quick recovery that investors are expecting?
To give you some scope of the drop so far, some mature companies have even reached price levels not seen since their IPOs.
For example, this is the Hyatt weekly chart.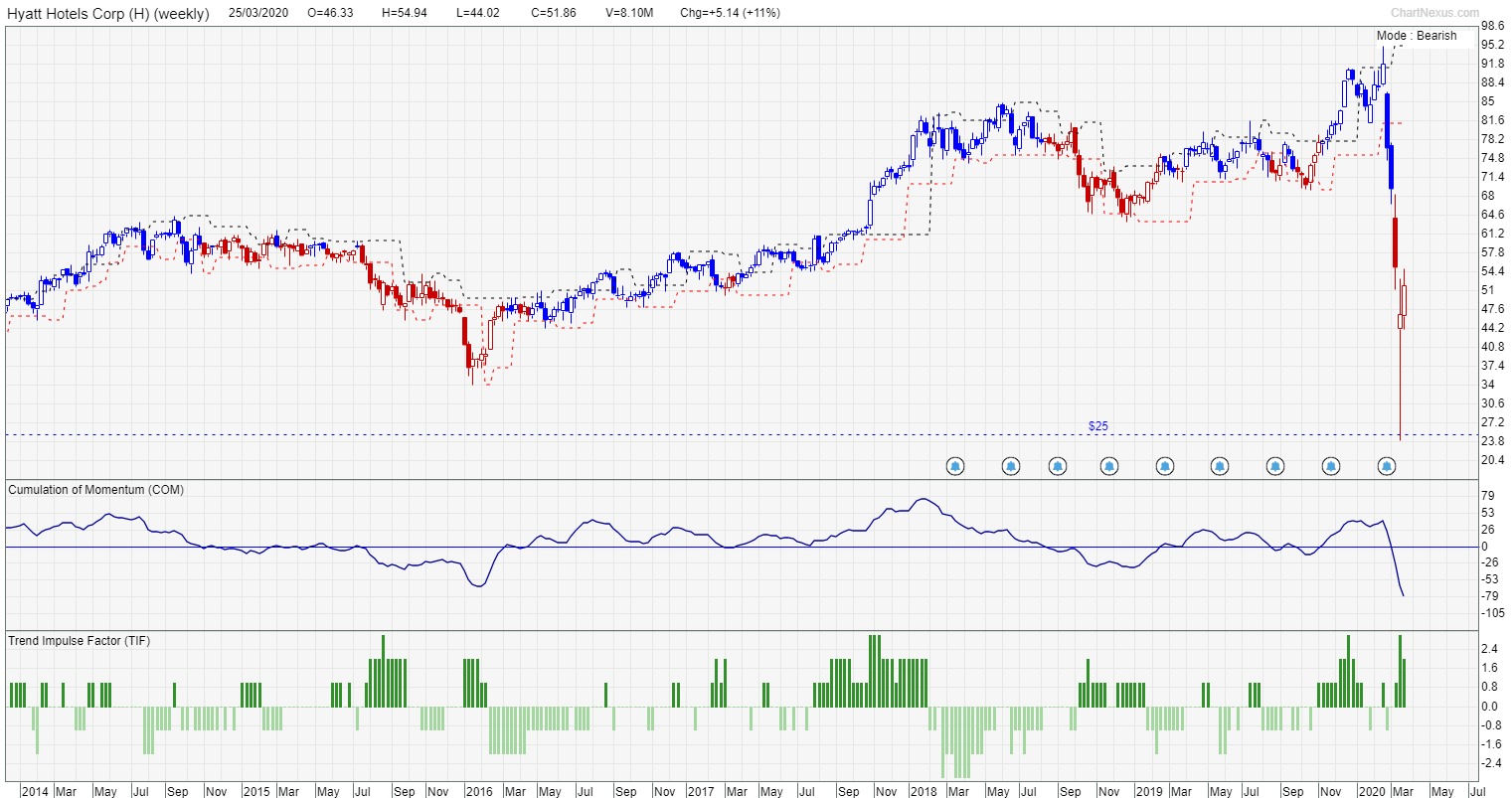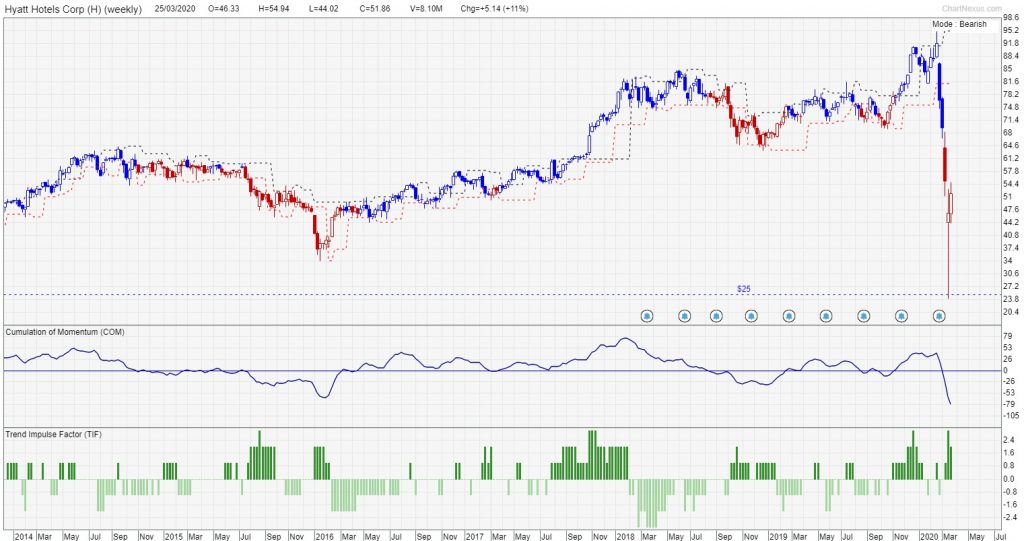 This stock IPO'ed at $25 back in 2009 and you can see price got there last week.
(Just a side note, it seems price could have a quick reaction from about $64.50 and about $70 areas, probably good for some very short term opportunistic trades.)
Anyway, after a huge drop like this, some people are still inclined to buy the stock market, I'm not surprised.
This time around, we're not seeing the "blood on the streets" like we did back in 2008.
It appears to me that this time around, the general investor population is more well informed than before.
Personally, because of this phenomenon, I think there would be another leg down just to try and scare the little investors out, let's see. 😉
But for an investment portfolio with a long 3-5 year horizon, we still shouldn't pass up a good bargain.
So I'd just like to run through a few of the scan results, on the long side.
Instantly I see some popular names that I can identify, Slack and Dominos pizza.
Slack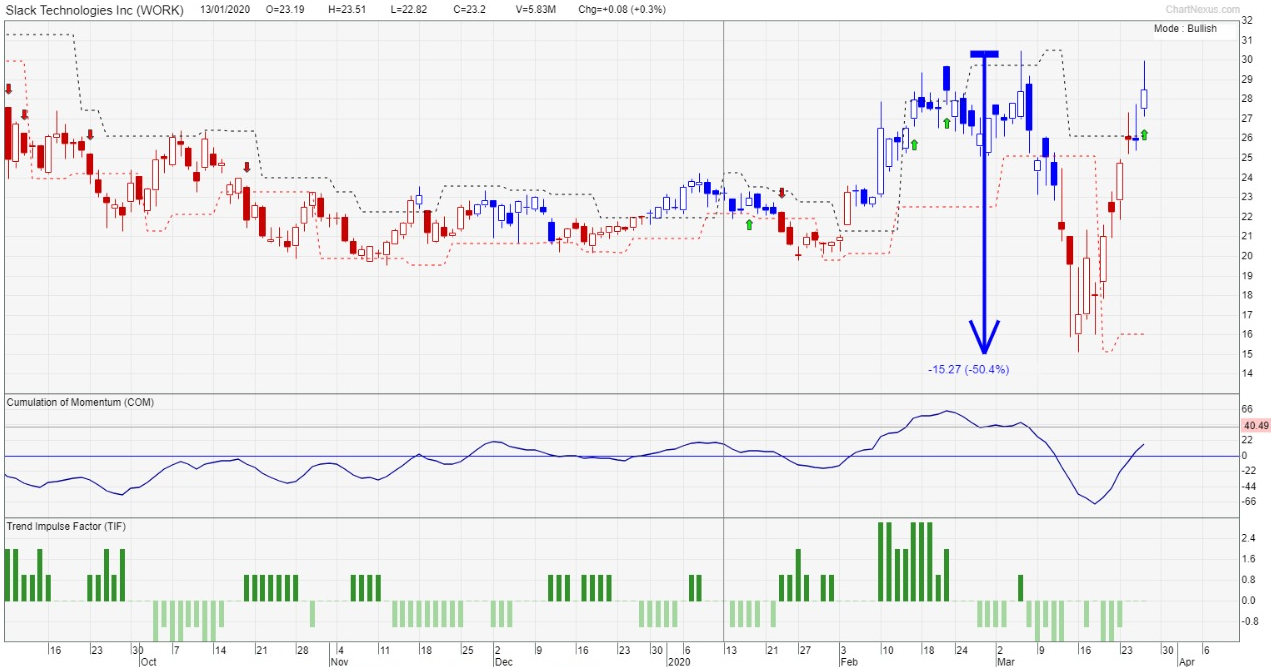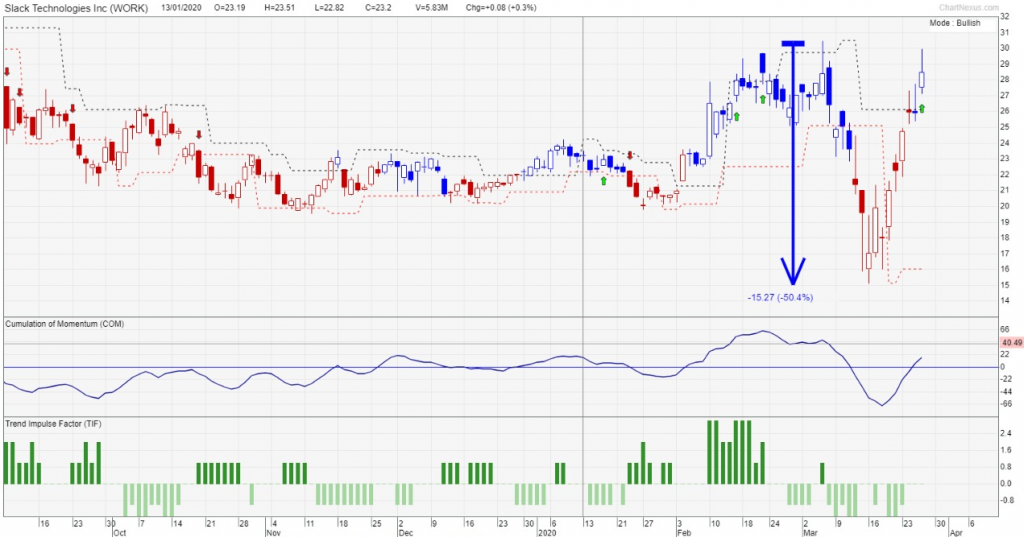 First off we have Slack, this is an instant messaging platform, geared towards workplace needs.
With the Covid19 crisis hanging overhead, there's no doubt more users going for such apps to aid working remotely from home.
The chart itself is very interesting!We actually see it plunge 50% off its highs on 5th March, and now on 26th March, we see price nearly back at the highs again.
That's down 50% and up 50% again in a period of approximately 3 weeks.
That's pretty crazy.
Nevertheless, the candles have again turned blue, an arrow has popped up, but there is no TIF.
So this is not a signal to trigger YET.
I'll be keeping an eye on this for a valid signal.
Domino's Pizza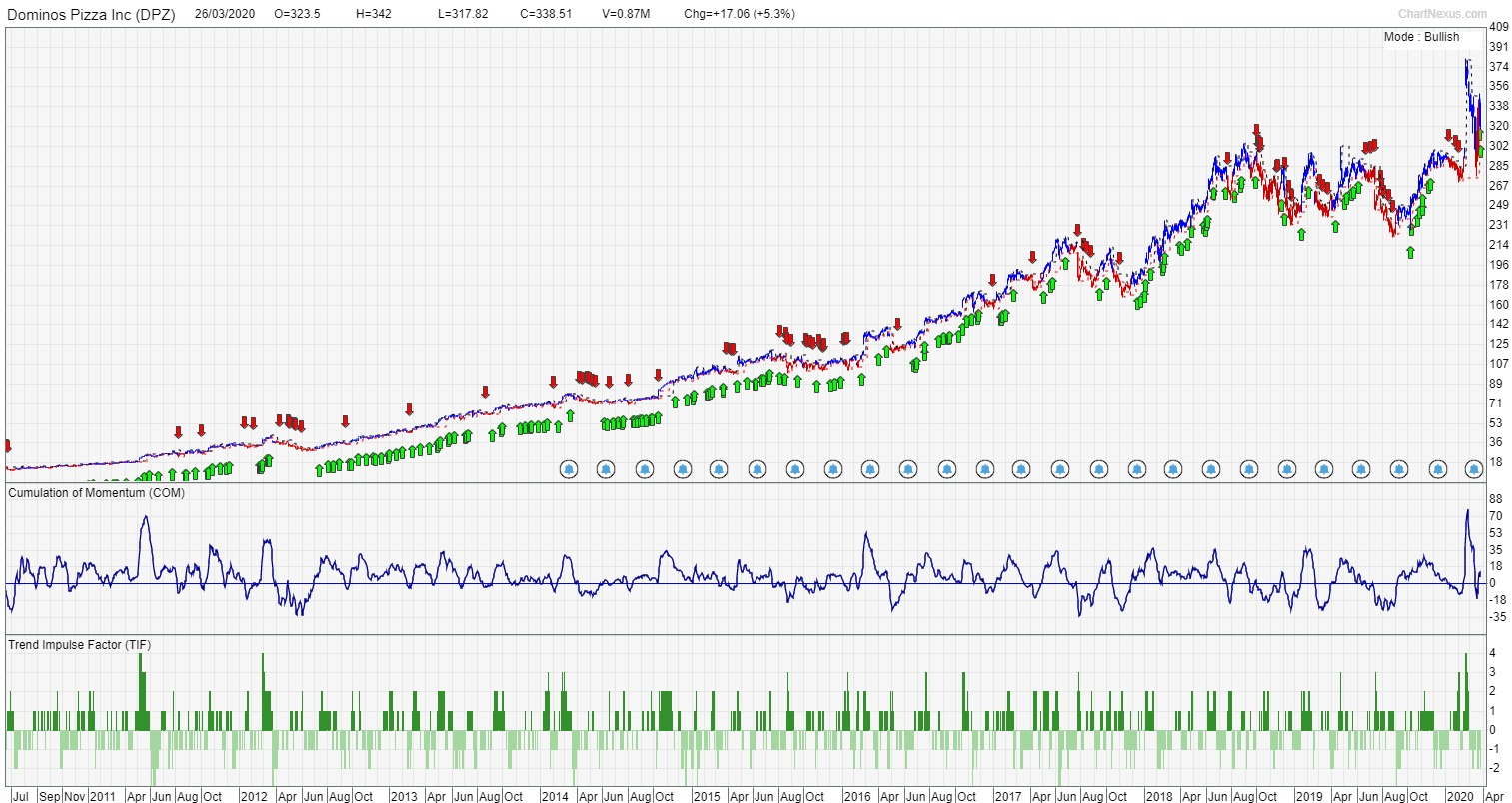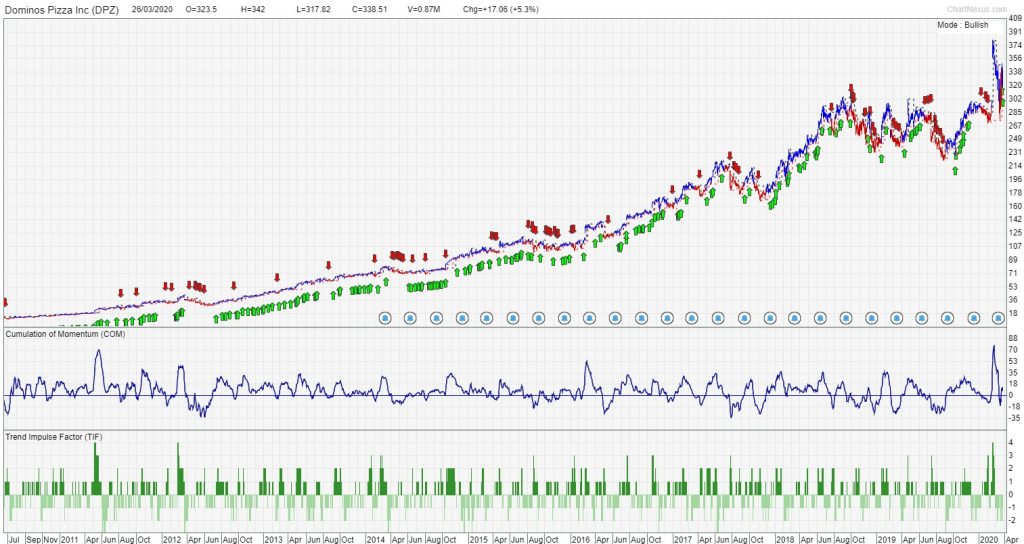 This is another company I'm sure you recognize as well, Domino's Pizza.
It would seem their pizzas are getting better, although it's been a while since I had the craving for domino's pizza, they are huge in the US.
Looking at their charts, you can see a very stable up trend through the years.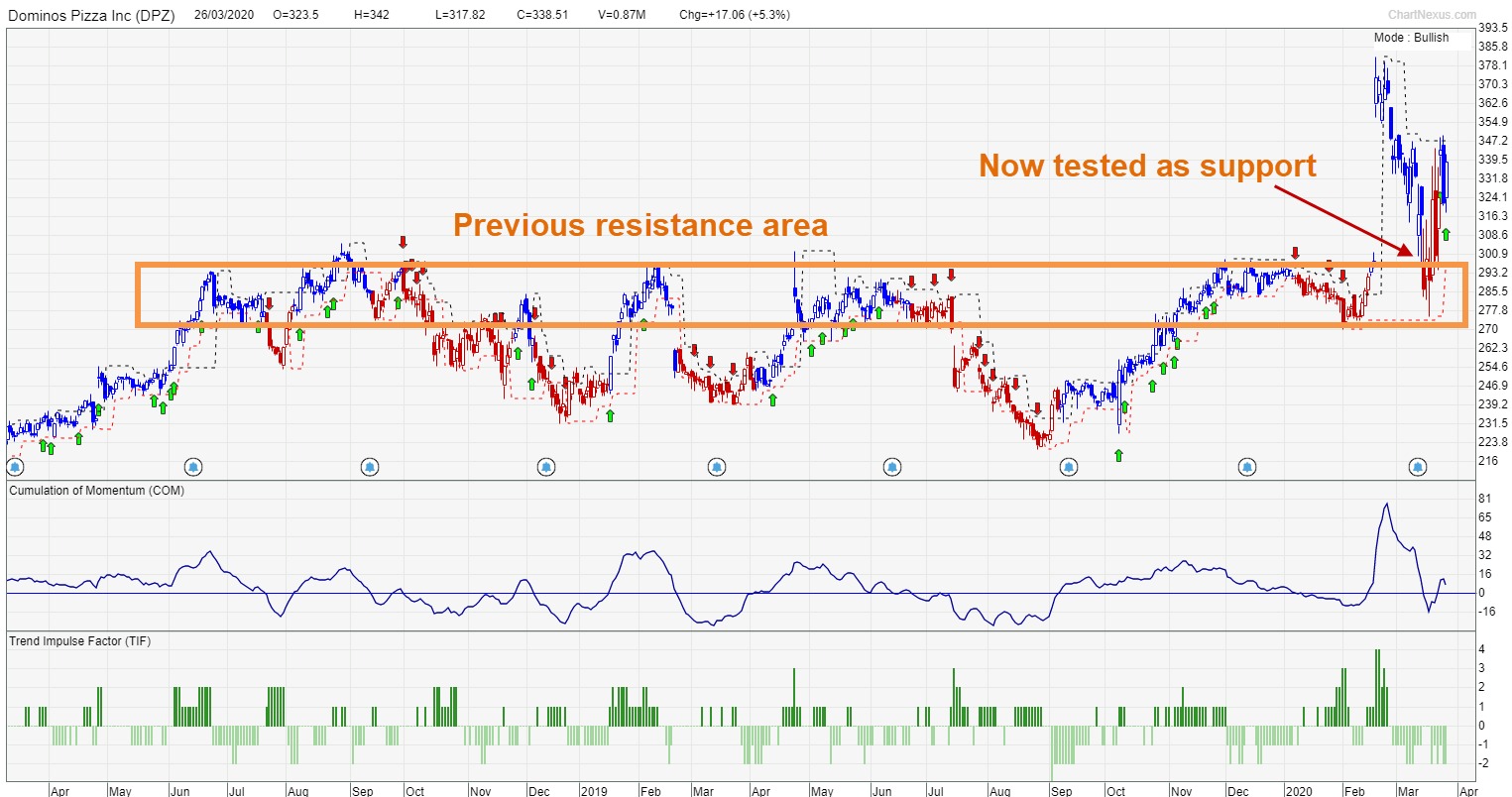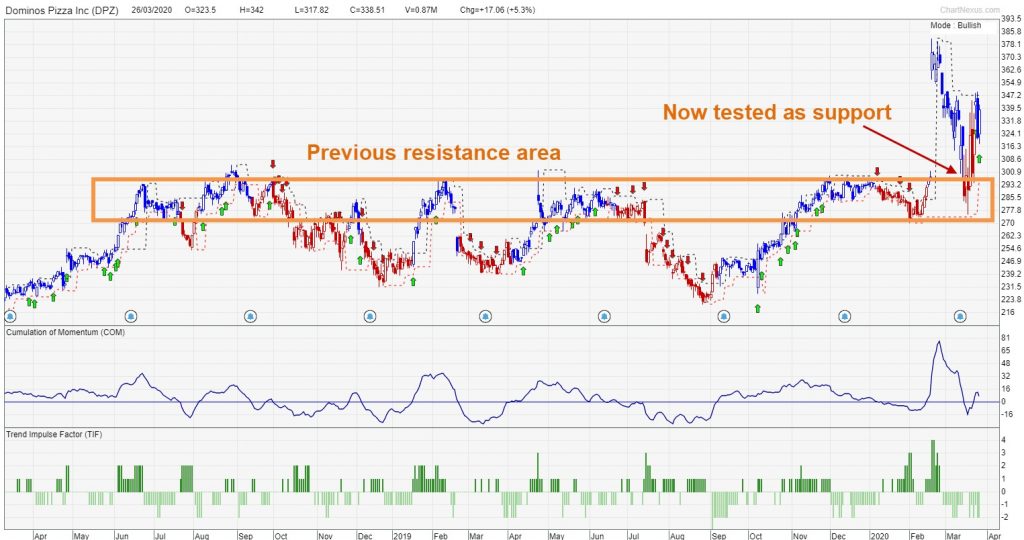 The recent crash only covered a gap, down into a strong level that was previously resistance.
Now it's tested as support and it seems price is holding.
A nice set up to me.
Again we have blue candles and the green arrow appearing, but no TIF once again.
So not a valid signal this time.
I'll keep an eye on this stock as well for a valid signal.
Take note that this counter is a bit on the expensive side at over $300 a share, so size your position well if you intend to play this stock.
Summary:
Both shares look interesting, but they also both share the same downside.
Which is the day to day stock movements aren't very flowing, they appear to be rather choppy.
However, Dominos pizza overall has better context.
Breaking out from a long term consolidation, and retest of the area after breakout seems to be holding.
So Dominos has my preference.
If you'd like to find out more about how to take advantage of the TradersGPS system, click the banner below.