This article is for education purposes only, and not to be taken as advice to buy/sell. Please do your own due diligence before committing to any trade/investment.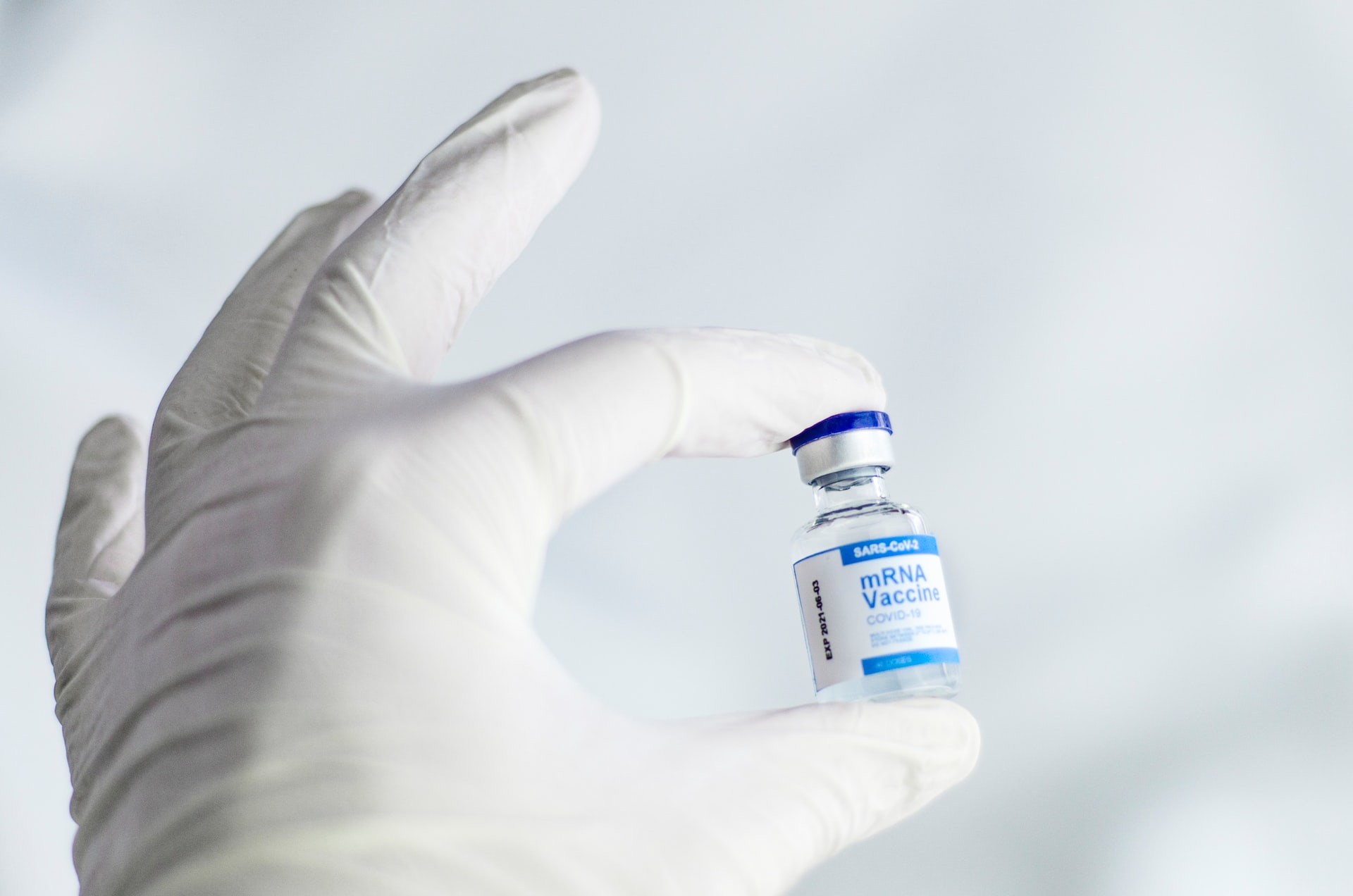 Source: unsplash.com
The human body.
It's full of fascination.
How does one grow from a couple of inches to a couple of feet?
How does the brain recognize and remember symbols?
I shall stop here as I'm no biologist. Instead, please allow me to introduce you to a stock that's ultra bullish – Ionis Pharmaceuticals.
Brief History of Ionis Pharmaceuticals

Source: ionispharma.com
Ionis Pharmaceuticals was founded in 1989 by Stanley T. Crooke, a former head of research at GlaxoSmithKline to provide antisense therapy.
Antisense therapy fights diseases using short DNA-like molecules which can correct the abnormal expression of cellular genes and mutations in tumor cells.
Yes, it's deep stuff.
Just after a year of founding, Ionis Pharmaceuticals got listed on Nasdaq.
A short 7 years later, it launched the first antisense drug which helps to treat patients with AIDS.
Apart from focusing on antisense therapy, Ionis Pharmaceuticals focused on cardiovascular a couple of years later.
And it didn't stop there!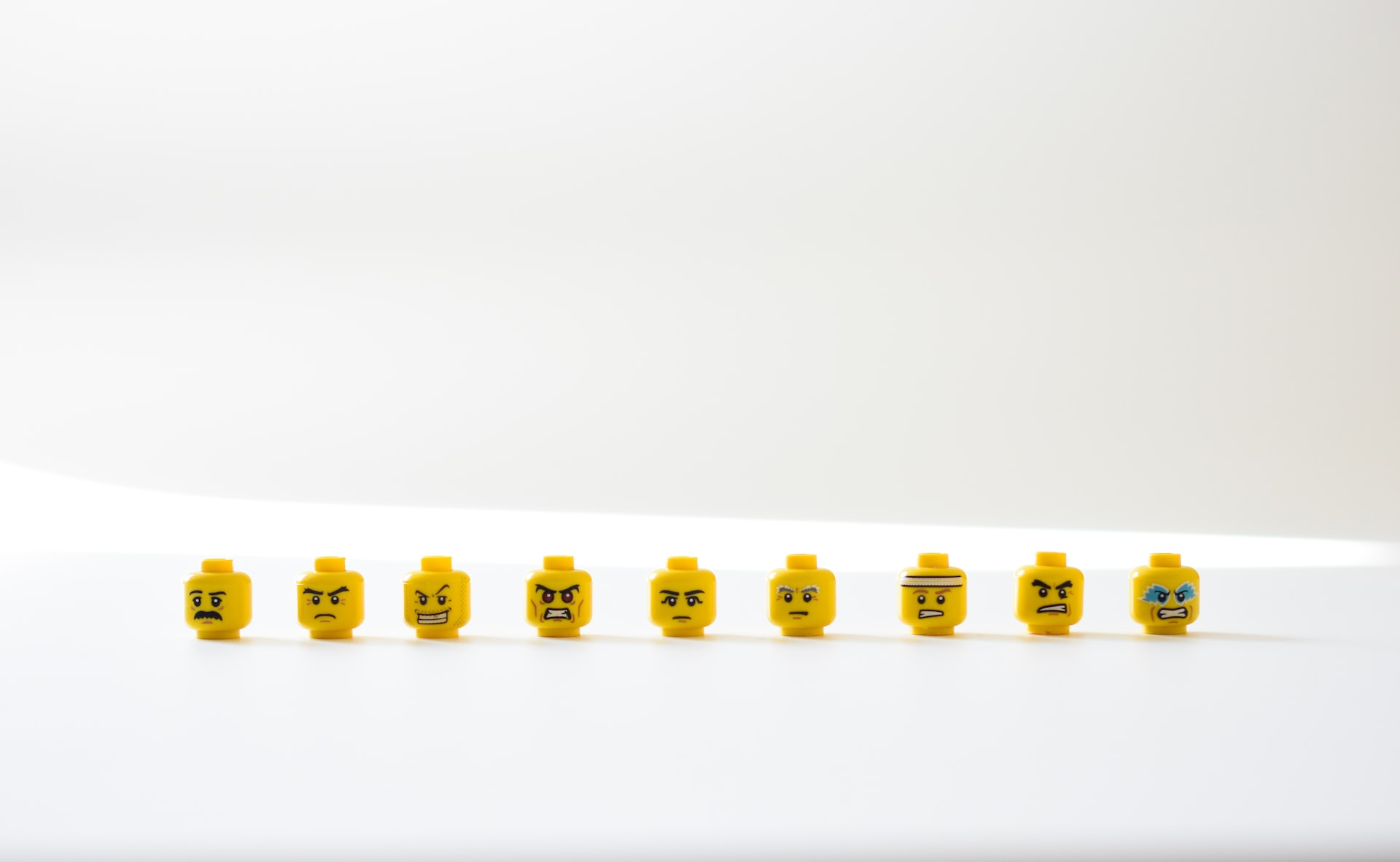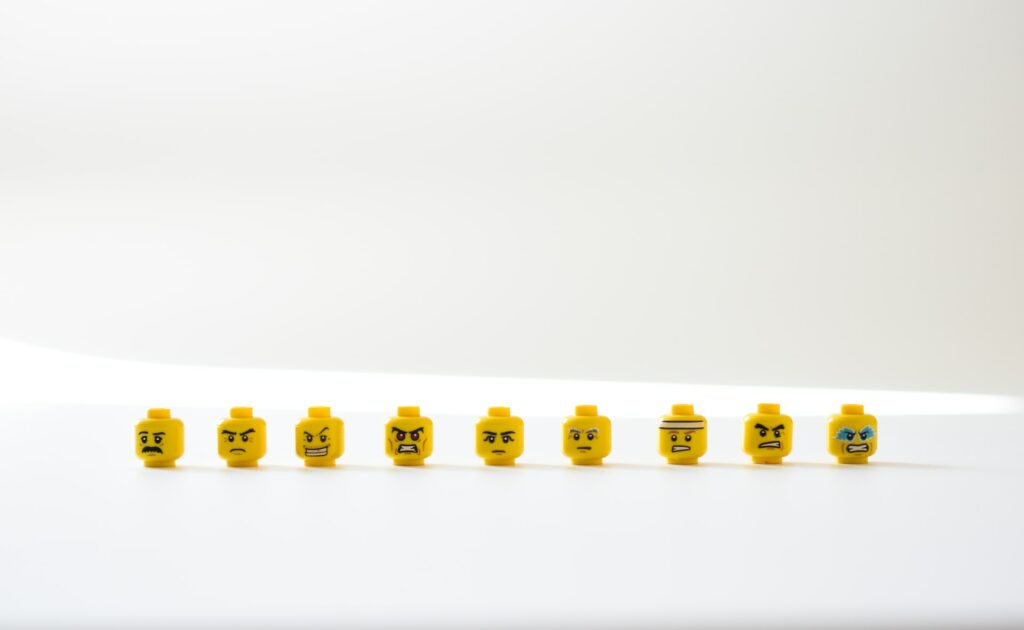 Source: unsplash.com
Ionis Pharmaceuticals explored and entered the neurological disease space.
With a deep expertise in research and development, Ionis Pharmaceuticals created many medical treatments which got approved.
Innovative is one word I'd use to describe Ionis Pharmaceuticals. Has this deep work in science translated into dollars and cents?
Let's have a look!
Business Model and Financials

Source: tradingview.com
Ionis Pharmaceuticals enjoyed steady growth in its total revenue and net income from 2015 to 2019.
The COVID-19 pandemic resulted in negative growth in 2020, before growth returned in 2021. Though its net income is still sub-zero, it has improved dramatically from 2020.
Furthermore, you can see that 2018 was its most profitable year too!
Are there good news for the company in the near future?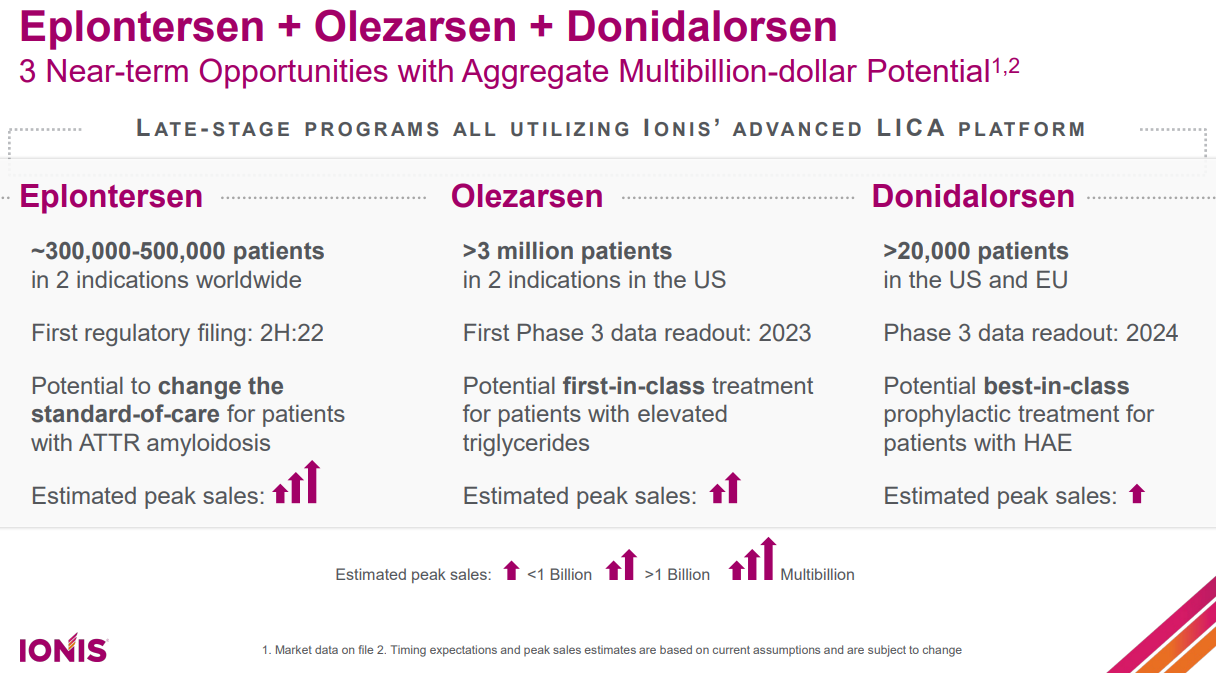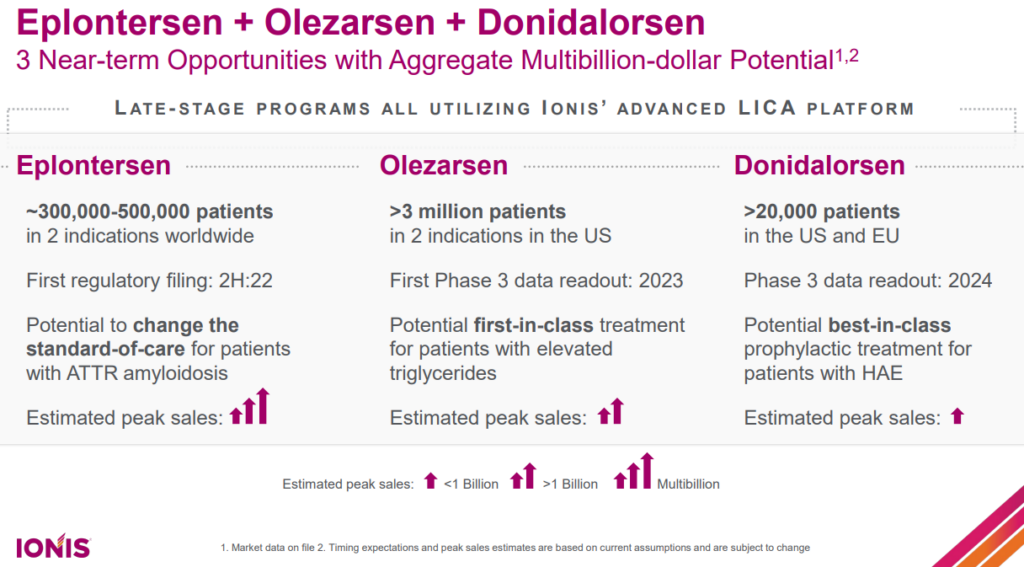 Source: ir.ionispharma.com/static-files/8c906bd1-0095-4493-8260-a35762181c5b
Ionis Pharmaceuticals has identified 3 near-term opportunities which could bring in billions of dollars. This forecast is encouraging.
The best part?
There's more good news!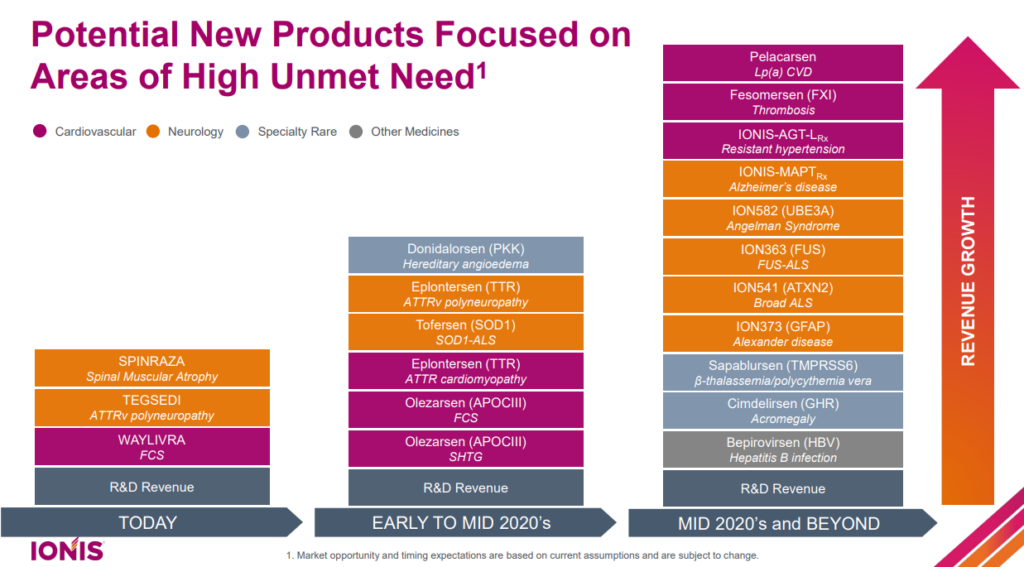 Source: ir.ionispharma.com/static-files/8c906bd1-0095-4493-8260-a35762181c5b
Ionis Pharmaceuticals has more innovations it is working on that will increase its revenue, and hopefully its net income.
The future certainly looks promising for Ionis Pharmaceuticals.
Before you place a buy order for Ionis Pharmaceuticals, shall we analyze the price chart of its stock?
Technical Analysis on Ionis Pharmaceuticals (NASDAQ: IONS)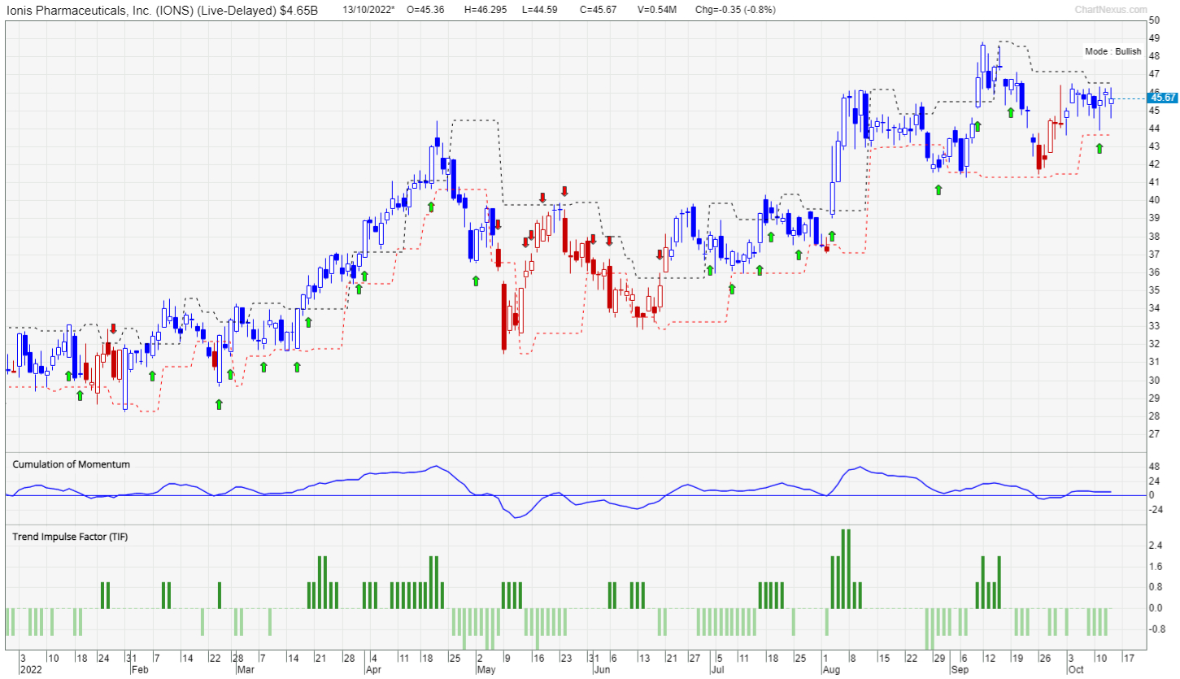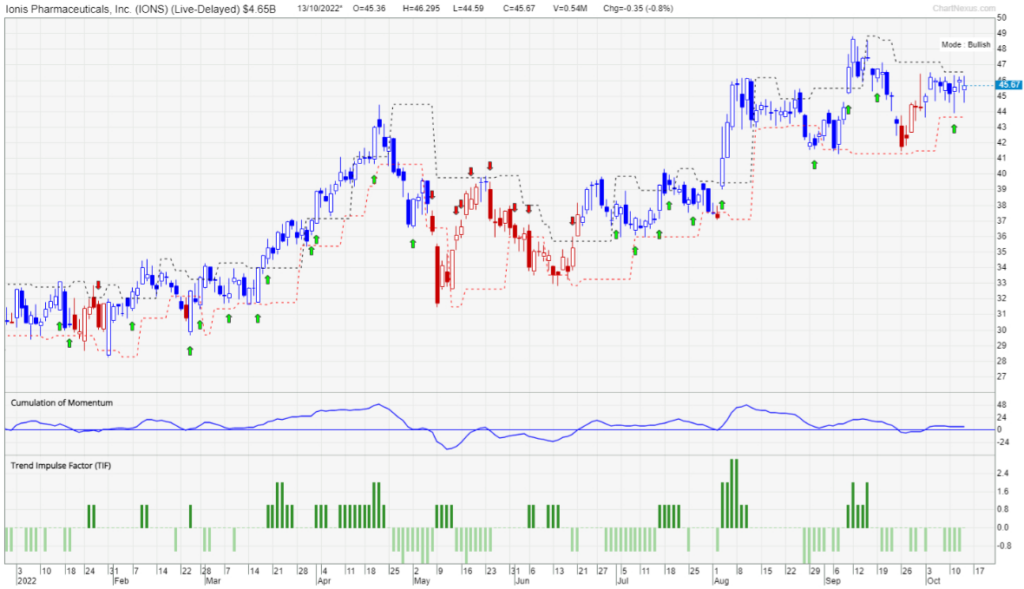 The share price of Ionis Pharmaceuticals is on a superb uptrend!
If you're struggling to tell its trend, here are a few easy ways:
The number of blue candles (both solid and hollow) outnumbers the number of red candles
The number of green arrows compared to the number of red arrows
In the month of October, the share price of Ionis Pharmaceuticals is consolidating.
It's a good sign as no trend can go on forever without a break.
Do you see any green arrow under its latest candle?
No, there isn't.
This suggests that the bulls are not strong yet.
Next, let's have a look at the color of the bar of the Trend Impulse Factor.
It's light green in color, signifying that momentum is absent.
So, is this the time to buy shares of Ionis Pharmaceuticals for a position trade?
No.
It's time to wait and observe the price chart of Ionis Pharmaceuticals. Once the green arrow and the bar of its Trend Impulse Factor turns dark green, the time to buy shares of Ionis Pharmaceuticals for a position trade is ripe.
Conclusion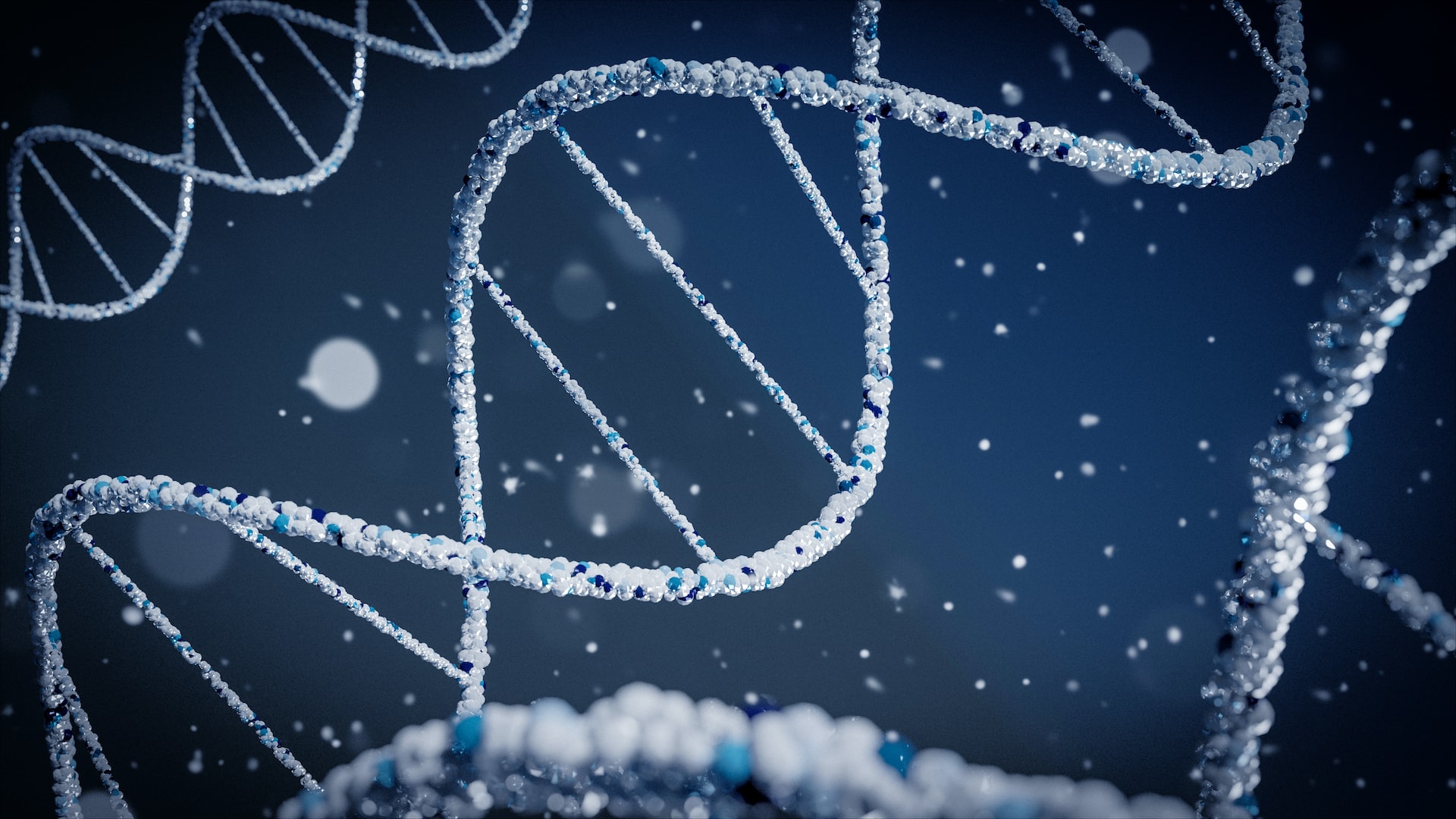 Source: unsplash.com
Ionis Pharmaceuticals is such a marvelous and innovative company. It has deep roots in science, always researching for the next big medical solution to benefit mankind.
Its financial performance has been rather erratic in the past few years, but the future looks bright.
A look at its share price chart reveals that it's premature to buy its shares for a position trade.
Both the green arrow and Trend Impulse Factor indicator have been tested and proven. They form the TradersGPS (TGPS) system to help you decipher if a stock is a cut above its peers. You won't have to feel in the dark and make wild guesses.
Therefore, I'd keep this stock in my watchlist for the opportunity to buy for a position trade.
Are You Ready For The Post-Bottom Rally?
The period between late July and early August had been nothing short of amazing for the stock market.
The ability to capitalize on such opportunities has helped over 5000+ of my students consistently reap superb profits time and time again.
Here are just a few stocks I picked out during the stock rally: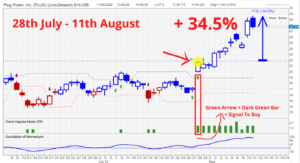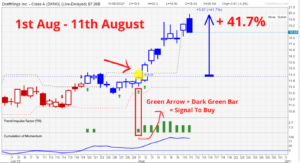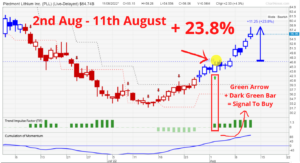 if you knew how to pick out the right stocks, you would have too similarly yielded 20-30% gains like I did in just 2 short weeks during the rally.
If you didn't, there could only be 2 reasons.
1) You were busy hesitating wondering if it was really the 'right time', letting your fear prevent you from doing anything to capitalize on the opportunity.
2) You knew that there was a massive opportunity, but just didn't know how to choose the right stocks to get into.
Whichever reason it is, it all boils down to 1 thing.
➡ You lack a tested and proven system that can help you CONSISTENTLY find winning stocks regardless of bull or bear.
Just look at what having a tested and proven system can do for you.
These are just a few stocks that you could have easily profited from if you used our proprietary TradersGPS system.
With a tested and proven system, finding profitable stocks like these instantly becomes so much easier.
The market is still looking good and there are still tonnes of such opportunities available.
So if you're tired of constantly missing out profits like this and want a real, proper method to consistently finding winning stocks regardless of bull or bear…
Especially when the market sentiment is improving each day and the possibility of a post-bottom rally coming sooner than we think…
Click HERE and join me in my upcoming LIVE training…
And I will show you the full process from identifying winning stocks all the way to executing the trade, and how it can be done in just 15 minutes.
I will also be opening up questions to the floor where you can ask me to analyze ANY stock of your choice,
and I will show you how the TradersGPS system can help you determine if it's a good buy, WHEN to buy, and WHEN to sell for profits.
Click HERE to register your seat before we hit full capacity!
If you'd also like to get a FREE e-course and learn how to better time your trade entries, click the banner below: