Systematic Trading (August 2022): M&T Bank & Paramount Global
Welcome to our 11th part of our series on Systematic Trading!
In this part, you'll discover two stocks that are listed in the US. Furthermore, these stocks are exciting as they look like they present opportunities. 
Before you scroll further, you'll want to check out our stock pick in July on Bank of America and Unilever. 
Are you ready to check out M&T Bank and Paramount Global?
M&T Bank (NYSE: MTB)

Source:  https://www3.mtb.com/
1. About The Company
M&T Bank was founded in 1856, 166 years ago!
Do you know what M&T in its name stands for?
M&T stands for Manufacturers and Traders. From its name, you can infer that M&T Bank was started to support the manufacturing and trading industries.
The bank has been active in the merger and acquisition scene, acquiring 12 financial institutions since 2000.
Through the mergers and acquisitions, M&T Bank now provides commercial and retail banking services such as deposit, lending, loans, securities, wealth management and more.
It enjoys a market capitalization of almost $31.4b, making it the world's 553rd most valuable company.
M&T Bank is also proud to be deeply involved in the community, placing their customers and staff in high regard.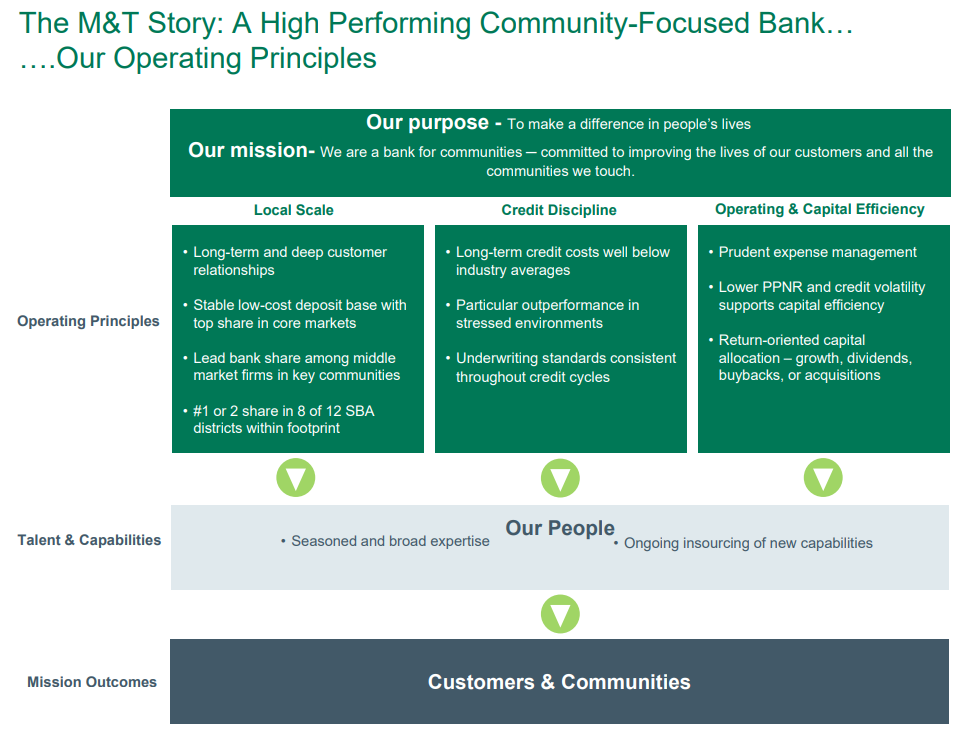 Source: ir.mtb.com/static-files/7bc97658-8eb9-4ccc-bcb2-a5e9bb4ccf5d
Knowing the overview of M&T Bank, shall we proceed to have a look at its chart?
2. Position Trading (Daily)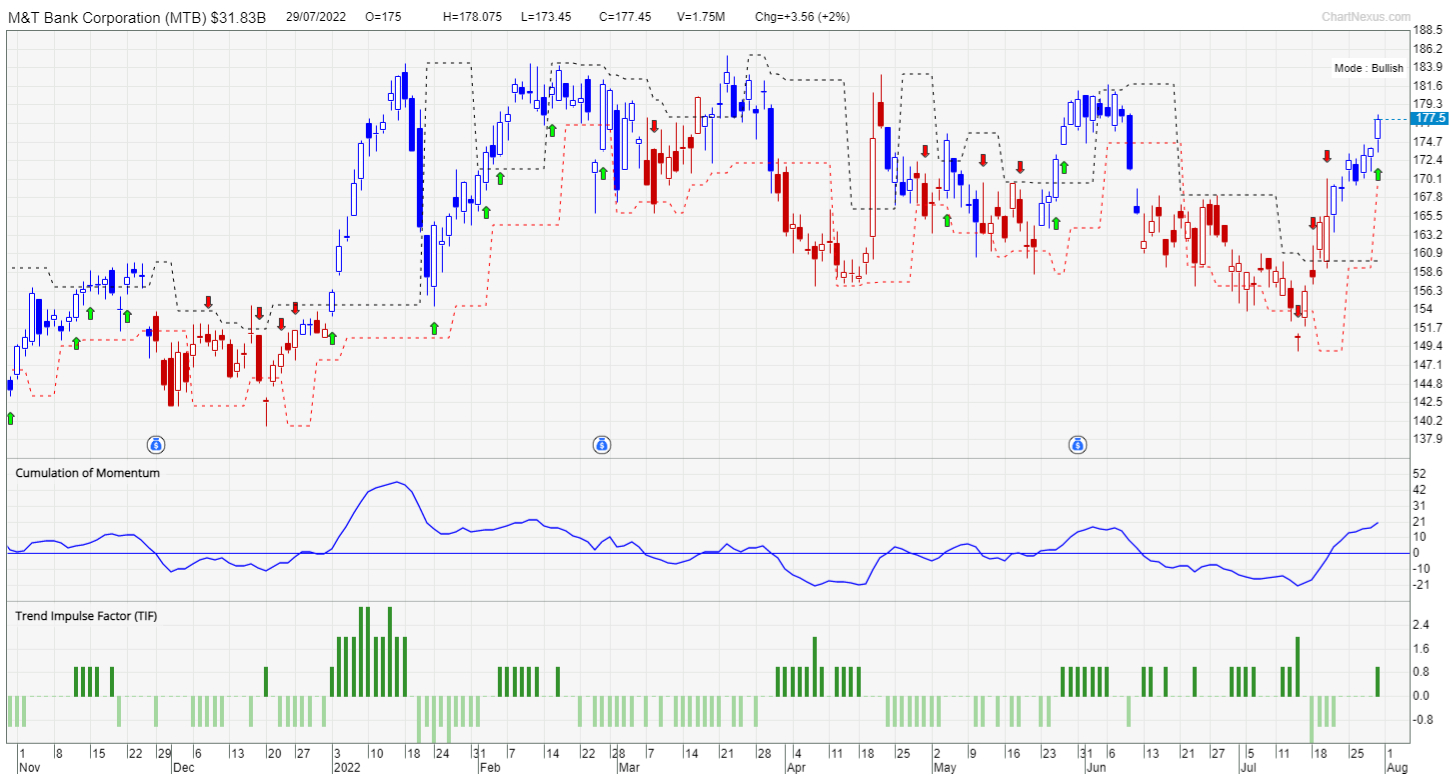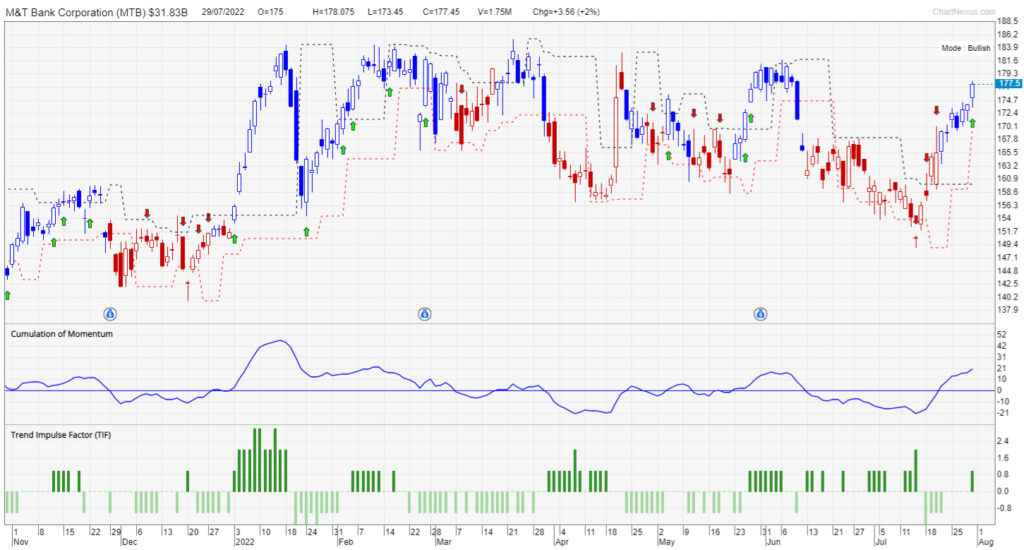 Looking at the chart above, you'll see that the price of M&T Bank has been stuck in a range since Jan 2022. Its price has yet to be able to break out of the range for 7 months.
This presents a slightly tricky situation as the price of M&T Bank could continue to be stuck in this range despite the appearance of the green arrow and the Trend Impulse Factor's dark green bar.
Does this mean that you stay out of M&T Bank completely?
This depends on your risk appetite.
You could:
Go long on M&T Bank's shares with a reduced position size and wait for its price to break out and for the indicators to agree with each other to enter your remaining position size; OR
Wait for its price to break out and for the indicators to appear together to enter your intended position size
Paramount Global (NASDAQ: PARA)

Source: paramount.com
1. About The Company
Formerly known as ViacomCBS, it has changed its name to Paramount Global.
Founded in 1986, Paramount Global is in the publishing, news and entertainment industry.
It has many popular channels under its care, including CBS, Nickelodeon MTV, and more.
In the publishing space, it owns Simon Schuster which has published top titles such as Steve Jobs by Walter Isaacson, Principles by Ray Dalio, and Shoe Dog by Phil Knight.
Yes, it is also in the film industry developing, producing, financing, acquiring, and distributing films.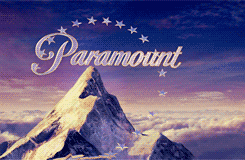 Source: gifer.com/en/PpyT
With so many big brands under its wing, Paramount Global is worth more than $15.4b.
Shall we turn out attention to its chart to find out if there's any position trading opportunity?
2. Position Trading (Daily)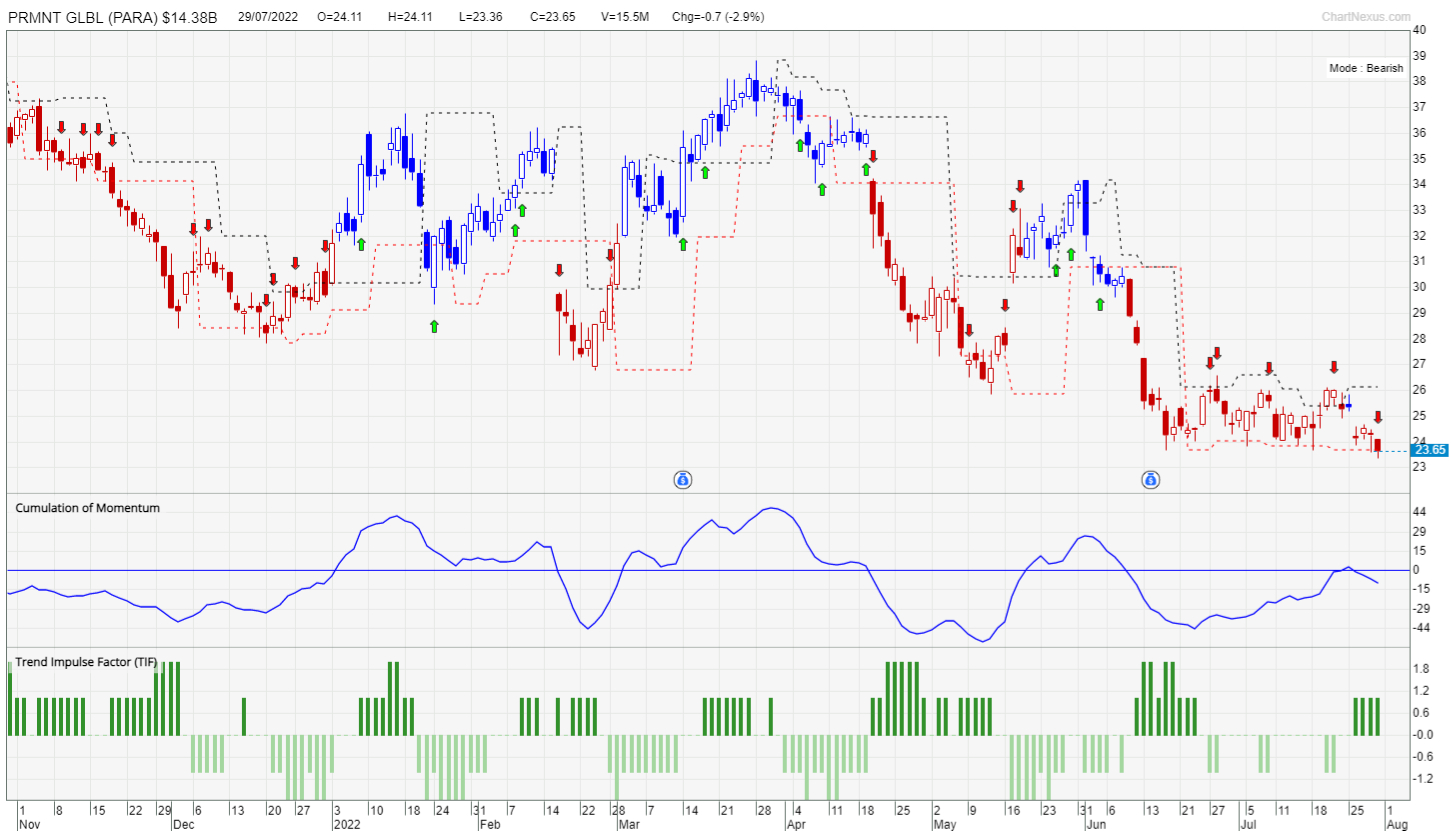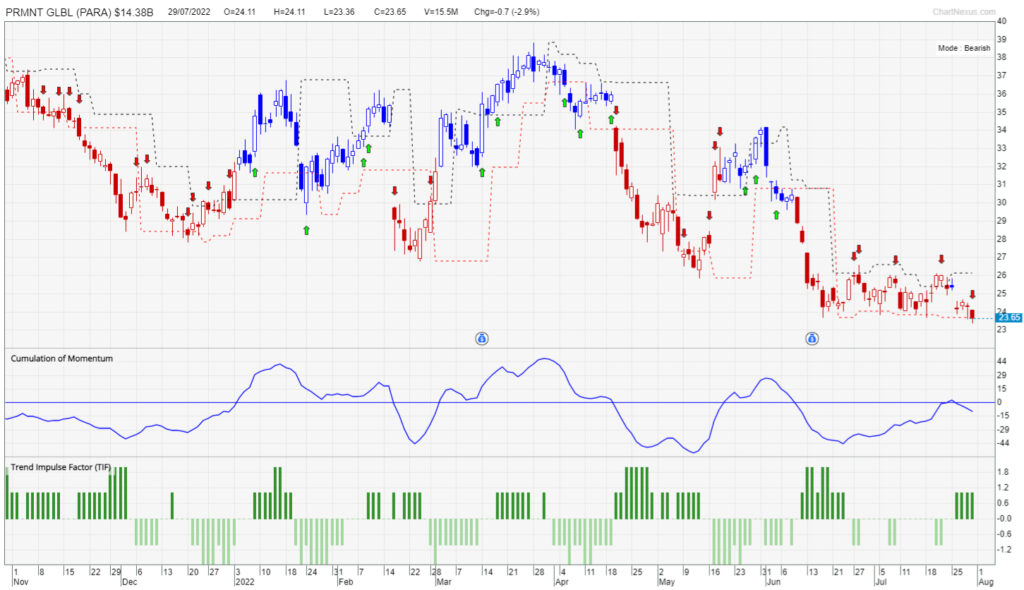 From the look of Paramount Global's chart above, you can tell that it's in a downtrend.
In fact, it hasn't been able to recover from the crash brought about by COVID-19 in Mar 2021.
Thus, it's natural to be on the lookout for a short-selling position trading opportunity.
You can see a red arrow which symbolizes the likely direction of prices in the coming days and weeks.
Did you notice that the bar of the Trend Impulse Indicator is in dark green?
This shows that the momentum of this downtrend is strong.
And we have an agreement by both indicators! This makes a fabulous short-selling position trade.
Conclusion: M&T Bank & Paramount Global
M&T Bank could be ready for a position trade if its price can break out of its range. When that happens, you'll also want to watch for an agreement of both indicators – the green arrow and Trend Impulse Factor.
Paramount Global is still reeling from the shock brought about by COVID-19. Its share price hasn't been able to find its footing, sliding since Mar 2021.
A look at its chart brings a short-selling trading opportunity though!
Because the stock market doesn't behave according to our instructions and hopes, it's advisable to place a stop loss level to protect your trading capital when the time to short both stocks are ripe, should an unexpected event occur.
Trading stocks without a proper system can be highly risky. This is why TradersGPS (TGPS) was created. The indicators will help you decipher if a stock is ready for action to be taken. You won't have to feel in the dark and make wild guesses.
What are your thoughts?
Will you choose to trade M&T Bank's shares now or later? Are you going to short-sell shares of Paramount Global?
Share your thoughts with us below!
Did You Know?
The ones who make the MOST money from the stock market actually spent the LEAST time.
Yet, most people tend to spend hours reading news or analyzing charts, only to be caught in a never-ending spiral of disappointment from the stock market.
The truth is, profiting from the market is all about trading smart, not hard. And this is the very secret of all top retail traders and investors.
They all have a system they follow.
A system that helps them identify winning stocks fast and filter away dangerous risky ones, a system that tells them exactly when to buy and sell and eventually exit the stock with profits.
It's like having a personal guide telling you exactly what to do from start to finish. One that is not only reliable in aiding your investment journey, but also saves you time, energy and stress.
So if you wish to start building an additional stream of income through the stock market the SMART way, not the HARD way…
Come and join me in my upcoming LIVE demonstration webclass where I will demonstrate LIVE how ANYONE, even with no experience can learn and adopt a really simple system and apply it almost immediately to start profiting in the markets.
Click HERE to register your seat before we hit full capacity!
If you'd also like to get a FREE e-course and learn how to better time your trade entries, click the banner below: