Systematic Trading (Dec 2021): MCD & INDF
"Are you willing to lose money on a trade? If not, then don't take it. You can only win if you're not afraid to lose. And you can only do that if you truly accept the risks in front of you."

– Sami Abusad
Welcome to the fourth part of our series on Systematic Trading!
In case you've missed out on our earlier parts, do at least check out the first part of this series.
Parts 2 and 3 are available here and here.
The more charts you see, the more patterns and insights you would be able to identify. Practice makes better – so if you've not already been keeping up with this series, it's not too late to start!
Here's a friendly disclaimer and reminder as well, that this series is purely for educational purposes.
It's meant to show you how systematic trading works. Even then there are still distinctions as to stock selections, which are beyond the scope of this series.
So the way we're going about this, is to check out the well-known stock counters from various stock exchanges. See what the charts reveal, and how doing this systematically gives you clarity in trading.
There's nothing like looking at the charts, so let's head right into it.
McDonald's (MCD), which I believe needs no introduction to, and Indofood (INDF). Among their brands and products, you're probably familiar with the Indomie instant noodle.
Quick Comments On Stock Selection: MCD & INDF
We've been looking at counters on the NASDAQ for the past few articles, so I thought it'd finally be a good opportunity for stocks in the NYSE to shine. One of them which comes to mind is MCD and I must confess, the chart actually looks more beautiful that I thought.
The next one was a little more tricky, but I took on the challenge to feature a stock in the Jakarta Stock Exchange (JSX) and was happy to find INDF. Indomie being one of those products which I actually craved for when I was living abroad, it would be interesting to see how this blue-chip stock looks like on the charts.
While you would typically need to know your timeframe in order to screen and shortlist stocks, here we are taking the bottom-up approach instead. Although screening for stocks would give you a better hang of systematic trading, this method still helps in looking at the systematic way of trading. Would just following the entry and exit signals work?
Let's find out below.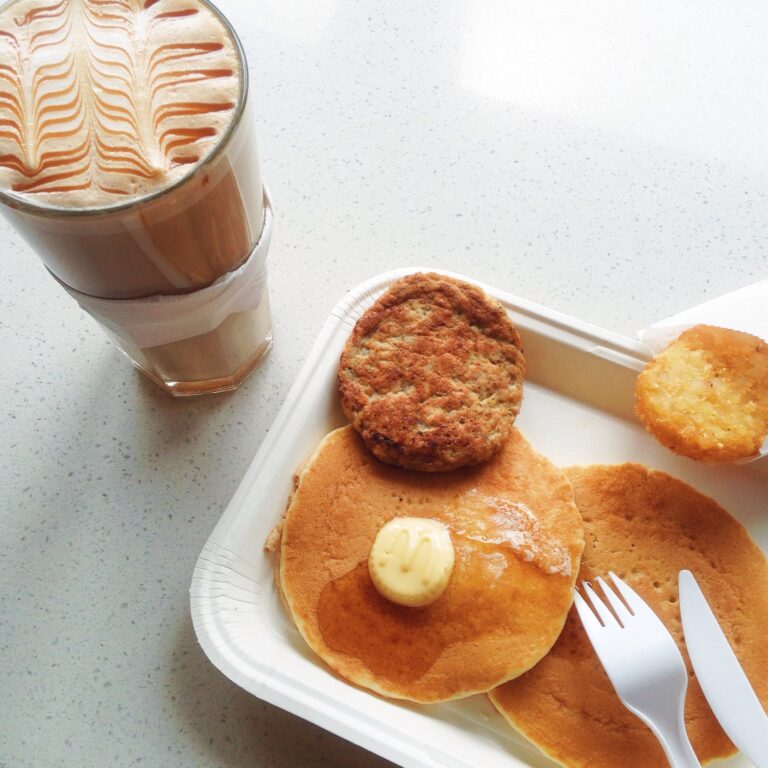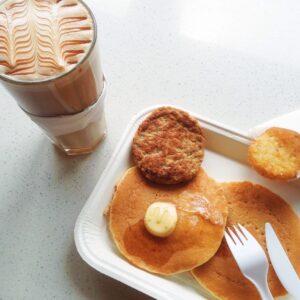 McDonald's Corporation. (NYSE: MCD)
1. About The Company
"Our story starts with one man.
Back in 1954, a man named Ray Kroc discovered a small burger restaurant in California, and wrote the first page of our history. From humble beginnings as a small restaurant, we're proud to have become one of the world's leading food service brands with more than 36,000 restaurants in more than 100 countries."
Source: Corporate website
2. Position Trading (Daily)
MCD has actually been on a steady uptrend since mid-March: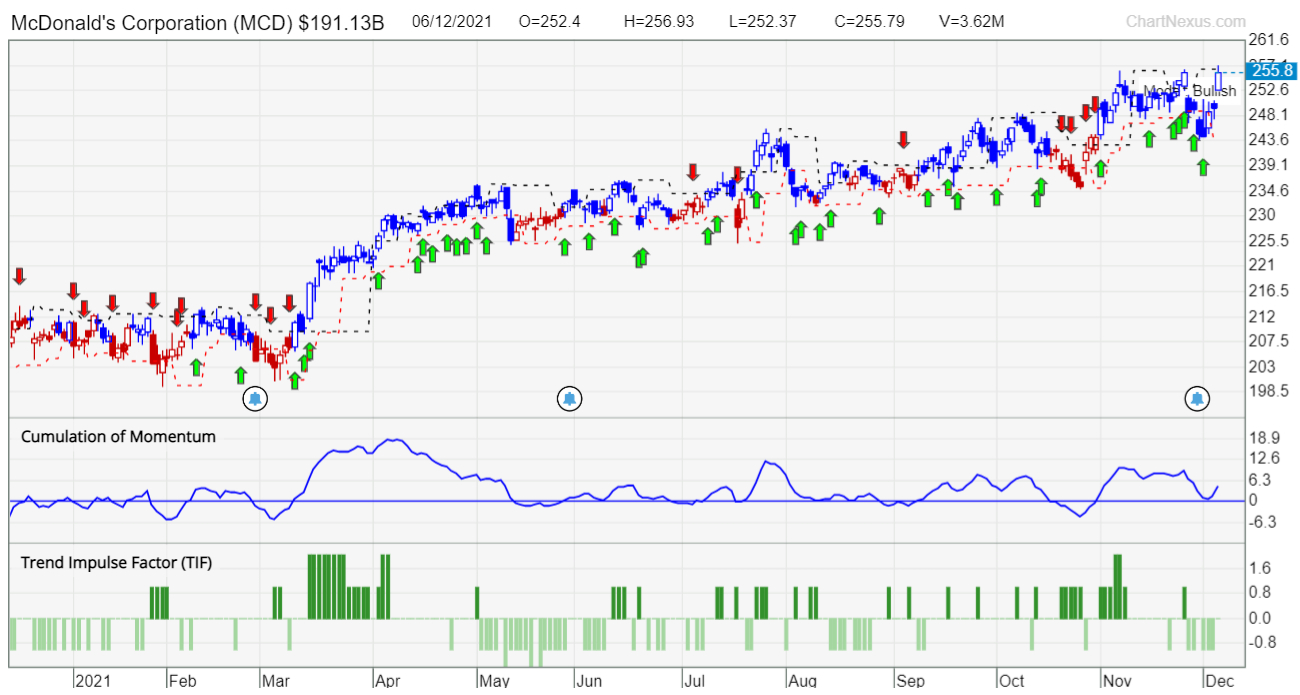 Given the pullbacks along the way, the latest re-entry signal appeared on 1st November – with the green arrow and dark green bar on the Trend Impulse Factor (TIF). Marking the high, the trade would have been triggered the next day as the price broke above the high of $250.30.
The next valid entry signal appeared on 24th November. However, after marking the high of the price, the trade would only be triggered 4 days later when the high price was broken, above the high of $247.90.
At the current price of $255.8, the trades would have been profitable thus far. In terms position-sizing, a 50% on the first trade and 30% on the second trade would leave room for the remaining 20% on a final trade.
3. Swing Trading (Weekly)
Now let's take a look at the weekly chart for swing trading…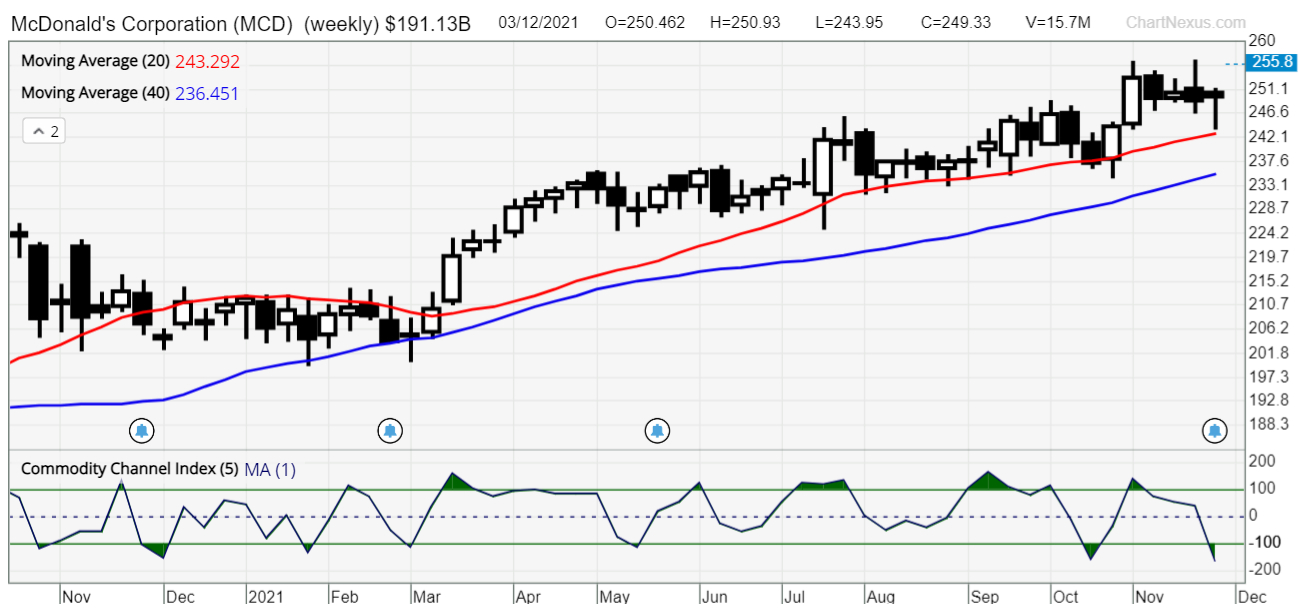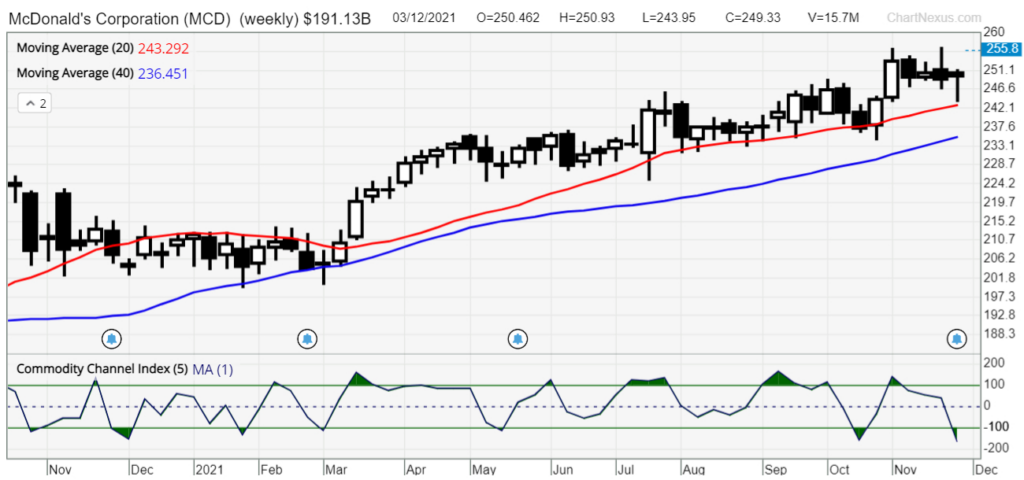 The last valid set-up would be in mid-October. The trade would be triggered the next week, breaking the high of $242.58. This would be a profitable trade as the price proceeded to move higher.
In fact, this looks to be the only valid set-up for this past year.
4. To Trade Position Daily Or Swing Weekly?
Seeing that the swing high is rather close to the entry point for the swing trade, the risk-to-reward would be less enticing compared to the position daily trade. Since MCD has been on an uptrend, I would prefer the opportunity to partake in the position trade and ride the profits higher.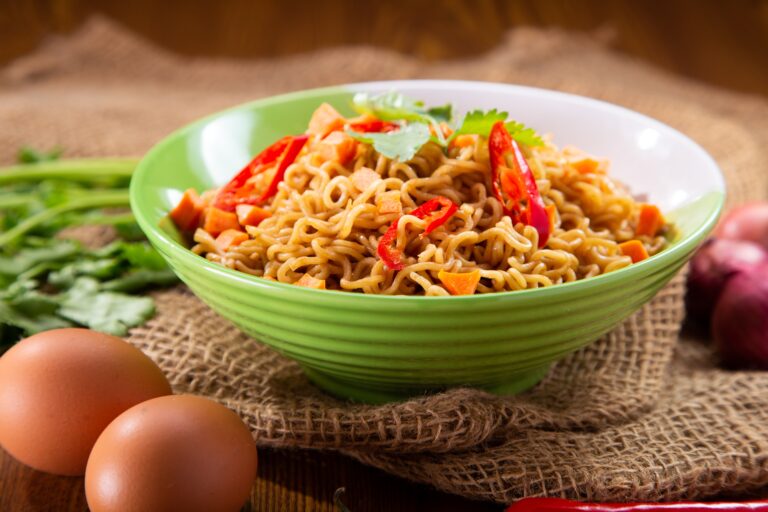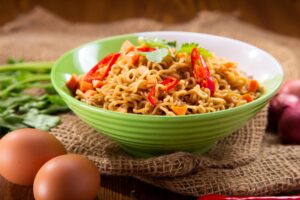 Indofood Sukses Makmur Tbk. (JSX: INDF)
1. About The Company
"Indofood has progressively transformed into a Total Food Solutions company with operations in all stages of food manufacturing.
Over the last two decades, Indofood has progressively transformed into a Total Food Solutions company with operations in all stages of food manufacturing, from the production of raw materials and their processing, to consumer products in the market. Today, it is renowned as a well-established company and a leading player in each business category in which it operates. In its business operations, Indofood capitalizes on economies of scale and a resilient business model with four complementary Strategic Business Groups ("Group")"…
Source: Corporate website
2. Position Trading (Daily)
Looking at the chart on TradersGPS, this does not appear to be an ideal candidate for position trading: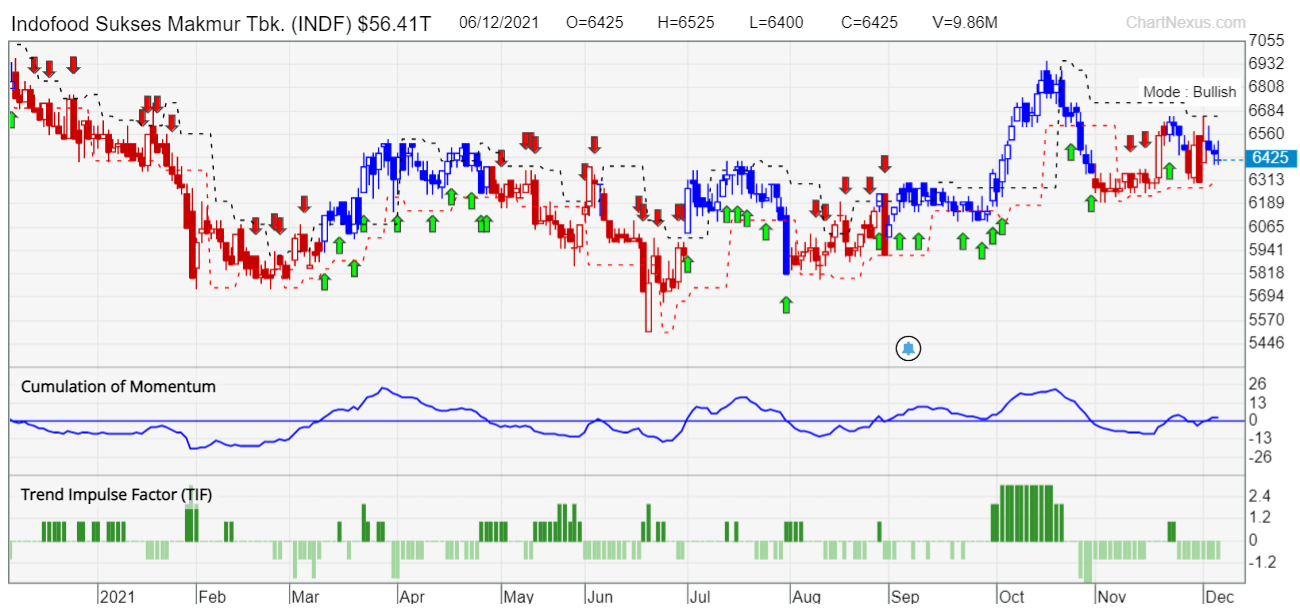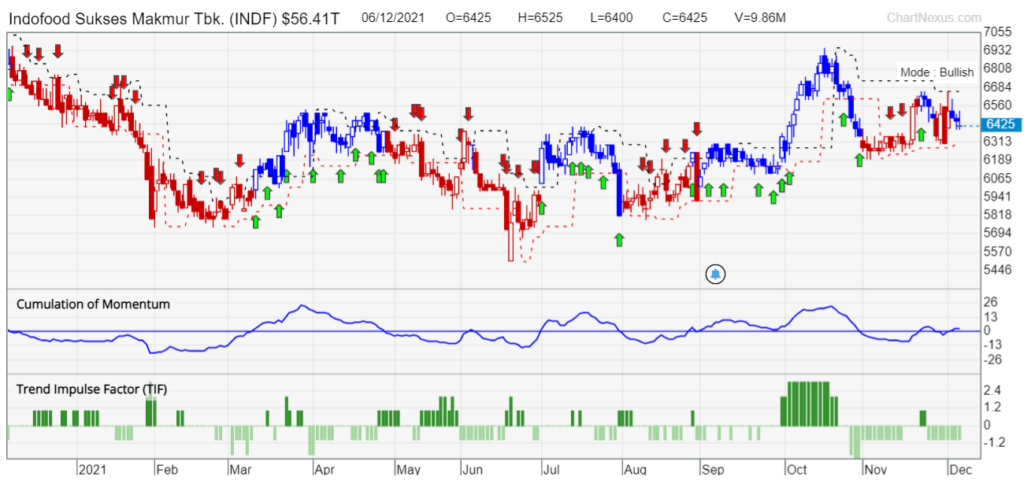 Despite the bullish mode, which signals an uptrend, this is a relatively "noisy" counter. By that meaning, is the frequently changing colour of the candles, and the presence of green/red arrows. Green arrows indicate buy signals, and conversely red arrows indicate sell signals.
You can imagine how confusing it would be if you took this on and had to keep switching between buying and selling. While it is important to be nimble, more action does not mean better profits.
Nonetheless, for the purposes of demonstration – if one were to ignore the past year's performance on the charts and merely focused on the signals…
The last period where valid entry signals appeared was on 30th September and 5th October. Assuming an entry above the high of 6375 IDR, one would then exit the trade when the red candle appeared in November at the low of 6250 IDR.
Thus, this would have been a losing trade of approximately 2%.
3. Swing Trading (Weekly)
Now let's take a look at how a swing weekly trade would go…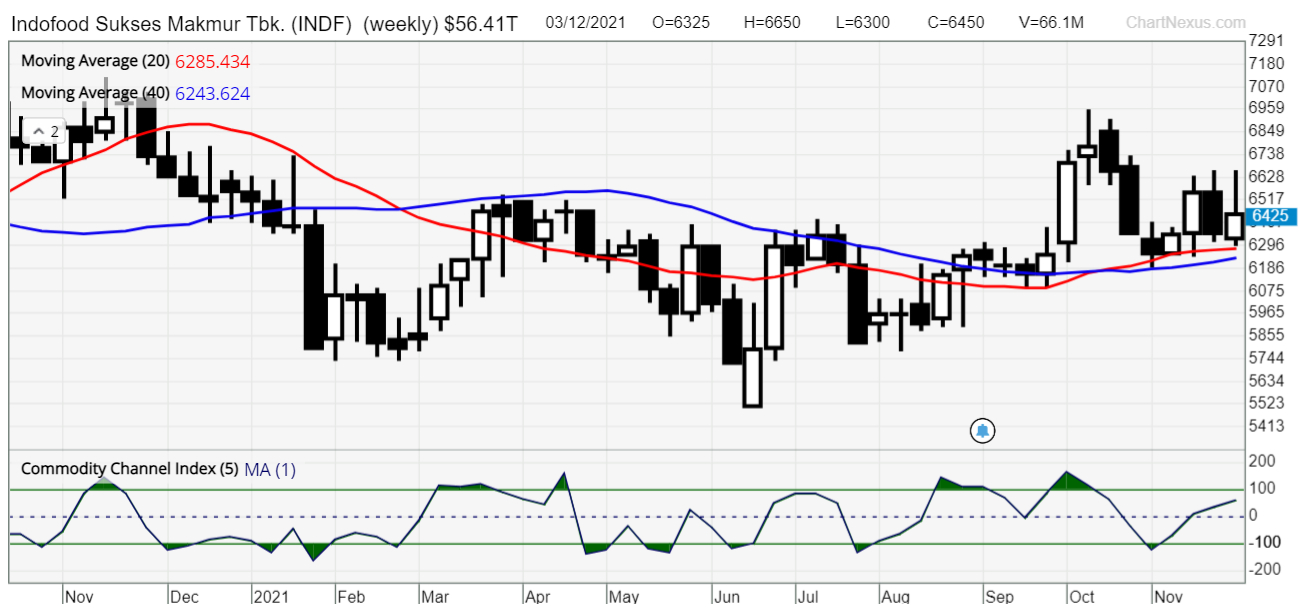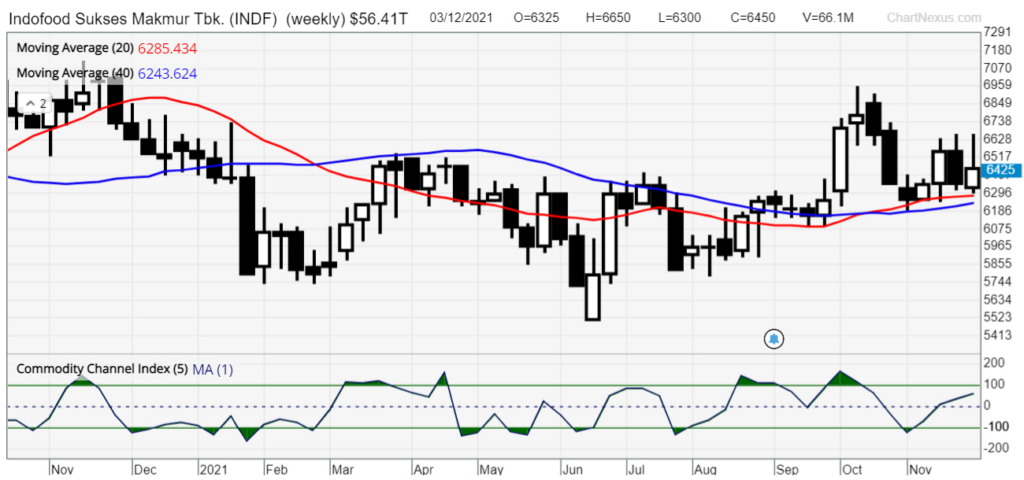 The set-up in November would only be triggered the following week when the price broke above the previous week's high. Thus, an entry above the high of 6375 IDR would mean that the trade is currently profitable.
Here, it is again important to note the importance of a trigger. Without which, the trade would have been prematurely executed above the high of the set-up candle above 6400 IDR instead.
4. To Trade Position Daily Or Swing Weekly?
In this case, it is clear that the swing weekly trade would have been the better outcome.
As a swing candidate, however, there would certainly be other stocks exhibiting better potential. This is looking at the stock's performance on the chart – and is beyond the scope of discussion for this article.
Conclusion: McDonald's & Indofood
Compared to the earlier articles in this series, this time we finally have a clear example of a losing trade. (That is, if we ignore the importance of avoiding noisy stocks.)
Again, we emphasize that having a trigger is crucial in trading. This can often be undermined when one acts on emotions, such as on the fear of missing out and acting on impulse.
Instead, it pays to be disciplined and abide by a system. Doing so not only gives clarity, but leads to more consistent outcomes as well.
Ultimately, this is the aim of this Systematic Trading series. The next part will be continued in January 2022, so let's see what the charts show us then.
Swayed by emotions? Unsure when to take action? While discretionary trading is not bad, perhaps systematic trading is what works for you. Discover the intricacies of it as we journey along this series.
If you'd like to learn more about systematic trading to better time your trade entries, click the banner below: