This article is for education purposes only, and not to be taken as advice to buy/sell. Please do your own due diligence before committing to any trade/investment.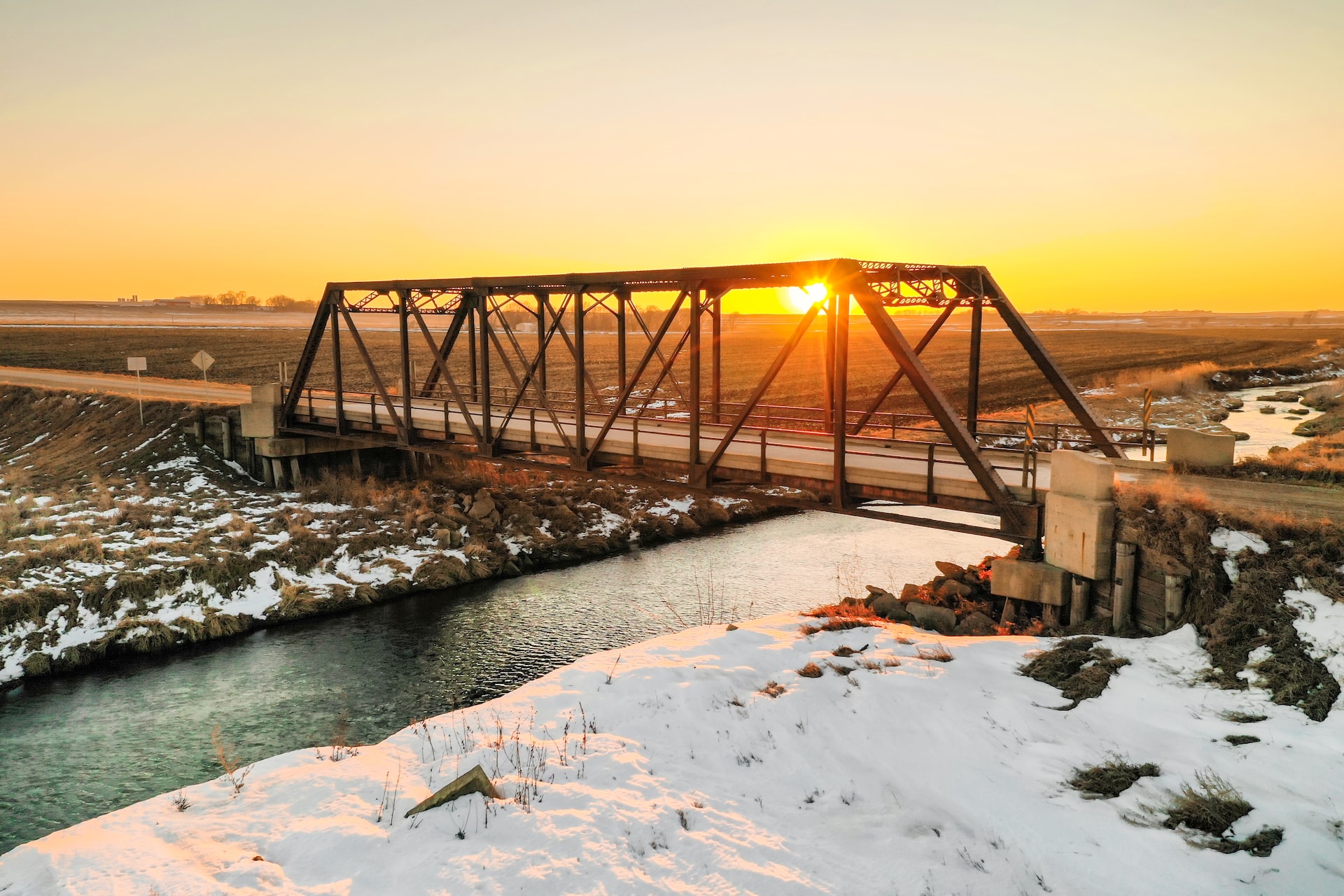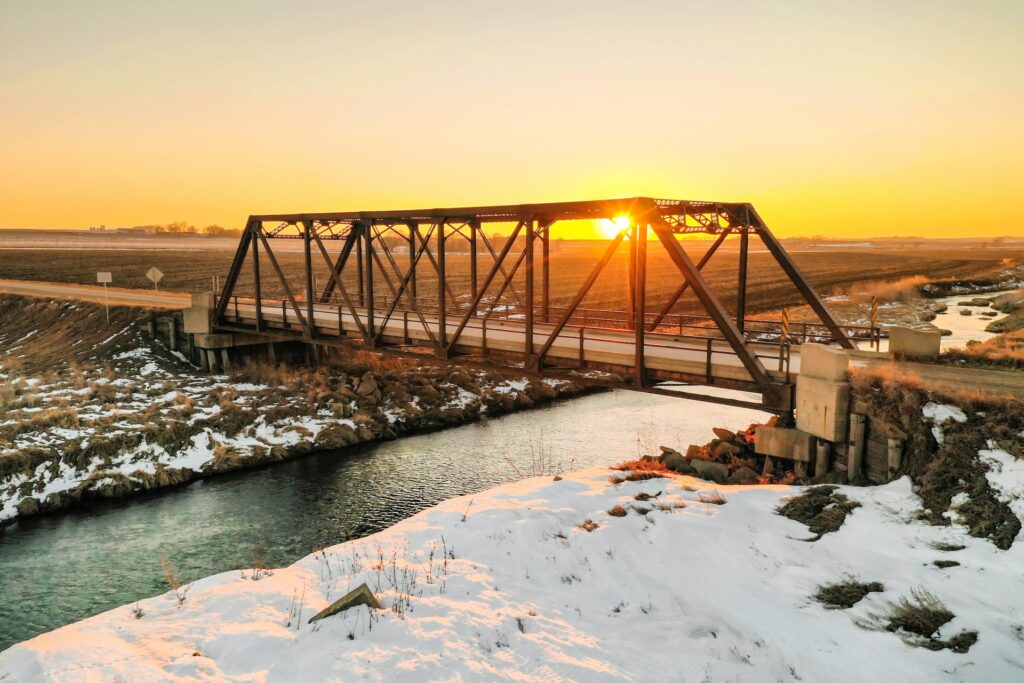 Source: unsplash.com
The higher than expected CPI number sent markets around the world lower.
The Fed has vowed to fight inflation and will continue to raise interest rates in order to do so. Full attention will be given to the FOMC meeting next week.
Many sectors have been hit hard by the ongoing rate hikes, especially technology and materials. Cleveland-Cliffs, a company in the materials sector, is not spared. Its share price has fallen 12% since the announcement of the CPI results on 13 Sep 2022!
And I think that there's more to come. So, shall we explore Cleveland-Cliffs?
Brief History of Cleveland-Cliffs

Source: clevelandcliffs.com/
Cleveland-Cliffs was founded in 1846 after iron ore was discovered in Michigan, US. The business was unprofitable due to extremely high transportation costs, but the company overcame this by the issuance of IOUs.
In the late 19th century, Cleveland-Cliffs diversified into timber harvesting.
A series of further diversification through acquisitions ensued, and Cleveland-Cliffs found itself in paper and woodware production too.
Cleveland-Cliffs has faced many challenges, notably the Great Depression and Great Financial Crisis, and survived them all.
It's remarkable that a company, founded more than 170 years ago, still exists and remains listed. Part of its success lie in constant research and development, shrewd acquisitions, and the pursuit of excellence.
Shall we now turn our eyes to the business  model and financials of Cleveland-Cliffs?
Business Model and Financials

Source: tradingview.com
Referring to Cleveland-Cliffs' income statement bar chart above, you can tell that its revenue as stagnant between 2015 and 2019.
In 2020 and 2021, its revenue exploded by 2.5x and 3.5x respectively!
And here comes the most important question – did its net income fare as well?
No.
Cleveland-Cliffs' net income was -$749.3m in 2015 before growing magnificently to $172m in 2016, $367m in 2017, and $1.13b in 2018.
Its net income slid in 2019 and 2020, entering negative territory in 2020.
In 2021, its net income exploded to nearly $3b!
What are the products by Cleveland-Cliffs used for?
Automobile, infrastructure, manufacturing, food packaging, and more.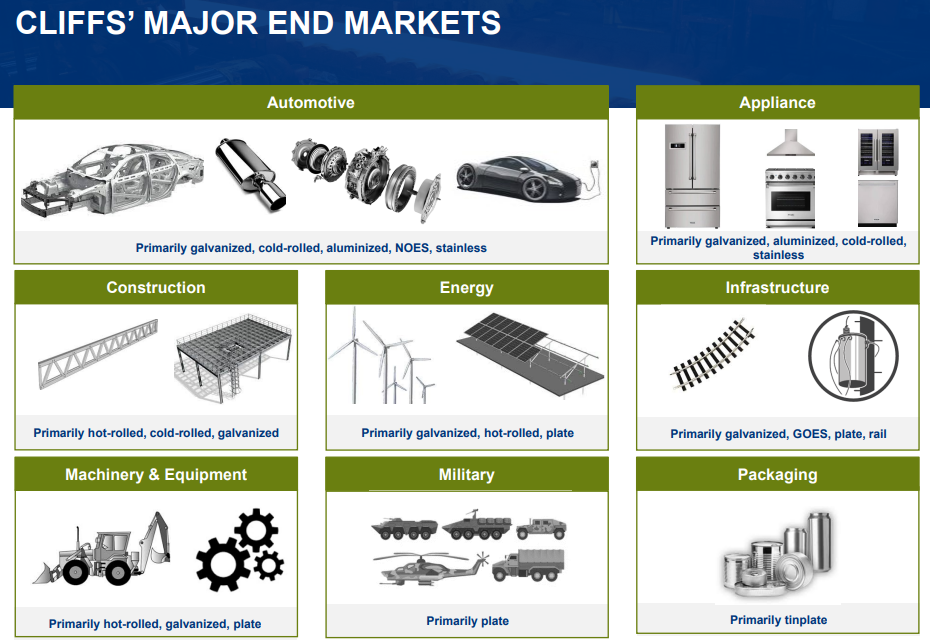 Source: Cloudfront.net
The demand for Cleveland-Cliffs' products is insatiable.
While the demand drivers for Cleveland-Cliffs' products is strong, its net income is nothing short of a roller coaster ride. Has this inconsistency negatively affected the company's shares? We will explore that in the next section.
Technical Analysis on Cleveland-Cliffs (NYSE: CLF)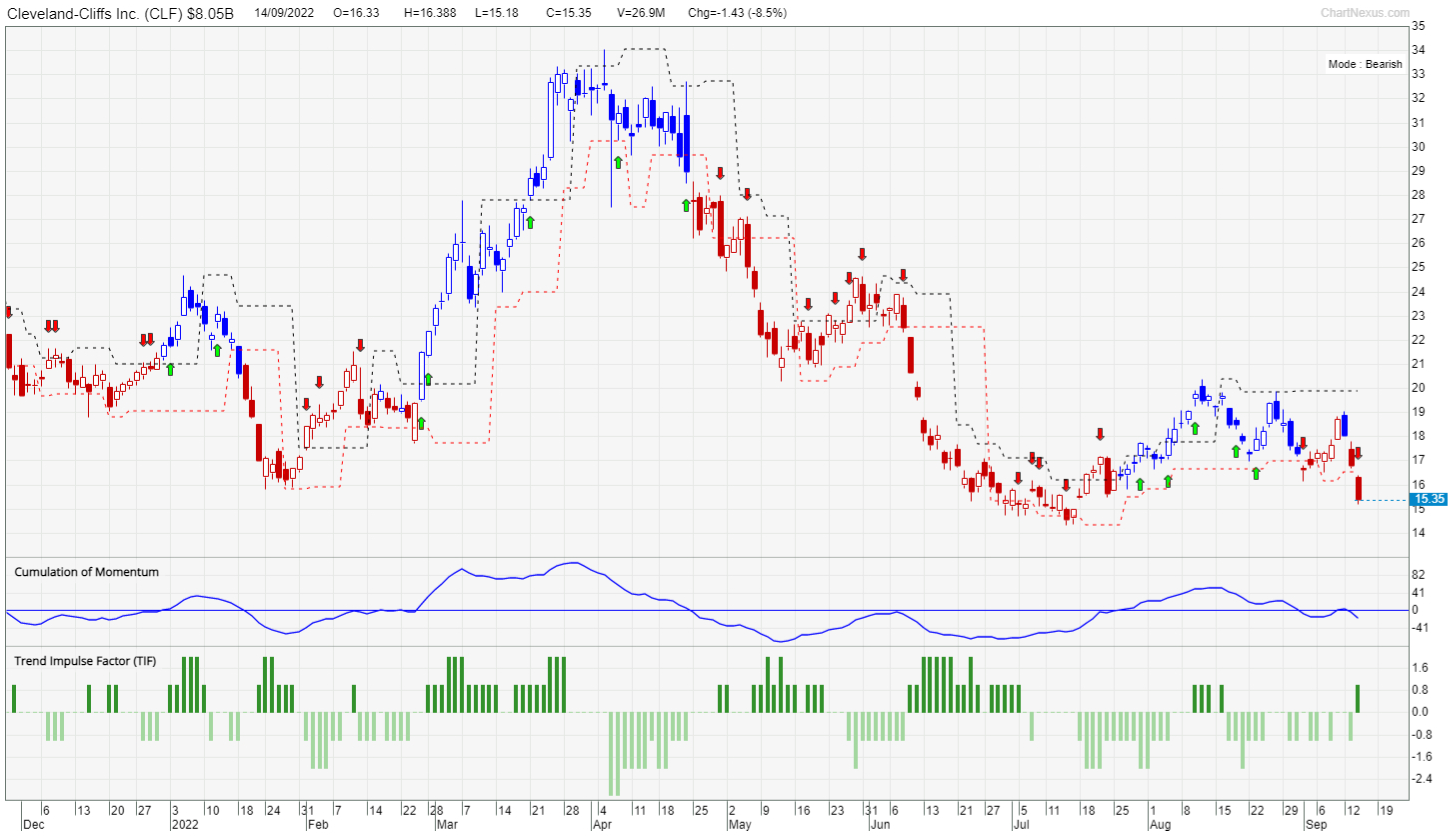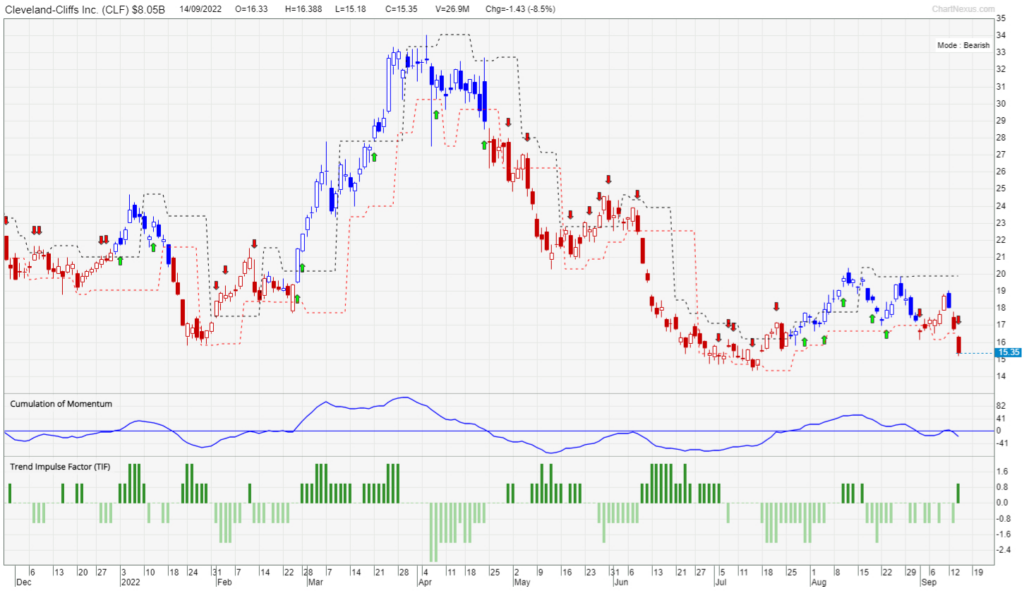 The chart of Cleveland-Cliffs is shown above. At a glance, you can tell that its share price has been diving since Apr 2022.
There was a bullish pullback from late Jul 2022 to late Aug 2022 before its share price turned bearish once again.
Naturally, you'll be wondering if it's a good time to initiate a short position trade.
Wonder no more as you are able to rely on the 2 indicators on the chart – the red arrow and Trend Impulse Factor indicators.
There's a red arrow above the latest candle of Cleveland-Cliffs. This indicates bearishness.
Next, have a look at the color of the Trend Impulse Factor bar. Is it dark green in color?
It is! This suggests that there's momentum in this bearish move. Hence, the share price of Cleveland-Cliffs is highly likely to continue to slide for some time.
When the red arrow appeared when the Trend Impulse Factor bar was in dark green in late Apr 2022, the share price of Cleveland-Cliffs collapsed by a staggering 47%!
Conclusion


Source: clevelandcliffs.com/products
Cleveland-Cliffs has seen bright and gloomy days since 1846. It's one resilient company.
However, its net income has been largely inconsistent. This doesn't inspire confidence.
As its downtrend continues, you'll want to look for a short position trading opportunity. And it's here!
There's an agreement between the red arrow and Trend Impulse Factor indicators.
Both the red arrow and Trend Impulse Factor indicator have been tested and proven. They form the TradersGPS (TGPS) system to help you decipher if a stock is a cut above its peers. You won't have to feel in the dark and make wild guesses.
Are You Ready For The Post-Bottom Rally?
The period between late July and early August had been nothing short of amazing for the stock market.
The ability to capitalize on such opportunities has helped over 5000+ of my students consistently reap superb profits time and time again.
Here are just a few stocks I picked out during the stock rally: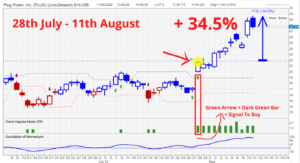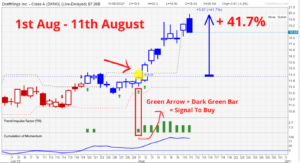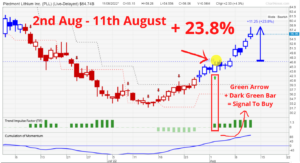 if you knew how to pick out the right stocks, you would have too similarly yielded 20-30% gains like I did in just 2 short weeks during the rally.
If you didn't, there could only be 2 reasons.
1) You were busy hesitating wondering if it was really the 'right time', letting your fear prevent you from doing anything to capitalize on the opportunity.
2) You knew that there was a massive opportunity, but just didn't know how to choose the right stocks to get into.
Whichever reason it is, it all boils down to 1 thing.
➡ You lack a tested and proven system that can help you CONSISTENTLY find winning stocks regardless of bull or bear.
Just look at what having a tested and proven system can do for you.
These are just a few stocks that you could have easily profited from if you used our proprietary TradersGPS system.
With a tested and proven system, finding profitable stocks like these instantly becomes so much easier.
The market is still looking good and there are still tonnes of such opportunities available.
So if you're tired of constantly missing out profits like this and want a real, proper method to consistently finding winning stocks regardless of bull or bear…
Especially when the market sentiment is improving each day and the possibility of a post-bottom rally coming sooner than we think…
Click HERE and join me in my upcoming LIVE training…
And I will show you the full process from identifying winning stocks all the way to executing the trade, and how it can be done in just 15 minutes.
I will also be opening up questions to the floor where you can ask me to analyze ANY stock of your choice,
and I will show you how the TradersGPS system can help you determine if it's a good buy, WHEN to buy, and WHEN to sell for profits.
Click HERE to register your seat before we hit full capacity!
If you'd also like to get a FREE e-course and learn how to better time your trade entries, click the banner below: