This article is for education purposes only, and not to be taken as advice to buy/sell. Please do your own due diligence before committing to any trade/investment.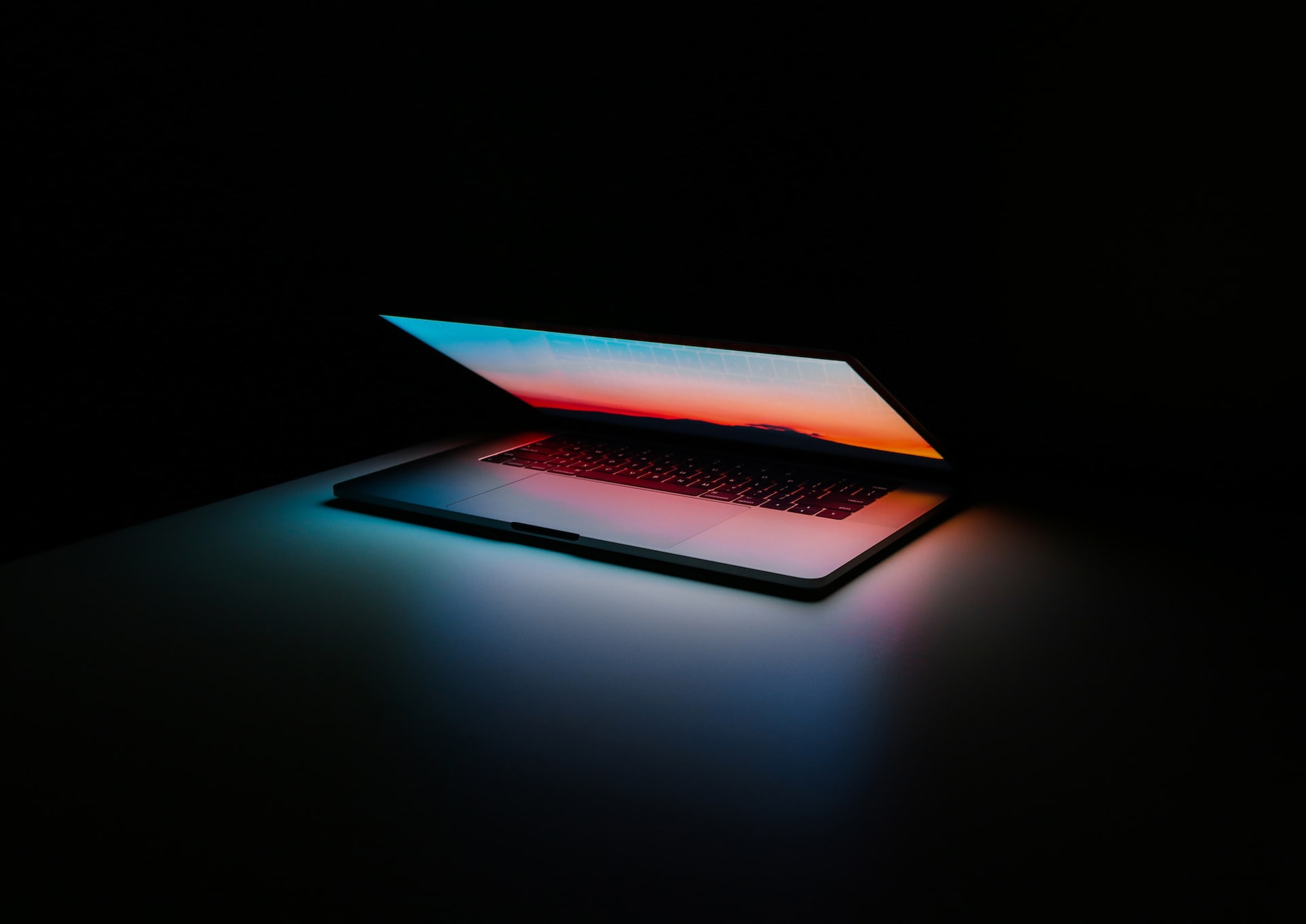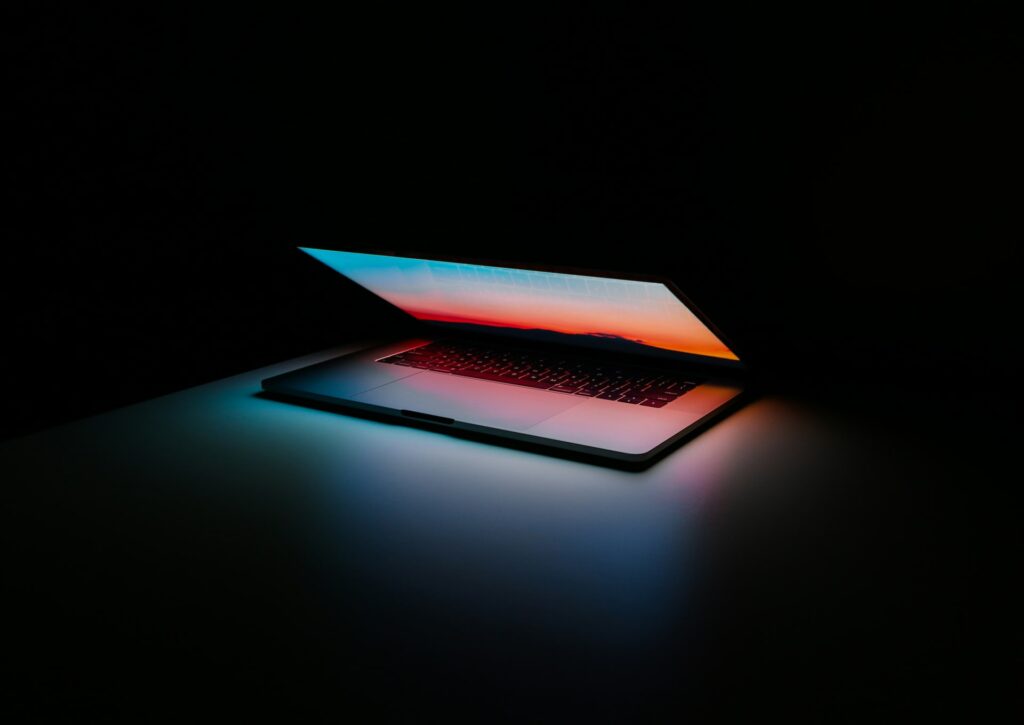 Source: unsplash.com
"Hey Eric! What do you think about this technology stock?"
"These technology stocks are getting cheaper and look good to invest in now, right?"
These are the most frequently asked questions this month.
Though the timing to invest in technology stocks isn't here yet, I think that a short position trading opportunity could be near for this technology stock.
Brief History of Smartsheet

Source: smartsheet.com
Founded in 2005, Smartsheet is a pretty young technology company.
Smartsheet creates and provides work management solutions all over the world. These solutions include workflow automation, content management, resource management, digital asset management, and more.
Their clients include Cisco, McGraw Hill, Whirlpool, and more.
In a short span of time, it has opened offices in several countries such as Australia, Costa Rica, England, and the US.
Smartsheet has also won recognition for being one of the best places to work in 2019 and 2021.
This company sounds to be vibrant, innovative, and cool.
Is it making money? How is its financial health?
Let's find out!
Business Model and Financials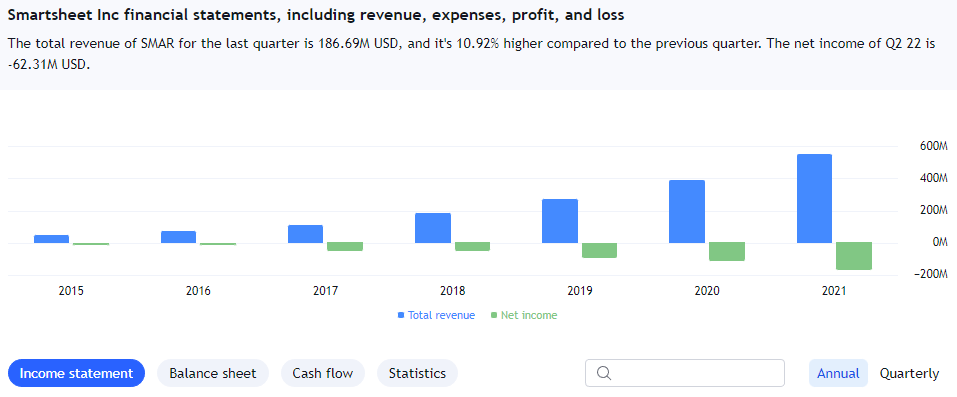 Source: tradingview.com
There's something amusing about the bar chart above.
Smartsheet's total revenue has been and continues to rise year after year. And the increase is exponential!
Since 2015, the company's total revenue has skyrocketed by 12.5x!
Can the same be said of its net income?
Unfortunately, no.
Its net income has been falling since 2015.
Since 2015, the company's net income had fallen by 10.9x!


Source: smartsheet.com/pricing
Even as Smartsheet is generating revenue from its software-as-a-service subscription model, it's bleeding cash. Is the end of the tunnel near?
I don't know.
However, I know that a short position trading opportunity could be around the corner.
Shall we have a look at the chart of Smartsheet?
Technical Analysis on Smartsheet (NYSE: SMAR)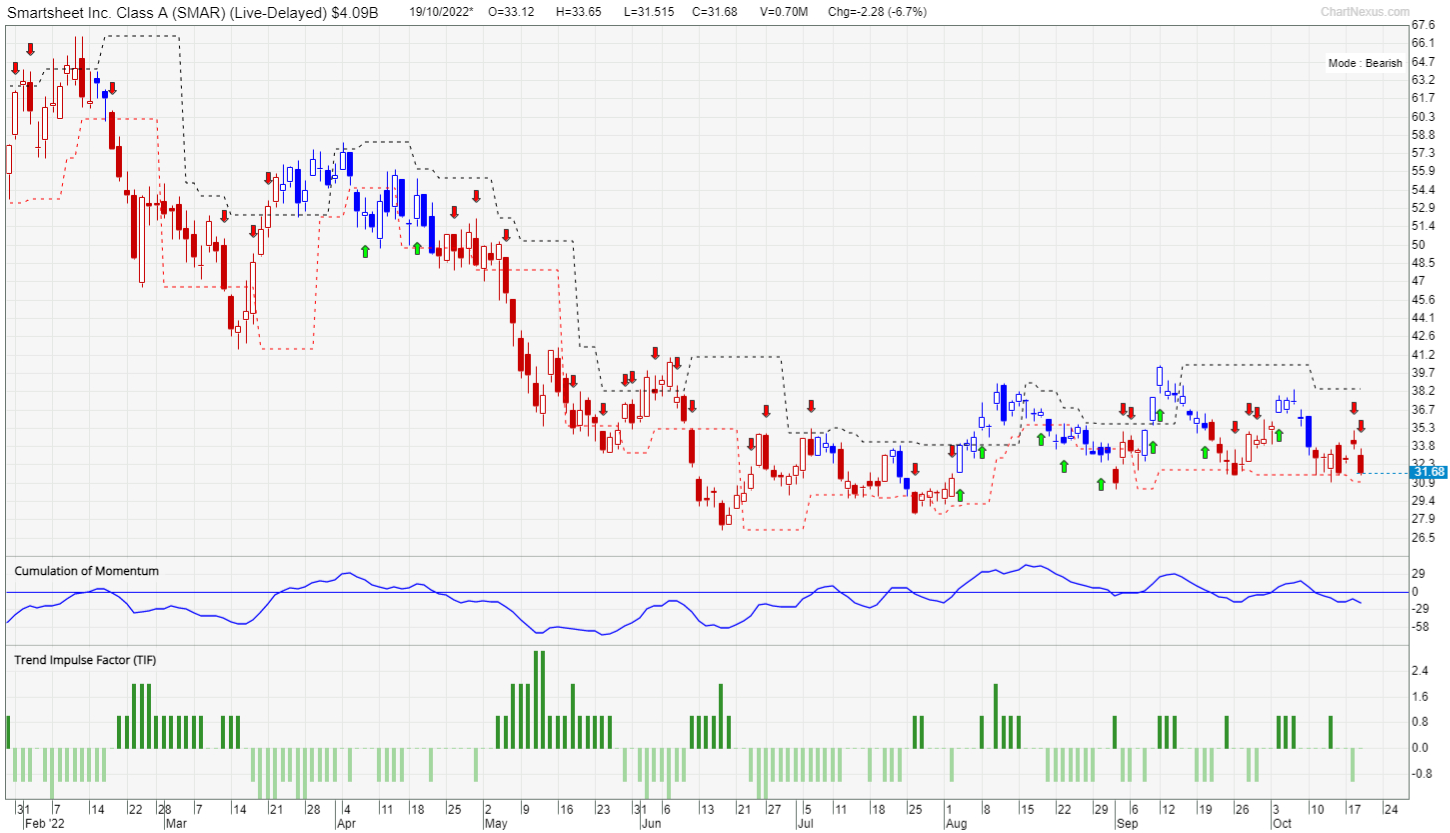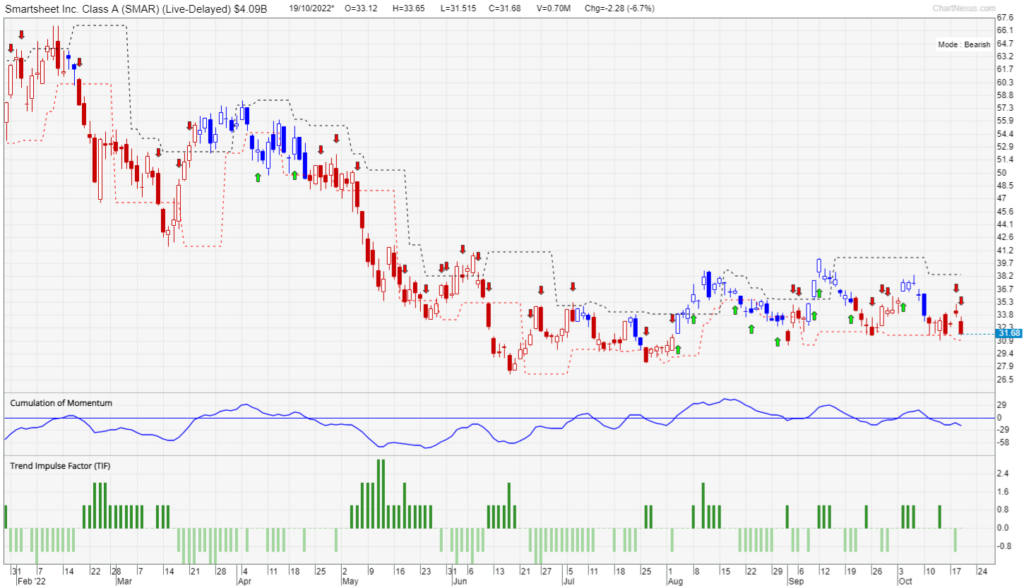 After finding out that Smartsheet has been bleeding cash, it's no surprise that its share price is facing selling pressure from the market.
This downtrend can be identified by 2 easy ways:
The number of blue candles (both solid and hollow) outnumbers the number of red candles
The number of green arrows compared to the number of red arrows
Since June 2022, the share price of Smartsheet has been ranging.
This is a good sign as the bears could return, pushing prices even lower.
What you'll want to see is a red arrow above its latest candle coupled with a dark green bar of the Trend Impulse Factor. With these 2 indicators appearing at the same time, you can be more confident that the bears are back and this bearish momentum is likely to continue.
Be patient and wait as the market rewards those who wait for a proven setup.
Conclusion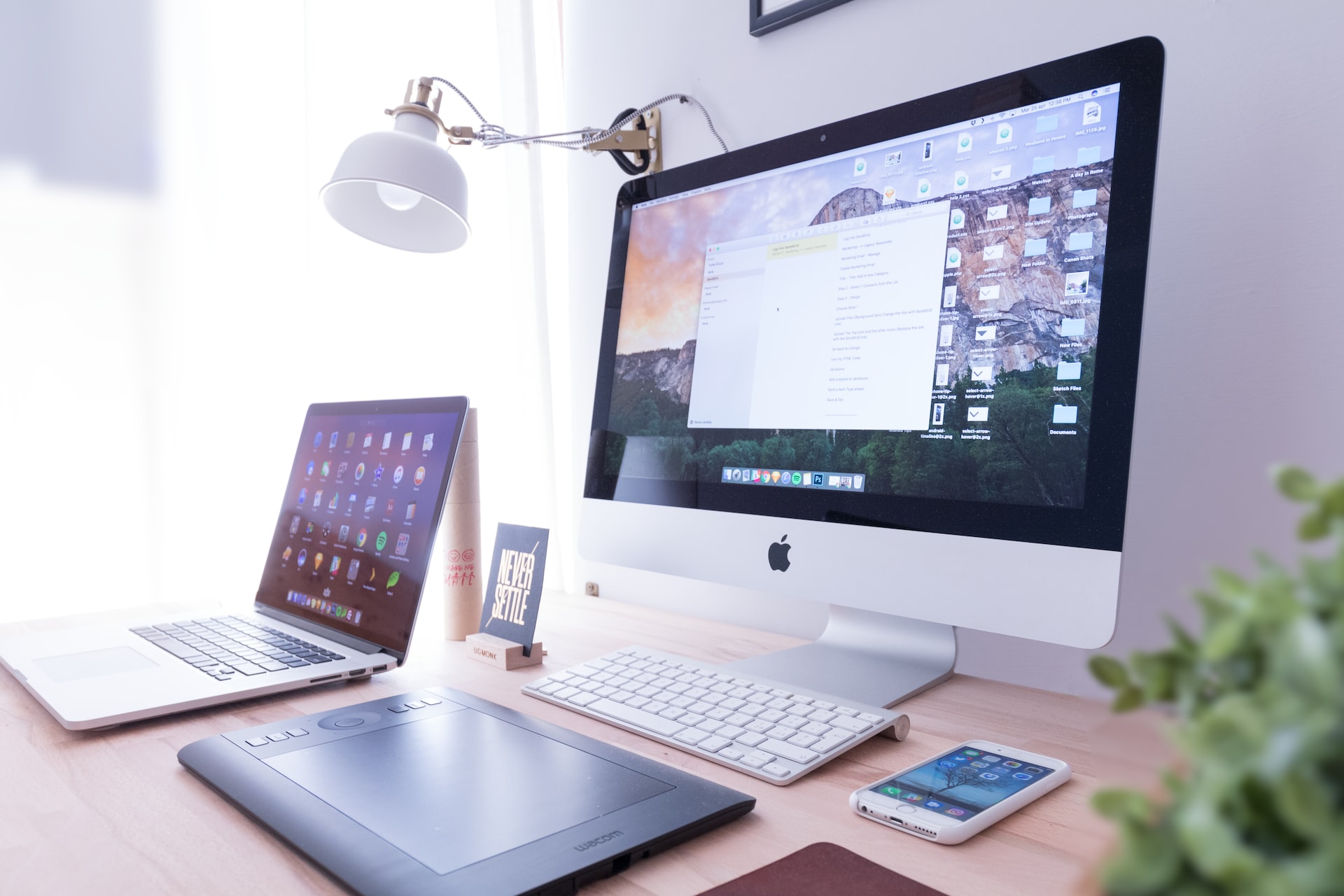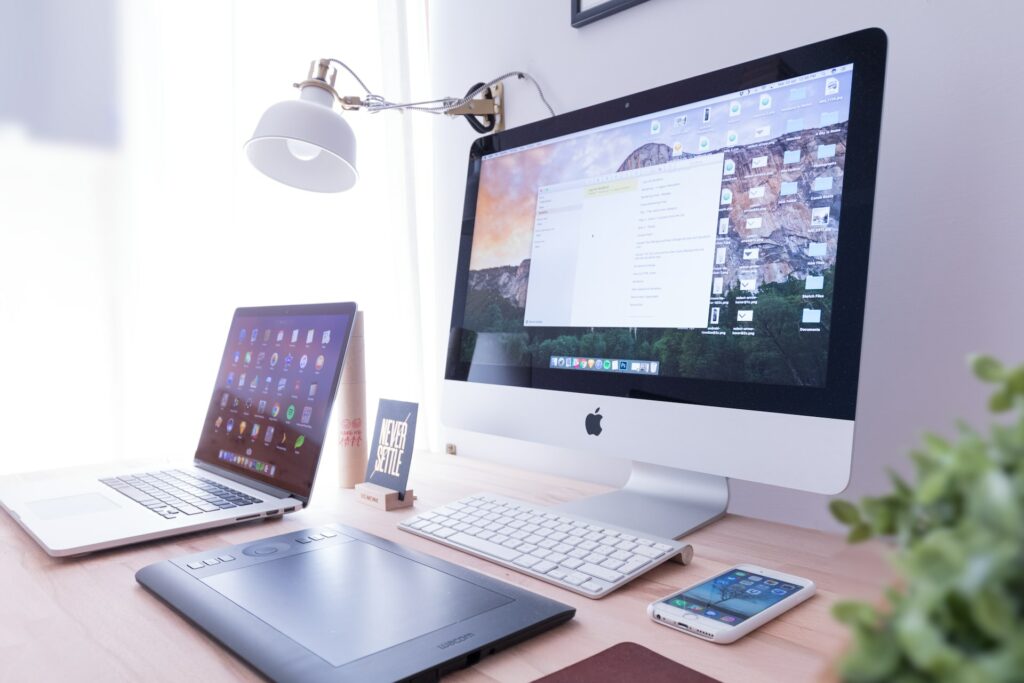 Source: unsplash.com
Smartsheet is a highly energetic, innovative, and cool company. This has translated into growing revenues.
However, this has not impacted its net income positively. Smartsheet continues to burn cash as it grows.
This is probably the reason for investors dumping their holdings of Smartsheet.
Although the market's sentiment for shares of Smartsheet is still bearish, the time to short its shares isn't ripe yet.
Trading stocks without a proper system can be highly risky. This is why the TradersGPS (TGPS) was created.
The indicators (red arrow and Trend Impulse Factor) will help you determine if a stock is ready for action to be taken. You won't have to feel in the dark and make wild guesses.
Therefore, I'd keep this stock in my watchlist for the opportunity to short-sell for a position trade.
What should you do in Q4 2022 to grow your portfolio?
Stocks have been really choppy the past few weeks.
But as usual, it's not the 1st time we have seen such volatility and it pays to constantly remind ourselves to focus on the charts and react accordingly.
The WORST thing you can ever do in a volatile market is to trade aggressively.
Before you know it, reversals will come and go at the most unexpected times to wipe you out.
This is why during such volatile times, you MUST know how to use the right strategies.
In fact, I can tell you as a trader of over 20+ years, profiting in a volatile market is not difficult.
The key here is to NOT fight the volatility head-on.
Lots of people like to challenge the volatility head-on, trying to make predictions or day trade and think they can exit with profits before a reversal happens.
That to me is fighting a losing battle.
Rather, 1 important concept you should understand is this – A volatile market does not mean ALL stocks are volatile.
As you are reading this right now, there are many stocks out there with strong persistent trends that we can capitalize on.
The only part that can be challenging is finding these 'hidden gems'.
But once you know how to find them, you will literally possess a weapon that can help you find winning stocks with high win-rate while carrying very little risk.
As we see the market continuing to be volatile in the coming weeks…
It's extremely important to know where and how to find real opportunities and what proven strategies to use that are meant for such situations.
I will be sharing certain strategies that work exceptionally well in such volatile situations to identify and sieve out winning 'hidden gems' stocks to capitalize in my upcoming LIVE training (100% free).
Click HERE and join me in my upcoming LIVE training…
And I will show you the full process from identifying winning stocks all the way to executing the trade, and how it can be done in just 15 minutes.
I will also be opening up questions to the floor where you can ask me to analyze ANY stock of your choice,
and I will show you how the TradersGPS system can help you determine if it's a good buy, WHEN to buy, and WHEN to sell for profits.
Click HERE to register your seat before we hit full capacity!