This article is for education purposes only, and not to be taken as advice to buy/sell. Please do your own due diligence before committing to any trade/investment.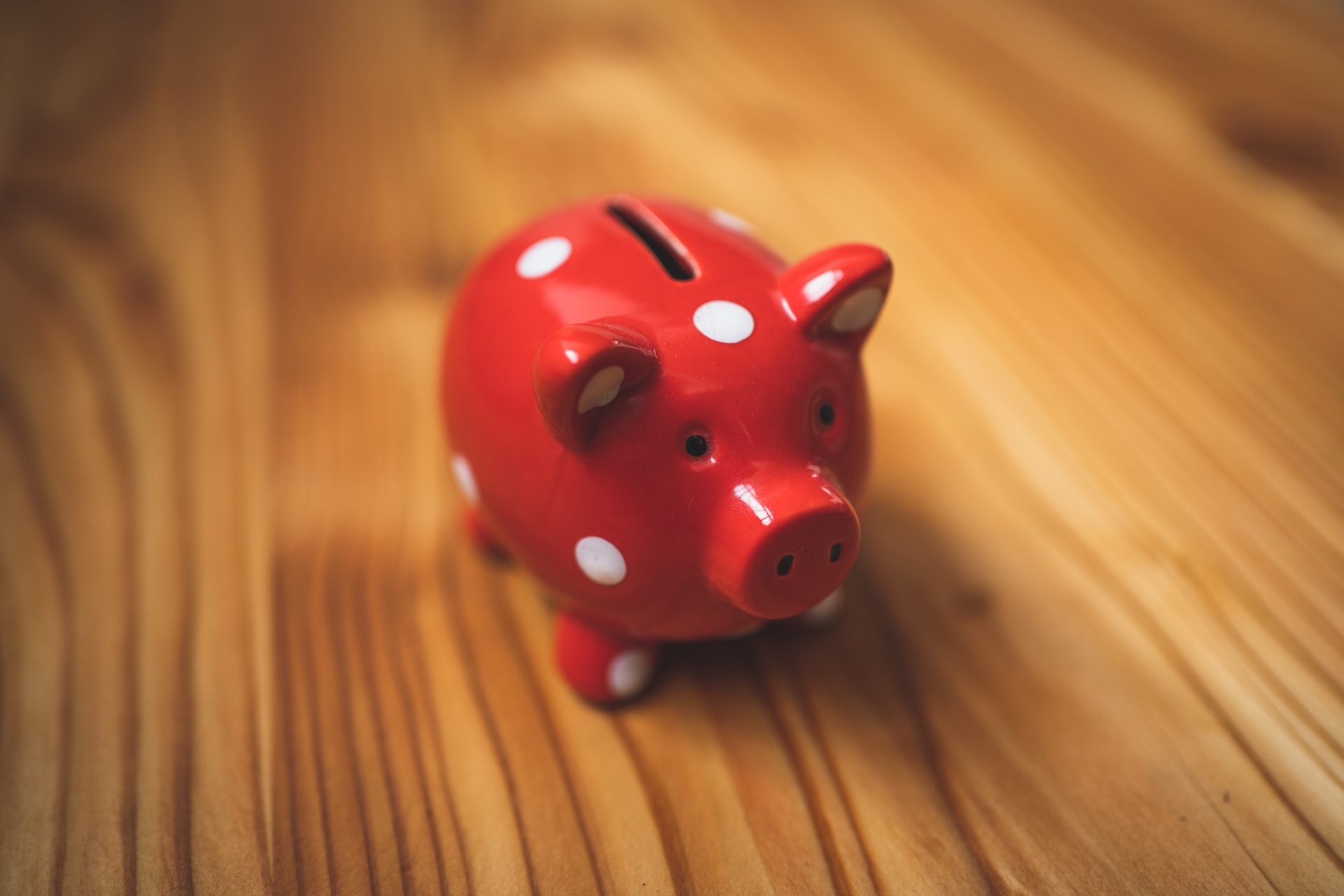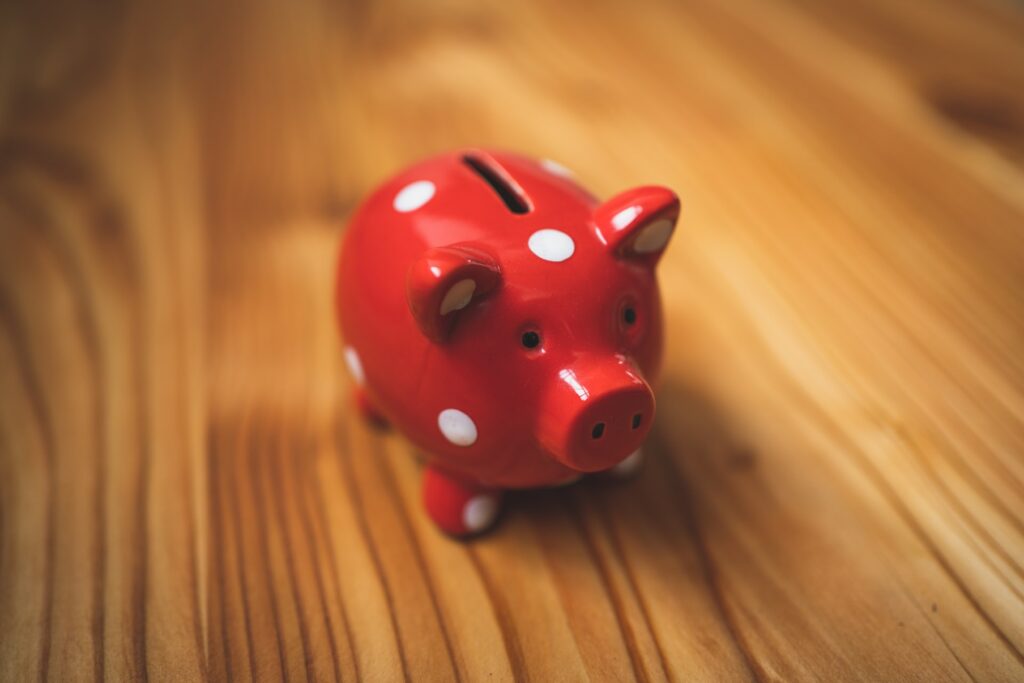 Source: unsplash.com
Banks are hot.
I mean their stocks.
Ever since the interest rates hike coupled with the drop in the S&P 500, interest in savings accounts and fixed deposits have soared. Fixed deposits have also attracted a lot of attention.
When there's fear, there are opportunities in the stock market. Remember the year 2020?
This time, I believe that there's a position trading opportunity in this bank – Fifth Third Bancorp.
Brief History of Fifth Third Bancorp

Source: 53.com/content/fifth-third/en.html
Founded in 1858, Fifth Third Bancorp has a long history and has weathered many financial storms and moments of unrest.
As the world changed, Fifth Third Bancorp evolved to remain relevant. Their services and network expanded to serve the needs of their customers.
Due to the superior locations Fifth Third Bancorp chose and the aggressive expansion drive, the bank soon earned the reputation for being the most convenient bank in Cincinnati, Ohio.
In addition, Fifth Third Bancorp took calculated risks and acquired several companies (both in and out of the financial industry) to help it maintain its edge.
The spirit of improving oneself and serving the needs of others is commendable.
Shall we now look into the financials of Fifth Third Bancorp?
Business Model and Financials


Looking at Fifth Third Bancorp's income statement bar chart above, you can spot several important points.
Its total revenue had been increasing from 2015 to 2019 before a drop in 2020 and a slight increase in 2021. It's understandable for the drop in its total revenue in 2020 as COVID-19 had hit many businesses hard.
When businesses are negatively affected, the effect is passed on to individuals, who tend to save more instead of investing and spending.
The next point you can easily spot – Fifth Third Bancorp's net income is pretty irregular.
Its net income fell in 2016, stagnated from 2017 to 2018, rose in 2019, fell in 2020, and rose again in 2021. This inconsistency can be a put off to many investors, as investors prefer stable and fast growth.
Fifth Third Bancorp is a large bank. Like all large banks, it provides a wide range of services for individuals, businesses, and the wealthy. Given this diversity within the financial sector, Fifth Third Bancorp enjoys many streams of income to weather mighty storms.
2022 has proven to be a challenging year for many banks and financial institutions due to geopolitical conflicts, high inflation, and tough monetary policies. Despite all these, Fifth Third Bancorp has shone in several important areas.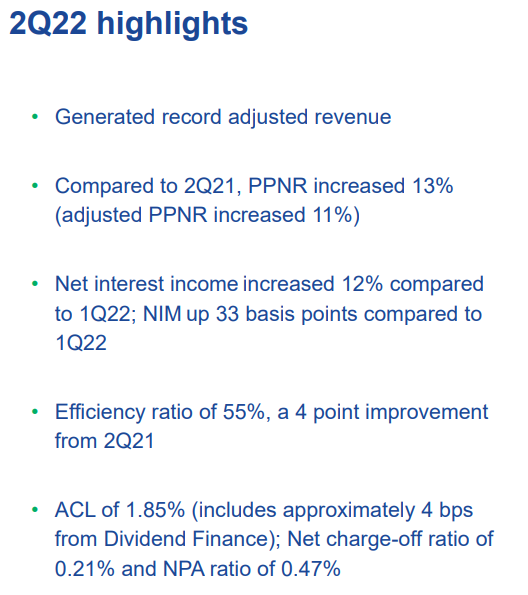 Source: s23.q4cdn.com/252949160/files/doc_financials/2022/q2/FITB-2Q22-Earnings-Presentation-(1).pdf
Overall, I think that the financial health of Fifth Third Bancorp is just mediocre.
The most important analysis lies ahead as price movements generate the profits that you and I desire. Therefore, let's have a look at the price chart of Fifth Third Bancorp.
Technical Analysis on Fifth Third Bancorp (NASDAQ: FITB)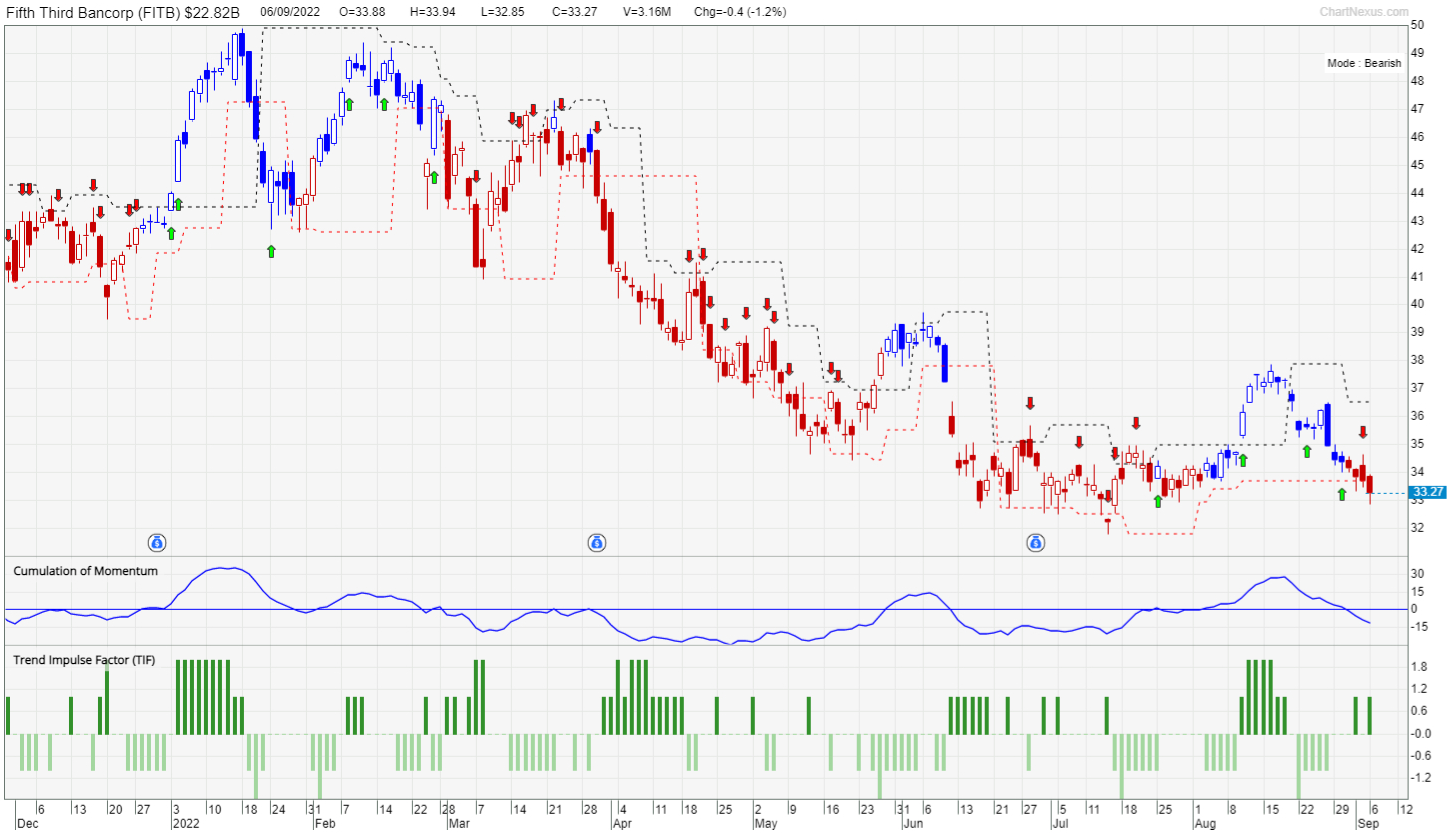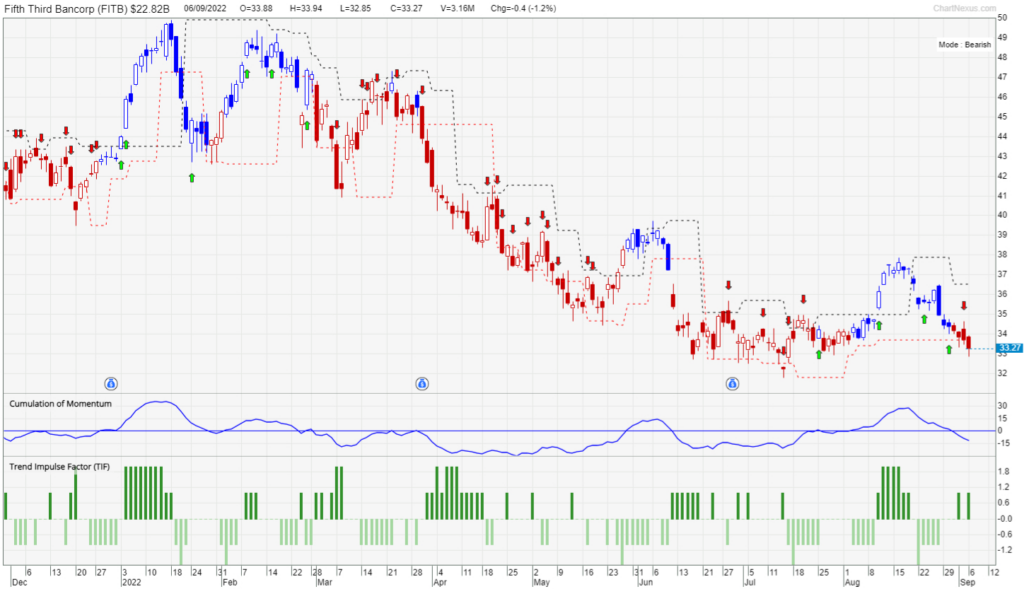 Like all its peers, the share price of Fifth Third Bancorp got hammered on the news of runaway inflation and that the Fed was looking to increase interest rates.
In Aug 2022, the share price of Fifth Third Bancorp enjoyed a brief relief rally before the bears took over again.
What's the situation now?
There's a red arrow hanging over Tuesday's candle, signifying bearishness.
Though the bears are in control, is it time to short shares of Fifth Third Bancorp?
To answer this question, let's look at the Trend Impulse Indicator which is at the bottom of the chart. When its bar is dark green in color, it suggests that the momentum is likely to continue.
Most importantly, it must be paired with the arrow indicator. When both indicators appear at the same time, there's a much higher chance of success if you take action.
With this said, the time to sell the shares of Fifth Third Bancorp short isn't here yet. Patience pays, and there's absolutely no hurry.
When the time comes to sell the shares of Fifth Third Bancorp short, please place a stop loss to protect your trading capital.
Conclusion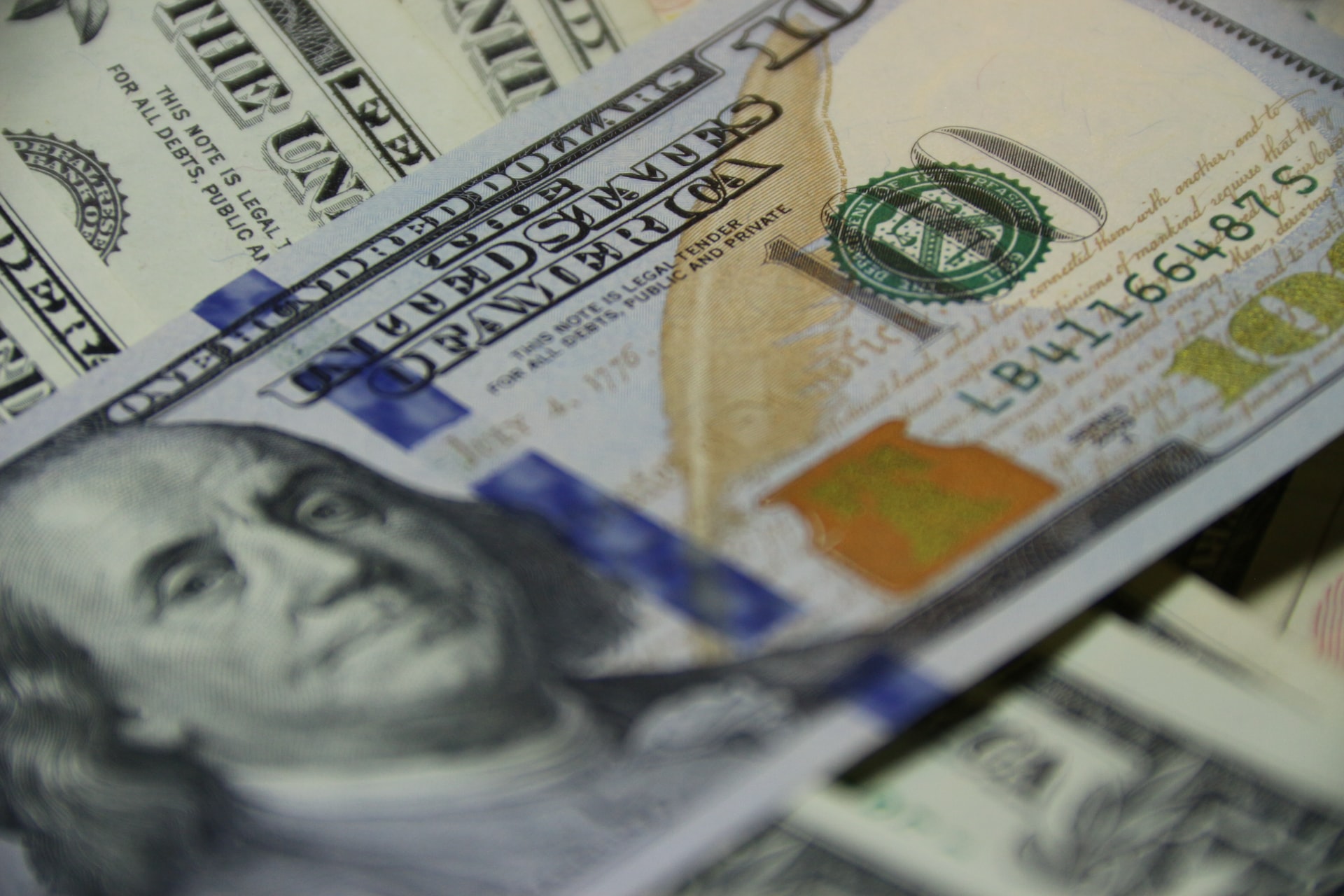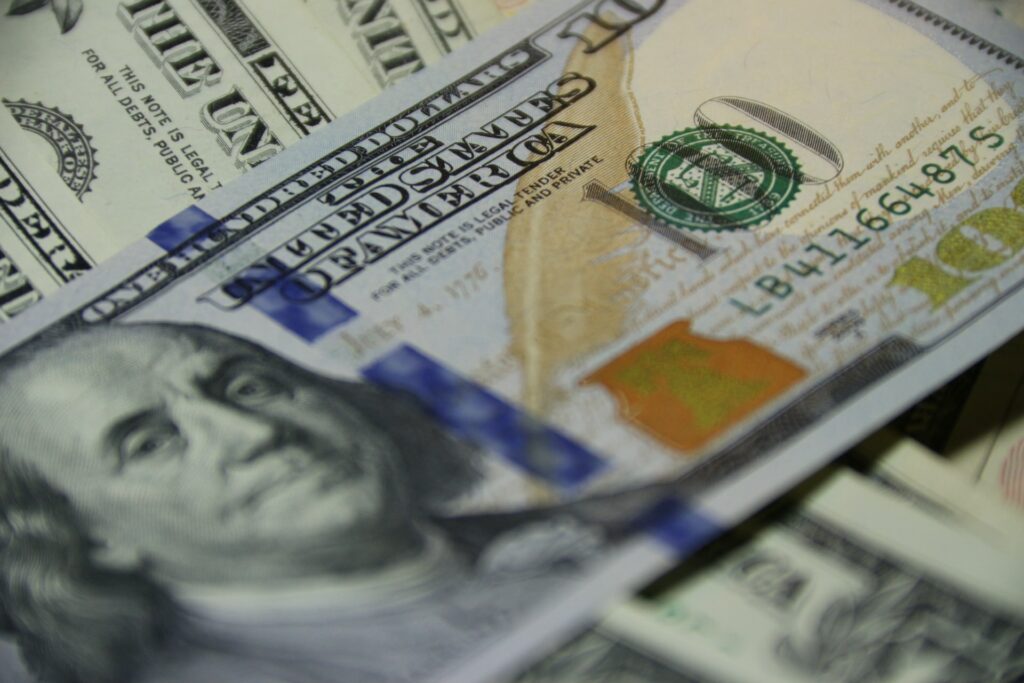 Source: unsplash.com
Fifth Third Bancorp is a well-established bank that has been on its toes.
Its inconsistent net income performance remains unknown to us, and doesn't inspire confidence.
A look at its price chart, you can tell that the bears are in charge, and that the worst may not be over yet. Even so, the time to sell its shares short isn't here yet.
You'll want to see an agreement between the red arrow and Trend Impulse Factor indicators before taking action.
This is because the red arrow and Trend Impulse Factor indicator have been tested and proven. They form the TradersGPS (TGPS) system to help you decipher if a stock is a cut above its peers. You won't have to feel in the dark and make wild guesses.
Are You Ready For The Post-Bottom Rally?
The period between late July and early August had been nothing short of amazing for the stock market.
The ability to capitalize on such opportunities has helped over 5000+ of my students consistently reap superb profits time and time again.
Here are just a few stocks I picked out during the stock rally: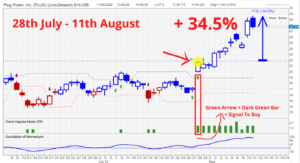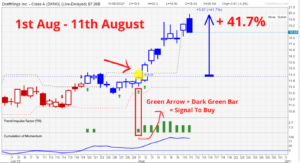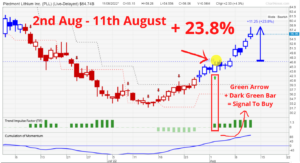 if you knew how to pick out the right stocks, you would have too similarly yielded 20-30% gains like I did in just 2 short weeks during the rally.
If you didn't, there could only be 2 reasons.
1) You were busy hesitating wondering if it was really the 'right time', letting your fear prevent you from doing anything to capitalize on the opportunity.
2) You knew that there was a massive opportunity, but just didn't know how to choose the right stocks to get into.
Whichever reason it is, it all boils down to 1 thing.
➡ You lack a tested and proven system that can help you CONSISTENTLY find winning stocks regardless of bull or bear.
Just look at what having a tested and proven system can do for you.
These are just a few stocks that you could have easily profited from if you used our proprietary TradersGPS system.
With a tested and proven system, finding profitable stocks like these instantly becomes so much easier.
The market is still looking good and there are still tonnes of such opportunities available.
So if you're tired of constantly missing out profits like this and want a real, proper method to consistently finding winning stocks regardless of bull or bear…
Especially when the market sentiment is improving each day and the possibility of a post-bottom rally coming sooner than we think…
Click HERE and join me in my upcoming LIVE training…
And I will show you the full process from identifying winning stocks all the way to executing the trade, and how it can be done in just 15 minutes.
I will also be opening up questions to the floor where you can ask me to analyze ANY stock of your choice,
and I will show you how the TradersGPS system can help you determine if it's a good buy, WHEN to buy, and WHEN to sell for profits.
Click HERE to register your seat before we hit full capacity!
If you'd also like to get a FREE e-course and learn how to better time your trade entries, click the banner below: