Is Kellogg A Good Stock To Buy?
Do you like cereal for breakfast? I do!
I love Corn Flakes as it's crunchy, sweet, and healthy. This breakfast dish is sold in all leading supermarkets and is served in all good hotels.
Corn Flakes is the creation of Kellogg's, and with this product, Kellogg Company was founded 116 years ago. Today, Kellogg Company owns many other brands in the food industry, some which you'll definitely be familiar with.
So, shall we dive in and analyze Kellogg Company?
Brief History of Kellogg Company (NYSE: K)

Source: https://www.kelloggcompany.com/en_US/home.html
As you've discovered from the above section, Kellogg Company started off with selling Corn Flakes. And it didn't stop there.
Kellogg Company experimented and came up with different types of cereals, with many of them becoming an instant favorite.
Acquisitions were also made to ensure that Kellogg Company held onto its crown as a leading breakfast and snack provider. One such acquisition is Pringles in 2012.
Here's something trivial – Kellogg Company's cereal literally flew to the moon on Apollo 11, providing the flying crew a nutritious breakfast in 1969.
Knowing this background of Kellogg Company, shall we take a look at how the company has been performing in recent years?
Business Model and Financials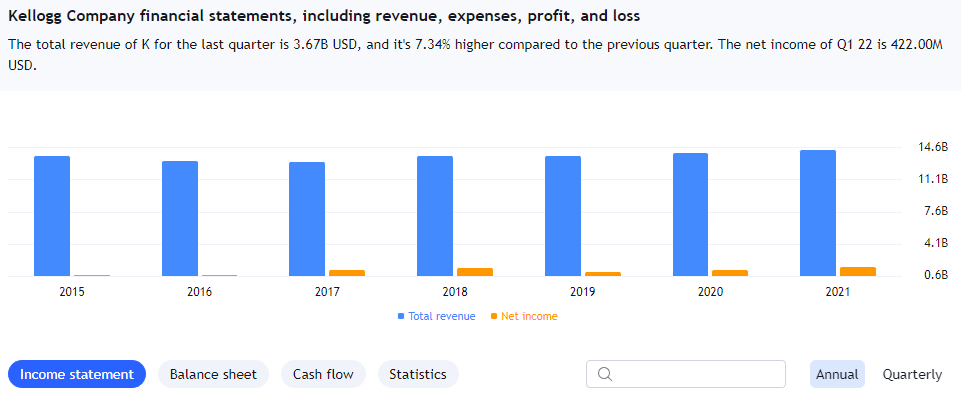 Source: Tradingview
From the annual income statement of Kellogg Company above, you can tell that its revenue has been stable and growing in the past 2 years.
Its net income has been growing every year, except in 2019. This is impressive as it means that Kellogg Company has found a way to increase its net income without increasing its revenue by much.
While its revenue in 2021 grew by 2.9% in 2021, its net income during the same period grew by 19%!
Just last month, Kellogg Company announced that its Board of Directors has approved a plan to spin-off its main business into 3 entities by the end of 2023.
The first entity will focus on the snacks and breakfast business while the second entity will focus on North America, and the third entity will focus on plant based food.
This transformation seeks to allow Kellogg Company to expand, focus better, become more agile to meet its strategic priorities, and shape distinctive corporate cultures.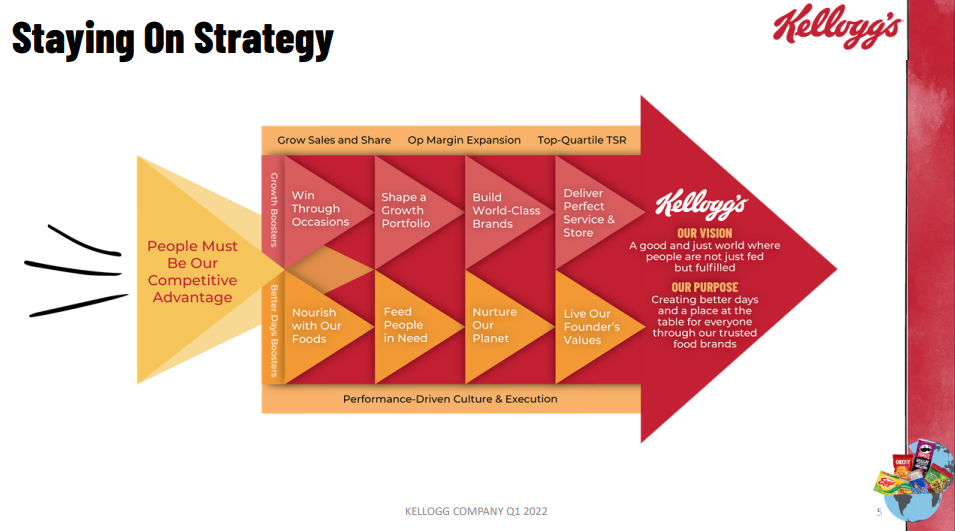 Source: https://s1.q4cdn.com/243145854/files/doc_financials/2022/q1/Q1-2022_Print-Slides.pdf
As with many other highly successful companies, Kellogg Company places an emphasis on its staff and community.
This has allowed Kellogg Company to enjoy synergy, brand recognition, innovate, and grow consistently.
Source: https://s1.q4cdn.com/243145854/files/doc_financials/2022/q1/Q1-2022_Print-Slides.pdf
While many companies have cut their outlook due to the possibility of a recession, Kellogg Company is expected to grow. This confidence is unparalleled.
The financial health and outlook of Kellogg Company is fit and rosy. Does its chart agree with its fundamentals?
Technical Analysis on Kellogg Company (NYSE: K)
The price chart of Kellogg Company looks good! It has been on an uptrend since mid Mar 2022 while the S&P 500 was and is still dropping.
From the chart above, you can see that there was a green arrow under the candlestick a couple of days ago.
You can also see that the bar of the Trend Impulse Factor for that day was in dark green. This meant that the bulls are present and strong.
Since the opportune time to buy shares of Kellogg Company for a position trade was a couple of days back, should you enter now?
The boat has sailed.
Will the boat return? Will there be a sensible and good opportunity for a position trade?
I think so. What you'll want to see is an agreement of both indicators – the appearance of the green arrow and the bar of the Trend Impulse Factor turning dark green on the same day.
That would be a confirmation that another uptrend is here and the bulls are out to stay, shifting the chances of success to your side.
Being in a more volatile environment, it pays to be extra patient in the stock market.
Conclusion: Kellogg Stock Review
Kellogg Company is under forward thinking and responsible stewardship. It's therefore no surprise that it has managed to capture a huge slice of the breakfast and snacks industries.
Its strong fundamentals is in agreement with its price chart, providing you with a rare bullish position trading opportunity in this bearish environment.
However, the time to position trade shares of Kellogg Company isn't here yet. It would be much better to wait for the next chance.
After all, the green arrow and Trend Impulse Factor indicators have been tested and proven. They form the TradersGPS (TGPS) system to help you decipher if a stock is a cut above its peers. You won't have to feel in the dark and make wild guesses.
Did You Know?
The ones who make the MOST money from the stock market actually spend the LEAST time.
Yet, most people tend to spend hours reading news or analyzing charts, only to be caught in a never-ending spiral of disappointment from the stock market.
The truth is, profiting from the market is all about trading smart, not hard. And this is the very secret of all top retail traders and investors.
They all have a system they follow.
A system that helps them identify winning stocks fast and filter away dangerous risky ones, a system that tells them exactly when to buy and sell and eventually exit the stock with profits.
It's like having a personal guide telling you exactly what to do from start to finish. One that is not only reliable in aiding your investment journey, but also saves you time, energy and stress.
So if you wish to start building an additional stream of income through the stock market the SMART way, not the HARD way…
Come and join me in my upcoming LIVE demonstration webclass where I will demonstrate LIVE how ANYONE, even with no experience can learn and adopt a really simple system and apply almost immediately to start profiting in the markets.
Click HERE to register your seat before we hit full capacity!
If you'd like to learn more about systematic trading to better time your trade entries, click the banner below: